This page may contain affiliate links and we may earn a small amount of money from any products bought. Our reviews, however, remain independent and impartial.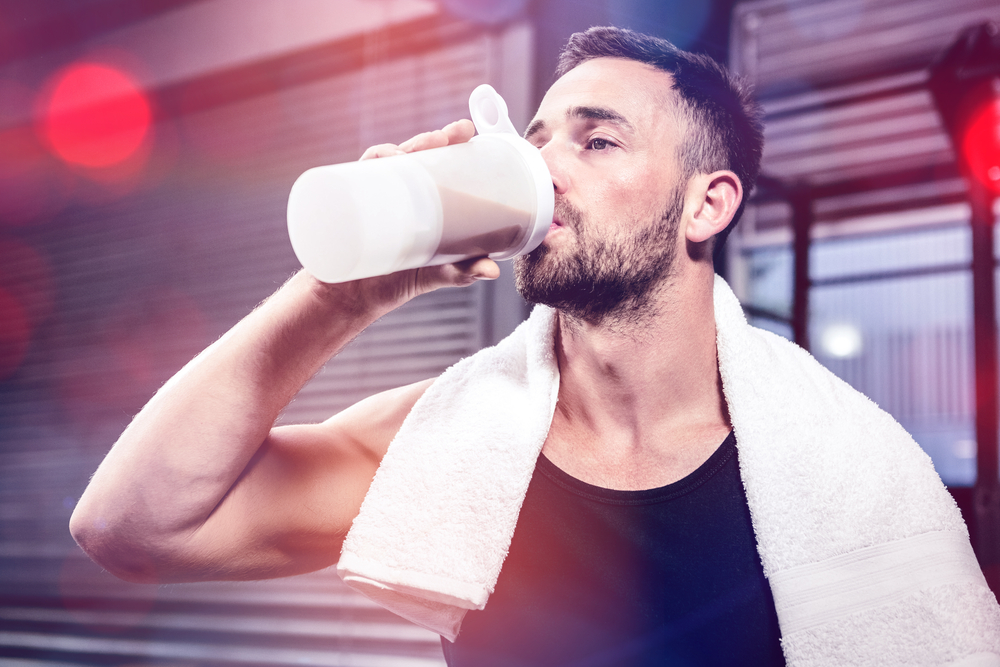 Protein is one of the three pillars of every diet plan and nutrition regime on the planet. Almost all of us eat it every single day of our lives. It is of critical importance in maintaining a healthy body and even more important for building muscle. In this article we will explain just why it is so important and re-visit some of the evidence that supports this.
We'll also catch up on what has changed in the world of protein over the course of 2018 before we launch into our recommendations for the Best Protein Products to Buy in the UK in 2019.
---
» See the #1 Protein Shake This Year «
---
How Does Protein Build Muscle?
Firstly, let's look at how protein actually works from the point of view of building muscle. Protein is made up of amino acids. Amino acids are the blocks on which your body is built. If you want to build your body, you need the right blocks to build it from.
We won't list all the amino acids here or go in to too much detail about what each of them does, but as long as you have enough of the 20 different amino acids you need to maintain a healthy body, you will remain in what is known as an anabolic state. This means your body is ready and able to repair muscles that are strained and fatigued during high intensity physical activity.
Of these 20 amino acids, 11 occur naturally in your body. The remaining nine you have to consume in food and are known as the 'essential' amino acids. Different sources of protein will contain different combinations of amino acids in different quantities, though all nine can be found in a few sources, commonly referred to as 'complete' proteins. Complete proteins include eggs, meat, fish, milk and soy.
Perhaps supplement companies tried selling meat and fish-flavoured protein powders a long time ago, but if they did they can't have been too popular. Milk has been the go-to protein source for supplement companies for as long as anyone can remember. When milk is processed into cheese it produces a by-product called whey, which, when further processed into a concentrated or isolated form as a powder, can be easily mixed with water and ingested.
Now, on to the evidence. There are thousands of studies that have been conducted into the benefits of protein for building muscle and we are not about to list them all here. Of particular significance though is a meta-analysis released by the British Journal of Sports Medicine in 2017 that stated "Dietary protein supplementation significantly enhanced changes in muscle strength and size during prolonged RET [resistance exercise training] in healthy adults". It goes on to say that "protein intakes at amounts greater than ~1.6 g/kg/day do not further contribute RET-induced gains" – so if you weigh 80kg you should be aiming to consume 128g of protein per day in order to support increases in muscle size and strength.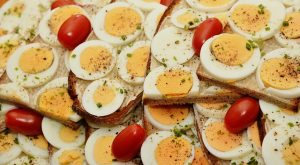 You can get 128g of protein from eating 22 eggs a day. Not keen? How about half a kilogram (17.5 ounces) of steak? Sounds a bit more appetising doesn't it? Sure, as long as you don't mind the 100g of fat and over 1,300 calories that come along with all that protein.
If you're vegetarian or vegan it becomes a little harder, though by no means impossible, to pack that much protein into a sensible daily diet at a reasonable cost. Enter the mighty protein powder, almost certainly the most popular and well-regarded supplement group in the world.
Recent Protein Innovations
In recent years protein has been undergoing something of a renaissance on two fronts. The first, in response to increasing diversity in lifestyle choices and tastes, has seen supplement companies launch dozens of products that are vegetarian or vegan-friendly and others that use 'raw' ingredients.
This has led to some wonderful innovations from some of the market leaders, particularly around finding non-animal protein sources and combinations that offer the full benefits of whey protein.  This has helped to make nutrition easier and more accessible for some groups that previously may have felt unfairly overlooked in the supplement market.
The second renaissance concerns the form in which you can take your protein these days. Don't fancy a shake? No problem, grab a protein-powered snack bar that tastes of salted caramel or cookies and cream or peanut butter and chow down! Not keen on the bar? Well perhaps you would like to cover some toast or some pancakes, or even possibly your own face, with this delicious hazelnut spread to help you hit your macros!
There are now more ways than ever to supplement your protein intake and we have done our best to get round all of these and give you some tips to help maximise your gains in 2019. Here are our hand-picked and chosen favourite protein products of 2019.
Best Whey Protein Powder
WINNER: Optimum Nutrition Gold Standard 100% Whey
Still the alpha of the pack, Optimum Nutrition's Gold Standard really does set a standard in whey protein compounds that their competitors have found very hard to match, much less beat. This powder is comprised of 3 different forms of whey protein, all offering different benefits, to create a powerful and nutritious supplement.
One serving of ON Gold Standard 100% Whey provides 24g of protein which has been blended to ensure the fastest possible absorption rate following a workout. Optimum Nutrition also manage to pack in 5.5g of BCAAs and 4g of glutamine to bolster the effect of their fast absorbing protein formula.
What's more, it is easy to mix in any standard shaker and even easier on the stomach, unlike some whey powders that can result in unwanted side effects like gas and cramping. It is not cheap, but the premium price tag is justified on such a premium product.
Read our Full Review of Optimum Nutrition Gold Standard 100% Whey
RUNNER UP: Bulk Powders Pure Whey
By no means a "best of the rest" award here, Bulk Powders have a fantastic reputation for providing excellent quality and value and their Pure Whey protein powder delivers both in spades. The protein content of this supplement is around 80% of its weight and this comes entirely from undenatured whey protein concentrate.
What that means is that whilst the milk has been processed to remove almost everything except the protein (as is the case with all whey powders) in the case of Bulk Powders Pure Whey the individual proteins have not been broken down. The result is a fast absorbing, highly bioavailable and easily digestible protein.
In addition, Bulk Powders offer us 5.3g of BCAAs per serving out of a total of 24.2g of protein and as little as 1.5g of sugar and 2g of fat. This is a lean powder with a lean price tag but do not, for one second, think that the low price belies any compromise on the quality of this product.
Read our Full Review of Bulk Powders Pure Whey
---
» See the #1 Protein Shake This Year «
---
Best Diet Whey Protein Powder
WINNER – PhD Nutrition Diet Whey Powder
Diet whey powder may sounds a bit gimmicky at first but an ever-growing number of people are looking towards 'diet' or 'lean' products to build more calorie efficiency in to their nutrition plans. This offering from PhD Nutrition impressed us with a carefully selected blend of protein sources, including milk protein concentrate which is known help you feel full after consuming it.
It also contains a host of other ingredients widely thought to support weight loss. Cocoa powder helps reduce your body's ability to transform dietary fats in to fatty body mass. Golden brown flaxseed powder provides a healthy dose of dietary fibre whilst also acting as an appetite suppressor. CLA (Conjugated Linoleic Acid) powder helps to reduce fatty deposits in the body. Finally, green tea extract for the catechins and caffeine to help burn any excess fat.
All in all, a fantastic supplement for building lean muscle whilst dodging the dadbod (or mumbod).
Read our Full Review of PhD Nutrition Diet Whey
Best Protein Bar
WINNER: Grenade Carb Killa Protein Bar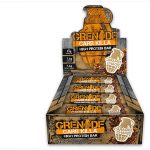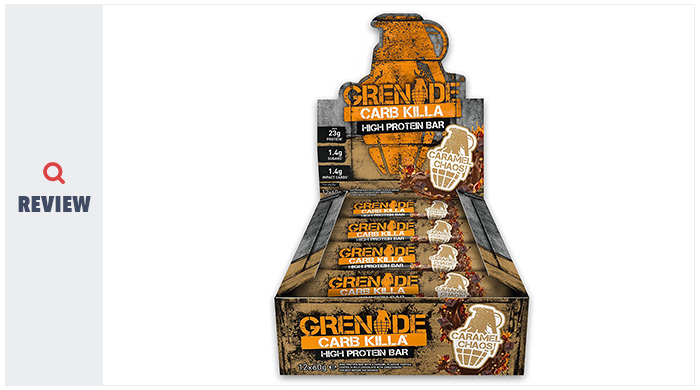 Pull the pin on one of these 60g bars from Grenade and you won't be running for cover, you'll more than likely be running back to the store for another box! Carb Killa® bars contain an impressive 23g of protein and just 1.5g of sugar and are available in a wide range of flavours.
The protein content is made up from three different protein sources: calcium caseinate, milk protein isolate, and whey protein isolate. These proteins are packed with essential amino acids and BCAAs and have a near 100% level of bioavailability. This means that almost none of the protein is wasted. These protein sources are also considered to be some of the fastest to be absorbed in to your body so the process of repairing and building your muscles begins sooner.
Carb Killa® bars clock in at around 220 calories apiece so they are not the leanest, but they are one of the highest in protein and definitely one of the tastiest.
Read our Full Review on Grenade Carb Killa Protein Bar
RUNNER UP: Maximuscle Promax Lean Protein Bar
Maximuscle are arguably the most recognisable name of all the big UK-based supplement companies although they have lost quite a bit of ground to Grenade in recent years. Their Promax Lean range is one example of the ways they continue to innovate and their Promax Lean Protein Bar is full of all the things you would expect and one or two that you might not – though very welcome surprises they were.
The bar contains 3 different protein sources (milk, whey and soya) which provide all the essential amino acids and BCAAs you would expect. The inclusion of soya might seem a bit odd at first, but it is one of the most complete vegan protein sources and, when taken alongside whey protein, is thought to extend the period for which muscle growth occurs following exercise.
Maximuscle have thrown in green tea extract for good measure as well which helps to ensure that the Promax Lean Protein Bar is one of the most nutritionally balanced snacks available.
Read our Full Review of Maximuscle Promax Lean Protein Bar
---
» See the #1 Protein Shake This Year «
---
Best Protein Food or Snack
WINNER: Grenade Carb Killa® Protein Spread
Grenade have done it again with their delicious range of Carb Killa® Protein Spreads. This comes in 4 mouth-watering flavours: White Chocolate Cookie, Hazel Nutter, Milk Chocolate and Jaffa Quake – all of which offer a decent protein hit with very little sugar. In fact, 20% protein by weight is market-leading for anything you can spread on a crumpet.
One thing that Grenade do very well in almost all of their products is carefully select ingredients that, when blended together, provide outstanding nutritional balance and great taste. Carb Killa® Spread definitely sacrifices some nutrition in favour of taste and 'spreadability' but we struggle to see how they could have gotten much more nutrition in without risking a serious blow to the taste or texture of the spread.
For anyone looking to mix up their protein intake or find a healthier alternative to traditional chocolate spreads, Grenade have you covered with Carb Killa® Spread.
Read our Full Review of Grenade Carb Killa® Protein Spread
RUNNER UP: The Protein Works Rawtella
Perhaps a better name for this spreadable protein treat from The Protein Works would have been "Marmight" as people seem to either love it or hate it. The taste and texture of Rawtella will not appeal to everyone but it does have an awful lot going for it when it comes to health benefits.
Rawtella is 70% raw hazelnuts which, as we found during the full review, are absolutely jam packed with nutrition from healthy fats to vitamins and minerals plus a healthy dose of protein. It is vegan-friendly and made from completely raw, natural ingredients that have been carefully chosen to produce a tasty treat that you can enjoy with almost no guilt.
It is heavy on the calories but, at less than 13g of sugar per 100g, it can work in almost any nutrition plan and is well worth a try if you are looking for a versatile and tasty treat, but want to avoid any animal-derived products.
Read our Full Review of The Protein Works Rawtella
---
» See the #1 Protein Shake This Year «
---