This page may contain affiliate links and we may earn a small amount of money from any products bought. Our reviews, however, remain independent and impartial.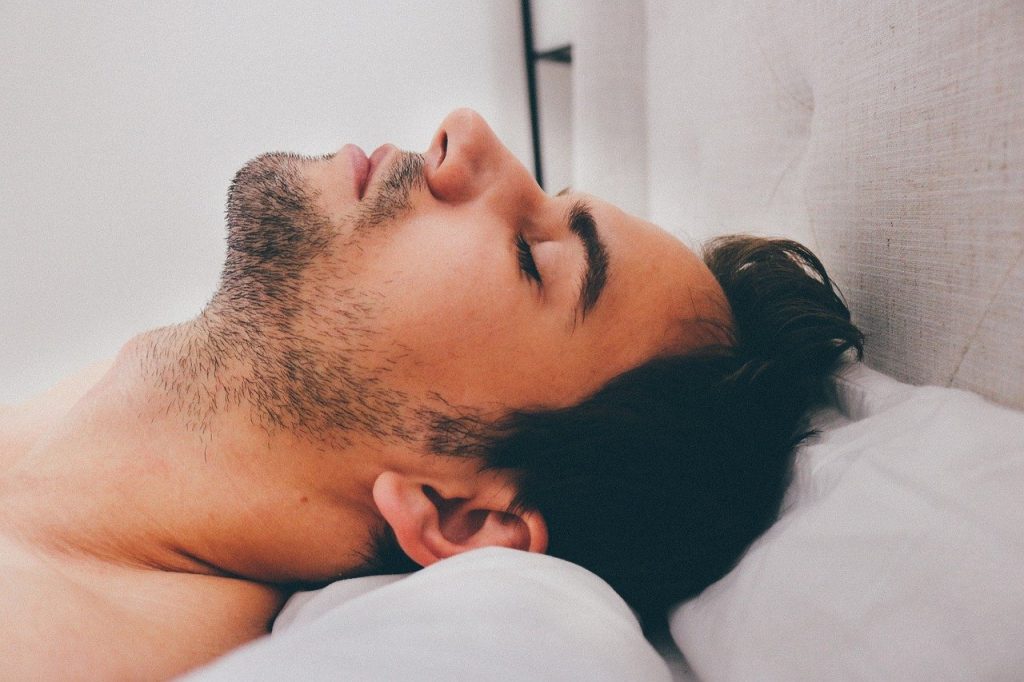 Sleep is one of the most crucial aspects of health, both physical and mental. Yet nutrition and exercise are always prioritised above sleep when it comes to people choosing to improve their lives. In this article, we will look at five of the best easily available over-the-counter sleeping pills in the UK. We will review each supplement in-depth, and explain what we like about them.
After reviewing dozens of supplements, we believe Performance Lab Sleep is the best over-the-counter sleeping pill to buy in the UK today.
Visit the Performance Lab website
Or read on to find out why we rate this supplement our #1 OTC sleep pill of 2021…
The Benefits of Sleep
We need sleep for our body to recover from the rigours of the day. It is during sleep that our muscles recover from exercise, our hormones are maximally released (growth hormone and testosterone for men), and fatigue is banished.
A good night's sleep can help to regulate appetite, helping you while dieting. The process behind this is quite complicated. We have two main hormones that regulate appetite (there are several hormones that affect appetite, but only two main ones), these are leptin and ghrelin.
Leptin is the hormone that tells your body when you are full so the more leptin you have the easier it will be to feel full after a meal. The less leptin you have, the more food you'll need to eat before you feel full. Ghrelin is the opposite of leptin; it works by telling your body you are hungry.
A bad night's sleep can increase the levels of ghrelin in your body and reduce the levels of leptin. Leaving you hungrier than usual and making it harder to feel full. As you can imagine, a few bad nights in a row and you're likely to start gaining weight.
Improving your sleep quality can reverse this, ensuring that your leptin and ghrelin levels are properly regulated. Sleep can also help to reduce stress, improve mood, and help you focus and think clearer during the day.
Studies have shown that extended sleep can help athletes to perform better during training and in game situations [1]. Great news if you play a sport, but also useful for anyone who goes to the gym regularly.
Sleep can also help improve male fertility as it can help men with low testosterone levels get back to normal. Increasing testosterone can help men in hundreds of other ways too.
Now that we understand the many benefits that are associated with good sleep, let's look at some of the best over the counter sleeping pills in the UK.
Five Best Over-the-Counter Sleeping Pills to Buy in UK
Here is a list of five of the best (in our opinion) over-the-counter sleep aids that you can buy in the UK. It is not exhaustive (if you'll pardon the pun) but each one was picked for containing natural ingredients that are properly dosed and well-chosen.
Sleeping Pill #1. TOP-RATED — Sleep by Performance Lab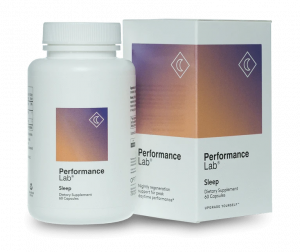 Our favourite over-the-counter sleeping pill is Sleep by Performance Lab. One of the things we love about Performance Lab products is their attention to detail; they always strive to use the best available ingredients, and always have proper dosages.
There are only three ingredients contained within Sleep, but each one is superior to the other products on this list. For example, Sleep contains 100mg of Magnesium+, the most bioavailable form of magnesium around. They have l-tryptophan just like a couple of other supplements on this list. But they use TryptoPure®, the best version of tryptophan.
Finally, they don't just have Montmorency cherries (like a couple of other supplements on this list) they use CherryPURE, a more concentrated version. This version is so potent that a 500mg dosage is the equivalent of 25g of Montmorency cherries.
All three ingredients have been picked for their potency, their effectiveness, and how well they interact with each other. The TryptoPure® and Magnesium+ are a great example of that. Magnesium is a co-factor in the conversion of l-tryptophan into the neurotransmitter serotonin, which helps to release melatonin (required for sleep) and relax you.
Both magnesium and CherryPURE also serve to help you recover from exercise, the cherries relieving sore muscles while the magnesium helps to support protein synthesis and testosterone production.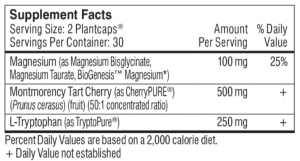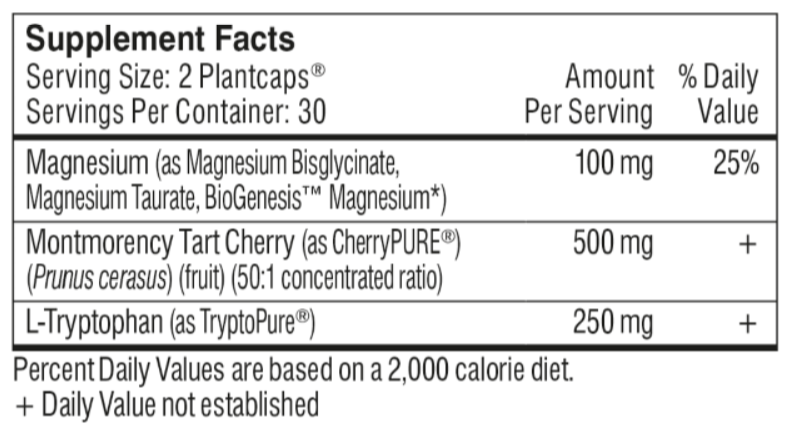 Taking Sleep by Performance Lab will leave you relaxed, refreshed, and less anxious. You'll also feel recovered from exercise. But maybe that's not enough for you (tough crowd). Luckily, you can combine Sleep with other Performance Lab supplements.
The Performance Lab range has cleverly been created to SAFELY combine with any other product in the range. This offers great flexibility and peace of mind that you're not taking *too much* of any one substance if you combine supplements.
For example, you can combine Sleep with Post. This is the Performance Lab post-exercise supplement. This makes sense because sleep is so crucial for recovery, ingredients from Post such as creatine can help to repair and grow muscle while you sleep. It's a synergistic partnership.
Another combination you might consider would be Sleep with Mind. Performance Lab Mind is a cognitive enhancer that avoids any stimulants, containing ingredients such as citicoline, l-tyrosine, and Sharp-PS®. Ingredients that have been shown to improve focus, boost mood, and aid memory. Imagine the benefits of combining a cognitive enhancer with a supplement that can improve sleep. So, you wake up refreshed, with no fatigue, and all the cognitive benefits that you would expect from Mind.

There are 30 servings in a pack of Sleep, and each pack costs £30, so this supplement works out at £1 per day. Some may see this as expensive, but if you've ever woken up after four hours of broken sleep, you'll understand how each serving of Sleep by Performance Lab is worth its weight in gold!
BUY: Direct from Performance Lab
READ: Our Full Review of Performance Lab Sleep
Sleeping Pill #2. Advanced Night-Time Nutrients by The Restored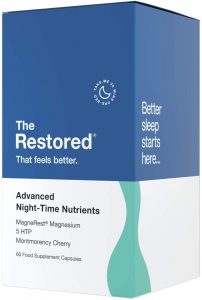 This Advanced Night-Time Nutrients supplement by The Restored is a seriously impressive sleep supplement and well worth its position in this top five over-the-counter sleeping pills list. The ingredients list is split into three sections, each one with a slightly different aim.
There is a sleep quality blend, which contains ingredients such as 5-HTP (derived from Griffonia Seed extract), tryptophan, and vitamin B complex. All these ingredients have been shown to increase serotonin or to help with sleep disorders such as restless leg (vitamin B complex). [2]
The sleep quality blend also contains a magnesium blend called MagnaRest® which as we have previously established is an excellent ingredient for improving sleep quality as well as helping with hormonal support and recovery post-exercise.
The next blend is designed to support your sleep cycles, including ingredients such as Montmorency cherry, grape seed extract, and watermelon extract. While the latter two aren't particularly special, we have already mentioned the potentially exciting benefits of Montmorency cherries.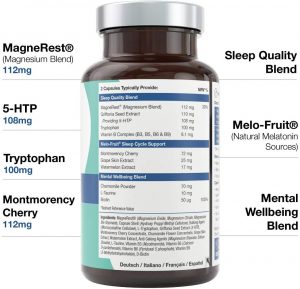 The final blend is designed to improve your mental wellbeing, something that has a huge impact on sleep quality and sleep duration. This is probably the weakest blend of the three, but we like the addition of taurine due to its potential anti-anxiety effects. [3]
Overall, this is a cool sleep supplement which will go a long way to improving your sleep quality and duration, as well as relaxing you and lowering anxiety before bed. The supplement is suitable for vegans and has a non-habit-forming formula (as do all the others on this list).
You get 60 capsules for £20 which is slightly expensive, particularly when you realise that you are supposed to increase your nightly intake from one capsule to two after a couple of weeks. But if you're suffering from bad sleep is £20 a month that bad? We certainly don't think so!
Sleeping Pill #3. 5-HTP by Natural Evolution
This supplement is a single-ingredient supplement. 5-HTP is derived from l-tryptophan, an amino acid that is integral to the production of serotonin. You may have heard of serotonin before, it is a molecule that is very important for memory, mood, and sleep. [4] A lack of serotonin has been linked to anxiety and depression, and the insomnia that can often come with them. So, the end-goal is to increase serotonin to improve your sleep quality.
There are several studies that show 5-HTP to be an important part of improving your sleep. One study shows that it can reduce sleep latency (how long it takes you to fall asleep). It is also used to treat anxiety and may help relieve stress. It can also be effective at treating the rare condition of sleep terrors.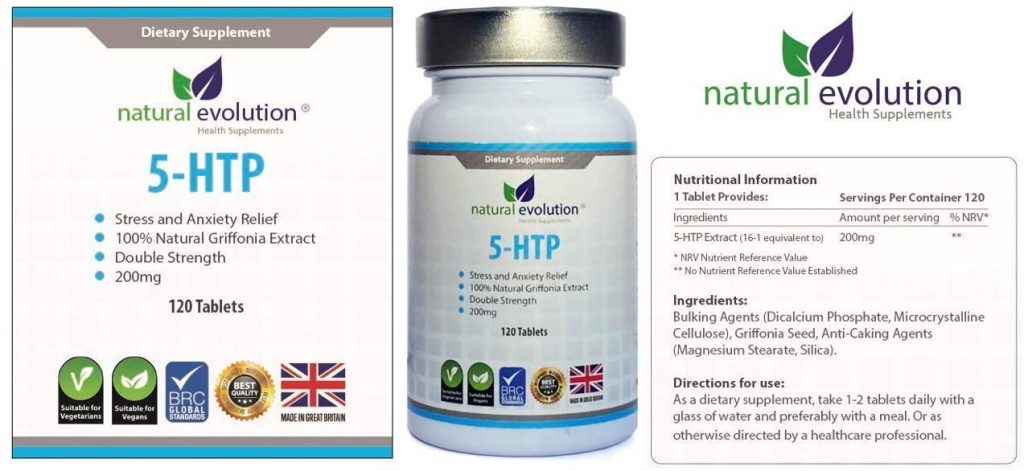 The 5-HTP in this supplement is derived from 100% natural Griffonia extract, and each capsule is double-strength (200mg). There are 120 servings per container, and the price is around £13. This supplement is suitable for vegetarians and vegans and is made in Great Britain.
Like the l-tryptophan supplement by VitaFair (mentioned below), this supplement is a single-ingredient supplement and can therefore be combined with other single-ingredient sleep supplements such as magnesium or l-theanine.
Sleeping Pill #4. Advanced Neuro Night Complex by Nu U Nutrition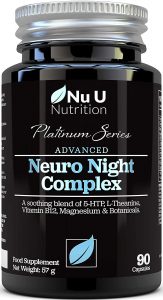 Unlike the previous supplement, Advanced Neuro Night Complex by Nu U Nutrition is a multi-ingredient product. Combining some effective ingredients with some more traditional ingredients. For example, there is 5-HTP (50mg) which is produced from l-tryptophan (which we looked at earlier). This is a precursor to serotonin and will help with sleep.
We've also got 187.5mg of Magnesium which has been shown to improve sleep quality in people who suffer from bad sleep. [5] There is also l-theanine, an amino acid that has been shown to aid relaxation, reduce anxiety, and improve sleep quality in people who suffer from hyperactivity during sleep (i.e. people with ADHD). Theanine is a very popular supplement ingredient for its calming properties.
Another good ingredient is Montmorency cherry powder, which as we saw with our favourite product, Performance Lab Sleep, is a natural source of melatonin. There's only 20mg of  Montmorency cherry in Advanced Neuro Night Complex, however, which doesn't compare to the 500mg in Performance Lab Sleep.
There are a couple of other ingredients that aren't that exciting (coconut milk powder, lemon balm powder) and there is chamomile flower powder which may or may not help with sleep.
You get three month's supply per pack, and the cost is around £20. So, this is clearly more expensive per serving than the previous product but offers a lot more. They've covered a lot of bases.
Sleeping Pill #5. L-Tryptophan by VitaFair
As you will already know if you've read the above, L-Tryptophan is an amino acid that is integral to the production of serotonin, the 'feel good' chemical that is important for sleep.
Supplementing with l-tryptophan is a good idea, because it has been shown to improve sleep in people who are deficient in it. L-Tryptophan by Vita Fair is a tryptophan supplement sold by a German supplement company based in Berlin.

Unlike many sleep supplements, this is a single-ingredient supplement. Meaning that you can combine it with other supplements if you want, or just take it on its own. The capsule surrounding the l-tryptophan is derived from plants, making this supplement completely vegan friendly.
The serving suggestion is one capsule per day swallowed (no chewing) with a glass of water. Each capsule contains 500mg of l-tryptophan and there are 240 capsules per pack. You can purchase a pack for around £20, and it will last you for 8 months! That's amazing value.
This is a great base ingredient; you can purchase it first and take for a month or so. If your sleep is improved, then you can stick to it as needed. If, however you are not noticing a difference you can consider adding other single-ingredient supplements to your pre-bed routine. At this price, you're hardly risking anything!
Final Thoughts
The aim of this article was to help you discover the best over-the-counter sleeping pills in the UK, and we like to think we've done that. We've provided a variety of different products. Some are single-ingredient supplements, a couple contain multiple ingredients, and our favourite, Sleep by Performance Lab, contains just three ingredients.
All five will deliver a good night's sleep, and if you combine Sleep with Post or Mind (or both) you're getting a supplement that can help you sleep better, help you wake feeling more focused than ever, and help you to recover from the toughest of workout sessions. What more could you ask for?
References