This page may contain affiliate links and we may earn a small amount of money from any products bought. Our reviews, however, remain independent and impartial.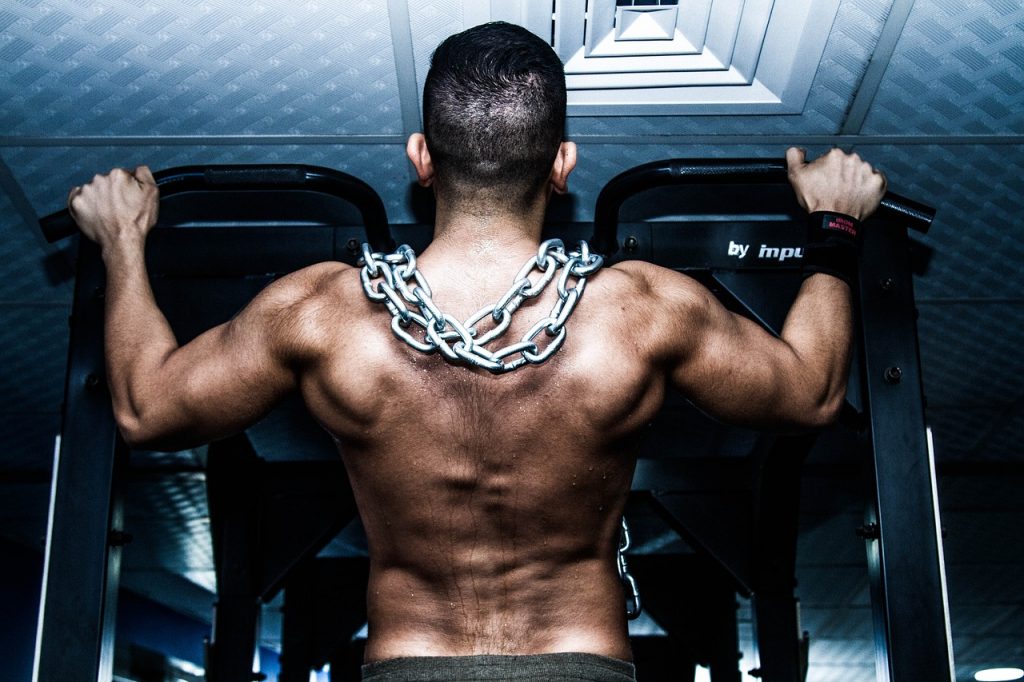 When you hit the relatively young age of 30, a man's testosterone levels can fall by as much as 10% for each passing decade. Testosterone is implicated in everything from virility and libido, to muscle growth, athletic performance, strong bones and overall health and vitality. It's no wonder testosterone boosters have become so popular in recent years.
After reviewing dozens of supplements, we believe that Testo Lab Pro is the best testosterone booster currently available on the market.
Visit the Testo Lab Pro website here
Or read on to learn why we chose this T-booster as our #1 recommendation.
Here at Supplement Reviews UK, we've scoured the market to identify the best of the best, the top testosterone boosters (T-boosters) to buy in the UK in 2021. One of these is bound to be the perfect choice for you, so read on…
1: Testo Lab Pro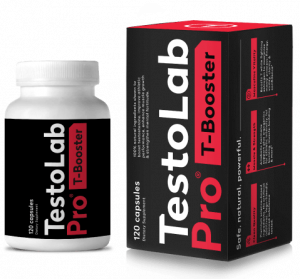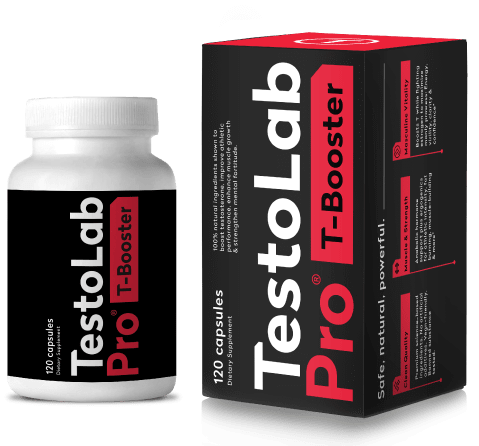 New to the market and already our top choice… Testo Lab Pro is a bold T-boosting choice, calling itself 'masculinity in a capsule'.
Hyperbole aside, this is a serious testosterone booster. It pledges to:
Increase T-levels levels naturally and safely
Protect, maintain and enhance the power of circulating testosterone
Encourage muscle growth and resulting strength
Improve athletic prowess
Enhance your virility and help you feel more masculine.
And this is just the tip of the iceberg. Altogether its scientifically proven all-natural ingredients help with 15 different areas of masculinity, virility, and T-boosting. Let's take a look at its ultra-modern formula…
The Ingredients
One of the star ingredients of Testo Lab Pro is ancient herb Ashwagandha, included here in premium form KSM-66®.  Popular in Ayurvedic medicine for thousands of years, modern clinical trials have recently investigated its T-boosting and other health-building effects.
Ashwagandha is a potent adaptogen, meaning that it helps to reduce anxiety and stress, and balance stress-related hormones such as cortisol. A double-blind human placebo study of subjects taking 300mg of KSM-66® for 60 days demonstrated a 27% drop in cortisol levels.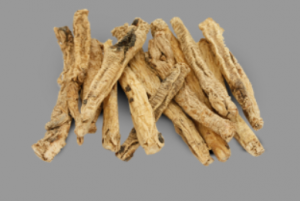 Why does this impact testosterone? There's a strong school of belief, with evidence behind it, that stress and low testosterone levels may be linked, via cortisol. This may be because testosterone isn't a high requirement when the body is in fight or flight mode, a form of stress that all too often carries over into the everyday. Instead, the body produces the stress hormone cortisol.
As well as reducing cortisol, Ashwagandha has also been proven to increase HDL-cholesterol (the good kind), aid sleep and reduce inflammation, all of which are potentially valuable for testosterone production.
Human studies of Ashwagandha on infertile subjects have shown significant increases in testosterone of up to 40%, with better sperm quality. A study of young healthy fertile subjects (using KSM-66®) also saw a 15% increase in testosterone levels.
BUY Testo Lab Pro
Other ingredients in Testo Lab Pro:
D-AA-CC: Supporting Ashwagandha is 600mg of proven T-booster D-AA-CC (D-Aspartic Acid Calcium Chelate). This amino acid helps to regulate the sex hormones, triggering an increase of luteinizing hormone (LH) and Follicle Stimulating Hormone (FSH). Both of which tell the testes to produce more testosterone and sperm. Studies show D-AA, the more basic form of this amino acid, can increase testosterone by as much as 42% in 12 days. D-AA-CC is superior to this.
Mucuna Pruriens: Aiding Ashwagandha's stress-busting qualities is Mucuna Pruriens, another adaptogen herb. Mucuna's active ingredient levodopa (L-DOPA) starts a bioactive chain reaction in the body that results in increased testosterone production. Particularly effective in men with low sperm counts.
Luteolin: Antioxidant luteolin prevents the enzyme aromatase from converting testosterone into oestrogen, and may be particularly beneficial for men as they age when the conversion rate of T to oestrogen begins to increase.
Plus NutriGenesis vitamins and minerals: These five nutrients– zinc, magnesium, vitamin D3, vitamin K, and boron – are often lacking in men's diets and are the most influential for T-production. Supplying generous quantities of them, therefore, enables Testo Lab Pro to provide a solid foundation for the rest of the formula to rest upon. Let's took at what each does…
Boron, of course, is a classic T-boosting mineral used to boost levels of free testosterone in the body.
Zinc and Magnesium: Testo Lab Pro also contains 30mg of zinc, providing more than 100% of your daily requirement. Zinc is an essential nutrient which your body cannot store or produce so you need a constant supply from your diet. Having a zinc deficiency can lead to low testosterone and supplementation of zinc and magnesium — also included in this formula — has been shown to improve levels of free testosterone in the body. Zinc may also boost sperm count in men who are deficient in zinc.
Vitamins D and K: Finally, Testo Lab Pro is rounded out with vitamins D, K1 and K2. Each deserves their place. Vitamin D acts as a steroid hormone in the body in its active form and studies have shown a correlation between low levels of vitamin D and low testosterone. The reverse is also true — boost your levels of vitamin D and you boost your T-levels. Similarly, the 'forgotten vitamin' — vitamin K — is slowly becoming recognised as a valuable T-booster. Vitamin K builds up in the testes, directly impacting testosterone synthesis. K1 is known to keep blood flowing while low levels of vitamin K2 are associated with lower testosterone levels.
The Results
Together the ingredients in Testo Lab Pro help to promote healthy T levels; combat female and stress hormones to sustain circulating testosterone, and support the LH and FSH hormones that encourage testosterone production.
The result of combining the above? Testo Lab Pro promises more free testosterone circulating for longer, meaning more testosterone that is bio-available for the body to use.
Use Testo Lab Pro if…
You're looking for a safe, powerful and natural daily T-booster that you can use over the longer term (no cycling needed).
BUY Testo Lab Pro
PAIRS WELL WITH
Performance Lab NutriGenesis Multi for Men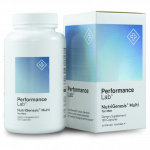 . Provides all your daily requirements for 17 important vitamins and minerals (and more!), making sure you're not deficient.
Read a full review of Performance Lab® SPORT T+ 
---
2. Centrapeak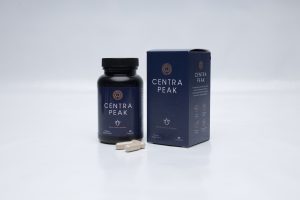 Recently released in the UK, Centrapeak is a male vitality pill that does more than just boost testosterone; it takes care of your mental wellbeing too.
It's the only supplement of its kind to do this — putting just as much emphasis on your mental health as it does your physical T-boosting — and we are big fans, hence its second place on our list.
Centrapeak includes 14 top-notch ingredients that aim to:
Boost testosterone
Improve libido and fertility
Reduce stress and anxiety
Boost mental cognition
Enhance endurance and stamina, aiding muscle mass and strength
Give you renewed energy and vitality.
It's a lot to ask for from three capsules a day, but we're pleased to say that Centrapeak delivers. It mixes tried and tested testosterone boosters with proven nootropics or cognition boosters.
The Ingredients
They include: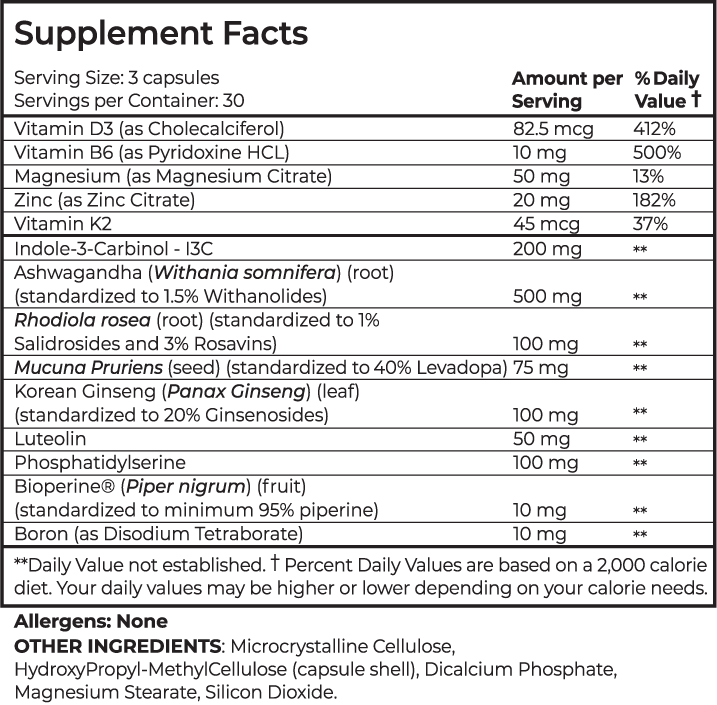 Zinc, Magnesium and B6: Centrapeak's version of ZMA, the popular supplement created to build muscle strength and stamina, help recovery after exercise and improve sleep. Zinc helps to directly raise T-levels, magnesium promotes better sleep which also improves testosterone and B6 both promotes androgens and regulates the hormones oestrogen and prolactin, which can otherwise damage T-levels.
Vitamin K2 is particularly useful for tackling age-related falls in testosterone; vitamin D supplementation prevents deficiency which has been linked to low T-levels, and Indole-3-Carbinol blocks aromatase, which converts T into oestrogen, helping to maintain testosterone levels.
Power hitter Ashwagandha acts as a testosterone booster and a nootropic. It tackles cortisol levels — too much of the stress hormone hinders T production — has been shown to boost muscle mass, AND acts as a potent libido enhancer.
Nootropics Rhodiola Rosea, an adaptogen herb that helps the body to handle stress, and Phosphatidylserine, which helps to create and protect brain neurons, help to boost the cognitive benefits and stress-relief of Centrapeak.
Herb Mucuna Pruriens both reduces stress and delivers L-DOPA that turns into dopamine and more testosterone. It has also been shown to improve sperm count and sperm activity, boosting male virility.
Ancient natural medicine, Panax Ginseng, can also boost testosterone and libido, and provide more nitric oxide to potentially help with erectile dysfunction. While Luteolin is one of the best oestrogen-blockers around, helping to reduce aromatase. It also boosts GABA levels in the brain to improve mood and feelings of wellbeing.
Boron helps to reduce levels of SHBG, the hormone that binds to T, making it no longer available for use, while also improving performance and boosting free testosterone. The final ingredient, BioPerine, aids with the absorption of all other ingredients

Formula Analysis
We can confirm that all of these ingredients are effective and appropriately dosed, and Centrapeak will indeed deliver on its promises. It's a very impressive formula.
Centrapeak is ideal as a vitality pill for the busy modern man who wants to stay in shape and stay sharp as he ages. It's far and away our favourite male vitality pill.
Choose Centrapeak if…
You want something more than just a testosterone booster, and would appreciate a supplement that boosts T while also helping your body deal with stress, protect the brain and help improve your mood too.
---
3: Prime Male
Prime Male combines 12 solid ingredients to make a top-notch testosterone-boosting pill. We love Prime Male, especially for its:
Target audience: Prime Male is targeted at men aged 30, 40, 50 and over, the age groups that need testosterone boosters the most.
It's not often a formula can make all 12 ingredients work hard, but Prime Male does. All ingredients are either strong proven T-boosters alone, or combine with each other to significantly improve its testosterone-boosting power.
Prime Male includes substances that work specially for age-related testosterone loss, demonstrating its commitment to its target audience.
Prime Males' Promise:
To quote the manufacturers, Prime Male can 'turn back the clock on male ageing'
That's a heck of a promise. Here's another one: Prime Male claims that it can boost your T levels to what they were 10, 20 and even 30 years ago, and can do so in weeks rather than months.
The manufacturers are very confident of their product and we agree with them. Everything we've seen and tested so far demonstrates that Prime Male is a winning testosterone-boosting formula.
Taking Prime Male or any effective T-booster should help to boost your libido and mood, improve cardiovascular health, give you more energy, help build lean muscle, and strengthen your bones. Prime Male also boasts that its product can aid optimum prostate health, boost brain function, and improve skin.
It Works Because…

Prime Male is so effective because of its three-pronged approach. It…
Boosts testosterone production directly by using D-Aspartic Acid Calcium Chelate (D-AA-CC) to encourage production of the body's Luteinizing Hormone (LH).
The power of D-AA-CC is also backed by LH-booster Mucuna Pruriens.
Neutralises Sex Hormone Binding Globulin (SHGB). As much as 60% of a man's testosterone is 'bound' to SHGB, which makes it unavailable for use. Magnesium citrate, nettle root and boron help to reduce levels of SHGB and reduce its strength.
Reduces the female hormones found in a man's body. Oestrogen and prolactin are naturally present in the male, but too much can damage testosterone levels. Boron, luteolin, and zinc help to reduce their amounts. One study found that oestrogen levels dropped by 39% after taking 10mg boron for one week.
Other ingredients include:
Vitamins B6 and D3, both of which help to boost testosterone levels.
Vitamin K2, particularly useful in tackling age-related T decline.
Korean Red Ginseng, perhaps not a direct T-booster but useful in the bedroom. May also help erectile dysfunction.
BioPerine®, a form of black pepper which encourages absorption, making the other ingredients more effective.
Choose Prime Male if….
You're in the right age group, want a quality product with premium ingredients and plan to use it over the longer term to maintain healthy testosterone levels, as opposed to seeking a short sharp T boost.
BUY Prime Male direct from the manufacturer
PAIRS WELL WITH
Prime Male Enhance: Virility Pill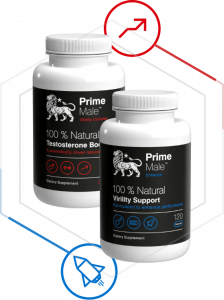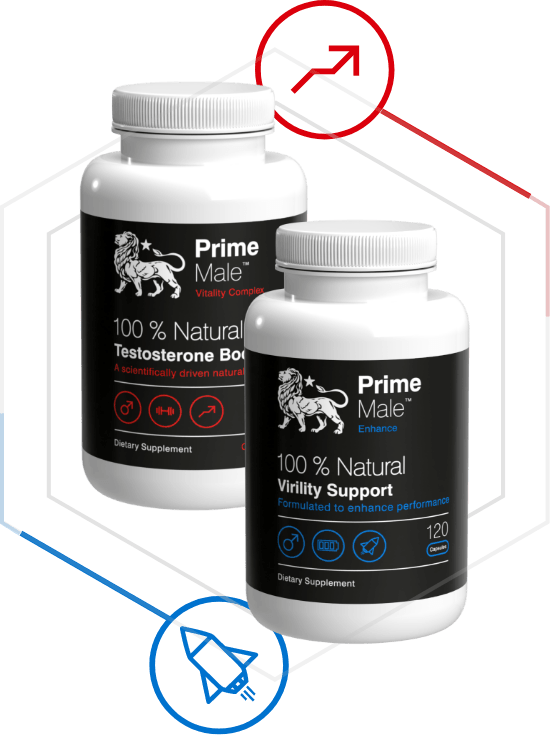 A virility pill designed to work in synergy with the original Prime Male. Prime Male Enhance boosts virility three-fold:
Nutrients improve blood flow and sperm quality
Proven libido-enhancing qualities fuel your sex drive
Mood lifting ingredients boost your confidence
Let's get down to what you really want to know: Prime Male Enhance promises to deliver stronger and longer erections, and more satisfying orgasms. As Prime Male helpfully point out, a recent survey shows that nearly half of men in their THIRTIES have occasional problems with gaining and sustaining an erection. Prime Male Enhance promises to tackle this.
It does so via a mix of 11 nutraceuticals, including:
Ginseng, maca and oatstraw to help you 'feel confident in your performance and sexual enjoyment'
Tribulus, selenium, damiana, and muria puama (colloquially referred to as "erection root") to increase desire and help you develop an 'Alpha sexual mindset'
Saw palmetto, L-arginine, B-vitamins and zinc to give you the energy to deliver and the 'blood flow necessary to impress'.
Prime Male Enhance can be used alone but has been designed to be taken alongside Prime Male for extra strength.
BUY: See Combo Offers for Prime Male + Prime Male Enhance 
---
4: TestoFuel
TestoFuel is great because of the difference it offers to our first and second place choices above. Whereas Performance Lab T+ brings ancient medicine to the modern-day, and Prime Male seeks to aid the older generation, TestoFuel unashamedly targets young weightlifters.
As it says on its marketing literature and website, if you're 'struggling to pack on the muscle' or 'not making the gains you'd hoped for', the 'missing link' could be testosterone.
The Science…
Testosterone is connected in some way to pretty much every organ in the body, and that's especially true for the muscles. Increasing your levels of testosterone can help the body to recover quicker after workouts, giving you an energy boost at the same time. Meaning you can work out more often and harder than before, helping to build bigger muscles.
You'll be stronger, have less body fat, improved muscle mass, more motivation and an enhanced libido, promises TestoFuel.
It Works Because…
The manufacturers of TestoFuel know their market, and have combined effective T-boosting ingredients with performance enhancers. A popular mix for weightlifters in their 20s seeking an extra edge.
We'll be honest: TestoFuel uses many of the same proven substances as Prime Male. We're talking D-AA (D-Aspartic Acid), vitamins D3 and B6, zinc and magnesium. All have been proven to help boost testosterone production, either by increasing it directly, stopping it from being rendered unusable by SHGB, or by reducing the female hormones in the body. TestoFuel's supply of D-AA is particularly high at a dosage of 2,300mg.
Here's where TestoFuel differs from Prime Male: It introduces a couple of new ingredients into the mix – fenugreek and oyster extract.
Fenugreek used to be a controversial choice but more and more studies have shown that it can improve testosterone levels and symptoms related to low T-levels, such as poor libido. An eight-week study, for instance, with 49 athletic men demonstrated that taking fenugreek daily improved testosterone levels, plus strength and body fat too. It's the perfect inclusion in TestoFuel.
Oyster Extract gives another powerful boost of zinc — a known T-booster — and also adds an aphrodisiac and libido-boosting effect. We don't believe anyone would complain about that!
Other ingredients:
Vitamin D, included here as D3, a preferred form for testosterone. A vitamin D deficiency can lead to lower levels of free testosterone.
Vitamin K2 complements vitamin D3 and may help to 'maintain steady levels of testosterone.'
Worthy of note: By including Zinc Monomethionine and Aspartate along with Magnesium Aspartate and vitamin B6, TestoFuel basically includes its own version of ZMA, a popular sports nutrient. This would appeal to bodybuilders, athletes and gymnasts for its ability to boost muscle recovery and promote deeper sleep. A bonus to TestoFuel.
Choose TestoFuel if…
You are ideally in your 20s and want a helping hand to boost testosterone so that you can build muscle. A couple of performance enhancers are also a welcome addition.
BUY TestoFuel direct from the manufacturer
Read our full review on TestoFuel
5: Hunter Test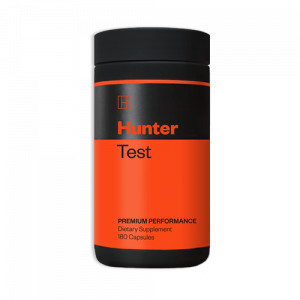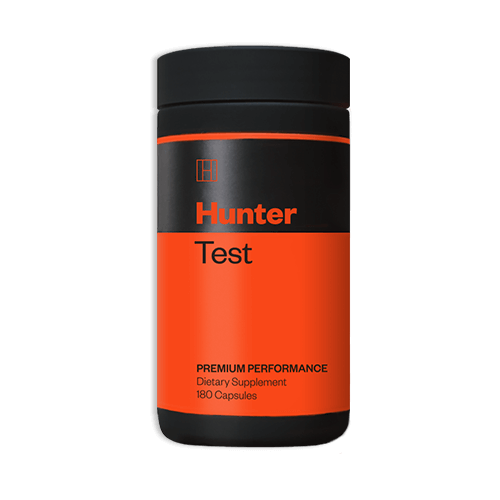 Don't be fooled by the fact that Hunter Test is fifth on this list; this is a superior testosterone booster. There just happen to be several other excellent T-boosters to sit alongside it.
Hunter Test is made by respected UK supplement company Roar Ambition, and here's what we love about it: It's part of a male-focused range of products which includes a strong nootropic (Hunter Mind) and an excellent fat burner (Hunter Burn). All can be used together, making an impressive male-oriented health package.
Of course, if you only want the T-booster, then Hunter Test also works perfectly well on its own, thanks to its combo of DAA, ginseng, ashwagandha, boron, zinc, magnesium and vitamins D3 and K2.
It's a combination that both provides short-term benefit to testosterone levels, potentially combats T-deficiency and fights stress that can impact on your testosterone levels. Hunter Test is particularly useful to support infertile men or men deficient in testosterone — so potentially any man over 40 years of age!
Full ingredients include: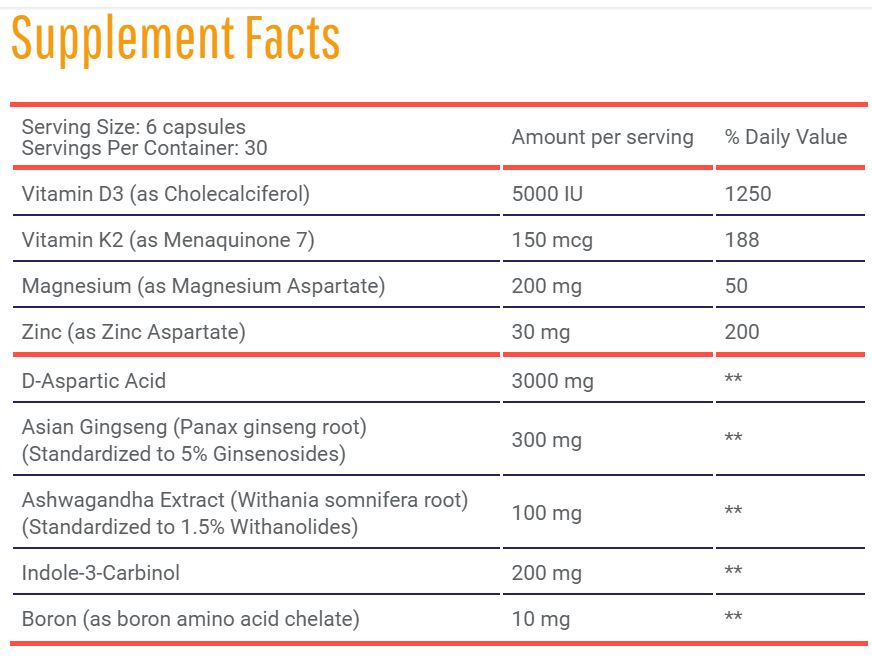 Overall, this is a very strong product primarily designed to support older men with the likes of DAA and Ashwagandha allowing you to regain some control over your hormones.
BUY Hunter Test direct from the manufacturer