This page may contain affiliate links and we may earn a small amount of money from any products bought. Our reviews, however, remain independent and impartial.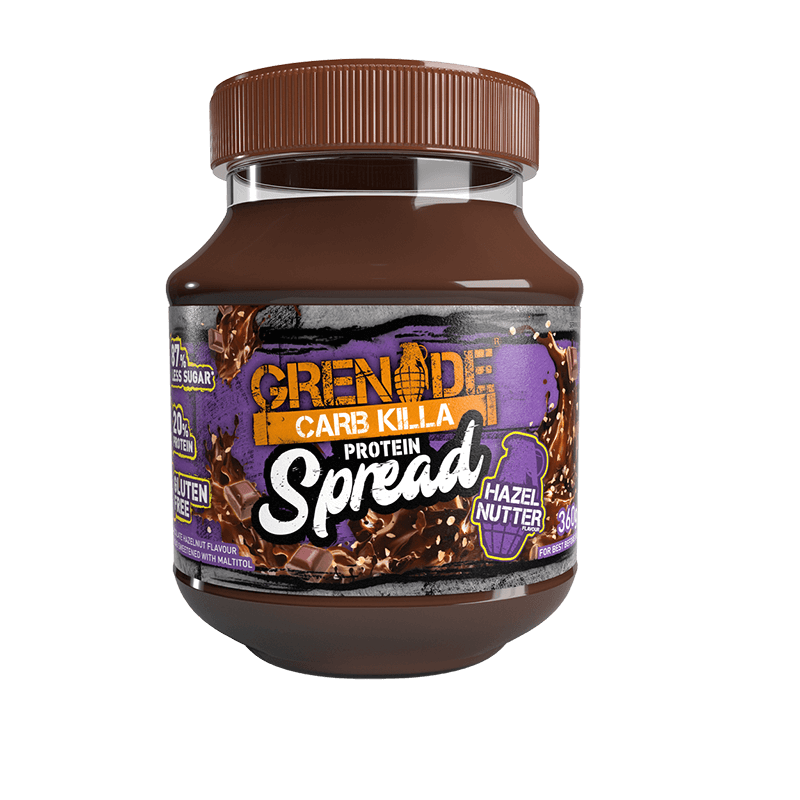 Since exploding onto the scene (pardon the pun) just a few short years ago, Grenade has quickly risen to the top of the domestic and international supplement markets and garnered a strong following amongst both hardcore and casual gym-goers.
What Grenade claim with their Carb Killa® Protein Spread is that they have "put the bar in a jar" – referring to their incredibly popular Carb Killa® bars. Realistically, their Carb Killa® Protein Spread can't be expected to match up to the bars in terms of overall nutrition, but it is being touted by many as a healthier and no-less-tasty replacement for the sugar-loaded spreads that line supermarket shelves.
There is no doubt that Grenade's Carb Killa® Protein Spread contains far less sugar than leading brands of chocolate spread, 87% less according to their website. The protein content sounds great for a spread at 20% too, but this falls short of what the bars offer.
Below, we'll see how closely the spread matches up to the bars in terms of nutrition and whether it can compete with less healthy alternatives on taste.
<<< SPECIAL: See our Best Protein Powders to Buy in the UK in 2020 >>>
Ingredients
Vegetable Oil
The main ingredient of the spread is oil, specifically rapeseed oil and sustainable palm oil. Fair play to Grenade for specifying that their palm oil is sustainable in light of recent bad press around how a lot of this type of oil is sourced.
These oils both contain a low proportion of saturated fat compared to the total amount of fat, but they are not the leanest in terms of calorie count. This article helpfully breaks down the calorie count and fat content of a lot of oils used in cooking. It shows that rapeseed oil has very little saturated fat but palm oil contains slightly more.
Most chocolate spreads use palm oil for the taste, knowing full well that customers do not pay too much attention to the nutrition label. Carb Killa® Spread, though, uses a more thoughtfully chosen mix of oils as its base that helps to keep the saturated fat content low without sacrificing on taste.
Whey Protein Concentrate
The three most common forms of whey protein are concentrate, isolate and hydrolysate. Of these, whey protein concentrate is the most palatable but also the least rich in overall protein content.
Whey protein is one of the most complete proteins in terms of amino acids as it contains all 9 essential amino acids that our bodies do not produce naturally. It also contains high amounts of branch chain amino acids (BCAAs) and, in particular, is a good source of leucine. Leucine has been shown to have the highest anabolic impact of any BCAA, which means that it is the best for promoting lean muscle growth and supporting protein synthesis.
Skimmed Milk Powder
Powdered milk contains 25-30% protein and is packed with magnesium, potassium and vitamins A, B and D. It is also a great source of calcium. The protein in milk is different to what is found in whey or casein (these are by-products of milk) and it is an incredibly rich source of BCAAs.
Milk protein is fantastic for making you feel full after eating as well which is useful if you find it hard to stop eating before you feel full. The taste is very similar to that of liquid milk and we suspect that is another reason, perhaps even the main reason, that Grenade have decided to include it in their formula.
---
» See the #1 Protein Shake This Year «
---
Pros
Grenade Carb Killa® Protein Spread is available in 4 flavours: White Chocolate Cookie, Hazel Nutter, Milk Chocolate and Jaffa Quake.
Contains 20% whey protein and 87% less sugar than other chocolate spreads.
Suitable for vegetarians.
Most flavours are gluten and GMO-free.
According to the vast majority of customers, the taste is comparable to, or even better, than some of the leading chocolate spreads you find in supermarkets.
Miles better than other chocolate spreads in terms of calorie count, sugar and fat content.
Cons
The serving size is 33g which provides around 170 calories but just 7g of protein, making Carb Killa® Protein Spread far less efficient for protein than the Carb Killa® bars.
At around £6 for a 360g jar, it will be considered too pricey by many.
There have been complaints from customers about short shelf lives discovered on delivery and some cases of damage to the lid during transit, exposing the spread to air and causing it to harden.
This is just a small note, but as it contains real cookie pieces, the white chocolate cookie flavour is not gluten-free.
The sugar substitute used in Grenade Carb Killa® Protein Spread is maltitol, which is generally considered to be safe, but it is still a carbohydrate and still has a glycemic index so can raise glucose levels in your blood. Something to watch if you are diabetic.
Consumer Reviews
The following reviews have come from Amazon UK





---
» See the #1 Protein Shake This Year «
---
Who Takes It?
If you regularly find yourself longing for a sweet fix but don't want to gorge on sugar, then Grenade Carb Killa® Spread can help keep those cravings at bay whilst still keeping you on track with your macros. Just be warned, it is not easy to put that spoon down once you start!
It makes a great substitute for those on a low carb diet, but if you are looking for a tasty snack that hits hard in the protein front too, you would be better off looking at the Carb Killa® bars.
How To Take It
It's really up to you. Spread it over toast, slather it on to pancakes, or just attack the jar with a spoon. Grenade suggest using it in baking too, so get creative! Protein brownies, anyone?
Safety/Side-Effects
There is a warning on the packaging that the product contains more than 10g of polyols per 100g, which is a lot, and excessive consumption may cause laxative effects, so be wary of eating too much in one sitting.
Grenade Carb Killa® Protein Spread is not suitable for those allergic to lactose and may not be suitable for diabetics thanks to the maltitol sugar substitute used.
Conclusion
Grenade Carb Killa® Spread is not quite as protein heavy or nutritious as the bars, but this should be expected. Protein bars, in turn, are not as protein rich as the powders but that doesn't stop them being popular.
It would be incredibly difficult for Grenade to pack the same amount of protein and other nutrients in to Carb Killa® Protein Spread as they do to Carb Killa® Protein bars and still have it runny enough to spread on your morning bagel.
What they have done though is to provide people with a genuine alternative to unhealthy chocolate spreads. Customers are able to feel like they have had a real treat when in reality they have not strayed from the narrow path. Grenade Carb Killa® Protein Spread is both delicious and permissible for most nutrition plans, as long as you can put the spoon down when you need to.
---
» See the #1 Protein Shake This Year «
---
Where to Buy
You can buy Grenade Carb Killa® Protein Spread from the official UK Grenade website or from Amazon UK