This page may contain affiliate links and we may earn a small amount of money from any products bought. Our reviews, however, remain independent and impartial.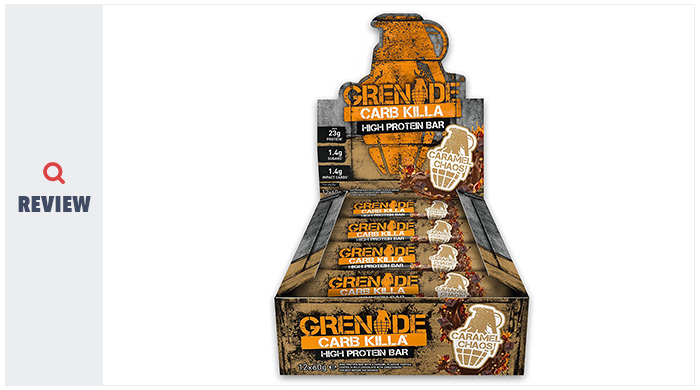 The Grenade Carb Killa® protein bar is Amazon UK's number one bestseller in the Protein Bars, Energy & Nutritional Bars and Cereals & Breakfast Bars categories.  It's no wonder they've earnt an impressive 4.5 star rating out of 5 from more than 1,500 reviews.
The Carb Killa Caramel Chaos bar offers more than 23g of protein with 1.4g of 'high impact carbs' and just 1.4g of sugar per 60g bar. (Different flavours have slightly different nutritonal values).
<<< SPECIAL: See our Best Protein Powders to Buy in the UK in 2020 >>>
Special Note
Here's the interesting thing about the carb count in Grenade Carb Killa® protein bars. Grenade is one of the growing numbers of manufacturers who split carbs into high/ low impact, or active carbs.
On its Amazon UK page, Grenade says its Carb Killa® product has just 1-2g of high impact carbs (depending on flavour), but that's not its total carbohydrate count.
In actual fact, Grenade's Carb Killa® bars have between 13.5g and 16.9g of carbohydrates depending on which flavoured bar you choose. Grenade's theory, however, is that only a minority — 1 to 2g — of them are considered the 'unwelcome' high impact carbs that can rapidly boost blood sugar and insulin.
The rest are low impact or non-impact carbs that help to maintain blood sugar and insulin levels, keeping them stable throughout the day and helping to control the amount of fat stored by the body. As such, so the theory goes, you can ignore the non- or low-impact carbs and only consider high-impact carbs when choosing which protein bar to buy. Plus, of course, it means you can supposedly claim it's a 'low carb' bar.
That's all well and good, but the problem is that there is no technical or legal definition of impact or active carbs. Experts say the science behind the impact carb theory is fuzzy, and it may or may not help with weight loss efforts.
While most manufacturers will subtract fibre and sugar alcohols from their total carb count, for instance, as they are considered to have minimal impact on blood sugar, some sugar alcohols may actually raise blood sugar.
Likewise, you are still getting the calories associated with ALL the carbohydrates and not just the high-impact ones, a fact which is often overlooked. As such, you are still consuming up to 223 calories per 60g Grenade Carb Killa® bar. If you're on a 1,200 calories a day fat-loss diet, that's just less than a fifth of your daily intake in one small bar. If you have two a day, that's more than a third of your total calorie count.
It's something to be aware of.
Caveat aside; it is fair to say that Grenade's Carb Killa® protein bars are moderately higher in protein, and significantly lower in total carbohydrates, than similar protein bars on the market such as PHD Nutrition Protein Flapjacks.
The Ingredients

The protein forms included in Grenade's Carb Killa® include calcium caseinate, milk protein isolate, and whey protein isolate.
Calcium Caseinate
Calcium caseinate is a protein derived from fresh skimmed milk, usually made of around 90% protein, and is considered one of the best quality protein sources available. Bodybuilders like it because it breaks down slowly in the body and, as a rich source of amino acids and minerals, provides a sustained release which can help to avoid the breakdown of muscle proteins (anti-catabolic). This slow release is in direct contrast to whey protein which is rapidly absorbed and digested.
Calcium caseinate also contains high quantities of L-glutamine, one of the key amino acids for muscle building, and also contributes to a feeling of satiety.
A protein bar with calcium caseinate is best used between meals and just before bed.
Milk protein isolate
Milk protein isolate contains casein and whey proteins, the type of proteins found in milk. Both forms include the essential amino acids to help muscle growth. Milk protein isolate is usually guaranteed to include at least 90% protein.
Whey protein isolate
Whey protein isolate is a premium form of whey, with generally more than 90% pure protein, and virtually no fat, limited lactose and lower cholesterol. Whey protein is rapidly absorbed by the body and can spark protein synthesis – the process used to build muscle – as quickly as 40 minutes after digestion. As such, whey protein isolate is often a popular post-workout choice.
The Pros
A protein snack can be easier to carry around and to eat than a protein shake.
Grenade Carb Killa® contains both fast and slow protein releases, in theory stimulating and maintaining a fast but steady release of amino acids.
Grenade as a company now sells to more than 100 countries around the world and has a huge following.
Carb Killa® is approved and accredited by Informed Sport, the global sports supplement testing programme. This means that its products are regularly tested for banned substances by LGC's anti-doping laboratory.
Non-GMO
The taste and texture of Carb Killa's® triple–layered crunchy bars seem to get a big thumbs up from most reviewers, with many describing it as similar to a snack bar you would buy at a grocery store.
If Grenade's theory on impact and non-impact carbs is correct, this is a bar that could be considered very low in carbohydrates while being high in protein.
The Cons
Grenade Carb Killa® contains gelatine, so may be unsuitable for vegetarians.
While a protein bar is more convenient on the go, a serious protein shake would usually contain significantly more protein, often up to nearly 50g of protein. However experts recommend protein sources of between 20-25g of protein and Grenade Carb Killa®'s protein bar lands smack in the middle of that so we can't complain.
Each 60g bar of Grenade Carb Killa® contains 214 calories. If you eat two a day, that's potentially a third of your calorie intake if on a fat loss diet with just 1,200 calories a day. Something to watch.
The issue of active or inactive carbs, or high or low impact carbs, however you want to describe them, isn't as scientifically-proven as it sounds.
Doesn't provide any information on the amount of BCAAs – the amino acids primarily responsible for muscle maintenance and growth – included in Grenade Carb Killa®.
Ironically, one of Grenade Carb Killa®'s biggest positives – the taste – can be a negative if you can't control yourself, with more than one reviewer admitting they eat more than one at a time. We're really splitting hairs here, however, and can't really include that as a criticism.
By far the majority of Amazon UK reviews are positive. The only real complaints seem to be about an incorrect number of bars in a box which could suggest a customer service issue, or the 'premium price'.
May not be appropriate for anyone with a lactose allergy.
Consumer Reviews
The following customer reviews come from Amazon UK.
Who Takes It?
The manufacturer says Grenade Carb Killa® is appropriate for anyone on a low carb diet who wants to avoid sugar and processed carbs. It is also suitable for anyone wanting to gain lean muscle mass, via a high protein, low carb snack. Bodybuilders on a serious 'bulking' diet may also find Grenade Carb Killa® suitable if supplemented with other high carb and mass gain products or supplements.
How to Take It
The Grenade Carb Killa® can be eaten at any time of the day, as a snack between meals or as a post-workout treat. The manufacturer says it is a suitable pre, intra or post-workout snack, and/ or before bed, but you should not eat more than two bars a day.
Safety/ Side Effects
Grenade warns that excessive consumption of Carb Killa® may cause laxative effects, because of the polyols included in it. Some people may also have an allergy to casein, while others may be intolerant to the lactose within it.
The bars may contain eggs, sesame seeds, nuts, and peanuts, and are made in a facility which also processes gluten, though the bars contain no gluten ingredients.
Conclusion
While we remain somewhat sceptical of the low-impact/ high-impact claims about carbohydrates and wait to be convinced by the science, it's fair to say that Grenade Carb Killa® is still a pretty decent high protein, low(ish) carb option.
Each 60g bar hits the protein sweet spot recommended by experts of between 20-25g of protein and the total number of carbs included (between 13-17g) is low enough to aid weight loss when part of a calorie-controlled diet.
It has a pretty dedicated following too, with many fans eager to sing its praises, and as such we are happy to recommend this product.
Where to Buy
You can buy Grenade Carb Killa Protein Bars from Amazon UK or direct from the Grenade website