This page may contain affiliate links and we may earn a small amount of money from any products bought. Our reviews, however, remain independent and impartial.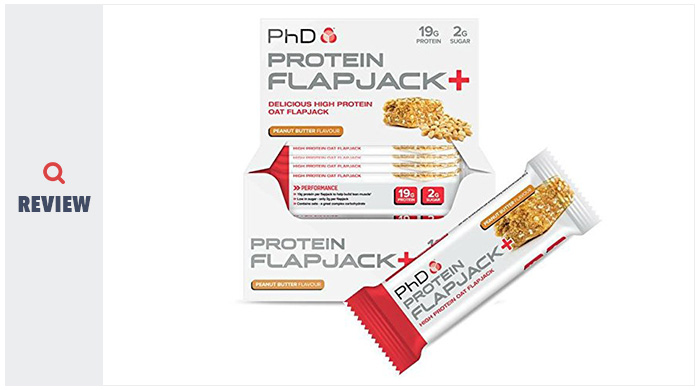 A protein flapjack, sounds like a gimmick, doesn't it? Let's see if it is…
Athletes, bodybuilders and anyone on an intense exercise regime will seek to add additional protein to their diet, especially if they want to build and maintain muscle. Protein can help replace damaged muscle tissue, build new muscle and aid recovery from workouts, helping us to work hard the next day and the next day until we reach our goals.
Many athletes swear by protein shakes, but others find them hard to digest, unpalatable and sometimes simply too much to drink. PhD Nutrition offers an alternative solution… the protein flapjack. As well as keeping your protein count topped up throughout the day, says PhD Nutrition, you can also take it with you on a bike ride or a long walk and avoid going catabolic.
The PhD Nutrition Protein Flapjacks contain 19g protein and 37g of carbohydrates per flapjack, alongside 2.5g of fibre. They only contain 2g of sugar and less than 3g of saturated fat per flapjack. They are available in three flavours – peanut butter, apple and raspberry and forest berries.
<<< SPECIAL: See our Best Protein Powders to Buy in the UK in 2020 >>>
The Ingredients

Carbohydrates
It's important not to forget carbohydrates if you want to bulk up and train intensely. Carbs provide the body with energy and a healthy supply not only allows for better exercise, but prevents the body breaking down protein for energy instead.
The carbohydrates in PhD Nutrition Protein Flapjack come in the form of oats, namely rolled oats and malted oats.
Oats are complex and slow-burning carbs, and one of the best 'go-to' carb sources around, according to Muscle Building Foods.  As well as providing a good amount of complex carbs and protein, oats also provide muscle-building relevant nutrients such as iron and niacin, as well as fibre and further vitamins and minerals.
When you're choosing a protein bar, it's important to look at the carbohydrate sources. Too many protein bars are high in high-fructose corn syrup, and you should ideally avoid these. PhD Nutrition Protein Flapjack uses oats instead and so is a better source of carbohydrates for you.
Note that if you want to lose weight, a bar with such a high carb count will not be the best choice for you.
Proteins
PhD Nutrition Protein Flapjack has a protein blend made of milk protein, hydrolysed gelatine and whey protein concentrate.
Unless we missed it (and we looked, oh how we looked), the official PhD Nutrition website doesn't specify exactly which form of milk protein is used in its protein flapjacks. However, its Amazon page seems to think it is milk protein isolate, so we'll assume that's correct.
Milk protein isolate: Both milk protein isolate and milk protein concentrate contain the two types of protein found in milk, casein and whey. Milk protein isolate typically contains at least 90% protein, with low fat, few carbohydrates and hardly any lactose. Both casein and whey include essential amino acids which help muscle growth.
Hydrolysed gelatine: Gelatine is a type of protein gained from animal connective tissue and contains the amino acids, proline and glycine. However, it's actually a pretty poor form of protein for muscle building because it is very low in Brand Chain Amino Acids (BCAAs) or leucine, valine and isoleucine. These BCAAs are very influential in protein synthesis and muscle growth and cannot be made by the body, unlike the amino acids in gelatine.
As such, this is a pretty pointless form of protein for a protein flapjack intended to aid athletes and others with muscle mass. It also falls foul of many vegetarians as well, who will not eat anything made with gelatine.
PhD Nutrition Protein Flapjack also contains whey protein concentrate, though as it is listed third on the protein blend, we can assume it is a minority of the protein blend. This is a shame as whey protein is one of the most popular protein choices, thanks to its ability to trigger protein synthesis, the key to muscle building, as quickly as 40 minutes after ingestion.
Whey protein concentrate can include anywhere between 30-80% of protein.
An important note: According to Bodybuilding.com, a key consideration when choosing a protein bar is its protein to carbohydrate ratio. If you're looking for weight loss, you should opt for a 2:1 ratio of protein to carbs. That's NOT PhD Nutrition Protein Flapjack, which has 19g protein and 37g carbs.
However, if you want to build muscle or use it for post-workout, a 1:2ratio, such as in PhD Nutrition Protein Flapjack, is ideal.
The Pros
Some people may find eating a snack easier than drinking a protein shake.
It's certainly easier to carry around with you during bike rides, for instance, and doesn't have to be made up first.
A bar such as PhD Nutrition Protein Flapjack with 37g carbohydrates is probably best used as a post work-out bar. As such, it also needs to be low in fat. This bar has just 3g of saturated fat (alongside 2g of sugar), so should be acceptable.
The oat carbohydrate blend in PhD Nutrition Protein Flapjack is a much healthier carbohydrate source than the High Fructose Corn Syrup often used in protein bars.
PhD Nutrition Protein Flapjack has earned a 4 out of 5 rating on Amazon UK from 276 reviews. Positive reviewers (the majority) praised its low sugar and decent protein rate, finding them satisfying.
Compared to other protein bars, PhD Nutrition Protein Flapjacks are good value for money.
While it may make sense to use PhD Nutrition Protein Flapjacks after work-outs, they can actually be eaten at any stage throughout the day. The manufacturers recommend eating two a day, helping to keep protein levels constant.
The Cons
A flapjack can't really be compared to a protein shake. A serious shake such as LA Muscle LA Whey Gold contains 49.6g protein, for instance, compared to the smaller 19g of protein in the flapjacks. Experts recommend opting for a protein source with at least 20-25g of protein in order to build up lean muscle, so the PhD Nutrition Protein Flapjack is a little on the low side.
Each flapjack contains 270 calories per 75g bar. If you're on a fat loss diet with just 1,200 a day, that's a quarter of your intake right there. However, if you want to build lean muscle and are struggling to eat enough calories, this snack can help with that.
If you are looking to lose weight, you should avoid bars with more than 30g of carbohydrates. (PhD Nutrition Protein Flapjack has 37g). If you plan to use it as a post work-out, however, this should be acceptable.
May contain wheat, egg, soya and nuts,
Beware: the Amazon UK page selling PhD Nutrition Protein Flapjack says the product is suitable for vegetarians, but many vegetarians will avoid gelatine, and this should be highlighted at the very least. Some might say this is deliberately misleading. Note, that the official PhD Nutrition website does not claim the same.
PhD Nutrition does not provide any information on the amount of BCAAs in its protein flapjacks. These are the amino acids most responsible for muscle growth and maintenance.
Some of the negative reviews on Amazon complain about being sent the incorrect amount of protein bars in a pack, or being sent the wrong flavour.
There seems to be some confusion on the Amazon UK page which claims the bars have both 37g and 43g of carbs. The official website lists 37g (35g for the peanut butter flavour).
Some reviewers complain about the artificial flavour of the peanut butter bars as well as the 'dense texture or 'weird consistency, which makes it a little tough to chew. One reviewer on Amazon described it as 'akin to chewing bricks'.
Customer Reviews
The following reviews are from Amazon UK.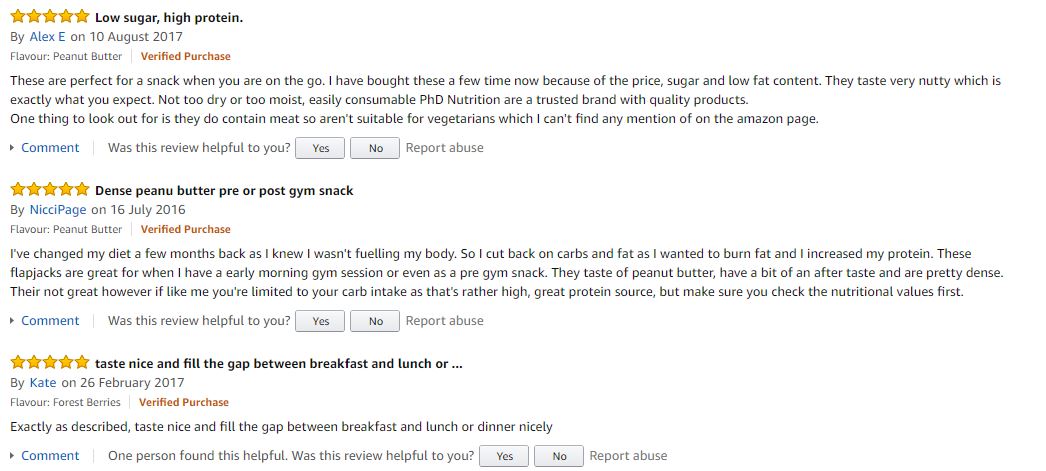 Who Takes It?
PhD Nutrition say the protein flapjack is suitable for endurance athletes, strength athletes, athletes who seek to gain muscle mass, athletes who want a high protein snack which is also high in complex carbs, and finally anyone who wants a healthy snack rich in nutrients. So, lots of people then!
How to Take It?
The manufacturers recommend eating two PhD Protein Flapjacks a day to support a high protein diet. You could opt for it as a pre-workout or post-workout snack, or as an alternative to breakfast or a mid-morning snack.
Safety/ Side Effects
There were no obvious safety issues or side effects complained about by the majority of Amazon reviewers.
Conclusion
The real benefit of a protein flapjack is in its convenience. It's much easier to pop it in your gym bag or take it with you on a long bike ride than a protein shake, ready to eat too. Most people agree that these flapjacks are filling and will satiate your appetite for an hour or two.
While the quantity of protein per flapjack in PhD Nutrition Protein Flapjacks isn't very high, eating two a day will give you a decent protein boost. Anyone wanting to lose weight or carefully watching their carb count, however, may want to give PhD Nutrition Protein Flapjacks a miss, and opt for a protein flapjack with fewer carbohydrates instead.