This page may contain affiliate links and we may earn a small amount of money from any products bought. Our reviews, however, remain independent and impartial.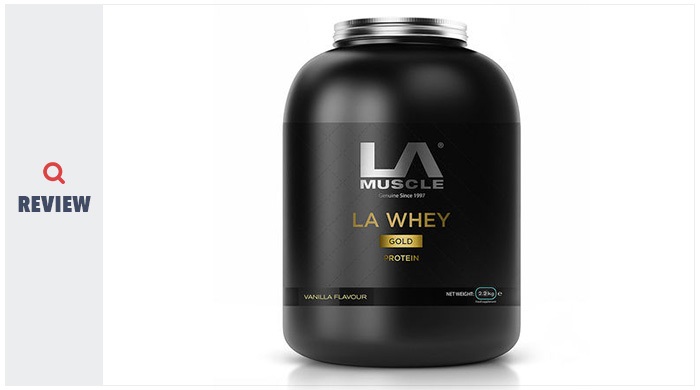 LA Muscle is a well-respected brand in the sports nutrition market, selling award winning brands since 1997. LA Whey Gold is another award-winner, described as the 'best protein shake for hard gainers' at the Men's Health Awards.
LA Whey Gold has been featured in international and national media and has a 4.7 out of 5 rating (from more than 33,000 customers) on the official website and a 4.3 out of 5 (from 79 reviews on Amazon UK).
A premium protein shake, it is intended to aid with muscle recovery and repair, as well as to boost muscle mass growth, making it an ideal gym accompaniment.
<<< SPECIAL: See our Best Protein Powders to Buy in the UK in 2020 >>>
The Ingredients
Whey Protein Concentrate
LA Muscle LA Whey Gold includes 49.6g of whey protein concentrate in every serving. The traditional recommendation is to consume 0.7g of protein per pound of body weight each day if you're looking to build muscle. Don't forget that this can come from food too.
Whey protein is a popular protein option, being absorbed much quicker than other protein sources such as casein or milk derivatives. Bodybuilding.com suggests that whey protein can be absorbed by the body within just 20 minutes of ingestion, while within 40 minutes amino acids and protein synthesis will peak. It is this synthesis that promotes muscle growth.
Whey protein concentrate does tend to be considered a cheaper protein source than other options such as whey isolate and hydrolysate, but it does also depend on how it is treated. LA Whey Gold is triple filtered but is not heat-treated, something LA Muscle claims can damage the nutritional benefit of traditional whey protein. It is also produced to pharma grade.
When looking for the best protein source, you should investigate a product's BCAAs (branched-chain amino acids) and leucine count. That latter is a key amino acid that can trigger muscle protein synthesis and subsequent muscle growth. Missing these amino acids will not only slow down your muscle growth but your recovery after intense exercise as well.
According to Men's Health, you should opt for a product with at least 3g of leucine, the amount needed to kick-start the synthesis process.
The good news is that LA Whey Gold contains high levels of BCAA and 6.2g of Leucine.
The manufacturers also boast that LA Whey Gold provides L-Glutamine (10.7g) to aid recovery after exercise, build lean muscle, and help fat loss. The jury is still out on the exact muscle building nature of Glutamine, however, with Examine.com stating that the only proven research has been seen on people suffering from physical trauma or from muscle wasting diseases, as opposed to healthy individuals.
Full Ingredients: Whey protein concentrate (Milk) (Emulsifier: Soya lecithin), Inulin, Natural Flavourings, Di Potassium Phosphate, Acidity regulator: (Citric Acid), Colour: (Beetroot), Sweetener: (Steviol Glycosides).
The Pros
LA Whey Gold contains genuine premium whey protein as opposed to cheaper protein alternatives.
Contains all natural flavourings, opting for Stevia instead of artificial sweeteners or colourings. This enables LA Whey Gold to be 100% natural.
LA Whey Gold is triple-filtered and is made to pharma grade as opposed to just food grade.
The manufacturers also boast that it is hypo-allergenic so presumably suitable for those who cannot eat dairy.
It is GMO-free and suitable for vegetarians; also wheat and gluten-free.
La Whey Gold is low in carbohydrates, making it a good choice for athletes or gym buddies wanting to develop their lean muscle mass. It also contains virtually no fat.
La Whey Gold pledges to avoid the bloating, stomach issues, bad breath and gas that can be all too common when taking protein shakes regularly.
It is available in several different flavours, such as banana, strawberry, vanilla, Cookies & Cream, mint chocolate. From customer feedback, the majority of these flavours if not all are pleasant tasting and that's probably due to the Stevia. It helps to avoid the artificial sickly sweet taste of many protein shakes.
The barcode for LA Whey Gold can be scanned and recognised by various fitness apps, such as MyFitnessPal, useful when trying to keep track of your calorie intake.
According to the majority of reviews, LA Whey Gold protein shake mixes well fairly easily.
The product gives a full ingredients breakdown which is nice to see and somewhat unusual in the supplement field.
The Cons
If you're searching for a high calorie protein shake to help you bulk up, this may not be the right product for you as its calorie count isn't as high as you might need.
That said, if you're trying to lose weight and want to use a protein shake as a meal replacement, you'd be best advised to choose a shake that is less than 200 calories. LA Whey Gold has 256 calories. Indeed, La Muscle doesn't recommend the use of LA Whey Gold as a meal replacement (recommending Slim Whey instead).
LA Whey Gold is expensive compared to some of its competitors, but we would argue that it is worth paying for the additional quality that LA Muscle and LA Whey Gold provides.
A minority of people aren't happy with the taste of some flavours of LA Whey Gold.
Not suitable for vegans.
 Customer Reviews
All customer reviews come from Amazon UK.




 Who Takes It?
LA Whey Gold is popular with serious gym-goers and bodybuilders, but can also be used by anyone who wants to supplement or boost their protein intake.
Safety/ Side Effects
Common side effects of many protein powders include stomach issues, bloating and gas, though La Whey Gold says that its product avoids those. According to the majority of reviews, this is true.
How to Take It
La Muscle recommends using one to two scoops of LA Whey Gold up to one hour pre-workout and two scoops post-workout. You can also use it at any other time of the day to boost your protein intake (between meals, for instance, to promote satiety, or upon waking to break an overnight fast).
Conclusion
LA Muscle isn't a risky new kid on the block. It has had a strong presence on the bodybuilding scene for nearly two decades now and has created some pretty powerful products.
Experts recommend looking for a protein shake with at least 20-25g of protein in order to pack a strong punch, and that's exactly what La Whey Gold offers. Anything below that and you may end up putting on fat.
There are no real substantiated 'cons' with LA Whey Gold. A minority of complaints tend to range from disliking the taste (can't please all the people all of the time) to being unhappy with the size of the tub. Meanwhile, there are many more positive independent reviews than otherwise.
In summary, we prefer protein shakes that are high in protein (obviously) but low in carbohydrates and fat. LA Muscle LA Whey Gold fits this description. It is a high quality award-winning supplement produced by a solid brand with an established reputation.
Just remember that it is a food supplement as opposed to a wonder shake and is best used as part of your overall fitness regime. Treat it as such and you should get the most out of it.