This page may contain affiliate links and we may earn a small amount of money from any products bought. Our reviews, however, remain independent and impartial.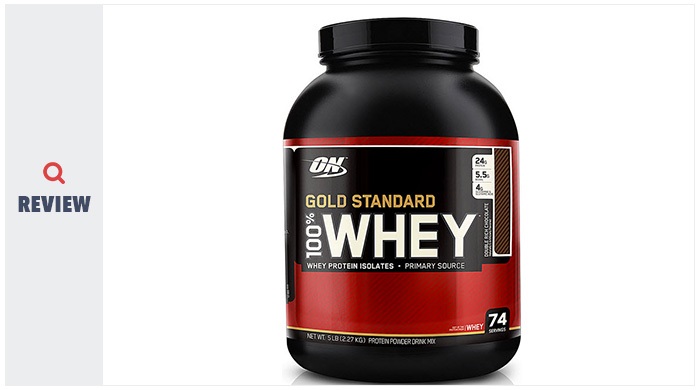 Optimum Nutrition is one of the industry's most respected brands and its Gold Standard 100% Whey is a popular bestseller. Currently an 'Amazon choice' selection for protein on Amazon UK, with a 4.3 rating out of 5 from more than two-and-a-half thousand reviews, the manufacturers are confident enough to describe it as the 'world's best-selling whey protein'.
With 24g of protein and 120 calories per serving, let's take a look at what makes it such an apparent hit…
<<< SPECIAL: See our Best Protein Powders to Buy in the UK in 2020 >>>
The Ingredients
Whey Protein Isolate
Whey Protein Isolate is the primary form of whey included in Optimum Nutrition Gold Standard 100% Whey, and is considered a premium form of whey. It generally contains more than 90% of pure protein content with virtually no fat, lower cholesterol and limited lactose.
If you really want the best protein, look for whey isolate.
Note, however, that the act of producing whey isolate from concentrate often renders certain beneficial components of whey protein concentrate inactive. As such, whey protein isolate may not have as many overall health benefits as its cheaper whey concentrate compatriot.
The good news, however, is that this extra processing doesn't affect amino acids in the protein, which are the key components of muscle gain and muscle recovery, and it is here that Gold Standard 100% Whey excels.
Optimum Nutrition Gold Standard 100% Whey contains 5.5g of BCAAs – Branched Chain Amino Acids, the amino acids that stimulate protein synthesis leading to muscle growth – in every serving. This is one of the highest rates of BCAAs (Leucine, Valine and Isoleucine) on the market. It also contains 4g of glutamine and glutamine acid.
Whey isolate in particular is a popular post-workout choice as it is more rapidly absorbed by the body than concentrate and provokes a stronger insulin response.
Whey Concentrate
Optimum Nutrition Gold Standard 100% Whey also includes whey protein concentrate and whey peptides in its mix. Concentrate usually contains anywhere from 30-80% protein and has more fat and lactose than isolate. Optimum Nutrition describe its whey concentrate used here as 'premium ultra-filtered'.
While whey protein as a whole has been shown to aid muscle building via protein synthesis, support fat burning, reduce appetite and boost the immune system, whey concentrate in particular has also demonstrated an ability to raise the body's master antioxidant, glutathione. (1)
Hydrolysed Whey Protein Isolate
A faster acting form of whey protein isolate, this hydrolysed version is already broken down to be easier to digest. Which is why some reports suggest it can be digested in less than 30 minutes. A very useful addition.
Optimum Nutrition Gold Standard 100% Whey's nutritional pedigree is pretty impressive. For every scoop, you get 24g of protein alongside just 1g of fat, less than 3g of carbohydrates on average (different flavours have different carb counts) and less than 120 calories on average. It also has low sodium and just over 1g of sugar on average per serving.
The Pros
Optimum Nutrition Gold Standard 100% Whey is one of the most nutritious protein powders on the market.
With 24g of protein, plus 5.5g of BCAAs and 4g of glutamine, you are likely to see results with this powder.
Optimum Nutrition is a well-known and respected brand, and has been one of the top companies in the nutrition industry for quite some time. Gold Standard 100% Whey has also been on the market for a long time, though it has changed its name a few times. It has amassed a loyal following.
Reviewers point out that ON's Gold Standard 100% Whey digests well, helping to avoid some of the unpleasant gas-related stomach troubles that come with other lesser protein powders.
BodyBuilding.com, who list Optimum Nutrition Gold Standard 100% Whey as one of their biggest sellers, describe it as "a well-made product at a fair price that is easily digested."
It also gets an average taste rating of 9.3 out of 10 on the same site, from nearly 10,000 reviews.
The Cons
Optimum Nutrition Gold Standard 100% Whey is a bit more expensive than some of its competitors, though isolate is usually more expensive than concentrate. You can usually find 5lbs approx. of Gold Standard 100% Whey for between £40-£50 on Amazon UK.
If we're being picky, it would be preferable for the product to be completely made from isolate, as opposed to also having additional and cheaper whey forms.
Be careful to use a verified source. A lot of the complaints on Amazon UK suggest some providers are selling fake powder.
Who Takes It
Gold Standard 100% Whey is appropriate for anyone seeking help with muscle recovery and build muscles. Such low fat makes it a good option for anyone wanting lean muscle gain. The manufacturers suggest it can be taken in the morning, between meals and post-workout.
Safety/ Side Effects
This product seems to avoid the most common side effect of protein powders and is gentle on the stomach and digestive system.
How to Take It
You are advised to mix one rounded scoop of Gold Standard 100% Whey with 6-8oz (180-240ml) of cold water. 
Conclusion
There is reassurance buying from a trusted name such as Optimum Nutrition, which has been around long enough to have honed its products and expertise. It certainly seems to have done so with Gold Standard 100% Whey, which has earned a pretty stellar reputation and numerous accolades, as well as lots and lots of fans.
If there was anything wrong with this product, we would know by now. We can therefore safely say that Optimum Nutrition provides an effective high-quality protein powder that really works and is pretty affordable for the quality involved. That's why we think Optimum Nutrition Gold Standard 100% Whey is one of the best protein powders on the market, and we don't hesitate to recommend it as such.
Ha E, Zemel MB. Functional properties of whey, whey components, and essential amino acids: mechanisms underlying health benefits for active people (review). J Nutr Biochem. 2003;14(5):251-8
Where to Buy
You can buy Optimum Nutrition Gold Standard 100% Whey from Amazon UK or from the Optimum Nutrition website
Customer Reviews
All reviews come from Amazon UK. Click to enlarge