This page may contain affiliate links and we may earn a small amount of money from any products bought. Our reviews, however, remain independent and impartial.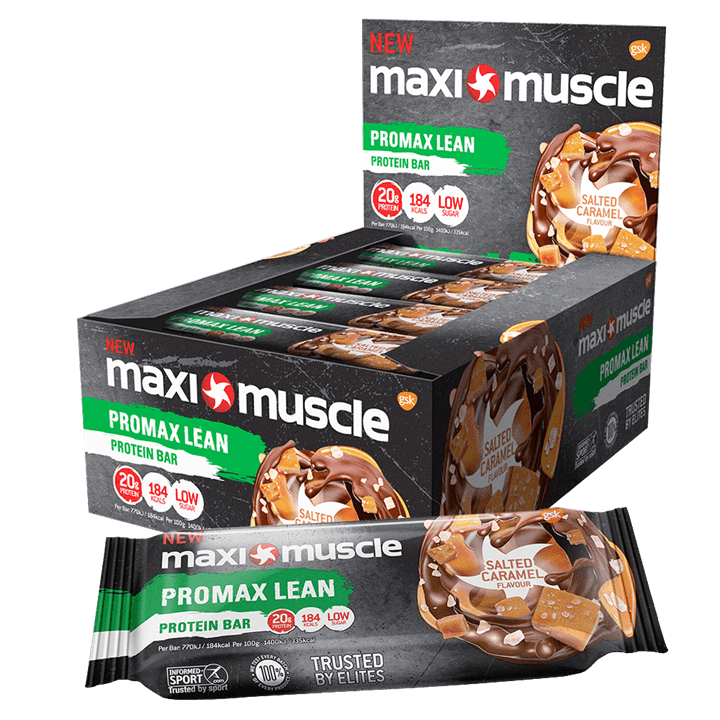 Maximuscle are a UK-based sports nutrition company that have been at the forefront of the domestic and international markets for 23 years now. They are known for quality and their list of ambassadors includes some of the world's top athletes such as George North (Welsh Rugby International), Anthony Yarde (Current WBO Light Heavyweight Champion) and Jenna Mckean (top CrossFit coach and powerlifter).
Maximuscle are also known for making life as easy as possible for their customers by grouping their products together into categories based on the fitness goal they best support. Their Promax Lean Protein bars belong to the 'Lean Muscle' group alongside other supplements such as Promax Lean Protein powder, MaxiNutrition Lean (a protein powder also packed with vitamins) and various fat burning tablets and softgels.
These products are all geared towards supporting muscle growth whilst minimising the risk of less desirable weight gain and often contain green tea extract. The Promax Lean Protein bar is marketed as a healthy alternative to chocolate and other treats and is highly rated by customers on Amazon UK, receiving an average of 4 out of 5 stars, making it one of Maximuscle's most popular products on the platform.
<<< SPECIAL: See our Best Protein Powders to Buy in the UK in 2020 >>>
Ingredients

Milk Proteins
Milk proteins are different from whey, which is a by-product of milk when it is processed in to other products like yoghurt or cheese. In its natural form, milk protein is beneficial for muscle growth as well as generally supporting good metabolic health.
Milk protein contains a lot of branch chain amino acids (BCAAs) which improve protein synthesis, help build lean mass and enhance skeletal muscle function. It also helps to promote satiety (makes you feel more full) and so has been linked to weight loss as well.
Whey Protein Concentrate
Of the three forms of whey protein (concentrate, isolate and hydrolysate), whey protein concentrate is the least 'pure' in terms of protein content. It tends to sit at around 80% protein by weight, with the remaining 20% being made up of carbs and fats. Isolate tends to be around 90% protein by weight, for comparison.
With whey protein isolate though, what you gain in protein content, you generally sacrifice in taste, so it makes sense for Maximuscle to opt for whey protein concentrate in a product that is meant to appeal nutritionally and in terms of taste. Should they have gone for isolate instead, they would only be squeezing another gram of protein in to each bar, so the difference is minimal.
Soya Protein Isolate
As far as alternatives to whey protein go, soya protein isolate has probably got the most going for it in terms of the percentage of protein it consists of (generally 90% or more) and the fact that it is packed with all 9 essential amino acids and loads of BCAAs.
It has been shown to have just as much potential to support muscle growth as whey and casein proteins whilst possibly offering some further benefits to heart health. This research also suggests that a combination of whey and soy protein is the best for extending the period during which muscle building occurs following training.
---
» See the #1 Protein Shake This Year «
---
Green Tea Extract
Green tea extract has been shown to offer many benefits, but of those there are two that will interest gym-goers more than the others: weight loss and exercise performance & recovery. As well as containing caffeine, green tea contains catechins, a type of compound that acts as an antioxidant. These two things combined can help to regulate the production of hormones that control the rate at which your body burns calories.
These catechins are also responsible for the impact green tea can have on exercise performance and recovery. They act to reduce cell damage and muscle fatigue which allows you to work out for longer and recover faster. You can read more about these and other benefits of green tea here.
However, it is debatable whether the 150mg of green tea extract per bar is enough to produce any really significant effects. Most of the research that has been done on the benefits of green tea has been at doses of between 250 and 300mg per day, which has been shown to boost weight loss by increasing the body's metabolic rate.
Pros
Thanks to Maximuscle's continuous efforts at refining the recipe, Promax Lean bars are very well balanced nutritionally.
20g of protein per bar provides an excellent boost and is at the top end of what you can expect from any protein bar.
Available in a range of flavours including Banoffee, Rocky Road, Cookies & Cream and Salted Caramel.
The vast majority of customers agree that these are some of the best tasting protein bars available.
Maximuscle have a great reputation for quality, using scientifically proven ingredients and rigorously batch testing their products.
Contains green tea extract to keep your energy up and support healthy weight loss.
Cons
There are other options out there that pack more punch in terms of protein content.
At between 180 and 220 calories per bar (depending on what flavour you opt for), these may not suit a calorie-controlled diet.
The price could be a turn off for some, with Maximuscle Promax Lean Protein bars costing £2.50 each if purchased from the Maximuscle website, though they are cheaper if you buy in bulk.
Maximuscle don't go in to detail on the mix of different proteins they use or the BCAA content of the bars.
---
» See the #1 Protein Shake This Year «
---
Consumer Reviews
The following reviews came from Amazon UK




How to Take It
These are great as a pre- or post-workout snack or something to grab if you are feeling hungry between meals but don't want too many carbs or anything fatty.
Maximuscle themselves refer to the Promax Lean bars as "the perfect support to Maximuscle Promax Lean Powder" so don't feel like you have to choose between the bar and the powder as your go to protein supplement. Indeed, you can have your shake and eat it too!
We would recommend using these as a snack and limiting yourself to no more than two a day, or just one if you are also taking protein powder.
Who Takes It?
Maximuscle Promax Lean bars are great for anyone looking to maximise their protein intake to support lean muscle growth and recovery from training. Just watch you don't scoff too many!
Safety/Side-Effects
Whey protein does not agree with everyone and some people have experienced mild stomach cramps, bloating and gas following consumption. Even if you are one of the unfortunate ones who suffers from this, the mix of different protein sources in Promax Lean Protein Bars should help to minimise such symptoms.
Maximuscle warn that excessive consumption may cause laxative effects. They also state that the bars may contain barley, oats, egg, peanut and other nuts and these bars are not suitable for anyone who is allergic to lactose.
Conclusion
We were impressed with the level of nutrition in Promax Lean Protein Bars and whilst they may not contain as much protein as some other bars, like Grenade Carb Killa® for example, they win a lot of points for keeping the calorie content reasonable, mixing up the protein sources and packing in a good amount of dietary fibre.
The addition of green tea extract is an interesting one but the jury is out on whether the bars offer enough of this to have any sort of impact, assuming you are limiting yourself to one bar a day.
Overall, Maximuscle Promax Lean Protein Bars provide everything you need in a tasty and nutritious package and are the ideal snack for anyone looking to keep their gains lean and hunger at bay between meals.
---
» See the #1 Protein Shake This Year «
---
Where to Buy
You can buy Maximuscle Promax Lean Protein Bars direct from Maximuscle (£22 for 12 at time of writing, individual bars out of stock) or from Amazon UK