This page may contain affiliate links and we may earn a small amount of money from any products bought. Our reviews, however, remain independent and impartial.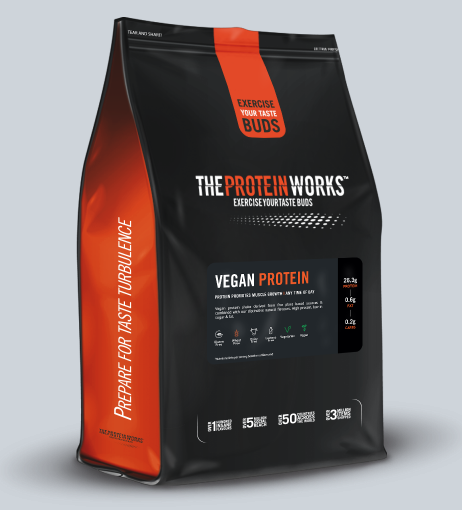 The Protein Works Vegan Protein powder has been on the market for a couple of years now and when it first launched it created quite a stir. Now, two years down the line, it still stands up well against products from other established nutrition companies as well as offerings from niche vegan and whole food companies.
One of the main criticisms of vegan protein sources is that they do not contain the full complement of amino acids that we need to supplement our bodies with. Of the 20 amino acids, our bodies can produce 11 naturally, the other 9 we need to eat. These are often referred to as the 'essential' amino acids, because it is essential to include them in your diet.
Vegan protein sources often contain only some of these. It should be noted that The Protein Works don't disclose the exact mix of the ingredients in their Vegan Protein. But let's take a look at what we do know…
<<< REVEALED: Our Favourite 100% Vegan Plant-Based Protein Powder >>>
The Ingredients

Soya Protein Isolate
Soy beans are one of the richest of all plant-based protein sources and will likely feature towards the top of any list of "the best vegan protein sources" you can find by searching online. This isolate form is between 90 and 95% pure protein but easy on the digestive system too.
Soya protein isolate contains many of the amino acids essential to muscle growth and these peptides have been linked to other potential health benefits as well, including lower cholesterol and reduced risk of cardiovascular disease. More research is needed to fully understand the additional benefits of soya protein but the evidence so far points to it being an excellent source of nutrition for non-meat eaters as well as one of the best non-animal sources of branch chain amino acids (BCAAs).
White Hemp Protein
No, this is not in the mix to help you feel all 'relaxed' during your post-workout recovery, it's not that kind of hemp. White hemp protein is derived from hemp seeds and has an even stronger amino acid profile than soya protein isolate, containing all 9 essential amino acids.
The two main types of protein in hemp are Edestin and Albumin, both of which are highly biologically available and easily digested. The drawback with hemp protein is that, whilst it does contain all the amino acids, it is not clear in exactly what quantity they occur and the powdered form of hemp protein is around 50% pure. The payoff for the strong amino acid profile is a dilution of the overall protein content of this formula.
Sunflower Protein
One of the newer kids on the block when it comes to vegan protein sources, the sunflower seed is an amazing natural source of not just protein, but amino acids, healthy fats, fibre and a host of vitamins and minerals too. Like the aforementioned sources that make up The Protein Work's Vegan Protein, it contains all the essential amino acids as well. A true superfood, through it's not 100% certain that the powdered form contains every bit of nutrition that the seed offers.
Sunflower protein is still relatively under-utilised by nutrition companies but The Protein Works seem very confident in their sunflower protein, a confidence that is evidenced by the fact that they have a 100% sunflower protein powder as part of their vegan protein range. One potential downside with sunflower protein is that because the seed also contains a lot of polyunsaturated fats, the protein content of the powdered form can be as low as 50%.
Sunflower protein is completely allergen free, containing no gluten, soy or lactose and so is likely to agree with even the most sensitive of stomachs.
---
» See the #1 Vegan Protein Shake This Year «
---
Pea Protein Isolate
The inclusion of pea protein isolate in the formula is a welcome one as it helps to offset the lower protein content of the hemp and sunflower. As we saw in our review of this pea protein isolate powder from Pulsin, pea protein may be lacking some of the essential amino acids but it does offer a high concentration of protein, upwards of 80%.
This helps to bulk out the formula and ensure that customers are not forced to choose between a high overall protein content and the full complement of essential amino acids.
Brown Rice Protein
Rice protein is often combined with pea protein as the two fill in the gaps in one another's amino acid profiles. Also brown rice contains a fair amount of BCAAs and is comprised of around 80% proteins, making it one of the more protein-rich vegan sources.
It would be a mistake to assume that the brown rice protein is just here to make up the numbers and a few amino acids though; research has shown that even on its own, rice protein is a close competitor to whey in terms of results when measuring lean muscle mass and recovery from exercise, the two things the majority of customers will be most interested in.
DigeZyme®
The DigeZyme® website refers to this compound as "a versatile multi-enzyme complex" that is derived from plant sources. It contains amylase, protease, cellulase, beta-d-galactosidase and lipase.
Amylase is used to break down carbohydrates into energy, protease breaks down protein in your digestive system and lipase breaks down fat. These are the "holy trinity" of digestive enzymes as they break down almost all the food you eat and are used here to aid the absorption of The Protein Work's Vegan Protein powder in to your body.
Cellulase breaks down cellulose which is a component found in most plant-based foods and beta-g-galactosidase is basically lactase which helps to break lactose down into glucose. The inclusion of DigeZyme® in The Protein Work's formula ensures that the product is quickly broken down in your body and the constituent parts sent where they need to go.
Pros
Uses a wide variety of vegan protein sources which gives it a much more complete amino acid profile than protein powders derived from single sources
Combines highly bioavailable proteins with those offering all the essential amino acids and a wide variety of vitamins and minerals
Easily broken down and absorbed by your body thanks to many of the sources being allergen-free and the inclusion of DigeZyme® in the formula
Offers a very healthy dose of protein with each serving (25g out of a 30g serving)
Available in a range of sizes and flavours
Great value for money compared to equivalent whey protein products
Cons
Doesn't mix well if you are using a shaker with water or milk; you'll probably need to use a blender to get a smooth shake
A few of the flavours carry a faint undertone of plant which can be off-putting if you are not used to plant-based supplements
Not so great value for money when compared to other vegan protein products
Consumer Reviews
The following reviews come from Amazon UK




---
» See the #1 Vegan Protein Shake This Year «
---
Who Takes It?
Anyone looking to build muscle and recovery faster from exercise. The Protein Works Vegan Protein is an excellent all round protein for vegans and non-vegans alike.
How to Take It
Add one scoop (30g) of the powder to 250-300ml of water or milk in a shaker and shake thoroughly. Take 2-3 servings per day to support your overall protein intake on a vegan diet.
Safety/Side-Effects
As with any supplement, there are potential side effects and these vary between protein sources so the total list for this product is longer as it includes five different sources. Soy protein has been known to cause symptoms ranging from stomach upsets to anaphylaxis, though these cases are extreme and rare.
Hemp protein contains a lot of fibre and so can cause wind, bloating and diarrhoea. Sunflower protein contains high levels of phosphorous which can negatively impact kidney function if over-consumed.
Pea protein, and legumes in general, have been linked to increases in the amount of uric acid in your blood which can lead to gout in the long term. Rice protein doesn't seem to have any significant side-effects and it is worth noting that there is not overwhelming evidence of the side-effects of the other protein sources listed above but research indicates some sort of link that could present for some people.
Conclusion
The Protein Works have certainly set a standard in vegan nutrition that other companies would do well to try and emulate. Whilst it may lack in areas such as taste and, more arguably, value for money, it does offer a complete source of protein for vegans as well as being a good source of vitamins and minerals. Nutritionally excellent and one of the best options for vegan athletes, but unlikely to convert many non-vegans.
---
» See the #1 Vegan Protein Shake This Year «
---