This page may contain affiliate links and we may earn a small amount of money from any products bought. Our reviews, however, remain independent and impartial.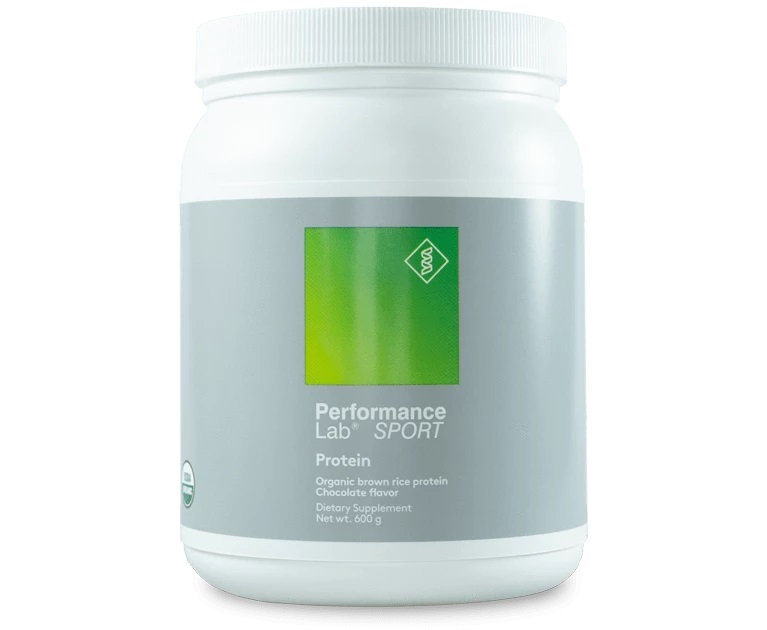 Performance Lab SPORT Protein is a totally plant-based protein powder that is designed to compete with both whey and other plant proteins. It's got some interesting approaches to outperforming each and generally cuts the shape of a quality protein powder.
In some ways, it's good for setting a standard for plant proteins; it's a rice protein and offers some quality features. It avoids several pitfalls that you're going to see with some lower-quality plant proteins on the market.
Let's look at what's on the ingredient list…
>>>>> Buy Performance Lab SPORT Protein here <<<<<<<
The Ingredients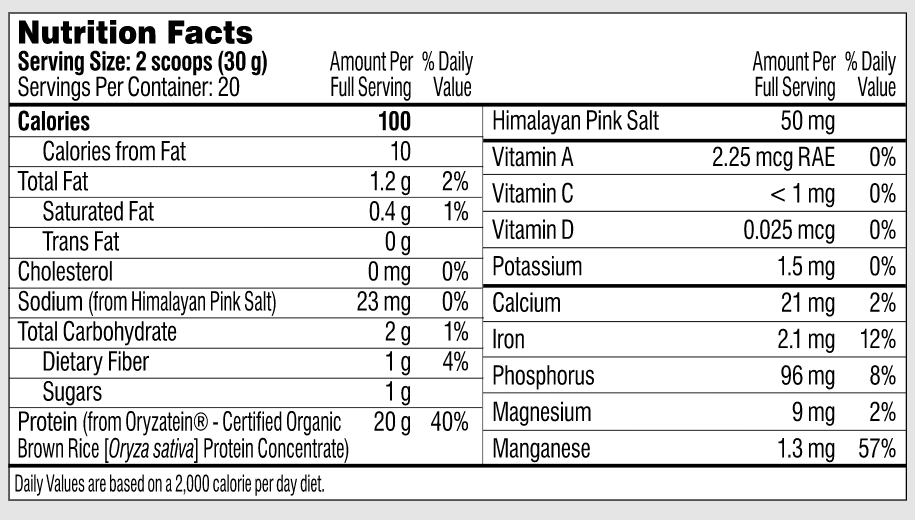 Oryzatein
This is basically the holy grail of rice proteins. While many forms of plant proteins are incomplete or offer inferior composition, Oryzatein is a form of brown rice protein that is complete: it has all the essential amino acids.
This makes it a great choice since you don't need to combine it with other ingredients to get all the key amines. On top of this, the digestibility is great, and studies seem to show that there are benefits over comparable rice and pea proteins.
Absorption is much better in Oryzatein than in many lower-quality rice, pea, and hemp proteins. The clear picture is that this kind of rice protein is going to be a worthwhile investment and makes for a quality protein isolate.
We like this for the absorption speed, too. Overall, evidence shows that brown rice protein has an intermediate absorption rate which will help those who find the digestive intensity of whey too much. At the same time, however,  the rate of leucine transport in Performance Lab Protein — the BCAA that really matters — is said to be 30% faster than from whey.
Leucine transport refers to the speed at which you're getting the leucine from your food into the bloodstream. This is important because it's the main amino acid your body uses to start the muscle protein synthesis process.
The speed of leucine transport in brown rice proteins – and Oryzatein specifically – appears to be faster than whey. This means that it's a faster uptake of the key signalling compound, but also a slower overall release than the 'in and out' of whey protein.
The result is that – in line with your body's needs – you're going to be getting rapid uptake and a consistent supply of protein, increasing 7 hour protein accretion more effectively than whey, which is more closely associated with muscle recovery and growth. 
Oryzatein is clearly king of the plant proteins (especially if you're not a fan of soy), and a great overall protein source. However, it must be noted that the BCAA content is lower than in a whey protein. Not a problem if you eat enough protein elsewhere, of course, or if you take a separate BCAA supplement.
Coconut Water Powder
This is a nice little addition to a protein powder for its effects on hydration and digestibility. The increased uptake of water is a great secondary benefit and combines well with the intention of a good protein powder.
Increased hydration and protein intake are two of the key factors in muscular recovery and wellbeing. These also make them a great combination for muscular growth and improving overall performance from workout to workout.
We already know from the science that muscle cell hydration is important for cell volume. This is tied closely to improving the repair and development of muscles, so we're glad to see there's some hydration support in this product.
The whole point of coconut water powder is to improve the uptake of the fluid and its use in the body. This is great in combination with the next ingredient we're going to talk about…
Himalayan Pink Salt
This is a complex mixture of key electrolytes that your body needs to perform to optimal levels. There are dozens of trace minerals in this blend, but it's got some of the crucial ones: sodium, magnesium, potassium, and calcium.
These are the most important electrolytes for improving hydration and chemical balance in the muscles. They combine beautifully with the protein and coconut water powder in this product to maximise recovery.
We like the focus on hydration for the same reasons we mentioned in relation to coconut water. It boosts cell volume and supports both recovery and growth, as well as muscular health.
However, one of the benefits of the electrolytes in this product is that it goes beyond hydration to muscle chemical balance. This is a key for improving recovery from exercise because metabolic change and electrolyte balance are important in the function and health of muscles.
Establishing balance in these chemicals after exercise – both replenishing the ones you've lost and helping to flush residual calcium from muscles – reduces muscle damage. These are also key to prevent cramping and keep the individual cells healthy.
The combination of liquid (from your shake) with electrolytes and coconut water, as well as the proteins that will support new muscle tissue, add up. This makes for a pretty effective three-part approach to recovery and muscle growth.
Formula Analysis: Does it work?
There are a few things that a protein powder could work for – and maybe you've got some personal goals with it. We think this product is going to work for both the general and personal goals.
It's a source of protein, which is important, but more specifically a digestible, stable, and sustained release protein source. It's a plant-based protein without any of the drawbacks you might normally face, or without the digestive mysteries surrounding soy proteins. It's also a strong contender as an alternative for whey protein for numerous reasons (see graphic below, courtesy of Performance Lab).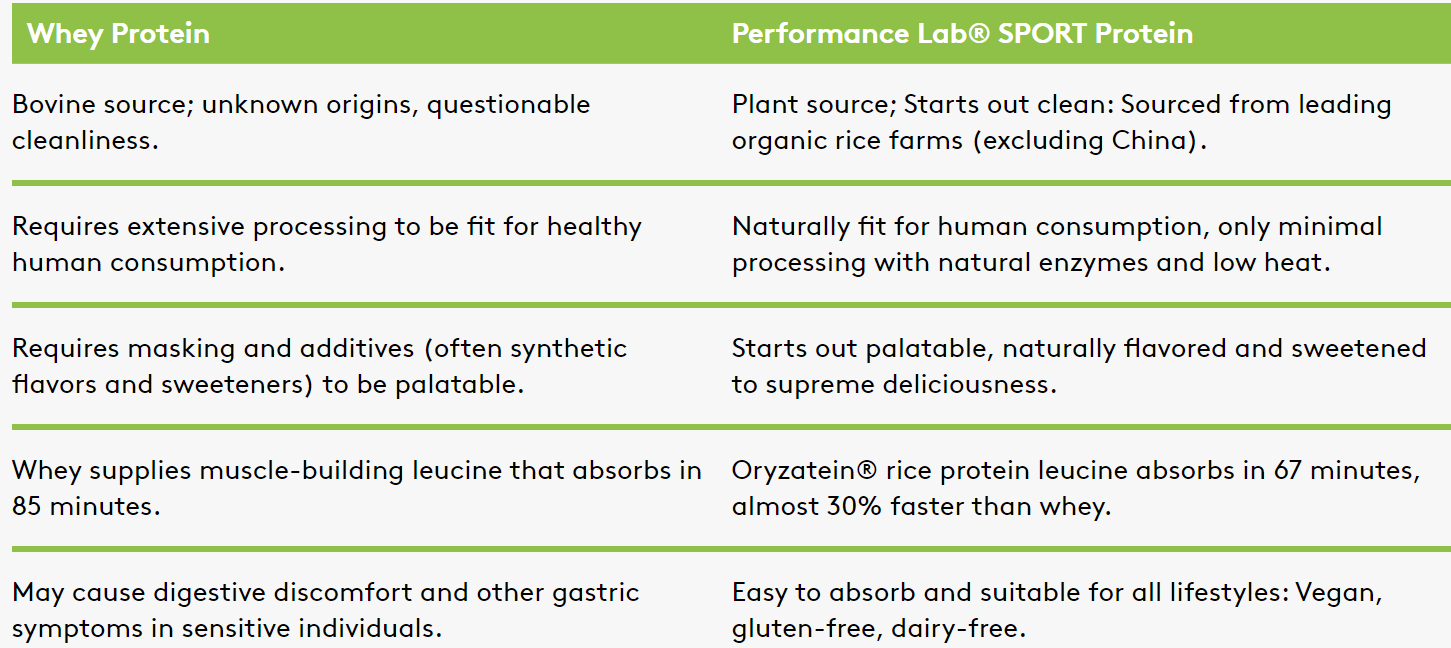 These are the key functions you're going to get from this product:
Improved protein intake to support muscular recovery and growth
Improved hydration, digestion, and uptake compared to a lower-quality protein
Improved electrolyte balance and post-workout recovery compared to lower-quality proteins
The result is a protein shake or food that contributes to recovery in several ways. The slower absorption is a mixed bag, but we think it has more benefits than drawbacks. Most people don't need – or won't benefit from – their protein absorbing and clearing in three hours!
We think this is a great compromise for the average joe, recreational health/exercise enthusiast, or the low-mid level athlete. It's nutritional support for muscles and metabolism, with a strong healthy edge.
The Benefits
The benefits here are what you might expect from a good protein powder: improved metabolic health, digestive regularity, and of course there are benefits to muscular recovery and growth.
There aren't too many hydration-focused plant protein powders out there and the way Performance Lab handles their product is also cool. The benefits are there, but it's a clean label product: no GMO, soy, animal products, all produced in an FDA-approved facility, and more.
The product is good, the focus is well-structured, and the reputation of the Opti-Nutra brand that backs Performance Lab is a benefit. The result is a trustworthy and effective product that fills a huge niche: top quality plant-based protein – whether that's healthy gains or performance.
Pros:
Great form of brown rice protein
Complete amino acid profile, unlike many plant proteins (but doesn't taste like pea!)
Great digestibility and stable protein-release, improving sustained accretion
Cons:
Not as fast absorbing as whey, which may not suit some needs
Who Should Use It?
As mentioned, there's a wide niche here. We think this product is going to suit anyone from first time protein user to fitness enthusiast to mid-level athlete.
There's a ton of value to this and the versatility is great. Protein supplements are good for this and we think the Performance Lab Protein is a great example in the bracket.
This makes it a great generalist and especially for those who want a plant protein that isn't soy but offers all the key amino acids.
How to Take It
The basic approach for this product is what you're going to be familiar with from other protein powders; you mix 2 scoops into a liquid of your choice. Water and milk are the usual choices, but there's no real restriction on what you can use.
You can adjust the serving size up or down depending on your own needs, but the product provides a 30g serving in 2 scoops, of which 20g are protein. This means your half-scoop is 10g and it is easy to adjust your personal serving.
As with other proteins, it can be combined with other meals and foods, though the shake is the most popular and rapidly-absorbing. The shake is primarily for post-workouts, though you could also blend with other ingredients for a breakfast or evening shake.
Any Side Effects?
There really aren't likely to be any significant side effects with this product; it's a protein powder and thus a food supplement. It's an innocuous form of supplementation that is just like eating the best parts of a ton of rice.
It's a quality supplement and we don't think there are likely to be any concerns; especially with the clean label status.
Even with all the assurances, it's important to be careful with supplementation, however. If you notice any concerns, then you should still contact your relevant medical professional.
Where to Buy
The best solution is to buy direct, as is often the case with supplements. The Performance Lab website offers a good price. It's a premium product, so it's going to be more expensive than an entry-level product that uses lower digestibility/less synergistic compounds.
We think a good balance has been stricken between economy and quality, here, too.
Our Verdict on Performance Lab Protein
A strong showing from Performance Lab with this product. It's a good product that hits the fundamentals hard and has some cool features.
The effects are exactly what you're looking for in a protein shake and – unless you really do need the fastest delivery possible – the longer protein accretion is useful. It's a great shake but also doubles up as a great ingredient for food like protein oats or puddings.