This page may contain affiliate links and we may earn a small amount of money from any products bought. Our reviews, however, remain independent and impartial.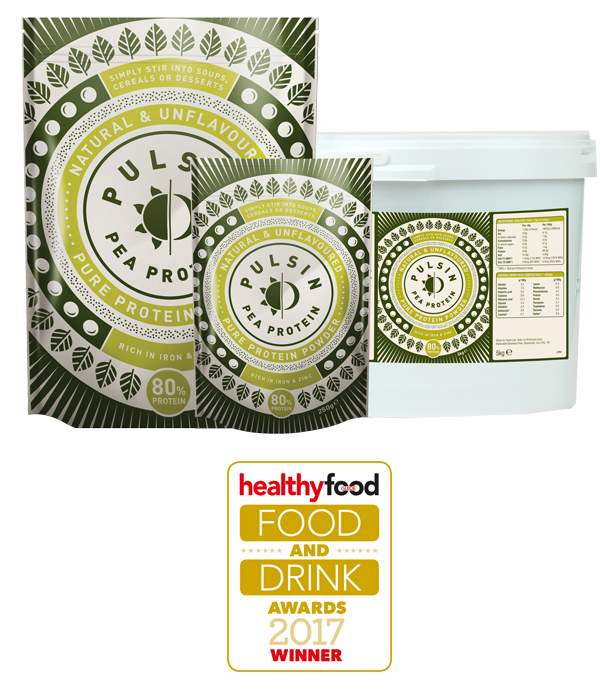 Whatever your personal opinion might be on the rising popularity of veganism, there is no doubt that the number of people choosing to follow a vegan diet is on the rise. Naturally, companies have cottoned on to this and many have started selling supplements that cater to this growing section of the market.
Pulsin are one of a number of companies that are going out of their way to cater for vegans, although the company does offer whey protein options too. Pulsin have been around for a little over 10 years and the company was founded on the belief that nutrition should not come at the expense of great taste or too many pounds out of your budget. Their full range of products includes healthy snacks, protein powders (including their 4 vegan options) and healthy treats for kids.
---
» See the #1 Vegan Protein Shake This Year «
---
Among their vegan product range they also offer Soya, Hemp and Rice-based protein powders but this Pea Protein Powder scooped the "Gym Fix" award at the Healthy Food Guide Awards in 2017, has been featured in publications including Vogue and is Amazon's choice for pea protein products, being one of the most well-regarded of all the Pulsin products on that platform.
It's important to realise that whilst we as individuals distinguish between protein derived from animals and protein derived from plant sources, when it comes to building muscle, our bodies do not. This study shows that on the inside our bodies are pretty much indifferent about where protein has come from; it all does the same job. That said, opting for a vegan lifestyle is a deliberate choice so let's see if Pulsin Natural Unflavoured Pea Protein Powder lives up to its promises…
<<< REVEALED: Our Favourite 100% Vegan Plant-Based Protein Powder >>>
The Ingredients
Pea Protein Isolate
The protein isolation process allows manufacturers to remove any fat and carbohydrate content from the vegetable, leaving just the protein in a powdered form. Pea protein is derived from the yellow pea, as opposed to its more familiar green cousin, and is generally considered to be one of the closest substitutes to whey protein in terms of bioavailability and effectiveness in supporting recovery and muscle building.
One of the reasons for this is that pea protein contains legumin which is very similar to casein (one of the main protein components in animal milk). The pea used in most pea protein products has an amino acid profile similar to other legumes which means it is lacking in methionine – one of the 9 essential amino acids and, among other things, helps keep your hair, skin and nails healthy and strong.
Full Nutrient List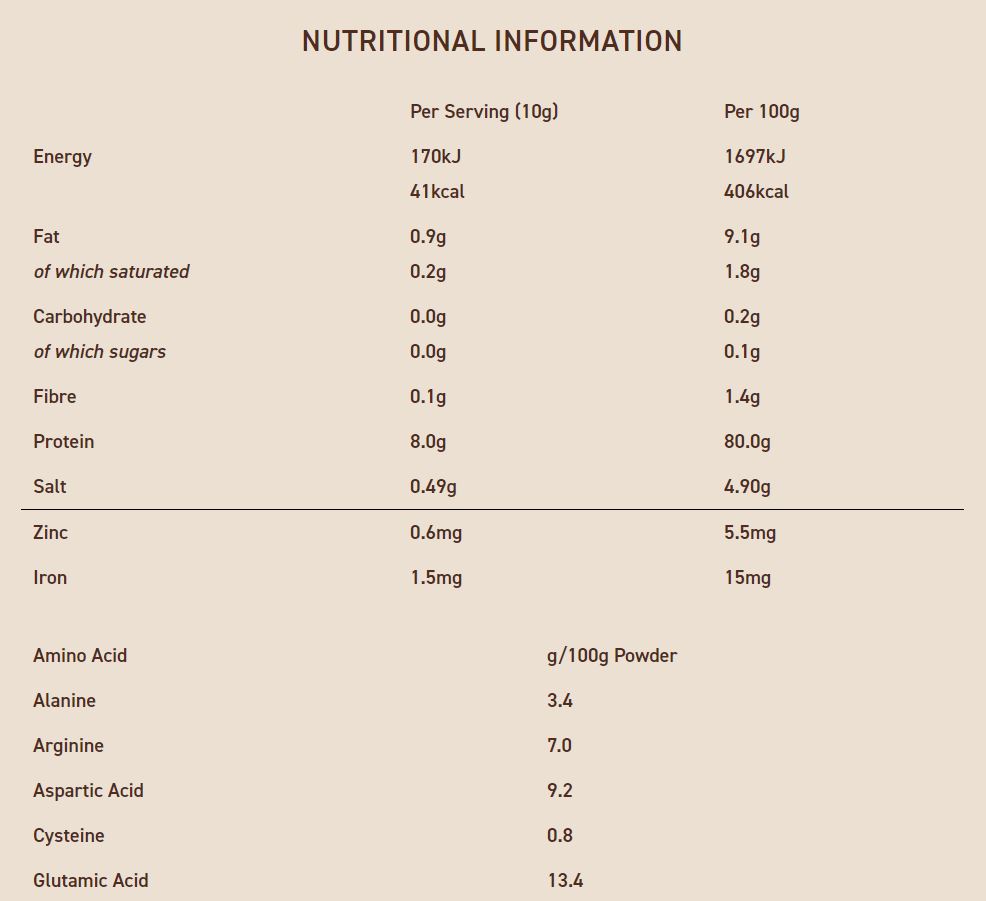 The Pros
80% protein content puts it on par with the most protein-rich whey alternatives
Its use is not restricted to simply mixing with water, in fact Pulsin recommend adding it to all sorts of food including soups, currys and desserts to boost the protein intake of anyone following a vegan diet
100% natural and free from additives
Very low fat and carbohydrate content
Strong BCAA profile, particularly from a single-source powder
Excellent value for money – you can pick up 1kg for less than £15 on Amazon right now
The Cons
Some report that, if mixing it with water, the mixture is very lumpy and hard to drink
On its own with water, the taste will not appeal to everyone
Does not provide the full range of BCAAs you get from animal protein unless you combine with another protein source such as rice
Consumer Reviews
The following is a cross-section of the Amazon reviews for this product



---
» See the #1 Vegan Protein Shake This Year «
---
Who Takes It?
Pulsin have engineered their Pea Protein Powder and other vegan products to offer just as much in the way of nutritional benefit as animal-based protein powders like whey, so really this pea protein powder is for anyone looking for a low cost, healthy and versatile protein powder.
Protein supports lean muscle growth and aids recovery from exercise so protein powders are essential whether your training is aerobic on anaerobic in nature. This is especially true for vegans and vegetarians who can struggle to hit their protein macro with their regular diet.
How to Take It
There is the obvious option of mixing a couple of scoops with water or juice as a post-workout drink and with the fairly neutral taste it goes down easily enough, but where is your imagination? A lot of users have reported that the best way to take this stuff is to blend it up with a wider variety of ingredients like mixed fruits or vegetables to create a healthy and energising drink that is rich in protein.
If you want to get even more adventurous, then head over to the Pulsin website for some recipe ideas. To give you an idea of the variety of dishes that their pea protein powder can be used in, here are a few of our favourites;
Broccoli, Spinach & Wheatgrass Soup
Pumpkin, Cashew Butter, Chickpea & Pea Protein Curry
Carrot & Ginger Oat Muffins
Protein Breakfast Oat Cookies
Safety/Side-Effects
Whilst the effects of any supplement vary from person to person, those who take animal-free forms of protein such as pea report on average fewer cases of stomach upsets than those who take whey protein.
The one major thing to be mindful of if you are using Pulsin Pea Protein as your main source of protein in a vegan diet is that you could be lacking the amino acid methionine so we recommend incorporating another vegan protein source like rice, or supplementing your intake of methionine with an oral supplement.
Conclusion
Pulsin have a great range of products on their website and their pea protein powder is one of the most cost-effective and rich in nutrition, with 80% of the powder being pure vegan-friendly protein.
The fact that the powder is not flavoured might put some people off, but it does give the product great versatility, especially if you enjoy cooking up a storm in the kitchen.
The fact that this, and other vegan protein powders, are still quite a way away from being seen as a serious alternative to whey protein for non-vegans is a shame. Hopefully the benefits of Pulsin's vegan range, and in particular their pea protein, will be enough to persuade a few more meat-eaters to give vegan products a go.
---
» See the #1 Vegan Protein Shake This Year «
---