This page may contain affiliate links and we may earn a small amount of money from any products bought. Our reviews, however, remain independent and impartial.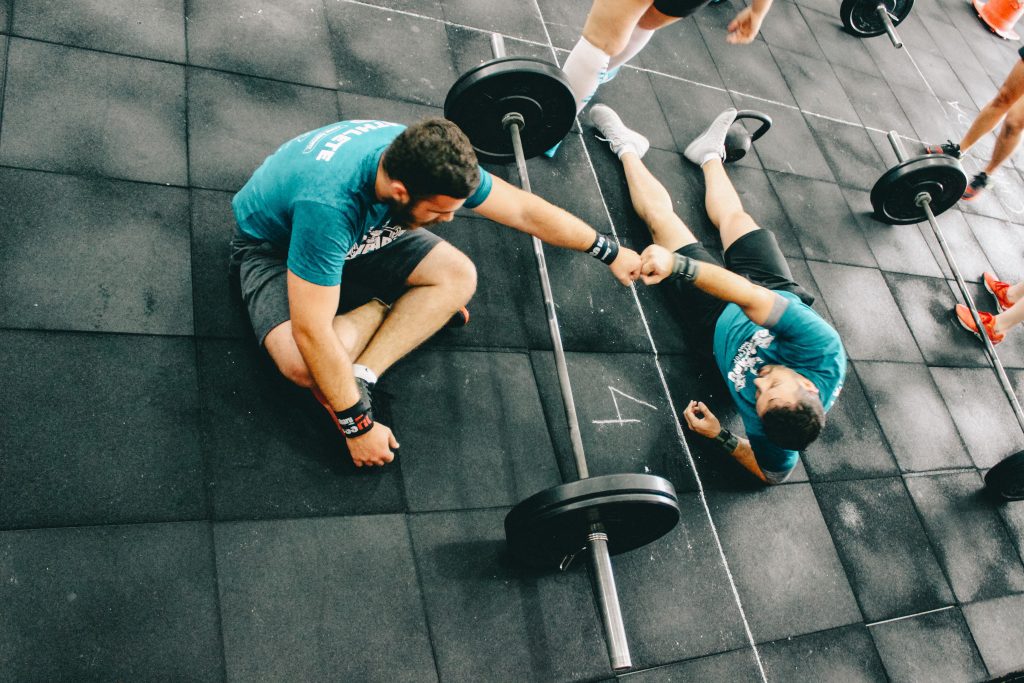 You probably already know the importance of fuelling your workouts, but what about after you've exercised? Trust us, everyone can benefit from one of the best post-workouts UK in 2023.
Post-workout nutrition and supplements fuel your recovery – which is when all the magic happens. You get stronger when you rest and recover and when your body has a chance to use nutrients to repair and build muscle.
During this time, you're going to need a combination of nutrients that kickstart – or improve – the recovery and growth processes. Today we're going to discuss the best post-workout and recovery supplements to boost recovery and results.
Our Guide to the Best Post-Workouts UK 2023
In our guide below, we look at some of the key ingredients in post-workout supplements in a bit more detail – but which post-workouts should you choose? How do you wade through the hundreds of products offered on the market to determine the best post-workout supplements UK for you?
Let us do that for you. Here, we're going to discuss our favourite post-workout supplements and why we love them.
Our Top 3 Post-Workout and Recovery Supplements
Science in Sport Rego Rapid Recovery
The Protein Works Recovery Protein
Bulk Aftermath Post Workout Recovery
---
<<< Discover our Favourite Pre-Workout to Complement your Post-Workout>>>>
---
1. Science in Sport Rego Rapid Recovery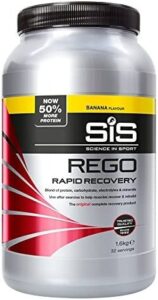 Science in Sport (SIS) Rego Rapid Recovery offers a blend of whey protein (20g per serving) and carbs (23g per serving) for your recovery supplement. Studies show the combination of the two is great for replenishing energy stores and maximising recovery.
SIS Rego Rapid Recovery also adds 1.5g of electrolytes per serving, alongside some vitamins and minerals.
There are 184 calories per serving, and it is recommended to be consumed within 30 minutes after exercise. Not suitable for vegans.
Rego Rapid Recovery should replenish your glycogen stores fast, which in turn aids muscle recovery and muscle building. It's a great choice for a sports recovery supplement, hence its position on our list of the best post-workouts UK.
---
2. The Protein Works Recovery Protein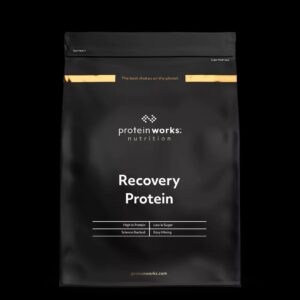 The Protein Works Recovery Protein is designed to be a recovery shake, containing a 2:1 carb to protein ratio, to help you recover after your workout. Protein is key to repairing muscles after an intense training session, and Recovery Protein includes 20g of protein per serving to kickstart protein synthesis and repair.
It also contains 44g of carbs to refill muscle glycogen stores, as well as an electrolyte blend of sodium, potassium, calcium and magnesium to re-hydrate, as well as some BCAAs. Tart cherry extract is also included for its anti-inflammatory properties.
Note that the protein included here is hydrolysed whey and whey isolate, so vegans should avoid this product. Ditto anyone with a milk allergy, or who has digestive issues with whey.
---
3. Bulk Aftermath Post Workout Recovery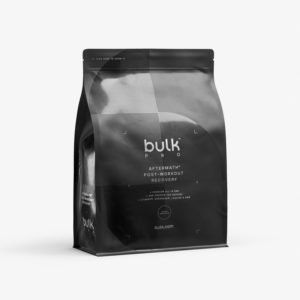 From Bulk (formerly Bulk Powders) comes a post-workout recovery supplement with a whopping 40g of protein per serving. Along with the protein, it also includes amino acids, 5g of glutamine peptides, 5g Creapure creatine, 1.5g HMB and 22g of Vitargo carbohydrates.
Bulk stresses that its Aftermath Post Workout Recovery is designed for serious trainers and professional athletes, and it would seem the price reflects that. It is a great product – and earns its place on our list of the best post-workouts UK – but it's also more expensive than many of the other post-workout recovery supplements on the market. If you're not at that training level, it may also deliver more of several ingredients than you actually need.
Note that whey protein isolate is the primary protein source, so avoid if you're a vegan or have an allergy to milk or struggle with the digestive challenges of whey. Allergens in Bulk Aftermath Post Workout Recovery include milk, gluten and soya.
---
<<< Discover our Favourite Pre-Workout to Complement your Post-Workout>>>>
---
What To Look for In a Post-Workout Supplement
Post-Workout Nutrition Needs
When you exercise, you're going to affect a few essential processes in your body that need refuelling afterwards.
Obviously, muscles are used and they're going to take some wear and tear. They're made from the same building blocks as proteins, so you're going to need to replace those proteins with your diet.
Post-workout protein should also be combined with carbohydrates, too. These are used to replace the fuel you used during your workout – allowing your muscles the energy to repair and grow.
You're also going to want to hydrate and provide the water and vitamins/minerals to assist with hydration.
Ingredient Recommendations
Post-Workout Creatine (+ Glycerol)
A great way of boosting post-workout rehydration – and supporting muscle growth – is a combination of creatine and glycerol.
Creatine is a great compound for improving muscular strength, endurance and health – but did you know it works best in combination with glycerol?
The combination of these two compounds is a great way to hyper-hydrate, providing your muscles with a combination of fuel and fluids. These are great for boosting cell volume and rapidly replenishing nutrient stores in the muscles.
This just means better recovery and growth after a tough workout.
Post-Workout Protein
Protein is the poster-child for exercise nutrition.
You need protein post-workout to replace the damaged and degraded proteins in the muscles and joints. These take a beating when you exercise hard, so providing your body with the raw materials to replace them is crucial.
Protein intake is also a key way of returning to a positive nitrogen balance and getting leucine into your body. These are the two most important steps to boosting muscle recovery/growth, and thus getting a head-start on your progress.
Whey protein is fast-absorbing and provides a good supplement for this task, but it's not the only option. Today's new generation of plant-based protein powders are credible vegan-friendly and lactose-free  alternatives to whey.
Carbohydrates to Refuel Your Muscles
Carbs are a key post-workout choice.
Exercise uses carbohydrates for fuel, especially if you're doing intense training. This means you'll need to replenish stores after a workout.
Post-workout carbohydrates are key, supporting muscle protein signalling. This is the process that tells your body to replace damaged proteins and add new proteins to the muscles.
If you're too low on energy – particularly because of carbohydrate restriction – this process is limited. Simply put, eating carbohydrates after your workout will kickstart the recovery and growth processes.

Electrolytes for Muscle Health
This is just the scientific name for the group of salts your body uses to fuel muscles effectively.
Electrolytes – a group of minerals such as sodium, potassium, and calcium – are crucial for healthy muscles.
When you exercise, muscular damage and the soreness associated with it are caused by a build-up of calcium ions in the muscles. Consuming a combination of potassium and other electrolytes is key to re-balancing the chemical environment and reducing muscle damage/soreness.
You'll also want electrolytes post-workout to help you re-hydrate, since you're likely to lose fluids and salts through sweat.
Citrulline: More Than Just a Great Pump
While citrulline is best known as a pro-pump, pre-workout ingredient, it's actually useful post-workout too.
Citrulline is a nitric oxide booster and vasodilator, aimed at improving blood flow during workouts. After a workout, however, this has been shown to improve recovery and reduce muscle soreness.
This is a great way to improve your overall wellbeing, feel more comfortable after intense exercise, and may be a way of reducing muscle damage.
If you're looking to be at your best every session, your preparation for the next workout starts with your post-workout nutrition.
---
Final Thoughts
Post-workout supplements are all about getting back to where you were before you trained. They provide a way to rapidly return to normal function, refuel the muscles, and shuttle key nutrients back to the tired tissues. You can opt for a special post-workout product or choose an all-rounder, such as a protein or carbohydrate product.
Our list of the best post-workouts UK takes all the above into consideration when recommending products. We've also provided a way for you to analyse post-workout nutrition in future.  You're now equipped with the knowledge and reviews you need to understand post-workout supplements and how they can help you improve your results.