This page may contain affiliate links and we may earn a small amount of money from any products bought. Our reviews, however, remain independent and impartial.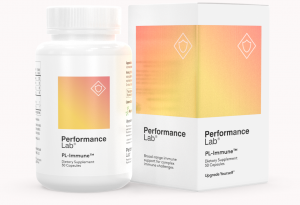 Everyone's clamouring for effective immune boosters right now… looking for useful supplements and sourcing foods with zinc, vitamin D, garlic, yoghurt, and more.
So, we were interested to learn about a new bespoke supplement that promises to provide broad range immunity boosting support to help us deal with various immune challenges.
We had even higher hopes for it when we discovered that it came from the manufacturer of one of our favourite supplement lines in the UK – Performance Lab.
PL-Immune is described as 'today's most dynamic immune performance supplement' – so does it live up to its promise? Let's find out…
The PL-Immune Formula
PL-Immune contains six key ingredients, designed to both activate your first line immune defences and work with the body to strengthen long-range immune health as well.
It does so by activating FIVE types of immune cells.
PL-Immune can help with immune issues, such as those caused by:
Shortage of vitamins and minerals,
Toxins,
Overtraining, and
Stress.
PL-Immune is the one supplement you need to correct all of those, making it revolutionary in the immune supplement world.
PL-Immune should:
Replenish antioxidants.
Restore foundational immune support, thanks to its vitamin D, vitamin C, zinc, and selenium.
Activate five types of immune cells, thanks to the inclusion of probiotic LC-Plasma (IMMUSE™).
Provide first-line immunity support, as well as long-range immune help.
Help to fight exercise-related fatigue.
Boost overall immune wellness to help make your day more productive.
How Does PL-Immune Work?
This super modern immunity booster helps to make the body's immune system stronger by:
First restoring areas of weakened defence
Activating immune cells – encouraging them to multiply, coordinate and work harder.
Provide a broad range level of support.
The Ingredients in PL-Immune
Vitamin D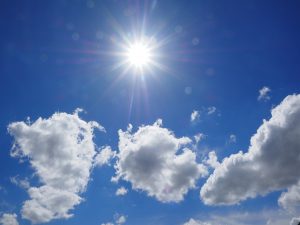 Also known as the sunshine vitamin because our bodies produce it in response to sunlight, vitamin D is a powerhouse vitamin with several important functions.
Here's its importance for us: as well as helping to regulate the absorption of important nutrients calcium and phosphorus, it plays a significant role in maintaining the normal functioning of the immune system.
According to the Harvard T.H. Chan School of Public Health, the public health arm of Harvard University, "laboratory studies show that vitamin D can reduce cancer cell growth, help control infections and reduce inflammation." It may also help to reduce depression.
Some studies show that vitamin D deficiency may play a role in the likelihood of multiple sclerosis, diabetes, and other autoimmune diseases.
Maintaining decent levels of Vitamin D has also been suggested to protect against flu and colds, and the findings of a recent large meta-analysis warn that low levels of vitamin D may increase the severity or risk of covid-19. On this, Harvard T.C Chan advise: "Although there is no direct evidence on this issue because this is such a new disease, avoiding low levels of vitamin D makes sense for this and other reasons."
They also point out that many people are deficient in vitamin D – which is why the NHS recommends that everyone should supplement with an additional 10mcg of vitamin D in the winter months.
PL-Immune provides double that dose, a generous 20mcg that is perfectly safe to take, and should help to prevent low levels of the sunshine vitamin, thus supporting your immune health.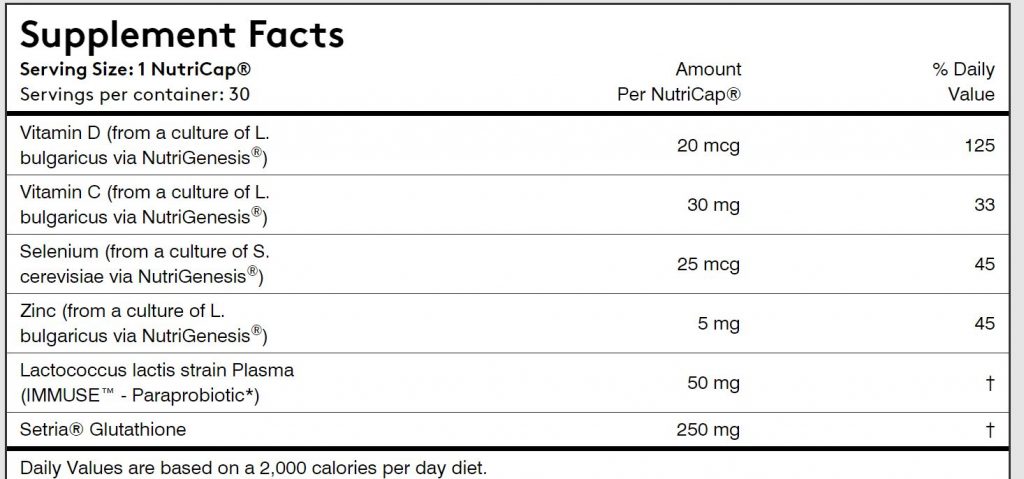 Vitamin C
Vitamin C is an essential mineral – which means that your body can't produce it by itself, but it's certainly linked to significant health benefits. First and foremost, it's a potent antioxidant that helps to strengthen the body's natural immune defences. By tackling harmful free radicals, vitamin c helps to prevent oxidative stress and inflammation that's linked to many diseases.
Clinical evidence shows, for instance, that vitamin c may help to protect against, and reduce, heart disease risk, and may lower blood pressure.
Its role in the immune system is expansive. Vitamin c helps to encourage white blood cell production which protects against infection. It also enables these white blood cells (phagocytes and lymphocytes) to work more effectively, while protecting them against the free radicals and other molecules mentioned above.
Finally, vitamin c is transported to the skin to strengthen the skin's barriers, one reason why it is shown to help wounds heal faster.
Furthermore, vitamin C boosts the body's absorption of iron, helping to prevent deficiency, while low levels of the vitamin have been associated with poorer health.
Selenium
Selenium is another great nutrient to bolster your immune system. It's another antioxidant that helps to reduce oxidative stress on the body, reducing inflammation and aiding immunity. Studies have demonstrated that increased levels of selenium in the blood are associated with improve immune responses, while selenium deficiency is linked to a slower immune response.
As one American study says, "Overall, there is considerable evidence strengthening the notion that selenium affects different types of immune responses in different ways."
Selenium supplementation may help to strengthen the immune system of people suffering with flu, hepatitis, HIV, and tuberculosis.

 Zinc
Zinc is known as an immune-boosting mineral that helps to strengthen your immunity, heal wounds, and support normal growth. It's a popular treatment to tackle the common cold, possibly reducing its duration, and can also help fight infection.
Topically, it's used to treat skin irritations and can also help with acne, ulcers, ADHD, and more.
And men, another bonus! Zinc is used by the male body to produce testosterone, keeping levels healthy.
 Setria Gluthathione
One of the reasons that we're fans of the Performance Lab range of supplements is the innovation behind them. This is another example of that. Adding glutathione to the formula – a 'master antioxidant' – is a genius move. Glutathione helps to boost the effectiveness of other antioxidants, meaning that it makes the vitamin C and selenium in the PL-Immune formula work even harder.
Plus, you have all the benefits from powerhouse Glutathione itself, which protects the body and helps the immune system at a molecular level by protecting the mitochondria in your cells.
Your mitochondria produce around 90% of the chemical energy needed to power the cells in the body, by converting glucose, fats, and amino acids into energy.
It helps the immune system by helping the T-cell lymphocytes to function correctly and boost their numbers – these are your frontline soldiers in your immune system army.
It also stimulates the production of, and activates, the body's Natural Killer cells (NK cells) which work to control viral infections. The NK cells contain any viral infections until the T-cells arrive to clear it away.
As you can see, glutathione is a crucial addition to an immunity booster. You need high levels to maintain a healthy immune system, boost performance, prevent disease, age gracefully, and help to avoid serious medical issues.
It's a detoxifier as well as the body's main antioxidant.
Without decent levels of glutathione, we just won't have the energy we need to stay healthy.
Healthy glutathione levels have been shown to have the following benefits:
Lowering inflammation
Strengthening the immune system
Boosting brain health
Fighting oxidative stress, and more.
LC-Plasma (IMMUSE™)
Here's another jewel in the crown of PL-Immune, and another example of the innovation we like to see from this range. PL-Immune includes LC-Plasma, a heat-treated probiotic, to help activate immune cells.
You've probably heard of the probiotics found in yoghurts. Typically, these lactic acid probiotics activate the NK Cells or Natural Killer immune cells.
Activating one type of powerful cell used by the immune system is good, but LC-Plasma – included in the form of ultra-modern IMMUSE™ —  activates 5 different types of immune cells. Yes, you read that right, FIVE.
It does so by first activating the pDC (plasmacytoid dendritic cells), the immune system's lieutenants. These then order four other immune cells – the NK Cells, Killer T-Cells, Helper T-Cells and B Cells – to jump into battle.
Of hundreds of useful bacteria studied, only one was proven to activate those all-important commanding pDC cells – LC-Plasma.
Researchers studying it in human clinical trials, suggest that LC-Plasma may:
Help to maintain a healthy immune system that can fight against seasonal challenges.
Tackle fatigue and immune issues connected to high-intensity training.
Support overall wellness to boost work performance and productivity.
IMMUSE™ is a patented form of LC-Plasma studied in several clinical trials – seven covering efficacy, and two covering safety.
The Pros
PL-Immune's superior lactic acid probiotic activates five different immune cells, rather than just one.
Should boost your immune health in both the short and longer-term.
Helps to support productivity and performance at work.
Can also be used to tackle exercise-related fatigue and immune concerns.
Provides a broad range of immune support.
Contains some of the best antioxidants around.
Supports your own natural immune system.
Restores immune support from the foundations.
Healthy for daily use.
The combination of Setria Glutathione and Immuse™ makes it a potent immune stack for athletes.
The vitamins and minerals within PL-Immune are made using the revolutionary NutriGenesis process, which creates nature-identical nutrients to increase bioavailability and absorption.
The Cons
It sounds trite to say that we can't find any negatives with this product, but that doesn't make it any less true. The only con we can think of is that PL-Immune isn't sold on the high street or via other online retailers, rather it's sold by the manufacturer only. This does, however, allow them to control quality and provide discounts for multiple purchases.
Safety/ Side Effects
PL-Immune has been designed for safe use every day without the need for cycling. It uses only natural ingredients in quality forms and boasts what is probably the cleanest formula around (see below). As such, you should not experience any side effects. As with all supplements, however, please seek medical advice first if you are pregnant, breastfeeding or have any existing conditions.
PL-Immune's Clean Label
Like other Performance Lab products, PL-Immune is:
Vegan-friendly
Allergen-free
cGMP certified
Gluten, soy, and caffeine-free
Banned substance tested, meaning athletes can use it without worry.
Non-irradiated and non-GMO.
Who Should Take It?
Performance Lab says PL-Immune can be taken by anyone who wants to focus on their immune health.
How to Take It?
You just need to take one capsule a day, ideally with breakfast or your first meal of the day. Taking it alongside a source of dietary fat will help to improve absorption. Best if used consistently.
A Word About the Performance Lab Range
Another great benefit of the Performance Lab range is that all its products, including PL-Immune, can safely be used together if desired. Meaning you can create your own tailor-made stacks according to your preferences. If you're looking for a top-notch multivitamin to ensure you're gaining a broad range of vitamins and minerals, for instance, we'd recommend combining PL-Immune with Performance Lab's NutriGenesis Multi for Men or Women. Quite simply, one of the best multivitamins around.
Conclusion: Does PL-Immune Work?
As you may have guessed, we're big fans of the Performance Lab range and the manufacturer, Opti-Nutra. They have shown themselves time and time again to value safety and effectiveness, always opting for superior forms of their ingredients rather than settle for second best.
It's a relief to say that PL-Immune fits that description entirely.  Rather than using a standard probiotic, they have sourced the ultramodern IMMUSE™ which helps to activate not one, but FIVE different immune cells.
We love the fact that Performance Lab products aim to support and boost your body's own natural responses, and PL-Immune does this too. As well as providing an immediate front line immune defence, it also works with your body to strengthen your immune health over the longer term too.
If you're worried that your immune system is suffering from the effects of stress, overtraining, a shortage of vitamins or minerals, or toxins, you'd be well advised to take a dedicated immune-supporting supplement.
Given the stresses that we face today, it's a huge boon to have a strong, smart product that helps us overcome a wide range of immune issues. We do not hesitate to recommend PL-Immune.