This page may contain affiliate links and we may earn a small amount of money from any products bought. Our reviews, however, remain independent and impartial.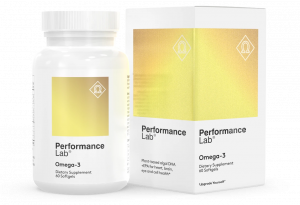 Omega-3 is one of the most beneficial nutrients known to science, with more than 30,000 research studies proving its boost to vitality and overall health. The fatty acids DHA and EPA within Omega-3 help to support the heart, brain, immune system, bones, muscles, joints, eyes, sleep, and cognition. If you're not taking it, you would do well to consider doing so.
Performance Lab Omega-3 isn't just your run-of-the-mill fish oil… for one thing, it eschews fish altogether, preferring to gain its Omega-3 from the original source, the algae that fish eat. Meaning it has no fishy taste or smell (unlike many other inferior forms of the supplement)! It also means it is 100% vegan suitable, doesn't damage fish stocks, and avoids potential toxins often found in fish farmed from polluted waters.
SHORTCUT: We believe Performance Lab Omega-3 is the best form of Omega-3 that you can buy, for vegans and non-vegans alike.
Performance Lab Omega-3 Formula
The Performance Lab Omega-3 formula is simple: it contains 600mg of DHA and 300mg of EPA. These are the two most beneficial fatty acids – unsaturated dietary fats — found in Omega-3, and are included in effective doses.
DHA (Docosahexaenoic acid) is particularly beneficial for the brain, brain development and cognitive function. Not surprising considering DHA accounts for approximately 8% of our brain's weight.
EPA (Eicosapentaenoic acid ) is excellent for reducing inflammation, which has a knock-on benefit to many areas of health, including the heart, muscles, joints and more. EPA has also been shown to reduce depression symptoms.
You may also hear about ALA (Alpha Linolenic Acid), another Omega-3 fatty acid. The truth is this isn't quite as useful as the first two fatty acids mentioned above and is used mainly for energy by the body. When you're looking for a credible Omega-3 supplement, you want to focus primary on those offering DHA and EPA, such as Performance Lab Omega-3.
Benefits of Omega-3
Here's the first benefit of taking an Omega-3 supplement such as Performance Lab Omega-3… it helps to prevent any deficiencies. The World Health Organisation recommends eating two portions of oily fish a week to gain enough Omega-3. For some, that can be problematic, either because of price, ease, availability or because they simply don't like the relevant fish. Others may want to boost their nutrient intake even further.
While we'd never recommend choosing supplements rather than healthy food, it's definitely a bonus to have effective alternatives if needed.
Here's how Omega-3 can benefit the body:
Cardiovascular
Omega-3 has been proven to have substantial benefits for the cardiovascular system and heart health. It has been shown to boost blood flow and improve circulation, optimise the heart's rhythm, help to maintain healthy blood pressure, and support effective cardiovascular function.
The Brain
Researchers say Omega-3 is particularly useful for the brain. It's linked to improved processing and attention and may help recall in people with mild cognitive issues. It may also improve mental performance and overall brain health as we age, helping to lessen the impact of age-related cognitive issues. DHA also contributes to a brighter, more balanced mood.
Performance Lab Omega-3 stacks perfectly with Performance Lab Mind, a top-notch nootropic that boosts brainpower even further.
The Eyes
DHA may help to protect the retina and tackle age-related macular issues, plus help to soothe irritation and aid low-light sight. Omega-3 can support numerous eye-related biological processes, help visual performance, eye comfort and longer-term eye health.
Nervous System
DHA is known to support cells throughout the nervous system, helping them to form, function optimally and repair.
The Muscles and Bones
There's a reason a good Omega-3 supplement is a favoured choice for athletes – and that's because EPA can help with muscle building and preservation by encouraging protein synthesis. It can also reduce exercise-related damage and soreness, and strengthen your resistance to fatigue.
Many people also take it for its benefit to bones and joints, with a valued ability to reduce inflammation and soothe joint stiffness, as well as maintaining mineral density in bones.
The Pros
Omega-3 is one of the most studied and proven nutrients known to man and science
Performance Lab Omega-3 sources its nutrients from algae rather than fish, making it 100% vegan and kind to fish stocks
It also means no fishy aftertaste or smell!
It's also more eco-friendly
The 2:1 ratio of DHA to EPA is ideal, and the natural forms included here can be easily absorbed by the body
Performance Lab Omega-3 also contains a small amount of vitamin D
This product is one of the cleanest on the market. It contains no GMO, allergens, soy, gluten, or synthetic additives
It is made according to Good Manufacturing Practices, guaranteeing ethical production
Performance Lab is a respected and popular brand, with its manufacturer Opti-Nutra known for its quality of production and strong customer service skills
The Cons
No real cons, as far as we can see, but if we were to split hairs, we'd probably mention that it can only be bought from the official Performance Lab website. Really, however, this allows Performance Lab to offer discounts on multiple purchases and free shipping after a certain amount.
Safety/ Side Effects
The FDA says Omega-3 supplements are perfectly safe as long as they are less than 3,000mg per day. European Food Safety Authority says up to 5,000mg per day is safe. Performance Lab Omega-3 contains 600mg DHA and 300mg EPA – a useful dose, but certainly not enough to cause any side effects.
How to Take It
A serving of Performance Lab Omega-3 is two softgels. Take with your first meal of the day. Take no more than four in one day.
Performance Lab Omega-3 Conclusion
If you take just one supplement a day, you'd do well to make it Omega-3. Scientifically proven, it can benefit so many different facets of health that it can't help but be a great choice. Performance Lab Omega-3 is a superior form of the supplement and is clean, ethically manufactured, non-fishy and effective.
We have no hesitation in recommending Performance Lab Omega-3 as the best Omega-3 to buy in the UK today.
STACKS WELL WITH
Performance Lab NutriGenesis Multi for Men or Women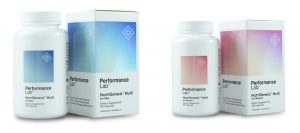 The beauty of the Performance Lab range is that every product – Performance Lab Omega-3 included –  is designed to be safely used in conjunction with any other. We think it goes great with Performance Lab's top-notch multivitamin – NutriGenesis Multi for Men or Women. NutriGenesis Multi includes nature-identical vitamins and minerals with the same whole food co-factors you'd find in nature, making them more bioavailable and easily absorbed.
BUY NutriGenesis Multi for Men
BUY NutriGenesis Multi for Women