This page may contain affiliate links and we may earn a small amount of money from any products bought. Our reviews, however, remain independent and impartial.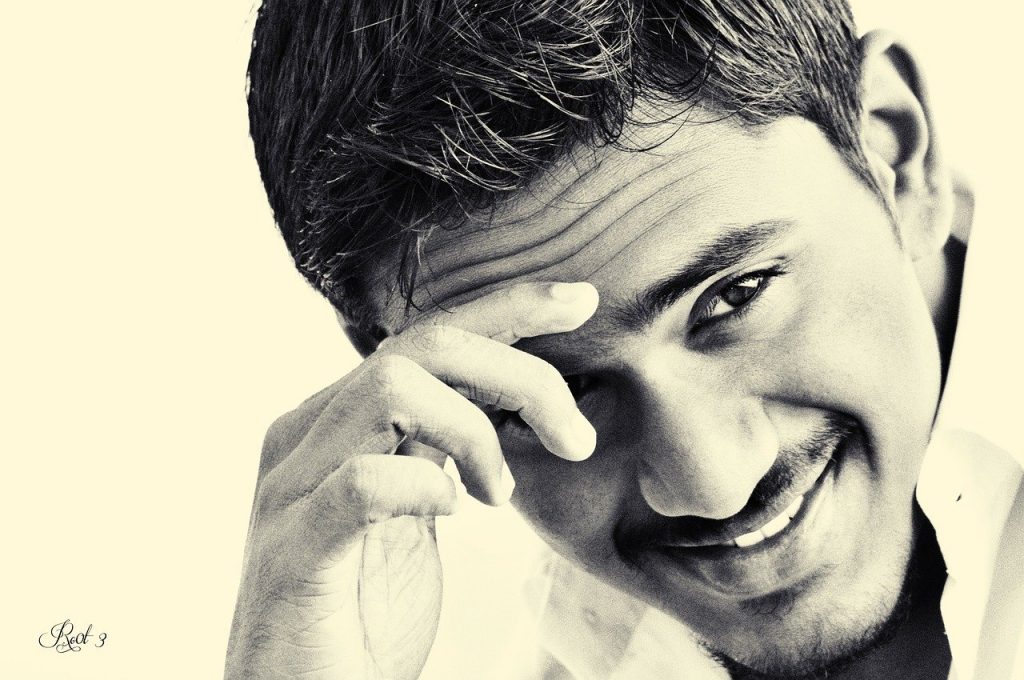 Allow us to reveal what you should be looking for in the best multivitamins for men UK in 2023…
The food we eat has become less healthy and most diets don't give us the nutrition we need, which is why so many of us are looking for the best multivitamins for men UK. Men especially are considered deficient in several essential vitamins and minerals. Male multivitamins can remedy this by providing your body with the correct amount of key nutrients — such as vitamins, minerals and other dietary supplements — in a single, daily use tablet.
Sure, if your diet is varied, carefully chosen to maximise your intake of vitamins and minerals as possible, and your food is sourced straight from the farmer, you probably don't need a multivitamin. But how many of us fall into that category? Try as we might. So, taking a multivitamin for men is an easy step to help plug up the gaps.
Likewise, active men or men who are deficient in certain nutrients may need more of certain vitamins or minerals.
We've researched dozens of multivitamins for men in the UK, and here are our favourites…
Our Recommendations for Best Multivitamins for Men UK
Best Overall Multivitamin for Men: Performance Lab NutriGenesis Multi for Men
Best for Reproductive Health: Wellman Prostace
Best for Immune Health: PL-Immune
Best for Men Over 50: Centrum 50+
Best for Active Men: Optimum Nutrition Opti-Men
Read on for our reviews of the best multivitamins for men UK mentioned above, but first…
What to Look for in a Male Multivitamin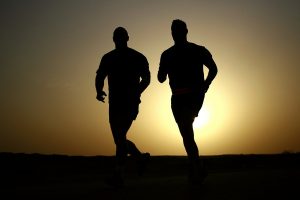 We each have unique nutritional needs, depending on our age and gender. Everyone needs the same vitamins and minerals but in varying amounts. Men may choose a supplement with specific ingredients like zinc or vitamin d3, as they both aid testosterone production.
Male multivitamins can also include amino acids, coenzymes and nootropics, which can have more health benefits than standard vitamin supplements. Our list of the best multivitamins for men UK takes this into account.
The best multivitamins for men should contain a wide range of vitamins and at least a few minerals. Look at the ingredients list and find the nutrient reference values (NRV) or Daily Values (DV) – this a percentage which tells you how much of an ingredient you're getting compared with how much you should be taking daily. Sometimes NRVs are over 100%, this is usually safe as any excess vitamins or minerals your body doesn't require are excreted. This is a common occurrence with vitamin C, in which some products contain over 1000% NRV. Generally speaking, it's a good idea to choose a multivitamin that reaches 100 percent in as many vitamins and minerals as possible.
The Best Multivitamins for Men UK Should Be Gender Specific
Bear in mind that men's requirement for certain vitamins differs to women's – men need less iron than women, for instance (but interestingly, they can also benefit from folic acid, thought to help with sperm count) – which is why you should be looking for a specific male multivitamin as opposed to a generic one. Likewise, the U.S. Department of Agriculture warns that men of all ages are typically deficient in nearly every nutrient category apart from meat and beans.
You should also check the label of any multivitamin that you choose as men's need for essential nutrients, such as vitamin D, change as we age. Men over 70, for instance, need more vitamin D than their younger counterparts.
Look therefore for a multivitamin that suits both your gender and your stage in life, as well as your lifestyle.
With all of this in mind, we scoured the market to bring you the best multivitamins for men UK in 2023…
---
Best Multivitamins for Men UK in 2023
#No 1 Best Multivitamins for Men UK: Performance Lab NutriGenesis Multi for Men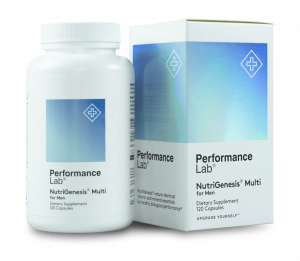 Formerly known as Performance Lab Whole-Food Multi, NutriGenesis Multi for Men is a high-quality daily use vitamin, tailored to the typical male dietary needs. We think it provides the best multivitamins for men UK.
It contains all the typical vitamins you'd expect to see in a male multivitamin, like vitamin C and D3. But it also contains some rarely seen nutrients, like vitamins K1 and K2. These vitamins help to keep bones healthy and aid blood clotting, possibly also helping heart health.
All in all, Performance Lab NutriGenesis Multi for Men contains at least 100% of 16 different vitamins and minerals, including vitamin E. Men need to ensure their vitamin E intake is at the correct level, as vitamin E is important for good prostate health and antioxidant protection.
Performance Lab NutriGenesis Multi for Men also contains rare minerals and metals like vanadium and molybdenum as well as inositol, a dietary supplement that supports the nervous system and aids cognition.
The Best Multivitamins for Men UK Have Nature-Identical Nutrients
Here's why we like this multivitamin so much… all minerals and vitamins in this product are 'nature-identical nutrients' created with a revolutionary new manufacturing process called NutriGenesis. This means they contain identical nutrients, probiotics, enzymes and the same beneficial cofactors as you would find in nature – they aren't synthetic or isolated, meaning they are more bioavailable and easily absorbed. This is what makes Performance Lab NutriGenesis Multi one of the best multivitamins for men in the UK, in our opinion.
Likewise, Performance Lab NutriGenesis Multi is made using vitamins and minerals extracted from natural, non-GMO sources, grown in soil that hasn't been sprayed with pesticides or herbicides. It's suitable for vegans and doesn't contain any synthetic additives, gluten, soy, caffeine or allergens. It really is one of the cleanest multivitamins around.
The Ingredients in Detail
Performance Lab NutriGenesis Multi for Men contains 27 vitamins and minerals, with 16 of them providing your full Daily Value (DV) — the amount of each nutrient you need each day to avoid disease and deficiency. It includes:
Vitamins to Protect Your Heart
More men than women suffer from heart disease [1] so it's very important for men to look after their hearts. A good multivitamin for men will include heart-healthy vitamins such as folate, B1, B6, vitamins C and E and selenium. Performance Lab NutriGenesis Multi for Men delivers more than 100% DV of all of the above, with the exception of vitamin C (66% DV). That means that it provides all of the above vitamins you need on a daily basis, and then some!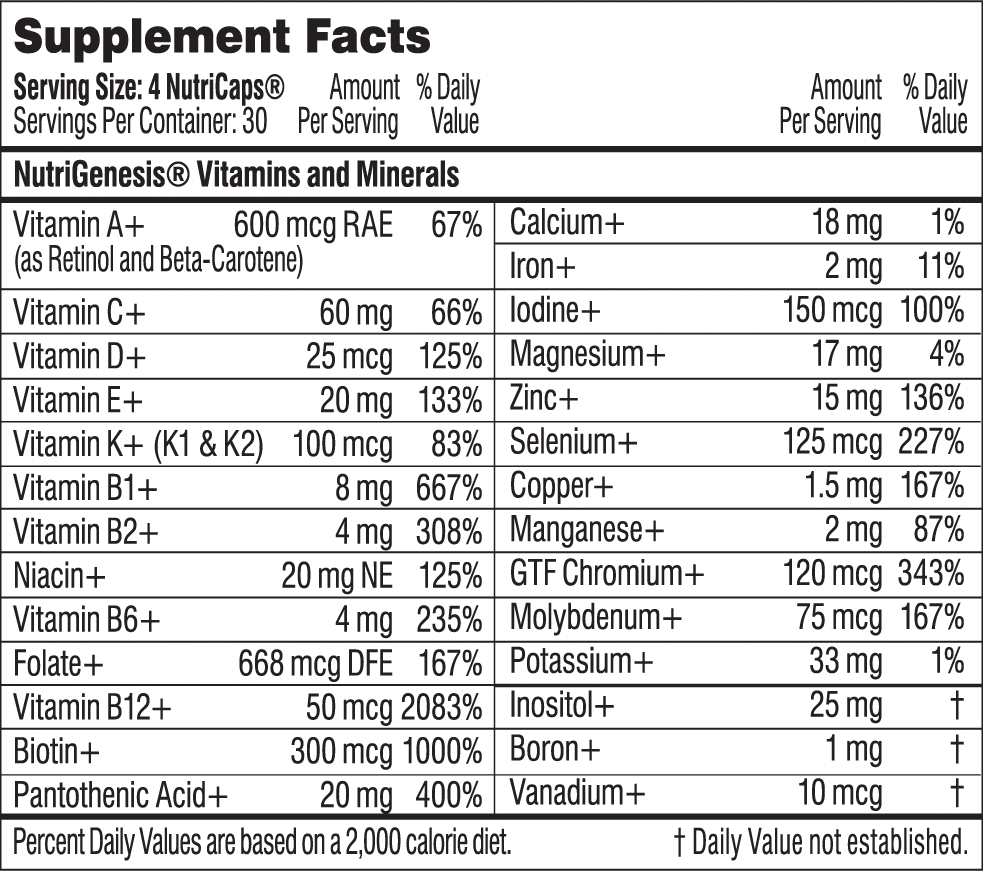 Zinc for Fertility
A trace element, zinc is important for a healthy immune system but it has special importance for men beyond that, given that it helps to boost testosterone production. Low levels of zinc have been linked to low sperm counts, meaning that zinc is closely tied into a man's virility and fertility.  The body doesn't store zinc so daily consumption is needed to avoid deficiencies.
Zinc is also a co-factor in more than 300 enzymes helping to process carbohydrate, fat and protein in food.
Performance Lab NutriGenesis Multi, Men's Formula, provides 15mg of zinc (136% DV), ensuring you avoid any deficiency. Vegan and vegetarian men, in particular, may struggle to gain enough zinc in their diets as it is typically found in meat, shellfish and dairy products.
B-Vitamins for Energy
Now here's where Performance Lab NutriGenesis Multi for Men excels. B-vitamins — particularly b2, b5, vitamins b6 and vitamin b12 — are especially useful for busy men; they help to boost energy, help the body cope with stress, keep the nervous system healthy and improve muscle function. NutriGenesis Multi for Men ensures that all these B-vitamins are included at dosages of 100% DV or more. Meaning one serving delivers all your daily recommended B-vitamins in one go.
Vitamin D for Strong Bones
Vitamin D, a common deficiency in the UK, is made during exposure to the sun, and the autumn and winter months in the UK just don't offer enough sunlight to cover our needs. The NHS estimates that one in five people have low levels of vitamin D; for this reason, it recommends supplementation.
A vitamin D deficiency can show up as muscle weakness or bone pain; vitamin D is a key factor in the body's absorption of calcium, needed to prevent weak bones and osteoporosis in later life. And if you're thinking that's a woman's issue, you'd be wrong. One in 5 men will break a bone after the age of 50 due to osteoporosis. [2] While the cause of the disease is clearer in women, it is thought that low testosterone levels may contribute to osteoporosis in men. Vitamin D, zinc and boron can help prevent that.
Low levels of vitamin D have also been linked to cognitive impairment in older men, as well as cardiovascular disease and cancer.
Here's the good news: Performance Lab NutriGenesis Multi for Men has you covered. It provides 25mcg – 125% DV – of your daily needs.
Boron for Testosterone
Finally, boron is another useful inclusion in NutriGenesis Multi. It has been shown to boost testosterone and support bones and muscles.
What's more, Performance Lab NutriGenesis Multi for Men is one of the cleanest formulas we've seen — it is gluten-free, vegan-friendly, free of GMO, artificial preservatives and more.
Pros:
One of the cleanest multivitamins in the UK
Generous dosages of all vitamins and minerals
The manufacturer has an excellent reputation
Tailored for men
Cons:
Only available from the manufacturer's website.
READ our Full Review of Performance Lab NutriGenesis Multi 
STACKS WELL WITH
Performance Lab Omega-3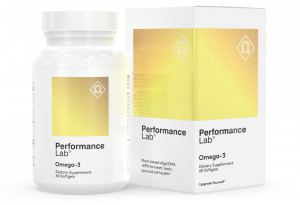 Performance Lab NutriGenesis Multi offers an excellent foundation for good health, making sure you aren't deficient in any important nutrients. Now you can build on that. The genius behind the Performance Lab range is that any product can be safely – and effectively – stacked with any other one from the range, helping you to focus on an area of health personal to you.
We recommend Performance Lab Omega-3 fatty acid as an ideal complement to the multivitamin for anyone wanting to support their overall health and vitality – with particular emphasis on heart and brain health, though it also does so much more.
Omega-3 is one of the most beneficial nutrients known to science. It promotes:
Cardiovascular health
Brain health and cognitive function
Eye performance
Muscles and joints, helping to soothe and reduce inflammation
Encouraging protein synthesis to build muscle
A healthy nervous system
Cell membrane structure and performance, supporting whole body performance.
The good news is that all of the above has been scientifically proven, with more than 30,000 research studies backing its beneficial effects. Performance Lab takes its Omega-3 straight from the original source, algae, making it a highly effective, 100% vegan plant-based supplement – with no fishy taste or smell!
READ our Full Review of Performance Lab Omega-3
---
Best Multivitamin for Men for Reproductive Health: Wellman Prostace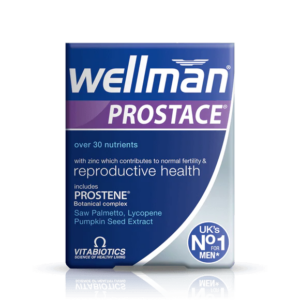 As well as providing some of the most useful vitamins and minerals for men — B-vitamins, vitamin E, zinc etc… – Vitabiotics have added something extra to their specialist multivitamin. Its additional ingredients focus on maintaining prostate health – aimed at preventing the prostate from enlarging, and preventing prostate cancer. These ingredients include:
Pumpkin Seed Extract: Pumpkin seeds are rich in zinc, crucial for normal prostate function. It is also thought that the phytochemicals found in pumpkin seeds are effective in combatting the build-up of dihydrotestosterone, a metabolite of testosterone. Scientists believe this build-up could cause the prostate to grow, though more research is needed. Pumpkin seed works more effectively when combined with saw palmetto. 
Saw Palmetto:  Used alongside pumpkin seed extract, there's some evidence to suggest saw palmetto may be useful in preventing the prostate from enlarging, and may even shrink the gland.
Co-enzyme Q10: While there's no direct evidence that Co-enzyme Q10 can prevent prostate cancer, it is a strong antioxidant and may be an anti-cancer agent. Levels tend to fall with age, so supplementation is useful. Lycopene extract, also included in Wellman Prostace, is another powerful antioxidant and also has potential anti-cancer qualities. 
Finally, Beta-sistosterol, found naturally in fruits and vegetables, is included because it may help the bladder to empty, tackling a potential problem in men with an enlarged prostate.
Pros:
The Wellman brand has a good reputation
Specialist ingredients for prostate health
Potential evidence for the specialist ingredients included
Cons:
Contains a small amount of green tea extract, which does contain caffeine
---
Best Men's Multivitamin for Immune Health: PL-Immune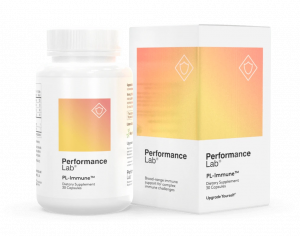 Here we have a top-quality immune support supplement, designed to offer broad range support for the body's immune system.
PL-Immune contains six ingredients that help to boost FIVE different types of immune cells. It's an ideal deal choice to help you deal with today's immune challenges caused by:
Stress
Overtraining
Toxins, and/ or
A shortage of important nutrients.
This one supplement can help to tackle all of the above. It really is that impressive! Its ingredients include vitamin D, vitamin C, selenium, zinc, Setria Glutathione, and LC-Plasma, a heat-treated probiotic. Together, it offers the following benefits:
Benefits of PL-Immune  
Activates FIVE different immune cells (most other supplements concentrate on one)
Offers front-line immune support
Restores the foundations of good immune health, thanks to the vitamins D and C, and minerals zinc and selenium.
Provides long-term immune support.
Boosts antioxidants.
Tackles fatigue called by exercising.
Boosts overall wellness, helping you to be more productive.
Cons:
Only available from the manufacturer's website
Slightly more expensive than your run-of-the-mill multivitamin but a decent price for such a  specialised product.
READ our Full Review of PL-Immune
---
Best Multivitamin for Men Over 50: Centrum 50+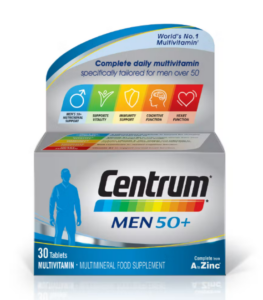 If we're being honest, there are two products on this list that provide some of the best multivitamins for men over 50 — this one, and Performance Lab's NutriGenesis Multi. Both supply ingredients designed to improve vitality, protect heart health, aid cognitive function, and strengthen the body's immune system.
Centrum 50+ claims to be designed for the older man, however, and includes most of the vitamins and minerals that older men will find beneficial, such as B vitamins for energy, vitamin D and calcium for bones, and vitamins C,D, and zinc for immune strength. It's particularly generous with its calcium – useful for preserving bones as we get older (men suffer from osteoporosis too).
Pros:
Generous dosage of calcium and vitamin E, useful for the older man
Full complement of other vitamins and minerals
From a respected manufacturer
Cons:
Performance Lab NutriGenesis Multi offers higher dosages of quite a few vitamins and minerals, especially zinc, a useful nutrient for the prostate
For a product targeting men over 50, it's a shame that it doesn't include any additional ingredients to protect the prostate, such as lycopene, saw palmetto, and Beta-sitosterol.
---
Best Multivitamin for Active Men: Optimum Nutrition Opti-Men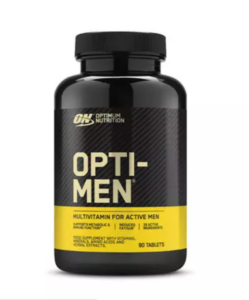 A leading sports nutrition brand should be trusted to know what active men need, and Optimum Nutrition has been successful with its multivitamin, Opti-Men.
It contains 39 active ingredients for men who have a fast-paced lifestyle — focusing on anti-fatigue, immune support, and metabolic support.
While its supply of the usual vitamins and minerals equals that of its competitors, it's the clever addition of BCAAs — Branch Chain Amino Acids — in its multivitamin formula that grabs our interest. Leucine, isoleucine and valine are the most useful of the nine essential acids when it comes to building and preserving muscle, and its inclusion here – along with L-glutamine – is a nice little perk of the formula.
Pros:
Ingredients focus on energy-boosting and may enhance performance
Crammed full of vitamins and minerals that should benefit active men
Cons:
While BCAAs are a little perk, the dosage is way too small to be useful for intense gym sessions. If you're looking for that, we'd recommend investing in a standalone BCAA product.
Contains pretty high levels of certain vitamins and minerals (such as copper) which could cause mild stomach upset.
You'll need to take 3 tablets a day
---
QUESTION: Should You be Taking a T-Booster?
As we age, our testosterone levels begin to drop. This leads to weight gain, low energy, lack of sex drive and more serious side effects like an increased risk of developing osteoporosis and Alzheimer's disease. If you're under 35, you probably have 'normal' levels of testosterone – it's only when approaching middle age that testosterone levels usually start to plummet. Testosterone-boosting supplements (known as T-boosters) could help. They typically contain vitamins and minerals which have been shown to raise testosterone levels in clinical studies. However, they don't contain any testosterone as these products need to be prescribed by a medical professional.
For extra support, we'd recommend  Testo Lab Pro, an excellent testosterone booster (and our favourite) that naturally boosts your own testosterone health.
SPECIAL MENTION: Centrapeak is another T-booster that we'd recommend; in fact, it's more than just a testosterone booster. It also improves libido, male vitality and mood. Read our review of Centrapeak
References
http://healthsurvey.hscic.gov.uk/media/78646/HSE17-CVD-rep.pdf
https://www.ageuk.org.uk/information-advice/health-wellbeing/conditions-illnesses/osteoporosis/