This page may contain affiliate links and we may earn a small amount of money from any products bought. Our reviews, however, remain independent and impartial.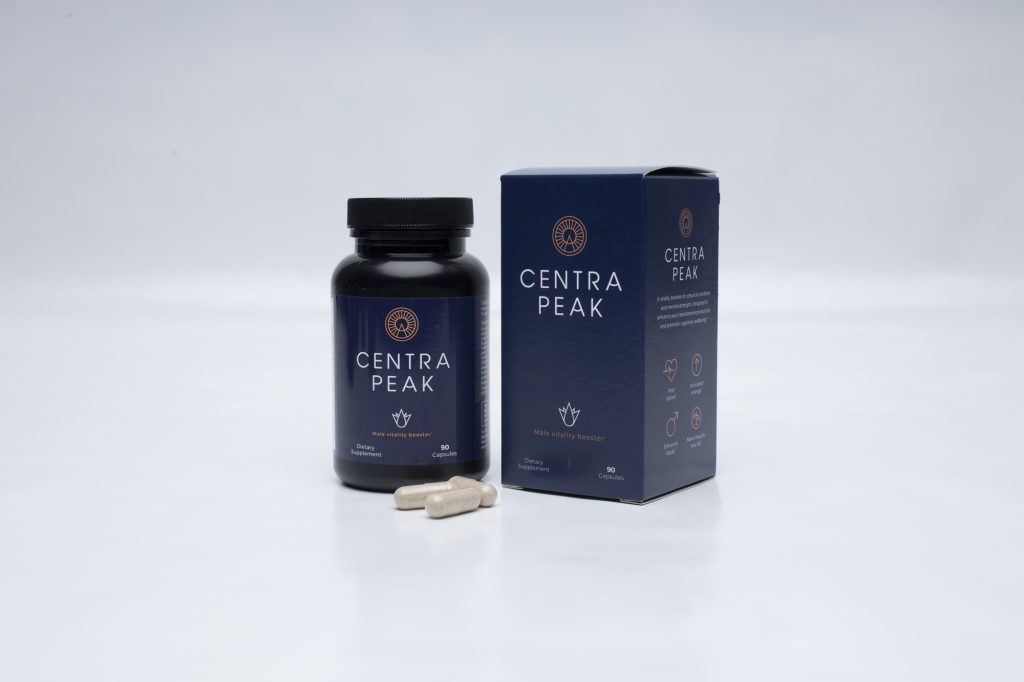 Centrapeak – with the tagline Get Back to your Peak – is more than just a testosterone booster. It's a male vitality pill – a booster for body and mind, enhancing testosterone and cognitive wellbeing at the same time. But does it work as advertised? We examine it in our Centrapeak review…
Note: Our Centrapeak review has been updated in December 2022 to take into account a change in formula… 
Centrapeak promises to:
Give you renewed energy and vitality
Reduce stress and anxiety, helping you to feel calmer and more in control
Boost your libido
Increase your testosterone, helping you to build more muscle and less fat
That's a lot to gain from one pill, so we thought we'd examine the ingredients to see if it works.
Spoiler! It does! We're pleased to say that Centrapeak is a quality product with an excellent formula. It combines quality T-boosting ingredients with tried, tested and proven nootropics (brain boosters). What's more, it's all natural.
Before we go on in this Centrapeak review to examine the ingredients in Centrapeak, it's worth taking a moment to consider why and how this formula holds so much promise.
Centrapeak Formula Analysis


In a market saturated with hysterical T-boosters promising massive muscle gains; to make you 'more manly' than you were at 20 years old, and a God in the sack to boot, the genuine products stand out. Centrapeak is one such product.
It sets out its stall at the beginning – this is a male vitality pill. It's more than just a T-booster and more than just a nootropic or brain booster. It combines the better elements of both to create a carefully thought-out stack with ingredients that complement both aims of the pill.
Body and mind are connected, of course, and Centrapeak does a great job of choosing ingredients that do double duty. It includes ingredients that boost Testosterone directly and indirectly while also tackling stress, for instance, alongside others that help improve sleep, boost mood, protect the brain, aid memory, and strengthen muscle mass.
Nothing has been neglected; Centrapeak isn't just paying lip service to either its T-boosting potential or its cognitive well-being.
It's fair to say that we're seriously impressed with the Centrapeak formula. Allow us to examine its revamped 2022 formula and we think you probably will be too…
Centrapeak Supplement Facts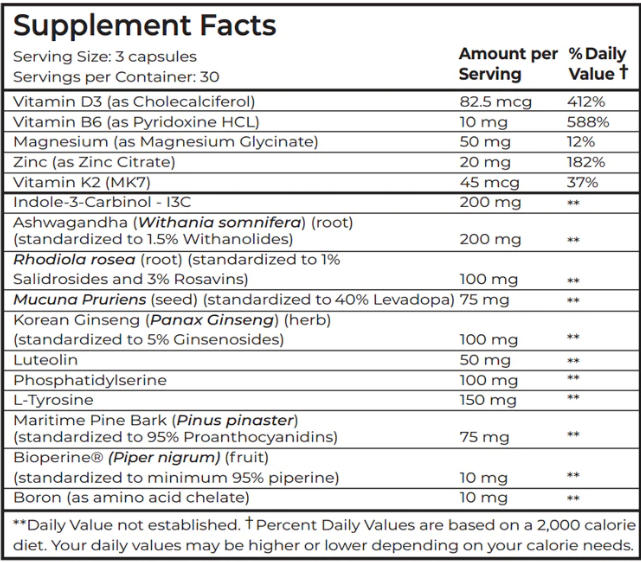 Vitamin D3, 82.5mcg (412% of DV)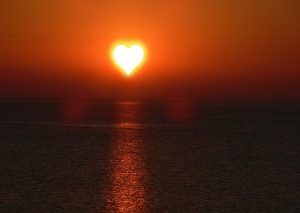 Vitamin D, the 'sunshine vitamin', is a common deficiency in the UK. So much so that the NHS recommends supplementation because we don't get the sunshine that we need all year round. Vitamin D is, of course, crucial for the effective absorption of calcium and stronger bones, but it also has a role to play in boosting testosterone.
Evidence shows that vitamin D deficiency has been linked to low testosterone, and increasing your stores of vitamin D may boost testosterone and sperm quality.
In a year-long study, results showed that men who supplemented with 3,300 IU of vitamin D every day doubled their vitamin D levels and increased their T levels by a fifth. This, not so coincidentally, is the exact amount – 3,300IU or 82.5mcg – included in Centrapeak. A great start. We love that so much consideration and research has gone into this product.
Zinc (20mg), Magnesium(50mg) and B6 (10mg)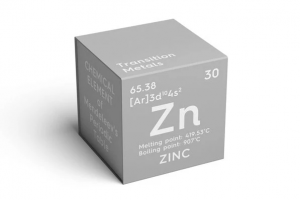 This combo is Centrapeak's version of ZMA, the famous supplement designed to improve sleep, aid recovery after exercise and build muscle strength and stamina. Alone, these ingredients can aid T-boosting and mood in several different ways; together, they're a highly effective combination.
Zinc, for instance, has a direct effect on testosterone, especially if you're a man who trains at high intensity (exercise uses up the body's store of zinc) or if you have low testosterone levels to begin with. Having a zinc deficiency has been proven to lead to low testosterone levels, though the exact mechanism is not fully understood. It is theorised that the mineral affects cells in the testes that produce testosterone. Supplementation, therefore, may help to raise T-levels.
Magnesium's impact on testosterone is more indirect. It helps to convert vitamin D into an active form, helping it achieve the bonuses mentioned above. It may also help to reduce cortisol, the stress hormone, which can interfere with testosterone production. Magnesium is also known to improve sleep quality – and is often used in over-the-counter sleep aids —  and getting a decent night's sleep is one of the best ways to raise or maintain decent T-levels.
This study examined the results of men who took a combined magnesium and zinc supplement and found that supplementation led to increased levels of free testosterone in the men taking part.
Vitamin B6, meanwhile, boosts your energy levels and works on T-levels in a more roundabout way. It promotes androgens which cause testosterone levels to rise and can also regulate hormones such as oestrogen and prolactin, both of which can be detrimental to T-levels if they get out of whack.
A study investigating the impact of B6 on testosterone in rats found that rats given a B6-free diet ended up with 'a significant reduction' of testosterone in blood plasma. Suggesting reduced levels of B6 in the body either causes less testosterone to be made or speeds up the rate of metabolic clearance.
Either way, Centrapeak's version of ZMA adds a powerful T-boosting punch, with the added benefit of better sleep and more energy. We're liking where this product is going…
Vitamin K2 (45mcg)
Vitamin K2 is an interesting one; ignored for a long time and not even heard of by many people, more and more supplement manufacturers are recognising K2's potential for T-boosting.
Potentially beneficial for age-related testosterone decline (so anyone 40-plus), a K2 deficiency has been associated with lower T-levels. One study on rats over five weeks demonstrated a 58% increase in T blood levels after K2 supplementation.
Indole-3-Carbinol (I3C, 200mg)
I3C is found in the likes of broccoli, cabbage, cauliflower, Brussel sprouts and other brassica vegetables, and its presumably included here to offer another path to testosterone boosting. Rather than boost T directly, it works in another way – it blocks an enzyme known as aromatase.
Aromatase converts testosterone into oestrogen (the female hormone), meaning it reduces the amount of testosterone you have available to you. It makes sense then that blocking aromatase helps your body to maintain or rebuild testosterone levels.
Ashwagandha (200mg)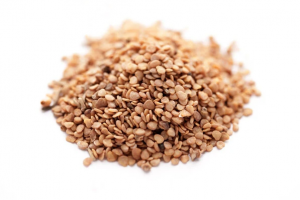 Ashwagandha, an Indian herb commonly used in Ayurvedic medicine, is one of our favourite ingredients. It is both a T-booster AND a nootropic, meaning it delivers the extra 'oomph' that this product promises. It acts as a potent adaptogen, helping to tackle stress, as well as fatigue and depression. Studies show that Ashwagandha can reduce levels of the stress hormone, cortisol, by nearly 30%, very impressive for a natural nootropic.
What does that mean for you? High levels of cortisol in the body are believed to negatively impact testosterone production, as well as causing weight gain, fatigue, depressed mood, and more.
There's another reason Ashwagandha is included in Centrapeak. For centuries, it has been used in traditional Ayurvedic medicine as a libido enhancer, something modern research has also confirmed. Studies have shown that taking Ashwagandha – also known as Withania somnifera root – can help fight anxiety and stress, PLUS increase testosterone levels AND improve semen quality in infertile men.
Ashwagandha's boost to testosterone has a knock-on effect to muscle mass, power, and strength too. Another study, this time from the International Society of Sports Nutrition, gave weight-lifting men 300mg of ashwagandha root twice a day for eight weeks. The results show muscle mass increased significantly, exercise-induced muscle damage was reduced and there was a 'significantly greater increase in testosterone level.'
So much so, that the report concluded: "Ashwagandha supplementation is associated with significant increases in muscle mass and strength and suggests that ashwagandha supplementation may be useful in conjunction with a resistance training program."
Note that the latest 2022 Centrapeak formula change reduced the amount of Ashwagandha from 500mg to 2o0mg. This is slightly lower than the optimum dose previously established, but more recent research has been showing lower levels of Ashwagandha can still work for anxiety.
The reduction in Ashwagandha also made more room for the addition of two more important ingredients to the Centrapeak formula – L-Tyrosine and Maritime Pine Bark.
L-Tyrosine
L-tyrosine is a proven nootropic that is converted to dopamine in the brain, helping to strengthen dopamine levels. Severe stress reduces dopamine, which can lead to poor focus, irritability, and a low mood. Shoring up dopamine levels with extra L-tyrosine, therefore, can help you to feel mentally sharp even while under stress.
Maritime Pine Bark
Pine Bark Extract is fast becoming a must-have ingredient in supplements such as Centrapeak. It's a natural antioxidant and is also valuable for its ability to boost blow flow around the body. This helps on many levels – from sexual function and libido to exercise and taking nutrients to the brain. A full mind and body ingredient.
Rhodiola Rosea (100mg)
Here we have another tried, tested, and proven nootropic – the adaptogen herb, Rhodiola Rosea. As mentioned above with Ashwaganda, an adaptogen is a supplement or ingredient that helps the body resist physical, biological, or chemical stress.
Rhodiola Rosea, therefore, helps to reduce cortisol levels while also helping to maintain strong levels of dopamine and serotonin in the brain. As such, it is great for anti-anxiety, for potentially tackling mild to moderate depression, and for fighting stress and fatigue. With all the beneficial results that brings.
A 2015 study of 80 'mildly anxious participants' taking Rhodiola Rosea daily for two weeks "demonstrated a significant reduction in self-reported anxiety, stress, anger, confusion and depression at 14 days and a significant improvement in total mood."
Rhodiola Rosea, therefore, makes a significant contribution to Centrapeak's promise of mental wellbeing.
Mucuna Pruriens (40% levodopa), 75mg
Here we have another adaptogen herb in Centrapeak, one that both reduces stress and has an active ingredient – L-DOPA (levodopa) – that generates a bioactive reaction in the body which in turn boosts testosterone.
The body converts L-DOPA into dopamine, which has a bi-directional relationship with testosterone, meaning both influence the other. More dopamine means more testosterone, with Mucuna Pruriens further shown to help with male virility, improving sperm count and sperm activity.
Dopamine also helps to inhibit the release of prolactin from the pituitary gland. As we mentioned above, prolactin causes a reduction in testosterone, so anything that prohibits its release is a further benefit to T-levels. A double whammy.
If you want to increase your L-DOPA levels, it's better to opt for mucuna pruriens rather than synthesised L-DOPA; the former has been proven twice as effective at raising L-DOPA levels.
Mucuna pruriens is another ingredient in Centrapeak that has more than one role. It increases dopamine, serotonin, and norepinephrine levels, and may therefore also help to reduce depression.
Panax Ginseng (100mg)
Panax Ginseng is another ancient natural medicine that has been proven to have many benefits in the modern world. Relevant here is its ability to boost testosterone by reducing blood sugar and insulin levels in the blood, which has a positive benefit to testosterone. It has also been shown to increase libido and help tackle erectile dysfunction, thanks to its ability to boost nitric oxide levels in the blood and improve circulation.
Panax Ginseng offers numerous other benefits too: It can help sleep quality (which again can indirectly influence T-levels), can improve mood, help to calm and increase subjective wellbeing, strengthen the immune system, tackle cognitive fatigue and decrease symptoms of cognitive decline.
Needless to say, we are impressed by the choice of ingredients in Centrapeak so far. Every single one of them has a significant role to play in providing a vitality pill for mind and body. And we're not done yet…
Luteolin, 50 mg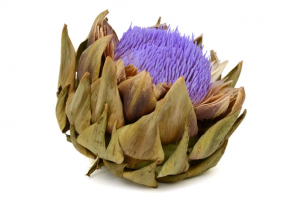 is a popular antioxidant that Centrapeak describes as a 'potent male health enhancer'. That's mostly because it's one of nature's best oestrogen-blockers, helping to inhibit aromatase, the enzyme that turns testosterone into oestrogen. By stopping excess oestrogen production, it keeps the male-female hormones in a more youthful range with a more masculine T-to-oestrogen ratio. This is particularly useful for older men whose testosterone to oestrogen conversion rate increases with age.
As well as influencing oestrogen levels, Luteolin raises GABA production in the brain to boost mood, wellbeing, and vitality.
Phosphatidylserine (100mg)
A strong nootropic, phosphatidylserine is a nutrient that helps to create more neurons and therefore aids communication between cells, helping to tackle age-related cognitive decline (neurons die as we age, causing mental deterioration if not replaced).
It also helps to optimise the neurotransmitters dopamine and acetylcholine, contributing to feelings of wellbeing.
Phosphatidylserine has been shown to help treat Alzheimer's disease. Bipolar, ADHD and to help with memory, stress, focus and recall, thanks to its ability to improve the efficiency of the brain's primary fuel source, glucose. It also helps to dispose of toxic brain cells, protecting nearby cells from damage.
It's a potent brain booster and one that will leave you feeling more mentally energised and happier.
It doesn't end there, however. Like many other ingredients in Centrapeak, phosphatidylserine has many strings to its bow: it has physical benefits too. In particular, it works to block cortisol, the stress hormone, which in turn helps athletes and others to resist stress and helps to boost their testosterone.
BioPerine (10mg)
Any self-respecting supplement manufacturer nowadays includes BioPerine in their formulas. This high-quality form of black pepper extract helps to boost the bioavailability of all other ingredients in Centrapeak, making them more easily and effectively absorbed by the body.
Boron (10mg)
We're pleased to say that – just like every other ingredient in this supplement – boron is another clever addition to Centrapeak. Research has shown that boron can enhance free testosterone and potentially improve performance. It also reduces SHBG levels; this is the hormone that binds to testosterone making it unusable, so reducing it is a useful step.
Finally, boron has also been shown to aid with memory (both short and long-term), brain functioning and attention.
The Pros of Centrapeak
Includes quality ingredients proven effective for both T-boosting and brain boosting.
Strong emphasis on boosting testosterone and libido. May also be able to help boost sperm count and fertility.
Also has a strong focus on improving cognition, reducing stress and anxiety. May also help to combat depression and reduce fatigue in stressful situations.
Ingredients shown to boost subjective wellbeing and mood.
The boost in testosterone and energy should also enhance endurance and improve stamina, alongside increasing muscle mass and strength. Should also help to reduce muscle damage after exercise.
May also increase your basal metabolic rate, helping to burn more calories at rest and potentially lose weight too.
All-natural formula based on science. The Centrapeak site links to various research papers and studies to demonstrate effectiveness.
Dosages of all ingredients are ideal: no weak dosages here.
Offers an ideal formula for men in their 30s, 40s and beyond.
Vegan-friendly.
Clean formula – it's gluten-free, non-GMO, preservative-free and is made in the UK to Good Manufacturing Practices standards, ensuring quality of manufacturing.
No hidden proprietary blends and no hidden information. Everything is clearly labelled.
Lots of positive reviews on the Centrapeak website from verified buyers.
The Cons
Centrapeak has a quality price tag, but we think it's fair because you're also getting a top-quality product.
Only available direct from the manufacturer, but that does allow them to offer discounts for bulk purchases. Save 29%, for instance, when you buy a 4-month supply.
Safety/ Side Effects
Centrapeak uses only proven natural ingredients – there's no artificial or synthetic testosterone in here; instead, it aims to trigger your own testosterone production naturally. All its ingredients are included in tolerable amounts and have been tried and tested. It's also a clean product, made to the highest standards, with no preservatives, gluten, caffeine, GMO, or animal by-products included. All in all, it should be safe for most people to take.
As with all supplements, of course, you need to be aware of any personal allergies and to check with your doctor if you have any concerns.
How to Take It
A daily serving of Centrapeak is three capsules. We would recommend taking those throughout the day, ideally just before meals in the morning, afternoon, and evening. By splitting them up, you maintain a constant supply of testosterone-boosting ingredients throughout the day, helping you to stay in an anabolic state. A bonus over one-a-day testosterone pills.
As there's no caffeine in Centrapeak, you don't need to worry about taking it in the evening. In fact, taking it in the evening may help to support growth hormone levels which tend to peak when you sleep.
Who Takes It?
Centrapeak is a male vitality pill so it's obviously aimed at men, but which men? Anyone who worries about their testosterone levels, presumably – which, as testosterone begins to fall at 30, can be anyone in their 30s, 40s and above.
Its stress-relieving ingredients would make it an ideal supplement for the modern man who is under stress in his everyday life and wants a helping hand. While it's not necessarily targeted at hardcore lifters or gym fanatics, it's certainly beneficial for building and maintaining muscle too.
In a nutshell, Centrapeak is ideal for the man who wants to stay sharp, feel better and look better as they age, keeping T-levels high as a top priority.
 Final Word on Centrapeak
We see and review a lot of testosterone boosters here at Supplement Reviews UK. A lot are bunk, some are genuinely good, a few are excellent. Centrapeak fits into the last category, but it offers an extra something that we haven't seen before – testosterone-boosting AND mental wellness.
It's a very appealing combination and Centrapeak delivers it successfully. Its ingredients are quality and well thought-out, its dosages effective and the two together means that it does what it promises – it boosts testosterone, lifts mood, helps to de-stress and looks after your cognitive wellbeing.
We like the fact that this is a clean research-backed formula which offers a steady dose of T-boosting throughout the day, and also helps build your resilience to stress, making it perfect for the busy modern man.
We give Centrapeak the thumbs up and do not hesitate to recommend it. It's one of our favourite T-boosters and vitality pills we've come across on the market today.