This page may contain affiliate links and we may earn a small amount of money from any products bought. Our reviews, however, remain independent and impartial.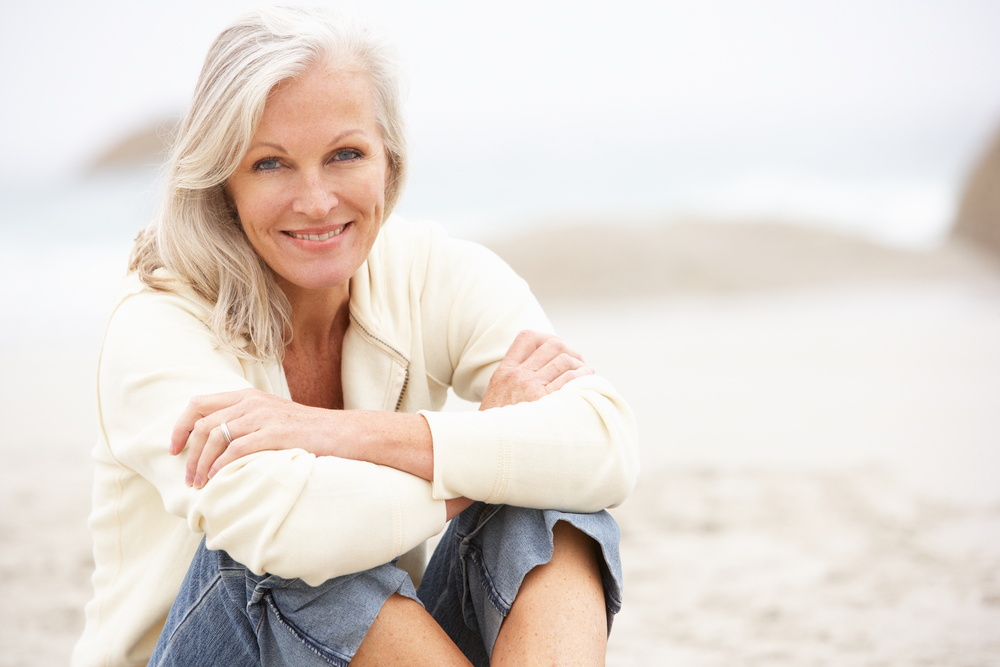 In women, ageing brings along a whole lot of physical changes. Our bodies at 50 and over are very different to what they were 20 or 30 years ago. As a result, a woman's need for vitamins, minerals, and nutrients evolves.
The hormonal changes brought on by menopause as well as the effects of ageing modify the way we absorb nutrients from the food we eat – and which vitamins we need in the first place.
That's why most of the biggest vitamin companies have special multivitamin supplements targeted at women over 50 years old. However, with the amount of choice available on the market, it can be tough to decide which product to choose, and it is hard to know which products are worth it.
---
» See the #1 Multivitamin for Women over 50 This Year «
---
Which is why we have put together this hall of fame of the best multi-vitamins for women over 50 to buy in the UK this year.
What to Look for In a Multivitamin for Women Over 50
Our guest nutritional therapist, Tracey Williams Strudwick of Plum Nutrition offers the following advice on choosing the right multivitamin for you…
Women around the age of 50 experience enormous hormonal changes, in particular a decrease in oestrogen and progesterone. Declining oestrogen has an effect on bone density, leading to increased risk of osteoporosis, so women over 50 should make sure they include 1200mg of calcium every day from foods such as dairy products, green leafy vegetables, soya beans and tofu.

Vitamin D is vital in helping the body absorb calcium as well as supporting a healthy immune system. Most of our vitamin D is made by the action of sunlight on the skin during the spring and summer months, so all adults are advised to take a supplement during autumn and winter.

Another nutrient vital for long-term bone health is magnesium. Not having enough magnesium may reduce bone growth, decrease bone cell activity and make bones more fragile (Rude et al 2009). Food sources of magnesium include fish, fruit and vegetables, beans and pulses. Magnesium supplements are best absorbed in the form of magnesium glycinate.

Vitamin B12 is important for keeping blood cells and nerve cells healthy, and aging affects how well individuals absorb and use B12 from foods (Hughes et al 2013), so supplementing may be useful as well as including foods from animal sources such as meat, fish, eggs and dairy. Supplementing is particularly important for vegetarians and vegans.
*** Tracey Williams Strudwick is a licensed Nutritional Therapist, a member of BANT (British Association for Applied Nutrition and Nutritional Therapy) and the clinic director of Plum Nutrition, based in Surrey. She is also a personal trainer and qualified Group Fitness Instructor.  Note that she does not recommend any individual products without personal consultations.
Daily Reference Nutrient Intakes for Women over 50
---
» See the #1 Multivitamin for Women over 50 This Year «
---
First Place: Nature's Aid Women's 50+ Multi-Vitamins and Minerals (with Superfoods)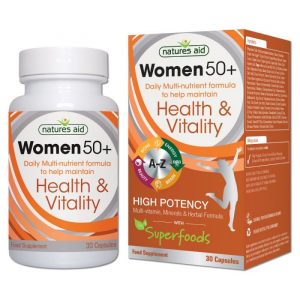 Our top pick for multivitamins for women over 50 is Nature's Aid Women's 50+ Multi-Vitamins and Minerals (with Superfoods). We love the fact that Nature's Aid took a classic formulation for older women and enriched it with superfoods for an extra kick.
The blend of vitamins and minerals is well crafted for the population it targets: calcium to fight against osteoporosis; vitamin D3 to help absorb this calcium; magnesium to support a healthy immune system; B vitamins, and vitamin E to help nails and hair stay healthy, as well as bring a boost of antioxidants.
What made the difference for us however is the presence of superfoods. Together, the mix of superfoods brings an extra kick of antioxidants, anti-inflammatory properties, and stress reducers. They also enhance the promotion of heart, bone and skin health, while providing anti-ageing properties.
And last but not least… bonus points for it being all natural!
Read our full review of Nature's Aid Women 50+ Multi-Vitamins and Minerals (with Superfoods)
Second Place: Vitabiotics Wellwoman 50+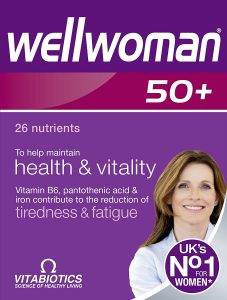 Vitabiotics, the leading vitamin brand in the UK, tried its luck at making multivitamins for women over 50… and did pretty well. Vitabiotics Wellwoman 50+ is packed with all the essential vitamins and minerals women need to stay healthy and energetic as they age.
Everything women need is here: magnesium, vitamin D3, iron, vitamin B12, and a smart blend of B vitamins to support vital functions of the body.
The formula is suitable for vegans, and a significant amount of users have noticed an increase in their energy levels as well as a reduction of the side effects caused by menopause.
Vitabiotics Wellwoman 50+ could have been a winner, but the absence of calcium combined with a classic recipe that sticks to the basics made it only a close second choice. Yet, it is still a great product we highly recommend!
Read our full review on Vitabiotics Wellwoman 50+
Third Place: Nature's Way Alive! Ultra Women's 50+ Wholefood Plus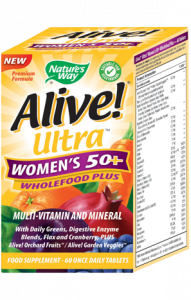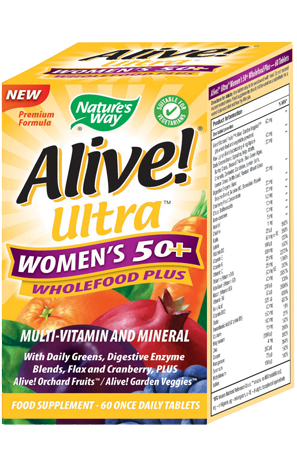 Our third choice is Nature's Way Alive! Ultra Women's 50+ Wholefood Plus. In terms of essential vitamins and minerals, it is very similar to its contenders. Magnesium, Vitamin D3, Calcium, B vitamins are all on the list and doing a great job as such.
However, Nature's Way's difference lies in the blends of whole foods they have included in their recipe for women over 50. We think it is a great addition, as it brings more nutrients, more antioxidants and more vitamins. Furthermore, vitamins coming directly from natural sources usually are better absorbed by the body.
So, why wasn't this supplement on the highest step of the podium? Well, while whole foods are great, they can potentially interact with some medicines — such as blood thinners — in a significant way, as can certain vitamins that seem to be included here at higher dosages than necessary. It is not a blend for everyone, and that is why Nature's Way Alive! Ultra Women's 50+ Wholefood Plus only comes third.
---
---
HONOURABLE MENTION — Centrum Women 50+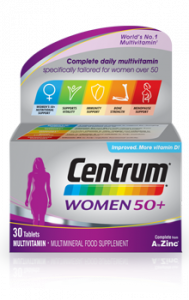 An honourable mention must also go to Centrum Women 50+. Centrum claims to be the world's leading vitamin brand and often delivers quality blends, well formulated for the population they are aimed at.
This supplement for women over 50 does not break this rule. It provides all the vitamins and minerals older women are more likely to need and excludes the ones they do not need any more. This supplement is a great basic multivitamin for women over 50 but does not add anything out of the ordinary that could give it something extra compared to its competitors.