This page may contain affiliate links and we may earn a small amount of money from any products bought. Our reviews, however, remain independent and impartial.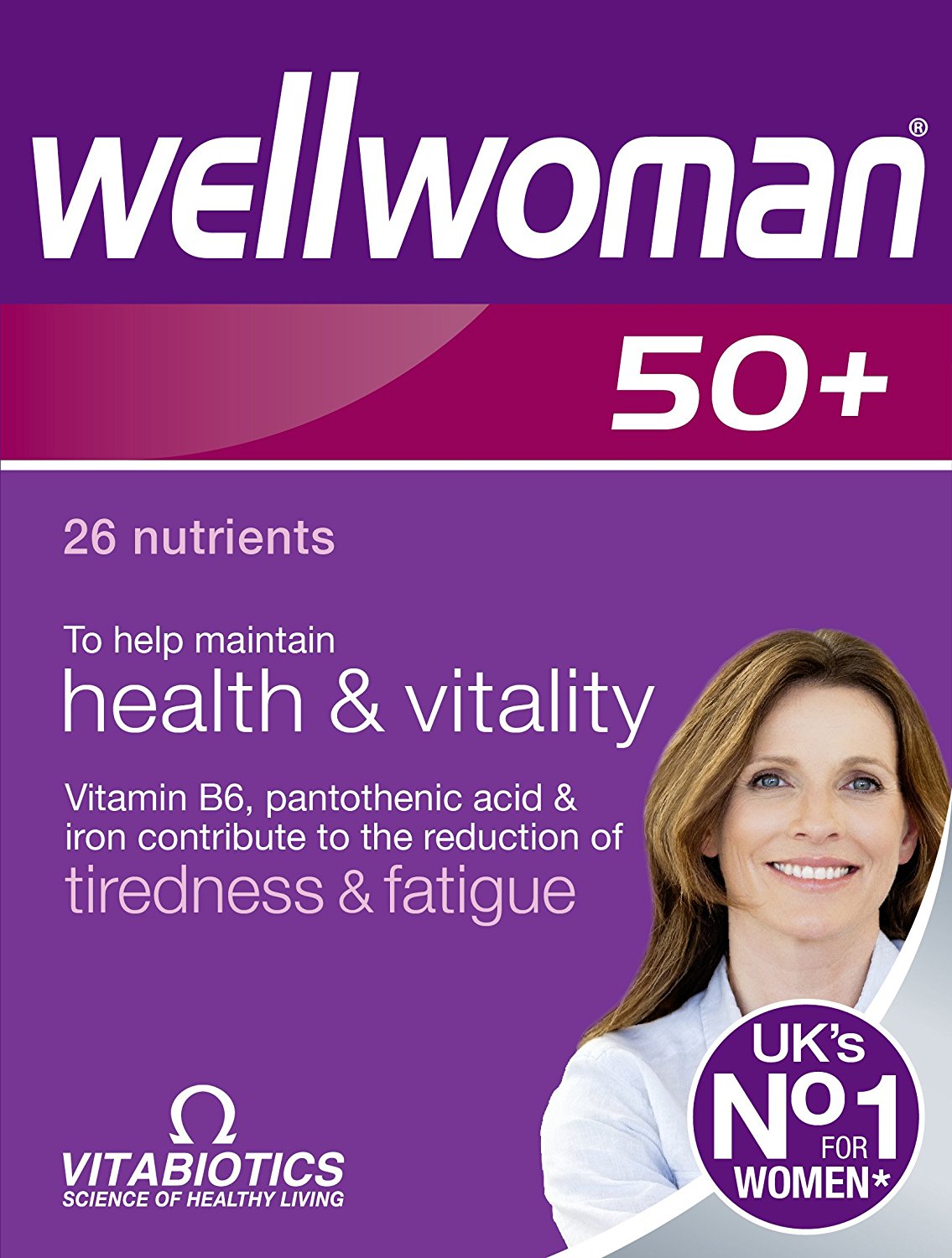 After 50 years old, women's needs for vitamins and minerals change as their bodies evolve. Bone density changes; menopause alters the needs for iron; vision and heart health can deteriorate. Wellwoman, one of the UK's leading vitamin supplement brands made by Vitabiotics, has thus created a product to provide women over 50 with exactly what they need – simply known as Wellwoman 50+.
The supplement can be taken every day and is sold in all major health retailers in the UK. It contains 26 vitamins, minerals and nutrients to help women stay in their best health every day.
But does it really deliver? Does it truly suit the needs of women over 50 or is it more of a marketing twist? We have taken a closer look at it for you…
---
» See the #1 Multivitamin Supplement This Year «
---
The Ingredients
Vitamin D, 10μg
Vitamin D helps the body absorb calcium and supports the maintenance of a healthy immune system. Women over 50 often see a decrease in their bone density and an increased risk of osteoporosis so it is crucial that calcium can be absorbed properly.
The recommended daily dosage of Vitamin D in the UK is 10μg, which is the exact amount contained in  a tablet of Vitabiotics Wellwoman 50+. Other sources of Vitamin D include the sunlight, though it is not possible to gain enough vitamin D from sunlight in the UK's autumn and winter months, so supplementation is recommended.
Magnesium, 60mg
Magnesium prevents bones from weakening, supports a healthy immune system, regulates blood pressure, and promotes the normal functioning of the heart, among other things. While we should ideally be getting enough magnesium from a varied and balanced diet, the reality is that most of us fail to do so. This is why the presence of magnesium in a multivitamin supplement becomes essential.
With a recommended daily intake of 270mg per day for women over 50, the amount of magnesium contained in Vitabiotics Wellwoman 50+ could seem quite low at first glance. However, our diet should still be able to provide most of the magnesium our body needs, and this multivitamin aims to supplement and not to replace real food.
Vitamin B12, 5μg
As we age, our bodies experience more difficulty in absorbing and using the B12 we get from food. A deficiency in vitamin B12 can lead to tiredness, loss of appetite, weight loss and depression.
As a consequence, it is recommended to supplement with a multivitamin in order to absorb the full amount we need. In addition, the vitamin B12 from fortified foods or supplements is easier to absorb than from food as it doesn't require as much of the hydrochloric acid that older people lack. In Vitabiotics Wellwoman 50+, 200% of the nutrient reference value is provided, ensuring we get enough every day. Even when taken at high doses, there have been no reports of any harmful side effects of vitamin B12.
Iron, 10mg
Iron is one of the reasons why you should choose an age and gender-specific multivitamin supplement. In general, women need bigger intakes of iron than men due to the amounts lost during menstruation, but this need decreases after menopause. If you take a multivitamin for younger women, therefore, you may be getting too much iron.
Taking too much iron can cause damage to the cells, combined with stomach pain, nausea and vomiting. The NHS recommends a daily amount of 8.7mg of iron for women over 50. Vitabiotics Wellwoman 50+ provides 10mg, which is just above that number but remains a good dosage.
Make sure not to take more than one supplement containing iron at any given time. Children are especially sensitive to the effects of iron, and for that reason it is advised to keep any supplement containing iron out of the reach of children. (Good advice for all your supplements anyway, we'd say).
B Vitamins
Vitabiotics Wellwoman 50+ also contains vitamins B1, B2, B3, B5 (pantothenic acid), B6 and B9 (folic acid). Together, they support the normal function of the heart, optimal red blood cell formation, and promote the reduction of tiredness and fatigue.
Thiamin (vitamin B1) is present at more than 1000% of the nutrient reference value but shouldn't  cause any harmful side effects.
---
---
The Pros
Suitable for vegetarians. Not tested on animals.
Free from preservatives, yeast, lactose and salt.
Vitabiotics Wellwoman 50+ is, indeed, well researched and developed for women over the age of 50.
Contains the majority of nutrients 50+ women need, aside from those you should be able to get easily from your diet.
Improves energy levels.
Strengthens the immune system.
Available in all major health stores across the UK.
Gluten-free.
The Cons
There is no calcium in the Wellwoman 50+ formula; users need to make sure they get sufficient amounts from food (e.g. dairy products).
It contains soya, which can cause allergic reactions.
Some users complain the shape and the size of the tablet makes it hard to swallow.
Customer Reviews
The following reviews come from Amazon UK. Click to enlarge.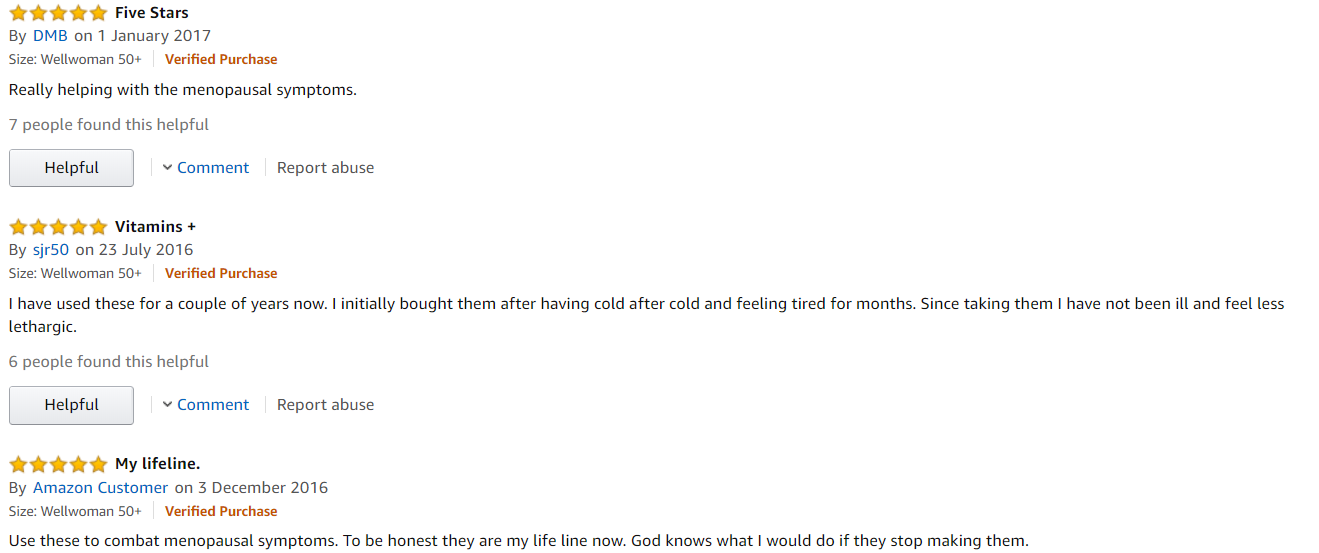 Safety / Side Effects
Vitabiotics Wellwoman 50+ is safe to use every day as directed, and no significant side effects have been reported. It can be used in combination with medication, but you are invited to check with your GP if the use of this product is safe for you.
---
» See the #1 Multivitamin Supplement This Year «
---
Health Warnings
Women allergic to soya should not use this supplement. Multivitamin supplements should not replace a balanced diet combined with a healthy lifestyle.
Wellwoman 50+ contains iron, which  can be harmful for young children. Iron overload can also lead to adverse effects and, consequently, it is advised not to take another supplement containing iron while taking Vitabiotics Wellwoman 50+.
Pregnant or breastfeeding women should consult their doctor before taking any supplement.
How To Take It
You should take one tablet per day, every day. The tablet should not be chewed but swallowed with a glass of water, during your main meal. You should not use another multivitamin supplement when taking Vitabiotics Wellwoman 50+.
Does It Work?
The majority of users have found that, while taking Wellwoman 50+, their energy levels increased, symptoms of menopause were less intense, and their immune system was more efficient.
It seems that in order to get noticeable results on your overall health, Vitabiotics Wellwoman 50+ should be taken for at least one to three months.
Conclusion
Vitabiotics Wellwoman 50+ is a great multivitamin supplement for women aged 50 and over. It is well formulated and provides all the vitamins and minerals older women need to stay healthy and active.
It is fairly priced and easily available in all major health stores and online. Despite the lack of calcium in the formula, we can only recommend this multivitamin supplement.
Where to Buy
Wellwoman 50+ is available from Boots, Sainsburys, Tesco, Waitrose, health stores such as Holland & Barrett and pharmacies.
---
---