This page may contain affiliate links and we may earn a small amount of money from any products bought. Our reviews, however, remain independent and impartial.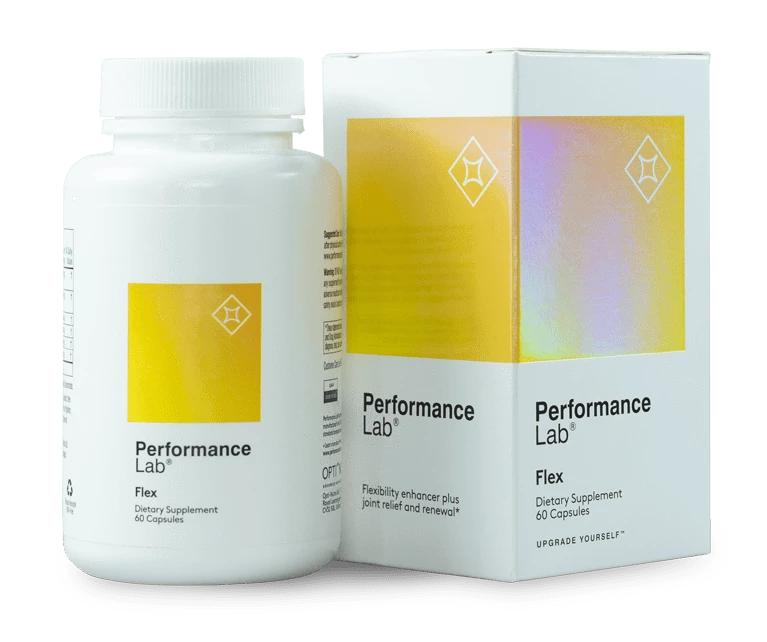 Performance Lab Flex describes itself as a 'flexibility enhancer, plus joint relief and renewal', and pledges to be ideal for lifestyle-related joint issues. Does it live up to its promises? We investigate with our Performance Lab Flex review…
Performance Lab Flex is designed to tackle the sort of wear and tear on joints experienced by anything from lifting weights (shoulders, backs) to endurance activities (knees, hips, ankles) and tech usage (wrists, fingers), to issues caused by desk jobs or manual jobs, plus age-related joint issues for the 55+. That's a pretty wide remit, so how does it work? And who could benefit from it?
 Why You Could Benefit from A Joint Supplement
 If you're an active individual, you need to ensure you're taking the measures necessary to aid recovery and to keep your joints working properly so you can withstand the muscle and tissue damage that occurs when you exercise.
The health of our joints defines our performance. Healthy joints equal a competitive performance, but if your joints are tight and your muscle tissue inflamed, you're not going to be hitting personal records in the gym, or feeling very good elsewhere in your life either. Your sleep may be interrupted, your mood low and your ability to enjoy life to the fullest may be stunted by achy joints and a tight body.
It is estimated that one in four of the adult UK population suffers from musculoskeletal issues, which include joint pain as well as autoimmune diseases and back pain. Whether this is due to an underlying medical condition like arthritis, or it occurred due to a poor seated posture, 'text neck', or a sports-related injury; joint pain and tightness can cause serious consequences for your health and happiness.
Performance Lab claims to have come up with a solution. Did you know that there are specific nutrient pathways in the body that can help to minimise pain by lubricating joints? Perhaps you did, perhaps you didn't, but Performance Lab aims to tackle them head-on. Potentially helping everyone from athletes to the elderly deal with their joint pain and flexibility.
Our Performance Lab Flex review will examine all of these claims and more…
About Performance Lab
Performance Lab is a brand of products from respected manufacturer Opti-Nutra, a company that has proven itself in the supplement field. It typically combines science and research-backed nutrients with the latest technology – and a commitment to cleanliness – that has earned our respect time and time again.
Performance Lab products are GMO-free, allergen-free, cGMP certified, 100% vegan and use as natural processes as possible.
But what about their new product, Flex? Does it live up to the effectiveness of their previous products or is it filled with empty promises about joint pain? Today we're going to analyse the ingredients to argue why we believe it's a product worth buying. Let's get into it.
 The Ingredients

CurcuWIN Turmeric 250mg
You've likely eaten Indian food that is bright yellow in colour and has a unique flavour, this is because it has been seasoned with turmeric. Turmeric is common in eastern cuisine as well as eastern Ayurvedic medicine, because it's a potent nutrient with a plethora of health benefits.
The yellow colour of turmeric is due to a plant pigment known as curcumin, which has been shown to be beneficial for joint pain and tightness in research. A study published in the Journal of Medicinal Food in 2016 conducted a meta-analysis of clinical trials that examined the efficacy of curcumin for joint pain. The researchers found that it was effective at alleviating joint pain and symptoms of arthritis.
However, the researchers found that the data may be skewed by the small sample size and the methodological quality of the studies, as well as the high dosage required to see real results (1000mg per day).
That being said, this high dosage may be because curcumin typically has very low bioavailability, meaning the body finds it difficult to absorb it. This is why Performance Lab have increased the bioavailability of curcumin by using an innovative technique making it 46 times more absorbable, hence why the dosage is lower at only 250mg per day.
 ApresFlex Boswellia Serrata 100mg
Boswellia Serrata has been traditionally used in eastern medicine, extracting the gum resin of this ancient tree to use as a potent anti-inflammatory nutrient. Joint pain is often caused by internal inflammation often due to diet, an underlying illness, stress or repeated physical stress like in the case of overtraining.
Directly targeting this inflammation by consuming boswellia serrata has been shown in research to decrease joint pain caused by inflammation. It does this as it contains boswellic acid, an acid that blocks a specific enzyme responsible for damaging cartilage and connective tissue.
To increase the bioavailability of this nutrient, Performance Lab used the same advanced technology to increase the absorption rate by 52 percent compared to regular boswellia.
Glucosamine Sulfate 500mg
This is a common supplement taken to ease joint pain, but it is slightly controversial. Glucosamine is a structural component of cartilage. It's a naturally occurring non-essential amino acid found in the cell tissue that cushions the joints, so without needing to hear the science, it's logical as to why increasing this nutrient will support the joints.
This is supported in research, such as a clinical trial conducted by the National Institute of Health that found it helped to decrease joint pain compared to a placebo. Numerous studies, such as this one published in the Lancet, suggest that taking a daily dose of glucosamine may be effective for the long-term treatment of osteoarthritis, helping to reduce pain, manage joint space and slow the progression of the disease. The Natural Medicines Comprehensive Database lists glucosamine as 'likely effective' for osteoarthritis.
It is thought to help tackle inflammation in particular and some research also suggests that supplemental glucosamine (granted 3g per day) may protect joint tissue by preventing the breakdown of cartilage. More research is needed on the latter.
Part of the problem assessing glucosamine, however, is that it is most commonly taken alongside chondroitin – also included in this formula – so it's hard to assess the individual contribution of this amino acid. Further human clinical studies would be beneficial.
Phytodroitin™ (Structurally identical to Chondroitin), 100mg
The inclusion of Phytodroitin is a fairly recent update to the Performance Lab Flex formula (2022). The plant-based element replaced Chondroitin itself in the formula, partly because of the negative connotations associated with Chondroitin (which is often made from shark cartilage). While the earlier form of Chondroitin used in Performance Lab Flex was vegan-friendly, Phytodroitin definitely is – and is made from a blend of seaweeds.
It is structurally identical to Chondroitin and works in the same way. So let's move this Performance Lab Flex review onto assessing the use of Chondroitin sulfate in joint supplements…
Chondroitin is another naturally occurring structural component of cartilage and connective tissue. Many supplements combine glucosamine and chondroitin for optimised joint support. It does this by helping to lubricate the joints and shock absorbing against repeated pressure or impact, such as in the case of endurance sports. You may find the combination of glucosamine and chondroitin is more effective if your pain is moderate to severe, rather than mild.
 OptiMSM 100mg
This nutrient is key to the formation of collagen and other important nutrients like chondroitin sulfate and glucosamine sulfate, as mentioned above. When these three nutrients are combined together, they work most optimally to support the joints and prevent further damage and inflammation.
The Benefits of Performance Lab Flex
 This Performance Lab supplement is a unique concoction of science-backed nutrients, designed to support the joints, increase flexibility, absorb shock and lubricate the joint to alleviate pain or tightness.
Unlike other supplements for joint health, this product combines a plethora of key ingredients to target all aspects of joint-related conditions. Whether you have struggled with joint pain due to arthritis or from endurance sports, this supplement is designed to help you feel and perform better.
Performance Lab Flex review: The Pros
Science-backed nutrients
Nutrients designed to have high bioavailability for optimised absorption
The nutrients work together to increase efficacy
Detailed and thorough explanation of ingredients on the website
As with other Performance Lab products, this is a very clean product.
 Performance Lab Flex review: The Cons
Some of the ingredients may take up to three months to work fully
Only 30 servings per container
Would have been better if it contained collagen
 Safety/Side Effects
There are no explicit side effects related to this product. As such, it is a potential option for those people who wish to try a more natural supplement and avoid the side effects of NSAIDs (Nonsteroidal Anti-inflammatory Drugs). As with all medical decisions, however, we would advise you to speak to your doctor first.
How to Take It?
The product should be taken every day with water, taking two NutriCaps per day as one serving size. The product should be continued for a few months to see significant changes and benefits in joint pain and flexibility.
Who Takes It?
 Performance Lab have marketed Flex towards active individuals, but we believe anyone who has lifestyle-related joint concerns would see a benefit from taking this supplement daily. Whether you have joint pain relating to power-lifting and the burden of heavy weights, or whether it's from high impact endurance running.
Moreover, as we age our joints naturally become tighter and stiffer and lose the lubrication and cushioning as the collagen and proteins start to decrease and wear away. Thus, it may be extremely beneficial for individuals older than 40 to begin taking this supplement to prevent age-related joint pain.
Individuals who have experienced joint pain or tightness from having a sedentary lifestyle may also benefit from taking this. Sitting at a desk for extended periods of time can tighten up the hip flexors and surrounding cartilage so this supplement, alongside increased physical activity, is likely to help.
Final Word on Performance Lab Flex
Performance Lab have done it again. Rather than opting for a straight one-size-fits-all approach, they have used innovative techniques and ingredients to create a formula that may well work for multiple versions and causes of joint pain.
Joint pain is something that affects a large portion of the population, yet the supplement industry is still yet to break through the surface into what the science actually says works. Performance Lab have made a move to address this.
Performance Lab Flex may not work for all sufferers – and it will likely need a significant time commitment – but we'd be willing to bet that anyone struggling with debilitating joint pain or flexibility issues will be glad to know this product is now on the market.
Worth giving it a go.
STACKS WELL WITH:
Performance Lab Flex pairs well with another supplement from the same line, Performance Lab NutriGenesis Multi – the best multivitamin on the market today for men and women. Making sure you have all the vitamins and minerals you need for good health.
Read our review on Performance Lab NutriGenesis Multi