This page may contain affiliate links and we may earn a small amount of money from any products bought. Our reviews, however, remain independent and impartial.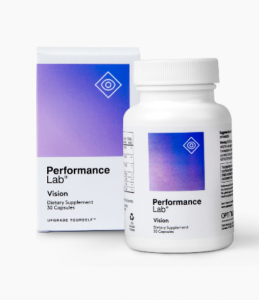 Most of us take our vision for granted until we run into problems with our eyesight and then we realise just how life-changing vision issues can be. In this Performance Lab Vision review, we investigate how this natural supplement can help…
Practically everyone in my family has suffered from degrading eyesight over a certain age, so I have been looking for something to protect myself from the same problems.
I also worried that my job, writing in front of a computer for hours at a time, would contribute to eye fatigue and potentially even future macular degeneration. So, I turned to a vision supplement that promises long-term macular health support called Performance Lab Vision.
The Promise
Performance Lab® Vision is a supplement from respected UK manufacturer Opti-Nutra which promises to be a 'competitive eyesight enhancer with macular health support'.  It provides nutrients to boost eye health alongside vision enhancers to upgrade performance-related functions, such as night vision, glare reduction, reaction time, focusing speed and motion detection. At the same time, its nutrients should support long-range macular health.
Let's have a look at the ingredients to see how it achieves that…
The Ingredients

Lutein, 10mg and Zeaxanthin 2mg, (FloraGLO®)
Lutein and Zeaxanthin are very potent and powerful carotenoid antioxidants that migrate to the macula, and in turn promote sharp central vision. They do so by countering the harmful effects of HEV radiation (high-energy visible radiation), known as blue light. Blue light penetrates to the retina and generates free radicals that damage the eye. It has been linked with eye strain, poor acuity, visual fatigue and longer-term eye issues. Think of Lutein and Zeaxanthin as 'internal sunglasses' that provide a protective yellow layer on the eyes to filter out blue light.
There is significant clinical evidence to prove the effectiveness of Lutein and Zeaxanthin. A university of Southampton study, for instance, demonstrated reduced symptoms of age-related macular degeneration after supplementation in the initial stages, with the potential to prevent it altogether if supplemented early enough.
It has also been shown to improve vision in healthy people with no prior eye-related issues. One study, for instance, demonstrated that people taking Lutein and Zeaxanthin for a year were able to read one more line on the optometrist chart used to check vision.
A City University trial on healthy people also proved that Lutein and Zeaxanthin helped to improve vision in low light conditions.
Note that it is near impossible for the body to produce this much Lutein and Zeaxanthin on its own.
European Black Currant Extract, 25mg (with C3G)
Black Currant is rich in anthocyanin antioxidants. These little guys work in favour of sharp vision and the maintenance of healthy blood flow in all the tiny blood vessels of the eyes.
Black Currant also helps to regenerate rhodopsin, the compound that aids night vision. Performance Lab® claims that it can help the eyes adjust faster to the dark, enhance your night vision, and improve your reaction time by boosting retina-to-brain signalling.
Note that ageing is associated with less ability for the rhodopsin to regenerate, harming your night vision. Supplementation, therefore, can protect it for longer.
As well as optimising blood flow to the eyes and aiding the ability to see in the dark, Black Currant has also been shown to reduce symptoms of visual fatigue (especially after computer work) and to slow visual field deterioration in glaucoma sufferers.
European Bilberry Extract, 25mg
Another potent source of C3G which helps regenerate rhodopsin, Bilberry extract also keeps the small capillaries stretchy enough, and that in turn provides excellent blood flow. And excellent blood flow means your eyes can get all the nutrients they need.
Bilberry extract contains at least 15 different anthocyanin antioxidants, helping to protect against free radical damage.
Be warned that there are many counterfeit Bilberry supplements around. A 2014 investigation, for instance, found that at least half of Bilberry supplements examined were adulterated (not genuine Bilberry), and approximately 60% of the samples contained less anthocyanin than stated.
One of the reasons we favour the Performance Lab® range of products is because each supplement undergoes extensive testing to ensure stated dosages are correct. In this case, the Bilberry Extract used in Performance Lab® Vision is tested and retested to ensure it contains a minimum of 25% anthocyanosides in each bottle.
Saffron, 1mg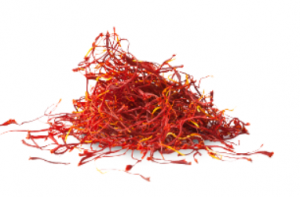 Saffron is a spice that comes from crocus flowers. Besides being a spice, it has very good antioxidant properties that protect the macula, nourish its pigmentation and once again helps your body maintain proper blood flow to the eyes.
The spice's pigments safranal and crocin are the most valuable for eye health and should help to boost motion detection and reduce glare. Saffron has also been shown to prevent macular degeneration.
Indeed, when given Saffron for 12 months, patients with age-related macular degeneration were able to see TWO more lines on the optometrist's vision chart.
Astaxanthin, 1mg
Astaxanthin has been described as the most powerful antioxidant found in nature.  It is able to cross the blood-retinal barrier when certain other antioxidants cannot and helps to prevent UV light-related oxidative damage. This, in turn, helps to prevent cataracts and retinal damage.
Astaxanthin has also been proven to reduce eye fatigue caused by staring at a screen all day; to prevent sore eyes, dryness and blurred vision; to boost blood flow to the eyes, and to improve depth perception and limit ocular inflammation.
Performance Lab Vision Review: The Pros
As always – Performance Lab® Vision includes only high-quality, safe and natural ingredients like FloraGLO®
Clean and vegan-friendly caps
No artificial additives
Thorough testing for allergens, GMO and contaminants
Once again does exactly what the product promises
Scientifically-led formula with evidence that it works
Relieves eyesight problems and increases eyesight even with other vision problems such as improper tear-film balance
24/7 customer support
Competitive price
 Performance Lab Vision Review: The Cons
Available for purchase only at the manufacturer.
Sorry, we genuinely cannot find any other cons with this product.
Safety and Side Effects
Just like any other product in this range, Performance Lab® Vision prides itself on being clean, GMO, soy, allergen and banned substance-free, with all-natural ingredients where possible. As such, it is highly unlikely to cause any side effects.
Its clever formula eschews many of the numerous vitamins and minerals that competitive vision supplements like to cram in, and there is a reason for that. Like its other products, Performance Lab® Vision is intended to work alongside Performance Lab® Whole-Food Multi vitamins (though it can be used alone). Pairing the two together, however, ensures that you have enough vitamins for complete vision health (and overall health), but don't have to worry about overdosing on mineral or vitamin toxicity
How to Take It
For optimal results you should take 1 to 2 capsules with your very first meal of the day. For better results combine it with your breakfast as great vision makes a perfect day. For best results use daily.
Who Takes It?
Performance Lab® Vision is the best vision supplement for three categories of people:
People struggling with poor eyesight
Those who have an active lifestyle where a sharp-eye is a must.
And lastly, the elderly.
Does it Work?
The best and most prominent results are noticeable as early as the same day or week of using Performance Lab® Vision. I now use Performance Lab® Vision to protect my eyes in the short and longer-term and I can tell that it's working. I no longer suffer with eye strain after a day sat at my computer, which has transformed my life, let me tell you, and I'm pretty sure I recognise several of the other benefits promised by Performance Lab® Vision. I'm personally very happy that I wrote this Performance Lab Vision Review.
Conclusion
With its emphasis on premium, carefully-chosen and appropriately dosed, SAFE ingredients – which concentrate on improving performance and function of the eyes, as well as long term eye health – Performance Lab® Vision is the best vision supplement that I've found on the market today.