This page may contain affiliate links and we may earn a small amount of money from any products bought. Our reviews, however, remain independent and impartial.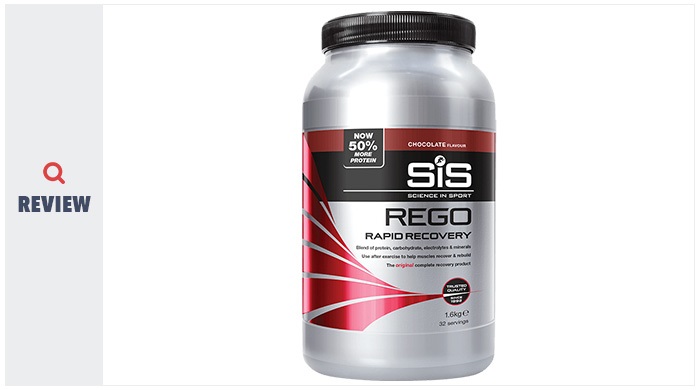 Science in Sport REGO Rapid Recovery drink bills itself as a 'complete recovery product' and contains 20g protein alongside 22/ 23g carbohydrates, electrolytes, vitamins and minerals.
It seems to target itself more towards athletes (cyclists and runners especially) as opposed to body builders or gym bunnies.
It uses soy protein, a previously controversial choice although one that is now growing in popularity.
Its carb and protein ratio is smaller than recommended (some people advise a 4:1 ratio, at the very least a 2:1 ratio), so does it actually work? Let's investigate and see:
---
» See the #1 Post-Workout This Year «
---
The Ingredients
Soy Protein Isolate
Science in Sport REGO Rapid Recovery includes 20g protein in the form of soy protein isolate. The choice of soy over whey is an interesting one. Whey protein is traditionally considered superior, thanks to its ideal combination of amino acids to build muscle and its ability to strengthen the immune system. It has also been shown to work much faster in the body, hence its popularity in post-workout shakes.
In contrast, some in bodybuilding circles have traditionally believed that soy protein makes it harder to gain muscle thanks to 'feminising qualities', namely that it decreases testosterone and raises oestrogen. Recent studies have debunked this theory, however.
More and more people nowadays are starting to open up to soy protein and believe that it works just as well, if not as showily so, as whey protein. This is especially so for soy protein isolate.
A study presented to the American College of Sports Medicine as far back as 2004 found similar success rates to post-workout drinks made from either soy or milk protein (whey).
Bodybuilding.com also summarises: "Soy protein could be an excellent anabolic aid, used independently, or in concert with whey protein, to stimulate further gains in muscle."
So what exactly is soy protein isolate?
Soy protein isolate is made from de-fatted beans and is usually made up of 90% protein as a result of its purified form. Recent research reveals that it also has the full complement of amino acids needed by the body, as well as decent amounts of zinc, iron, potassium, phosphorous, B-vitamins and vitamin E. It also has higher levels of amino acids glutamine and arginine than whey protein.
The former stimulates anabolic hormones that encourage muscle formation, while glutamine aids the body significantly during times of metabolic stress.
In his guidance on protein for cyclists, sports dietician Alan McCubbin  on Cycling Tips recommends between 20-30g of animal-based protein after a workout, so the protein in SiS REGO Rapid Recovery is on the lighter side, but potentially effective.
Leucine
Leucine is the main amino acid known to aid the muscles, helping to preserve and stimulate muscle growth and to boost training. Ideally you need about 3-4g of leucine to achieve this, so unfortunately the 2g of leucine in Science in Sport REGO Rapid Recovery is on the smaller side. This may be because milk, rather than soy, is the food with the highest naturally occurring source of leucine. That said, this product does contain more leucine than some competitors such as PhD Nutrition Recovery 2:1, which only has 0.48g of leucine.
Carbohydrates
SiS REGO Rapid Recovery contains either 22g (chocolate) or 23g (banana, strawberry) of carbohydrates depending on the flavour you choose. Consider carbohydrates to be your main energy source or fuel for moderate to intense exercise. The body uses up its glycogen stores during a workout (sometimes by as much as 75% during high-intensity training), and you need to replenish these as soon as possible afterwards. That's where carbs, especially fast-acting High Glycaemic ones, come in, providing an insulin spike and giving you the nutrients your body and muscles need.
As Bike Radar advises, racers should ideally take high GI carbs both during the race for continuous fuel, and immediately afterwards, followed by low to medium GI foods two to three hours after the race.
Bike Rader does also point out, however, that some studies show a ratio of 4:1 carbs to protein is ideal in a post-workout drink. At the very least, a 2:1 ratio is advisable, and yet Science in Sport REGO Rapid Recovery only offers a 1:1 ratio.
The carbs included here are:
Maltodextrin: Proven as effective as dextrose, a simple high GI carb, Maltodextrin is actually a complex carb that acts like a fast-acting one. Made from corn, rice or potato starch, it boosts insulin levels and raises blood sugar levels quickly, but has the added benefit of offering a more sustained recovery without the abrupt energy drop that simple carbs offer. It makes a good choice in a post-workout drink.
Fructose: Fructose is the other key carbohydrate included here, and it's one that we're not particularly fond of. The body doesn't use fructose well, and it can't become muscle glycogen like dextrose, our preferred carb. It cannot be absorbed straight into the blood stream (dextrose can) but first has to travel to the liver to be changed into glucose which is then turned into glycogen and stored by the liver to be released whenever the liver thinks it is needed to maintain blood glucose. As such, it does nothing to replace lost glycogen in the muscles, making it a pretty pointless post-workout choice.
---
» See the #1 Post-Workout This Year «
---
Vitamins and Minerals
Science in Sport REGO Rapid Recovery also includes a full range of vitamins and minerals, though very few of them reach the recommended daily amount. Some, such as iodine, iron, vitamin B12 and potassium, only just reach 30-35%.
Full ingredient list: Carbohydrate mix (60%) (Maltodextrin (from Maize), Fructose), Protein (30%) (Soya Protein Isolate), Electrolytes (6%) (Calcium Lactate, Sodium Chloride, Calcium Phosphate,Magnesium Oxide), Thickener (Xanthan Gum), Flavourings, Emulsifier (Soya Lecithin), L-Carnitine Tartrate, Vitamins (<1%)(l-ascorbic acid, nicotinamide, zinc sulphate, d-alpha-tocopherylacetate, ferric pyrophosphate, d-pantothenate, calcium, pyridoxine hydrochloride, riboflavin, thiamin mononitrate, calcium salts of citric acid, retinyl acetate, pteroylmonoglutamic acid, d-biotin, potassium iodide, cholecalciferol, cyanocobalamin), Sweetener (Aspartame), Colour (Beta-Carotene).
The Pros
Soy protein is significantly cheaper than whey, one of the reasons this product is much cheaper than many of its competitors.
The SiS Innovation Centre is an Informed-Sport accredited facility, meaning it should follow appropriate safety and quality systems.
Soy protein is lactose-free, which is useful for those people allergic to it. (Note too that whey protein isolate also removes lactose).
Additional leucine is welcome and 2g is certainly more than PhD Recovery 2:1's 0.48g, but Men's Health does recommend 3g of Leucine for optimum repair, so this is slightly below that.
Science in Sport REGO Rapid Recovery won the 2016 Men's Running Award for Best Post-Race Nutrition
It is currently the number one best seller in Energy Drinks on Amazon UK, with a 4.5 out of 5 stars from 304 reviews.
The majority of reviewers do state that it helps tackle fatigue and muscle aches after training or exercise.
Suitable for vegetarians and coeliac sufferers. Is gluten, wheat and nut free.
The Cons
Not suitable for vegans
Doesn't reveal its BCAA count, though adds 2g of leucine. Ideally, you'd want 5-10 grams of BCAAs post-workout.
SiS REGO Rapid Recovery could be more powerful if it also included whey protein. Incorporating both into a post-workout drink would offer different rates of absorption, and provide prolonged release of amino acids to the muscles.
The carbohydrate amount in this product is very low compared to its competitors.
The artificial taste of the drink is not appreciated by many. Even those people leaving positive reviews of Science in Sport REGO Rapid Recovery are often doing so in spite of the taste, and not because of it.
Customer Reviews
All reviews taken from Amazon UK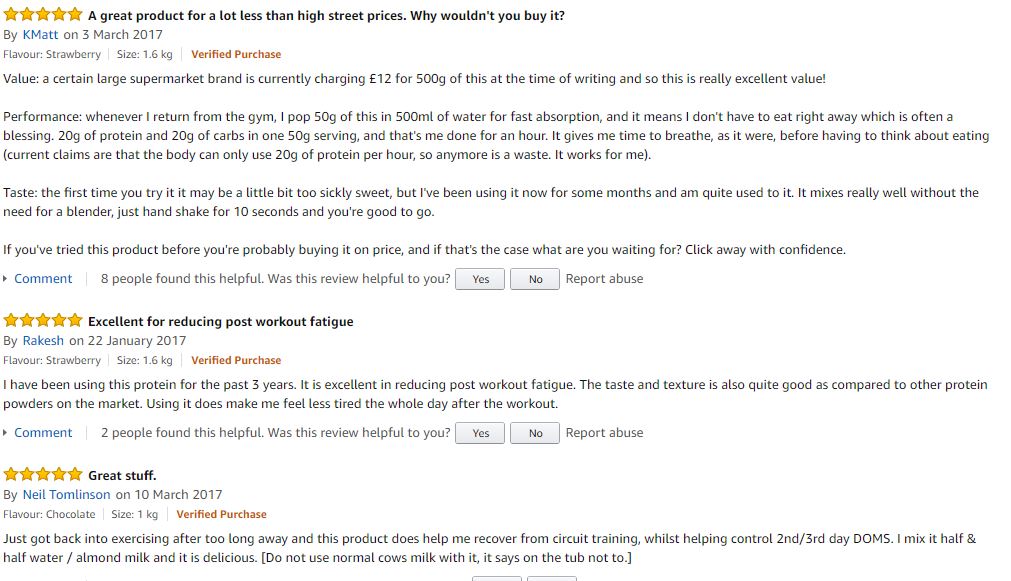 Who Takes It?
Science in Sport REGO Rapid Recovery bills itself as a 'full spectrum recovery product for periods of intense training'. It is endorsed by former Olympic track cyclist Chris Hoy, and makes a point of urging you to 'race harder and recover quicker.' It's not unreasonable, therefore, to assume that this product is aimed more at cyclists, runners and athletes rather than towards hard-core gym bunnies or bodybuilders.
---
---
Safety/ Side Effects
A minority of people leaving reviews on Amazon UK report stomach issues after taking this drink. This can be a common issue with protein drinks.
How to Take It
The manufacturers of SiS REGO Rapid Recovery recommend consuming the shake within 30 minutes of finishing your exercise.  It is recommended to mix 50g, approximately three scoops of powder, with 500ml of water and mix well. Mixing with milk is not recommended because, while it is high in protein, it is slow to digest.
Conclusion
On paper, Science in Sport REGO Rapid Recovery doesn't seem to have enough of its ingredients to make a big difference to post-training. And yet, the majority of reviews on the likes of Amazon UK seem to contradict that.
While we're told a 4:1 or minimum 2:1 carb to protein ratio is the best, this near 1:1 product does seem to be helping ease fatigue, repair muscles and do what it says on the tin. It's also very popular. Whether that's because it is aimed at a slightly different market than other post-workout drinks (runners, cyclists as opposed to bodybuilders or gym fanatics) is unclear. Perhaps they have different requirements, or need slightly less carbs to notice a difference in recovery.
Either way, the majority of reviewers are positive about SiS REGO Rapid Recovery, aside from the taste. That seems to be something you put up with in order to enjoy the other benefits of this product.
As a recovery drink, Science in Sport REGO Rapid Recovery seems to be a popular choice, no doubt partly because of its lower price. Consider it more of an energy drink than a serious protein or carb drink, and it could make a good choice for you too.
---
» See the #1 Post-Workout This Year «
---