This page may contain affiliate links and we may earn a small amount of money from any products bought. Our reviews, however, remain independent and impartial.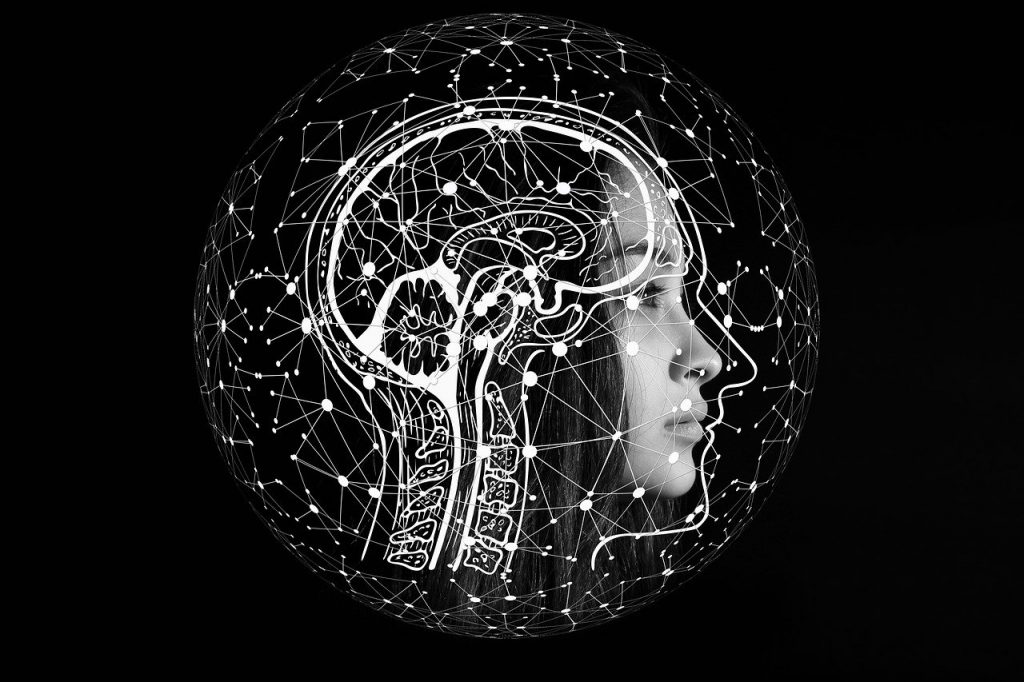 Nootropics, Smart Drugs, Cognitive Enhancers; these are all terms used interchangeably to describe the same sort of substances. If a substance has been scientifically studied and showed to exhibit brain enhancing or mind improving effects, without causing addiction or tolerance, then it can be labelled as a nootropic. They're not drugs, and they're considered safe for daily use.
All the products on this page contain 100% natural nootropics, extracted from plants, herbs and other natural sources. There are hundreds, maybe even thousands of nootropics on the market but only a select few have made it onto our list of the Best Nootropics to Buy in 2020.
Who Takes Nootropics?
Nootropics are popular with people from all walks of life; office workers, builders, architects, CEOs, students and the elderly could all experience their cognitive benefit. None of the products in this list contain any banned ingredients, so athletes can take them without fear of disqualification. In recent years, they've become increasingly common – your colleagues may already be taking a nootropic supplement, giving them a brain-boosted edge over their competitors (or over you!).
Nootropic Ingredients
A lot of nootropic supplements contain additional, useful ingredients. These include enzymes and coenzymes like Q10, which help improve mitochondrial energy production in the brain and aid vitamin conversion. B Vitamins are often included, as they help synthesize neurotransmitters which are used up by nootropic substances. Some amino acids (L-Tyrosine for example) have nootropic properties so they're commonly included in products as well.
MORE: See our list of Best Nootropic Ingredients
Our Ranking: Best Nootropics to Buy in UK in 2020
Nearly all the following supplements are made up of several nootropic ingredients, what we refer to as a stack. These ready-made nootropic stacks are ideal for anyone who doesn't want to have to go to the trouble of buying ingredients separately (often at more expense), researching ideal dosages and weighing out and mixing numerous powders or ingredients.
We have looked at manufacturer reputation, quality of ingredients, dosages, scientific evidence and more to choose our favourite nootropics on the market today. Some are established favourites like Performance Lab Mind and Mind Lab Pro; others were released in the past year.
All have one thing in common – quality, effectiveness and a commitment to excellence.
Our No 1 Choice: Performance Lab Mind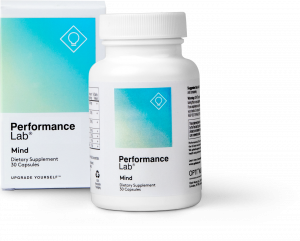 Performance Lab Mind is one of the most highly praised full-spectrum nootropics on the market. Almost everyone who tries it gives it a glowing review and it's not hard to understand why.
It contains four of the most beneficial natural nootropic ingredients around: Cognizin® Citicoline, Phosphatidylserine, Ajipure® L-Tyrosine and Maritime Pine Bark extract. These nootropics are potent brain enhancers in their own right and combining them into a single easy-to-swallow capsules makes their nootropic effects even more pronounced – this is called synergy.
Citicoline (also known as CDP-choline) is an extensively studied cholinergic nootropic. Current research strongly suggests that taking it can promote cognition and improve attention  in otherwise healthy people. Performance Lab Mind contains 250mg of Citicoline per capsule, the ideal dose according to multiple studies.
L-Tyrosine decreases environmental stress making it an ideal supplement to take before work. It's also been shown to improve working memory under certain environmental conditions, although more research is required to fully back this up.
Phosphatidylserine improves brain energy, communication between cells and brain cell formation, while Maritime Pine Bark shows promise for strengthening memory in people of all ages as well as mental function.
We like the simplicity of Performance Lab Mind, plus the reassurance of using top quality highly bioavailable and powerhouse nootropics. It's an effective base nootropic stack from which you can widen your supplement regime (and is designed to be safely used with other supps in the Performance Lab range). It is also free of stimulants and promises not to overload the brain with too many chemicals.
Just as important, we appreciate the fact that the Performance Lab manufacturer, Opti-Nutra, prioritises safety, effectiveness and a commitment to quality.
Read our Full Review of Performance Lab Mind
STACKS WELL WITH:
Performance Lab Sleep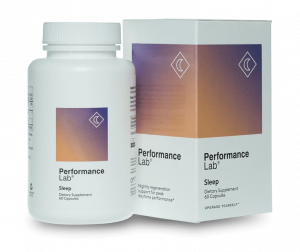 Yes, another product from Performance Lab, but one that pairs superbly with Performance Lab Mind for full night and day nootropic coverage.
Many nootropic supplements contain stimulants or create mildly stimulating effects once ingested – these work great during the day, but they can potentially make your sleep worse. Sleep is one of the most important aspects of good health. It allows us to process and store memories, repair muscles and lower blood pressure.
Performance Lab Sleep is a daily use supplement that encourages sleep using only natural ingredients – it doesn't contain any habit-forming drugs or substances. It contains the safest natural form of melatonin you can find in Montmorency Tart Cherry; melatonin regulates the sleep cycle and your levels determine how sleepy you feel.
Performance Lab Sleep also contains L-Tryptophan which converts into melatonin in the body as well as serotonin, the feel-good chemical. While magnesium relaxes muscles, calms cranial nerve impulses and reduces muscle twitching.
All told, Performance Lab Sleep is a great all-natural sleep supplement that helps you to sleep better, lifts your mood, eases stress and sets you up for effective cognitive function during the day.
Read our Full Review of Performance Lab Sleep
BUY: Performance Lab Sleep from the manufacturer
Performance Lab Sleep and/ or Performance Lab Mind
STACK WELL WITH…
Performance Lab Stim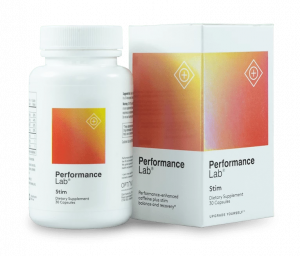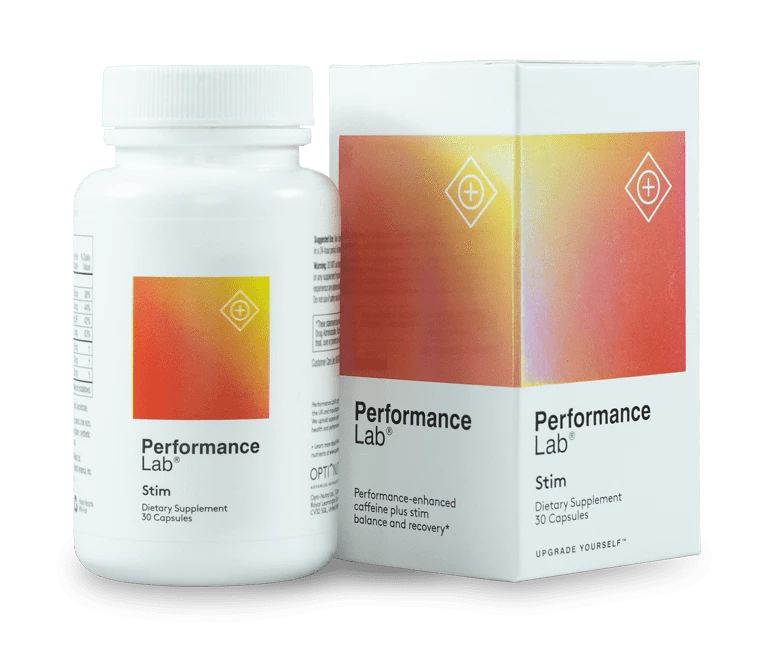 For when you need a little extra stimulation…
While caffeine isn't technically a nootropic, Performance Lab Stim's clean, crash-free stimulation is a worthy add-on to our Best Nootropics of 2020. It contains powdered caffeine, extracted from non-GMO Robusta coffee seeds. Everyone is familiar with the stimulating effects of caffeine but unpleasant side effects like jitters and anxiety are all too common. Thankfully, Performance Lab Stim contains additional ingredients such as L-theanine to lessen these side effects.
L-Theanine, an amino acid found in tea, reduces anxiety and increases relaxation. The L-Tyrosine in this supplement helps to replenish neurotransmitters which are used up when caffeine is consumed. These neurotransmitters (dopamine, norepinephrine and adrenaline) are also supported by Vitamins B6, B9 and B12 – all of which are included in Performance Lab Stim. They've even thrown in Riboflavin (Vitamin B2) to aid vitamin conversion and cell energy production.
Performance Lab Stim enables you to finally experience the energising, mood-enhancing benefits of caffeine with no side effects.
Read our Full Review of Performance Lab Stim
SPECIAL MENTION:
Performance Lab MCT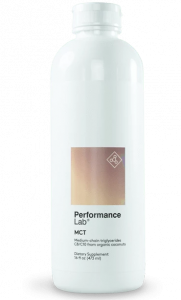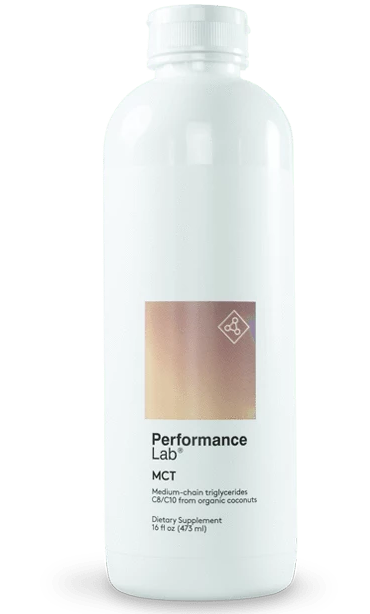 MCTs (Medium-Chain Triglycerides) are a clean source of energy for our bodies. They are healthy fats that can improve metabolism and aid overall brain health. Unlike carbohydrates, MCTs are easily converted into ketones, small molecules which cross the blood-brain barrier and act as 'brain fuel'. Performance Lab MCT is a semi-nootropic product as MCTs aren't nootropics themselves, but the ketones they produce are.  Ketones are thought to increase the number of mitochondria inside neurons, enhance their efficiency and protect brain cells from free radicals.
Performance Lab MCT contains two MCTs, caprylic acid (C8) and capric acid (C10) – they haven't included any additives, preservatives or fillers as there simply isn't any need to. Although there are four different MCTs, C8 and C10 are thought to be the most beneficial.
Unlike most nootropics, there are multiple ways to take Performance Lab MCT. It can be swallowed straight from the bottle or mixed into almost all foods and drinks. A 475ml bottle retails for £25.
Read our Full Review of Performance Lab MCT
BUY: Performance Lab MCT
Each Performance Lab product you see here can safely be used with another from the range. That's the beauty of Performance Lab, and why we rate the core Performance Lab Mind supplement as our Best Nootropic to Buy in the UK in 2020.
**********
2nd Place: Mind Lab Pro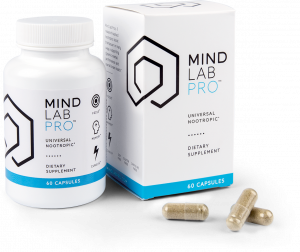 It's always a toss-up whether Mind Lab Pro or Performance Lab Mind tops this Best of Nootropic list. For the past two years, both have competed for the top spot – with no other product able to match their quality. For the first time, however, Performance Lab Mind has inched out Mind Lab Pro into second place.
It doesn't mean that Mind Lab Pro is inferior, but that the Performance Lab range – with products designed for use either singularly or together, offering an incredible synergy – has become a powerhouse supplement line, offering so many alternative combinations of supplements that it just can't be ignored. As you can see above.
About Mind Lab Pro: Mind Lab Pro contains 11 research-backed, active nootropics and no unnecessary fillers or additives… no caffeine either. Which is just one reason why we rate it so.
We also appreciate the fact that it acts as a 'universal nootropic', helping to boost all the mental bases, from mood, memory, learning, focus, stress and mental energy, to long-term brain protection. It can even detect your greatest area of need on a day-to-day basis.
Tried and tested nootropic ingredients include Lion's Mane Mushroom, which promotes the production of nerve growth factor, helping to develop new neurons and aiding neuronal maintenance.
Another noteworthy nootropic in Mind Lab Pro is Bacopa Monnieri, a plant-based extract that has been shown to significantly improve attention and working memory in scientific studies. Other ingredients include Citicoline, Phosphatidylserine, Maritime Pine Bark Extract, L-Tyrosine, Rhodiola Rosea and L-Theanine. Mind Lab Pro also contains a selection of B Vitamins to support overall brain health and neurotransmitter synthesis.
Taking this product for extended periods of time is encouraged as many nootropics produce more noticeable beneficial effects when used regularly, including advantages for long-term brain health.
Mind Lab Pro is truly a global supplement – it was formulated in the UK, manufactured in the USA and it's available in almost every country worldwide. A bottle of Mind Lab Pro contains 60 plantcaps (natural capsules) which are easier to digest than typical, synthetic capsules.
Read our Full Review of Mind Lab Pro
BUY: Mind Lab Pro direct from the manufacturer
**********
 3rd Place: Hunter Focus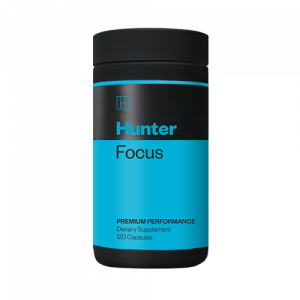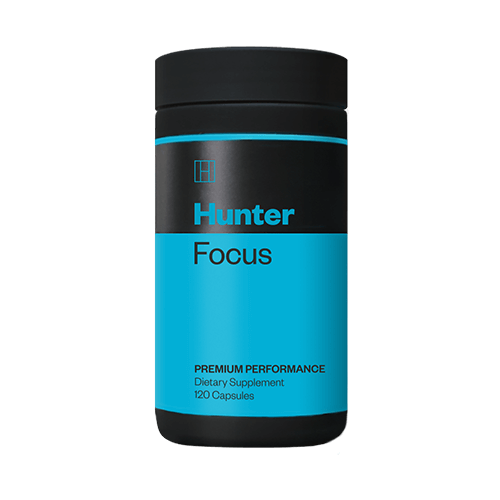 Combining nine different nootropics, Hunter Focus is one of best natural nootropic stacks on the market, hence it earns its third place on our Best Nootropics of 2020 list. Despite being aimed at men over 30, there's nothing stopping women and younger men enjoying this product as well.
This nootropic has three main goals in mind: improving memory, aiding concentration and amplifying mood. It achieves this through a wide range of active nootropic ingredients. These are Lion's Mane mushroom, Maritime Pine Bark, Bacopa Monnieri, Citicoline, N-Acetyl L-Tyrosine, L-Theanine, Phosphatidylserine, Ashwagandha and Passionflower extract.
Hunter Focus is stimulant free, so it's a perfect choice of nootropic if you're sensitive to stimulants like caffeine.
All the ingredients in Hunter Focus are useful, but Ashwaghanda is especially remarkable. Ashwaghanda is has been shown to reduce anxiety and stress in multiple studies, it's certainly one of the best natural nootropics. It's also been shown to improve physical performance in studies.
This anti-anxiety element is key in Hunter Focus. Rather than load you up with stimulants, it opts for a calm balanced approach to quieten overactive and anxious minds, allowing you to focus.
Packaged in a stylish black and blue jar, Hunter Focus is a premium product with a high price tag. One jar of 120 capsules costs £55. The recommended daily dose is four capsules, meaning one jar should last you a month.
It's a significant financial commitment but reviews of this product agree that it's worth the money. For this reason, however, and because dosages could be a *touch* better (we're splitting hairs here as most are already adequate or above), Hunter Focus earns third place on our Best Nootropics of 2020.
Read our Full review of Hunter Focus
BUY: Hunter Focus direct from the manufacturer
**********
Runner-Up: Optineuro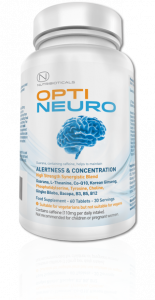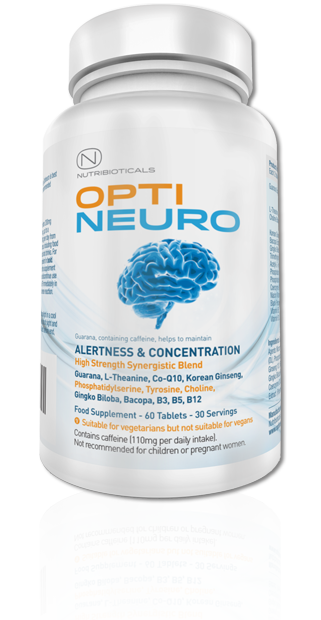 For a quick hit, good for occasional use…
Optineuro is a useful nootropic, designed to give a quick cognitive boost as opposed to a slow burning improvement.
It was developed with input from nutritional therapists and contains 15 active ingredients. This product contains Guarana extract, L-Theanine, Choline Bitartrate, Ginkgo Biloba, Bacopa extract, Trimethylglycine (TMG), Korean Ginseng, L-Tryosine, Phosphatidylcholine, Phosphatidylserine, Coenzyme Q10 and Piperine as well as Vitamins B3, B5 and B12.
Every ingredient is 100% natural, vegetarian and GMP compliant. Take note that Optineuro does have some stimulating properties, as it contains guarana extract which is a source of caffeine, though this is tempered by the L-theanine.
Some of Optineuro's ingredients are rare among nootropic supplements. Take phosphatidylcholine for example – once consumed it's metabolised into alpha-GPC, which significantly reduces cognitive decline and increases power output. Another less-than-common inclusion is Ginkgo biloba (also known as maidenhair tree). This powerful plant-based substance been shown to improve short term memory and processing speed in clinical studies.
All good stuff, so why does it only rate fourth in our list? For a simple reason – because while it works fast and burns bright, the effects aren't likely to last as long as our other recommended nootropic stacks. The dosages of some of these ingredients aren't adequately dosed either. In short, it's just not as strong as our 1st, 2nd and 3rd placed nootropics.
It's still worthy of inclusion, however. A good choice for a quick, subtle and occasional nootropic boost.
Read our Full Review of Optineuro
BUY: From Amazon UK