This page may contain affiliate links and we may earn a small amount of money from any products bought. Our reviews, however, remain independent and impartial.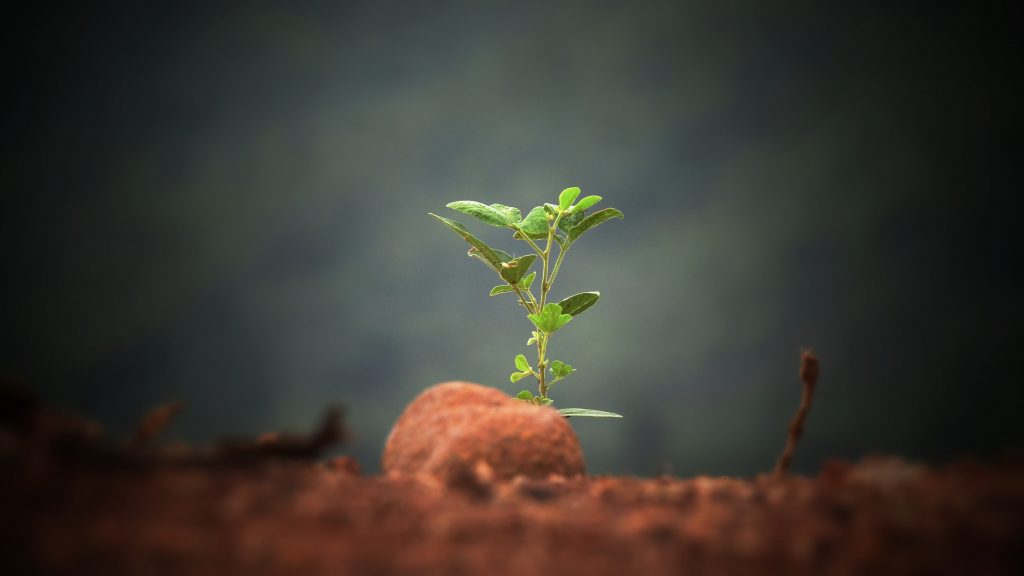 <<< UPDATED: The Best Nootropics to Buy in UK in 2020 >>>
Despite our best intentions, life is often frenetic. We may tell ourselves to slow down, but the speed of our technology plus the balancing act needed between family, work, friends, health and leisure is a tough one to master. No wonder then that so many of us are feeling drained, physically and mentally.
We may take a stimulant such as coffee or down a drink to top up our energy, but what about our minds? Enter nootropics – supplements, natural or synthetic, that can boost the brain's natural abilities, cognitive enhancers that can strengthen our memory, focus, motivation, learning, recall, concentration etc…
Think of it like switching to a more premium fuel in the tank – it can give your car (your brain) a kickstart to drive faster, better and safer. Just what you need in 2019.
Who Takes Nootropic Supplements in 2019?
There are dozens of supplements and substances that qualify as genuine nootropics – those elements that can boost cognitive function without side effects. They can be herbs, vitamins, minerals, foods, nutraceuticals, supplements, prescription and non-prescription drugs and synthetics.
Many tackle particular elements of cognition, such as focus and attention; others are better for mental energy or brain processing. Others still are recommended for memory. As such, they appeal to a wide gambit of people, from older adults to young athletes. The truth is that they can be useful to anyone.
Older adults, for instance, often turn to nootropics to ward off memory decline associated with ageing. Those over 55 can benefit tremendously from the right choice of nootropic, but it's not always just their memory they're worried about: they want to stay active and involved, so boosting their brain power and motivation with a well-placed nootropic can keep them feeling mentally in tip-top shape.
Professionals need all the help they can get in today's fast-paced and competitive business world. Taking a nootropic for focus, mental energy or stress can help give them the edge they need in the boardroom or out in the wider working world. It can mean the difference between finishing that all-important presentation or struggling. A good nootropic can help you manage day-to-day deadlines, overtime and stress. Night workers, in particular, who face issues with fatigue, poor attention and more, may especially benefit from nootropics.
Students have always searched for something to give them an edge; in the past, it was caffeine and other stimulants which invariably came with side effects. Many of today's safe nootropics, however, can helps students deal with sleep deprivation and mental challenges, such as dissertations, exams, presentations and rolling non-stop deadlines. Some nootropics can offer short-term much-needed boosts in focus, concentration and learning, while others can enhance cognition and aid helpful sleep patterns over the longer term. All helping the student achieve a better academic performance.
Athletes use nootropics to gain a competitive advantage– the mental aspect of winning, for instance, is just as important as the physical. Using nootropics can help boost their motivation, focus and intensity, helping them achieve tougher workouts and beat the competition.
What Do People Look for in a Nootropic Supplement in 2019?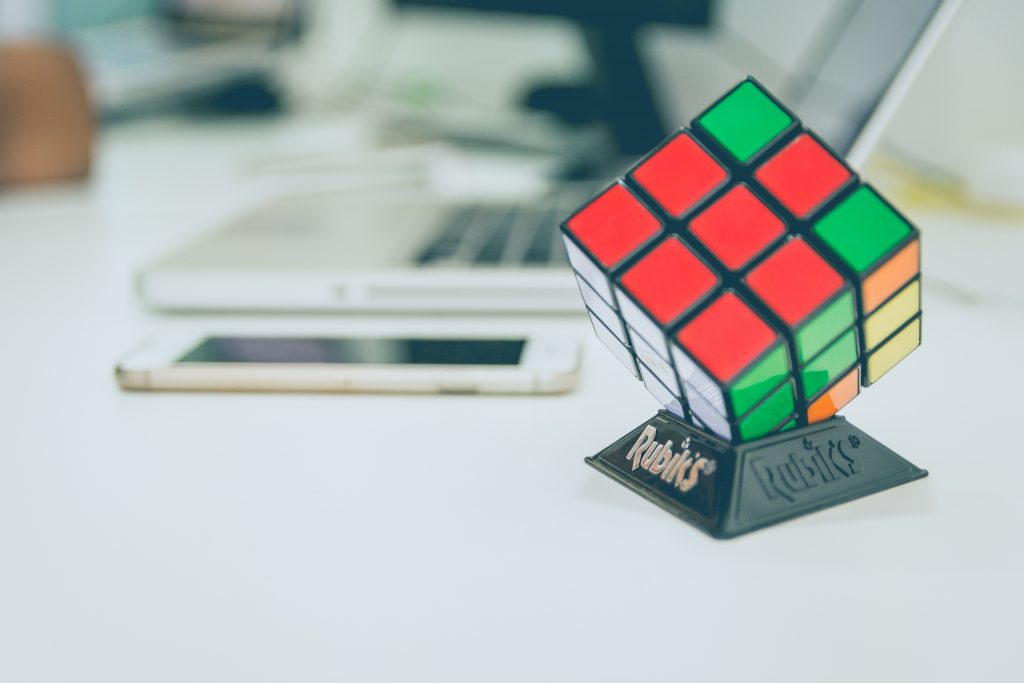 Everyone can experience mental stress of one form or another… it's not limited to professionals or older adults. So, what might people need from a nootropic in 2019? Or, to put it another way, just what sort of benefits can today's nootropics give us?
I'm guessing one or more, or all, of the benefits on this list will sounds appealing…
Could you use a nootropic that helps to….?
Boost your motivation
Fire up your mind and shore up your flagging mental energy
Elevate your mood; some nootropics help with relaxation at night and positivity in the day. Others such as L-Theanine encourage a calm wakefulness
Strengthen mental processing, helping you to process more information in a limited time frame
Encourage learning
Give you focus… in today's technological constantly interrupted world, you may find yourself lacking focus and losing the ability to stay on task. Nootropics can help improve your focus, helping to increase your productivity
Improve your memory. Certain modern nootropics can help to improve different elements of memory, from short-term to long-term, memory recall and more. Some can also potentially tackle age-related memory decline.
Nootropics can do all of this and more!
Best Nootropic Ingredients in 2019
As I said earlier, there are dozens of nootropics, with more substances being investigated and recognised for their potential cognitive benefits on a regular basis.
Read our Nootropics Ingredients Guide to learn what works and what doesn't.
Our Recommendations for the Best Nootropic Supplements to Buy in 2019
If you know exactly what particular element of brain power you would like to improve in 2019, then go ahead and buy the best individual nootropic ingredient for you. Or make your own nootropic stack. It's the best way to ensure it's tailor made just for you.
Most people, however, are not experts in nootropics and prefer to buy a ready-made stack or supplement that will ensure they gain the best mix of ingredients for their needs. Indeed, many of the ready-made nootropic supplements on the market today combine numerous powerhouse nootropics in ways that many of us would find extremely tough to recreate. So, buying a ready-made nootropic supplement is the obvious choice.
What should you look for? Before we discuss our favourites, we'd recommend you look for five key elements:
Clean formula: Avoid fillers and additives that are only there to make up space.
Safety – while we can appreciate the benefits of certain stimulants, we prefer safe, all-natural ingredients, or stimulants in safe dosages.
Bioavailability: ensure the supplement you choose focuses on fast and effective absorption by the body.
Effective dosages – some unscrupulous manufacturers add buzz-worthy ingredients in tiny dosages just to include the name on the bottle. You want effective nootropics in clinically effective dosages.
No proprietary formulas – all ingredients and dosages should be listed up front and clear.
Rest assured, our favourite nootropic recommendations take all the above into consideration and more!
Best Nootropic Supplements to Buy in UK in 2019
#1: Mind Lab Pro
To be honest, it was a toss-up whether Mind Lab Pro or Performance Lab Mind would top our Best Nootropics to Buy in UK in 2019 list. Both have considerable benefits, but we opted for the former because it seems to have just a little extra.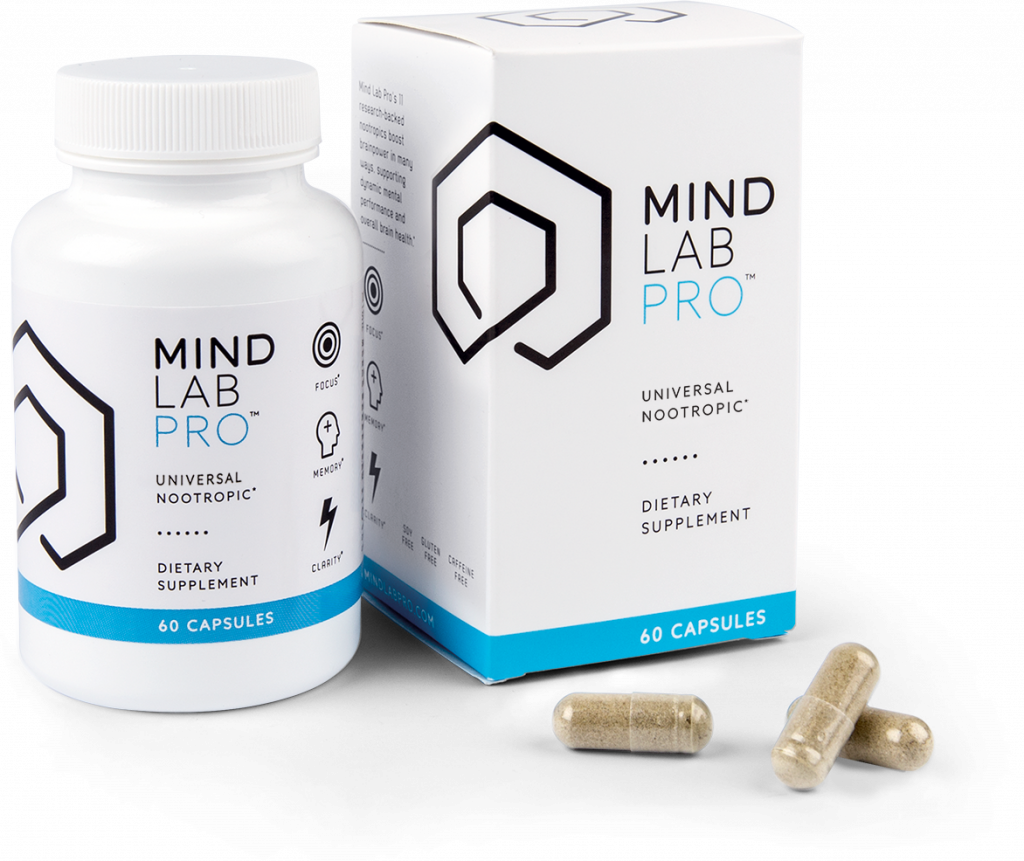 This 'Universal Nootropic' covers pretty much all the mental bases you can imagine: it works to improve your motivation, learning, mood, memory, focus and attention, stress reaction and mental energy. What's more, it can recognise where you might be deficient on any given day and tackle that lack.
While that alone might be enough to push it to the top of the leader board on any nootropics list, the fact that it also boasts a clean formula, is stimulant-free, vegan-friendly and is highly effective certainly pushed it over the top for us.
Full Ingredients: Citicoline, Phosphatidylserine, Lion's Mane Mushroom, Bacopa Monnieri, Suntheanine® L-Theanine, Rhodiola rosea, N-Acetyl-L-Tyrosine, Maritime Pine Bark Extract, Vitamin B6, B9 and B12 as BioGenesis.
In short, its 11 ingredients – every single one a proven nootropic – work to aid brain chemistry, boost brain energy, nourish and repair brain cells, fight toxins and other damaging changes over time, aid oxygen circulation in the brain and create a calm alertness via your alpha brain waves.
We're Impressed by Mind Lab Pro because…
There's no wasted space
Every ingredient is a proven nootropic
Uses premium versions of its ingredients
Plantcaps ensure fast delivery and absorption
Boosts short-term performance and long-term brain health
Read our Full Review of Mind Lab Pro
#2: Performance Lab Mind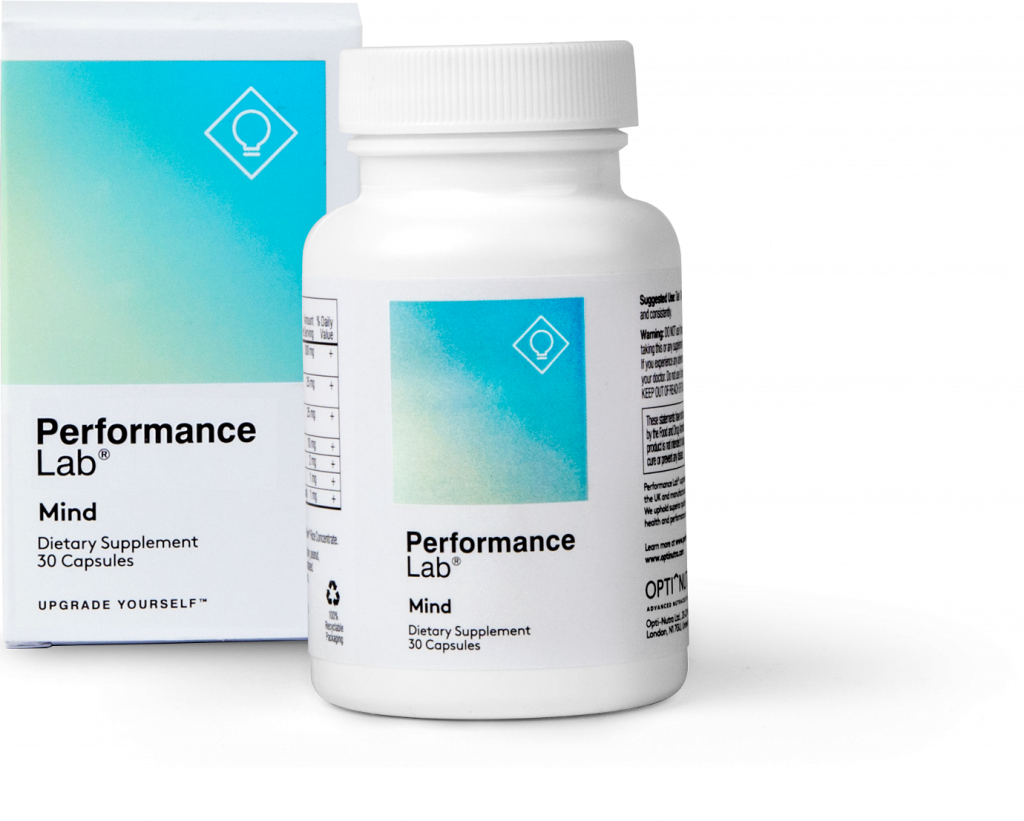 Another stimulant-free and clean nootropic stack… Performance Lab Mind may not have quite as many ingredients as Mind Lab Pro, but it does cram in a whopping 300mg of NALT per serving. Quite a lot more than other nootropic competitors.
NALT – N-Acetyl L-Tyrosine – is particularly useful for mental recovery after multitasking and intense thinking, helping to reduce stress-related side effects.
Performance Lab Mind focuses on premium cognitive functions such as memory, energy, motivation, mood, attention and more. It takes cognitive health and overall brain health seriously, providing four tried, trusted and tested nootropic ingredients that boost the above while also looking after your brain in the longer term. F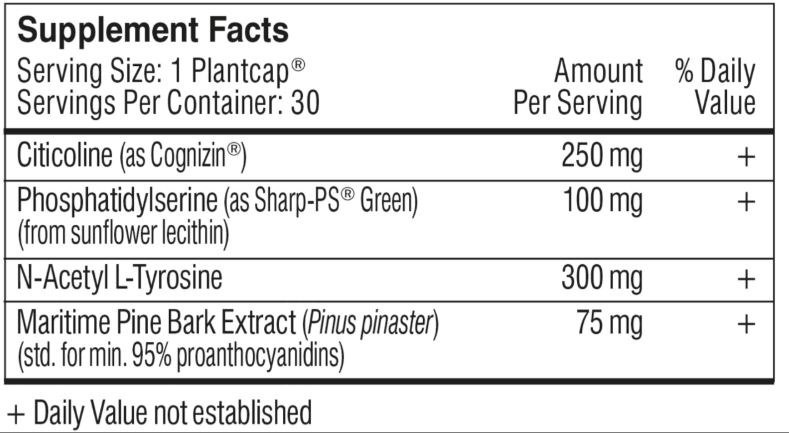 We're Impressed by Performance Lab Mind because…
It makes a solid nootropic stack and a great base for stacking more
Designed to be used alongside Performance Lab's Whole Food Multi-vitamins to boost body and brain at the same time
Can also be used with Performance Lab Sleep to ensure all-round 24/7 cognitive support
Stimulant-free, premium versions of ingredients, opts for powerhouse nootropics
No danger of overloading the brain from too many chemicals
Read our Full Review of Performance Lab Mind
BUY: Direct from Performance Lab
PERFORMANCE LAB MIND PAIRS WELL WITH: Performance Lab Stim. If you want a *hint* of caffeine with your top notch nootropic, a combo stack of Performance Lab Mind + Performance Lab Stim offers a strong nootropic with a touch of stimulation, courtesy of the clean natural caffeine combination of caffeine and L-theanine. A clean crash-free caffeine pill, it offers caffeine without the nasty side effects. At just 50mg per capsule, Performance Lab Stim offers a modest dose of stimulation that allows you to adjust the dosage as you see fit. 
Read our Full Review of Performance Lab Stim
BUY: Bulk discounts available from Performance Lab 
#3. Performance Lab Sleep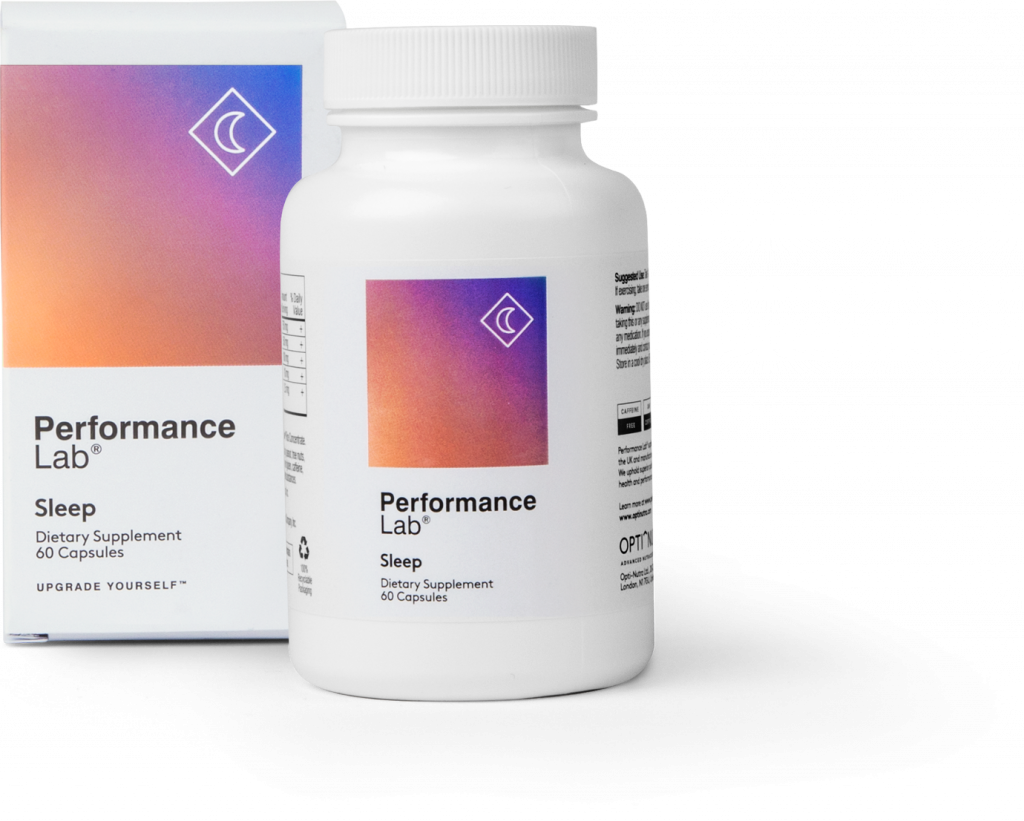 When you need night-time rejuvenation for optimum daytime brain power, Performance Lab Sleep is the obvious choice. It's an all-natural anti-insomnia tool, designed to help you fall asleep, stay asleep and wake up refreshed.
How does it do that? By soothing the nervous system, helping you calm before sleep, and releasing melatonin and serotonin, the sleep chemicals. This simultaneously encourages tranquil sleep while also relaxing your muscles and body to prevent aches and pains and those annoying involuntary limb movements that can jolt you awake unexpectedly.
In addition, Performance Lab Sleep supports circadian rhythms to encourage healthy sleep patterns and helps renew cells nightly to ensure you feel refreshed in the morning.
Lack of sleep is one of the biggest challenges to cognition, and as well as aiding your Zzzs, Performance Lab Sleep also does wonders for your mood, energy and daytime cognitive function.
Full Ingredients: Montmorency Tart Cherry (provides natural melatonin); L-Tryptophan (turns into serotonin, tackles stress, balances mood) and magnesium (deficiency is linked to chronic insomnia).
We're Impressed by Performance Lab Sleep because…
It uses an all-natural form of melatonin
Isn't addictive
Clean formula, offers sleep without the grogginess
Does much more than simply aid sleep – helps to tackle mood imbalances, sedation at night, elevated mood by day
Provides the night-time support you need for optimum daytime cognition
Read our Full Review of Performance Lab Sleep
BUY: Direct from Performance Lab
OptiNeuro: A Good Starter Nootropic, Ideal for Occasional Use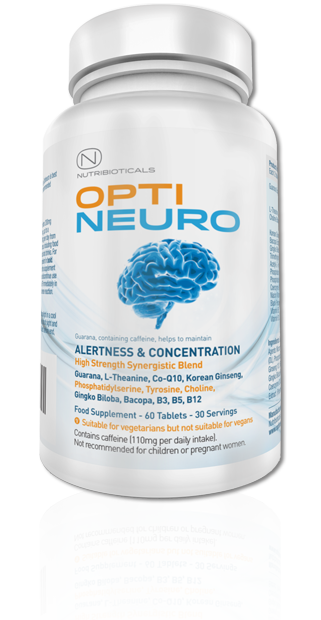 OptiNeuro by Nutribiotics has been described as the 'impatient person's nootropic.' It's an ideal nootropic supplement for people wanting an immediate 'hit' or boost, perhaps ahead of an exam, presentation or gym session, and who don't want to wait for the build-up that many competitor nootropics require.
Of course, such a fast boost — some users say it works in hours — comes with a downside: it's not as strong as many of its competitors. As such, therefore, it's ideal for people who want to start dabbling in nootropics for the first time, but don't want to be overwhelmed.
Full Ingredients: Guarana seed extract, L-Theanine, Bacopa, TMG,
Choline Bitartrate , Korean Ginseng, Gingko Biloba, Acetyl-L-Tyrosine,
Phosphatidlycholine, Phosphatidlyserine, Coenzyme Q10 , B3, B5, B12, BioPerine.
We're Impressed by OptiNeuro because….
It uses some impressive nootropics, even if they are not all adequately dosed
Works fast
Subtle but definitely noticeable improvement
Comes from a well-respected company in the UK supplement field
Mixes caffeine with L-Theanine to ensure no caffeine-related side effects
Read our Full Review of OptiNeuro
BUY: Buy direct from Nutribioticals or from Amazon UK