This page may contain affiliate links and we may earn a small amount of money from any products bought. Our reviews, however, remain independent and impartial.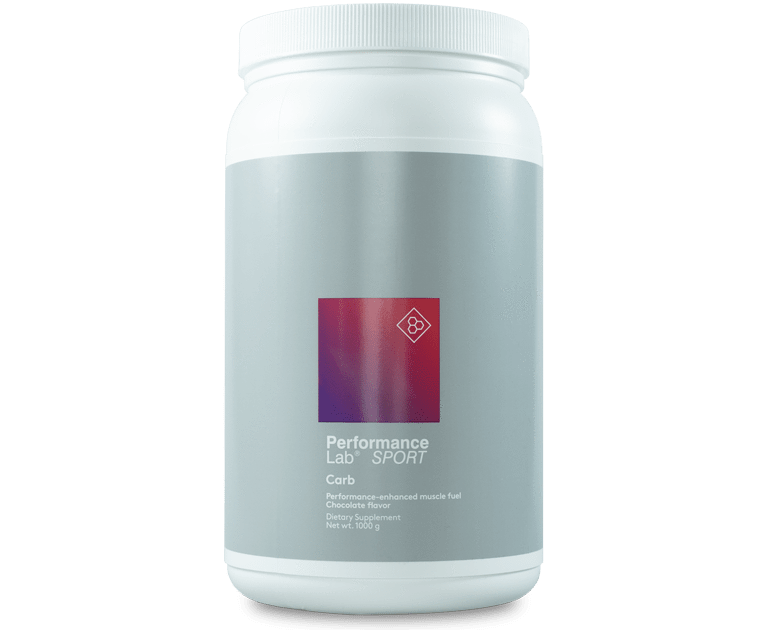 One of our preferred supplement manufacturers, Opti-Nutra, has released a new carb supplement for its Performance Lab line, adding to its SPORTS range which already has pre-and post-workouts, BCAAs, Fat Burner and T-Booster.
We're self-confessed fans of Performance Lab's 'clean' vision and well-researched formulas, so does SPORT Carb live up to the brand? Let's review it and find out…
About Performance Lab SPORT Carb
This product is intended to be a rapid-absorption carbohydrate supplement. This makes it a possible choice for pre-, intra-, and post-workout where carbohydrates offer huge benefits to mental and physical performance.
The point of this product is to replace normal workout carbs with something more intentional and effective. As you'll see when we discuss ingredients, it's more than just a carb source and it's designed specifically for these performance uses.
Fortunately, it's not restricted to elite athletes. Anyone can benefit from proper carb management and this product is one way of making that happen. You won't be surprised to look at the nutrition facts and see mostly carbs…
Buy Performance Lab SPORT Carb
The Ingredients
So, what is in Performance Lab SPORT Carb? Carbs, duh.
The majority of this product consists of carbohydrates: 46g per 50g scoop.
Of these, we're immediately wiping 4g off; 3g are from sugars and another gram from fibre. These aren't particularly worrying, since they're relatively small amounts and sugar will be useful in the time leading up to, during, and after training.
Besides these, there's half a gram of protein which is likely from the processes that are used to make KarboLyn, the product's main ingredient. Obviously, this isn't part of the product's intended use, but the half-gram of protein isn't going to steal the benefits of the product.
With such a huge role in this product – 80% by weight – it's time to talk about KarboLyn. This is the carb source that takes centre-stage in this product.
KarboLyn
The first and most important role of KarboLyn is as a carb source. The point is to increase energy stores, which are tied to athletic performance in every field from endurance to strength. On top of this, carb availability is key for overall psychological 'energy' levels and performance.
You can use KarboLyn for both mouth-washing and as a workout carbohydrate. It's an alternative to dextrin, maltodextrin, and other forms of dietary carbohydrate you might be leaning on for training.
Why is it better?
The research is still underway, and the formula is still patent-pending, but the impression we are given is that it's a fast-absorbing carbohydrate. Unlike the more-common and lower-quality dextrose, it's going to remain in the system releasing energy, however.
While the absorption is fast, the results are not the same as a lower-quality carb source. It's a high-GI source, but it doesn't have the same kinetics in the body and the result is a reduced sense of 'crashing' during or after a workout.
This is useful because the whole point of a good workout carb is to keep you energised for longer. The manufacturer claims SPORT Carb can fuel muscle energy for more than two hours after it's taken. There are benefits to keeping yourself high in energy and maintaining a better energy balance.
For example, improving your muscular recovery and growth is linked to persistent carb availability. A spike is okay here and there, but it's the consistent presence of energy and proteins that allow you to recover and grow.
KarboLyn's molecular engineering are better suited for these roles. The energy provided is released immediately but sustained over time, perfect for training and recovery. It can accompany or replace a meal and works wonderfully with a protein and creatine source after a workout.
Osmolarity
One of the key features of KarboLyn – and one that we're most excited about – is the osmolarity. This is a measure of the ability of this compound to contribute to the uptake of water, and with it both carbohydrates and other nutrients, into the body.
The result of this is rapid clearance through the stomach and uptake into the bloodstream.
It's a form of absorption benefit that is also seen in compounds like creatine or glycine, which are both used for hydration benefits. The combination of KarboLyn with other supplements using these nutrients could be a great synergy, as well as anything with Piperine.
Cinnamon
The benefits of cinnamon are varied but also not specific to the role of a carbohydrate supplement. The main overlap here is the control of insulin, which is obviously going to respond to the carbohydrate intake.
The main role is to increase sensitivity to insulin, which is crucial for shuttling carbohydrates to cells effectively.  This makes it a fantastic 1-2 combo with the KarboLyn in this product.
The uptake of carbohydrates is great, but once they're in the bloodstream the improved insulin sensitivity helps speed up absorption. The point of insulin is to get glucose into cells for energy, and thus the 700mg of cinnamon powder here does a lot of work.
This is a perfect synergy and it gives SPORT Carb a distinct advantage over other forms of KarboLyn. The thoughtful combination of ingredients is just going to mean better effects and a healthier way of taking in your workout carbohydrates.
The whole point is to avoid junk carbs and the combination of a rapid absorption, sustained release carb is great combined with better insulin sensitivity. The result is a responsible but performance-boosting carbohydrate supplement.
Formula Analysis: Does it work?
It definitely works – and some of the key benefits come from the fact that it misses the pitfalls of other products. It offers carb support without the insulin problems, while also avoiding crashes and short-term problems.
The carb support is a great one to implement into your training and the proper use of nutrient timing is something we've known to be beneficial for ages. If you're looking for an effective carb support product, this is a sold product.
It's simple, but it does those simple things brilliantly.
The Benefits of Performance Lab Carb:
Pre-Workout
Before a workout, carbs are important for supporting better physical and mental performance. It's a way of preparing your muscles with energy for the workout ahead. The rapid absorption is key here and the sustained release means you can consume it during the hours leading to a workout.
During this period, the best combination is with caffeine. Studies show us that caffeine and carbohydrates work best together for both physical and mental performance. Combining the two before (and near the start of) a workout results in the best performance.
Intra-Workout
The intra-workout carb source is important for replenishing energy stores and supporting metabolism. You can easily get depleted during hard training if you're not eating regularly or if you train intensely.
Workout carbs – such as SPORT Carb and water – combat this kind of problem. Even sensing carbohydrates in the mouth improves performance, so it's a great mechanism for performance.
Try combining workout carbs with electrolytes, which are also depleted during workouts. If you're trying to replenish your energy stores and improve workout performance, carbs and electrolytes are the best bet.
Post-Workout
After a workout there are a few things your body needs; proteins to replace the damaged muscle and tendon tissues, as well as replacing the energy you've used. Carbohydrates are key for the latter.
We recommend combining this product with a protein-rich meal, supplement or shake, ensuring you're getting the two key nutrients you need. Performance Lab have just released a top quality Protein supplement that's worth looking at.
Hydration is also important during this time and electrolytes are relevant again for re-balancing chemical status in the muscles and reducing muscle damage. Creatine also contributes to rehydration and is effective for improving muscular energy balance/metabolism.
The result is that a combination of carbs, protein, creatine, and electrolytes will provide the most important post-workout recovery/growth support.
Safety/ Side Effects
It's made from specially made high-carb corn, rice, and potato. You're not going to have a severe reaction to this product unless you have a negative response to these kinds of carbohydrates; it's a food-based product.
It's possible, however, so keep your eyes out for changes in your health. If there's anything concerning, talk to a doctor immediately and cease use. We can't see it happening, but it's always better to be careful.
How to Take It
We really can't tell you how to take this product; that will depend on how you want to use it. The benefits of it include versatility: it's going to be suitable as a pre-, intra-, and post-workout carbohydrate source.
Pre-workout, you could take it with caffeine and in a water or coconut water solution to speed up absorption and uptake. You could also do this during a workout – ideally with a BCAA supplement to support better muscular protection and repair.
After a workout, we'd recommend taking this with a creatine and/or protein source. It could be with a shake or with a meal, the end result is more carbs and a more effective overall post-workout meal for recovery and kickstarting growth.
This product can be used at any time you might be using rapid-uptake carbs. The Performance Lab website recommends the following use:
For strength: take 2-3 hours before training or competition
For endurance: take throughout your training
For recovery: take within 30 minutes of finishing your workout
Who Takes It?
The versatility is one of the key benefits here; it's a product that suits the average joe just as well as the Olympian. There's not really a population group that won't benefit from smarter, better carbohydrate intake/supplementation.
Gaining weight? Good carbs. Training soon? Good carbs. Recovering from a workout? Good carbs.
It's easy to see that this product can be used well for any goal, and thus anyone with the money and inclination should use it.
Summary
Pros:
Rapid absorption, sustained release
High quality carb supplementation is perfect before, during, and after workouts
Combination of KarboLyn and Cinnamon is perfect for consistent, healthy energy release
Cons:
The price tag isn't entry level, but it's a premium product
Buying Advice / Value
As usual, the best purchasing strategy is to go direct. This cuts out the middleman and ensures you're getting the best price for the product. Indeed, Performance Lab products are only available direct from the manufacturer.
You can find SPORT carb on the Performance Lab website.
Our Verdict on Performance Lab SPORT Carb
This is a good product; it takes the KarboLyn hype and does something extra with it. It offers a quality product and it can support performance before, during, and after workouts.
There's clearly a premium product and the resultant price tag. However, there are very few products on the market at this price that offers the same benefits as a well-structured and deliberate carbohydrate supplement.
It dodges a ton of the pitfalls of standard carb supplements and can be used for acute performance, sustainable muscle gain, or rapid recovery from workouts. Performance Lab SPORT Carb is a good choice.