This page may contain affiliate links and we may earn a small amount of money from any products bought. Our reviews, however, remain independent and impartial.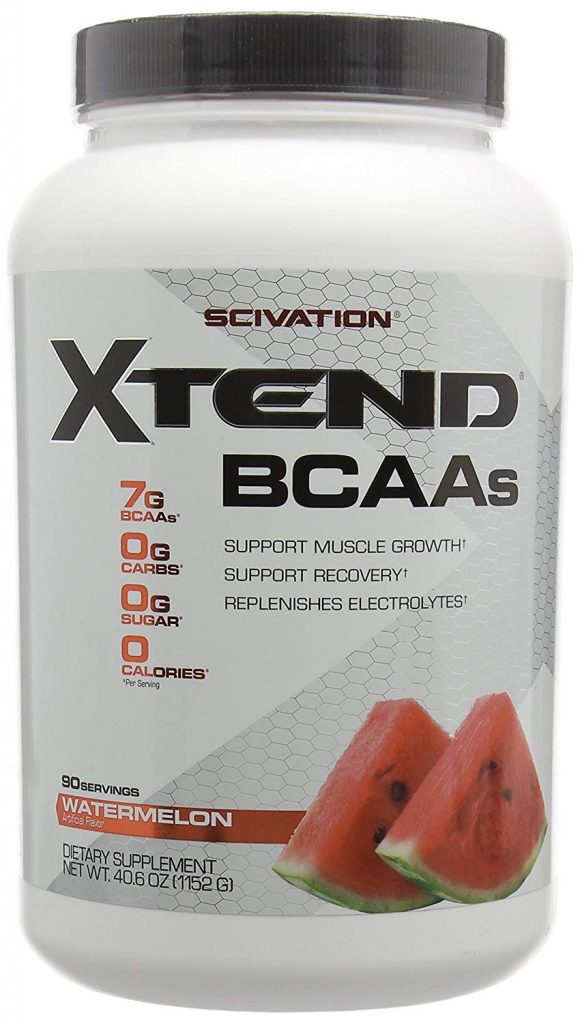 Branched Chain Amino Acids (BCAAs) are excellent supplements for taking while you work out. There are three amino acids that make up BCAAs: Leucine, Isoleucine, and Valine. Many BCAA supplements contain the three BCAAs in a ratio of 2:1:1 with twice as much Leucine as Isoleucine and Valine. This is known in fitness circles as the golden ratio.
The main benefit of taking BCAAs during a workout is that they can reduce fatigue, both physical and mental. They can also reduce the rate of perceived exertion (RPE) which is a measure of how difficult you find an exercise to be.
BCAAs may also reduce muscle soreness, which is great if you have been training a lot recently and haven't had adequate time to recover.
There are literally hundreds of BCAA supplements out there right now, and they come in all shapes and sizes. Some concentrate purely on Leucine, Isoleucine, and Valine and contain no other ingredients. While others tend to dress up the supplement a bit by adding in complimentary ingredients.
There's no right way or wrong way here, there are some excellent supplements which contain nothing but the three BCAAs in the golden ratio. However, the supplement I am looking at today combines BCAAs with some other ingredients which elevate it to a new level. Scivation Xtend BCAA powder is one of the best peri-workouts out there. Let's see why.
---
---
Ingredients
There are several ingredients in Scivation Xtend. You've got the three branched chain amino acids: Leucine, Isoleucine, and Valine. But there are also two other amino acids, glutamine and citrulline malate. It also contains an electrolyte blend.
Leucine (3500mg)/Isoleucine (1750mg)/Valine (1750mg)
Three branched chain amino acids, in the typical 2:1:1 ratio, 7g in all. The standard dosage of Leucine is anywhere between 2-10g so 3.5g is perfectly acceptable. Remember that most of us get sufficient BCAAs from our diet anyway, so high doses are not required.
BCAAs have many benefits, but as a supplement the main benefit is their anti-fatiguing effects, their ability to reduce muscle soreness, and their ability to increase recovery. You do not need to supplement with BCAAs to increase protein synthesis (unless you are currently fasting) as the protein from your diet will usually be enough to do that if you're following a healthy regimen.
Think of BCAAs as the perfect intra-workout supplement as they will help you train harder and for longer. Scivation Xtend has put in enough BCAAs to achieve these goals.
Glutamine (2500mg)
Glutamine is often added to supplements as a muscle building ingredient, but the evidence for this is pretty sparse. There is a potential for muscle growth in people suffering from muscle wasting diseases like AIDS, but if you are healthy you will be unlikely to see any changes.
Glutamine does appear to increase exercise capacity though, making it a good addition to any pre or peri workout supplement (such as this one).
Citrulline Malate (1000mg)
Citrulline Malate is one of the most underrated pre- or peri-workout ingredients. When taken orally it is turned into L-arginine by the kidneys making Citrulline Malate a more effective L-arginine supplement than L-arginine itself!
Studies have shown that Citrulline Malate is effective at increasing nitric oxide which is useful as it can increase blood flow allowing you to train harder and allowing more blood to reach your muscles. It can also significantly reduce muscle soreness and fatigue – making it a fantastic addition to this BCAA supplement.
Electrolyte Blend
The electrolyte blend is made up of sodium citrate, potassium chloride, and sodium chloride. This is designed to help replace the electrolytes lost during a workout. See, water alone isn't good enough. Electrolyte replacement drinks are great for improving your performance, and Scivation Xtend has included it in their product to help improve your performance and reduce fatigue.
---
---
Pros
Excellent reviews on Amazon
Clever addition of complimentary ingredients
Good dose of BCAAs
Electrolyte blend is a clever ingredient to add
Can reduce fatigue
Can reduce muscle soreness
Zero calories per serving
Huge range of flavours
Cons
Higher dosage of Citrulline Malate would be nice
Higher price than some of the competition
Customer Reviews
Most of the reviews on Amazon are concerning the flavour. Most love the flavours claiming it to be "the best tasting BCAA out there", but others claim to hate the taste. Obviously, taste is subjective, so it is hard to judge how good Scivation Xtend tastes without tasting it yourself. You can see what I mean with the following reviews from Amazon UK…
Safety/Side Effects
None. It's a BCAA supplement, there is nothing even remotely dangerous here!
How to Take It
Take one level scoop (14g) mixed with 10-14 fl. Oz (200-400ml) of water twice per day. Scivation recommends taking one during a workout and one afterwards. This is fine, but you could probably take one beforehand instead of after if you wanted. Alternatively, if the workout is particularly long in duration, you could take two during the workout.
Who Takes It?
Anybody can take this, but particularly people who exercise regularly at a high intensity. Anyone who does not consume enough protein through their diet would also benefit, as would people who are deficient in glutamine.
Conclusion
Scivation Xtend is a good BCAA supplement, which benefits from shrewd ingredient additions that will compliment each other. If you are taking your BCAA supplement to reduce fatigue, train harder, and potentially reduce muscle soreness, then the addition of Citrulline Malate and Glutamine are going to benefit you.
The electrolyte blend is even cleverer. During or after a workout you will find that your electrolytes are depleted thanks to the amount of perspiration a session causes. Topping them up with your BCAA supplement will help prevent cramps, will also help you train harder, and help you concentrate better.
There are many benefits to this supplement, and few negatives. The price is a little high compared to similar products, but it is still more than reasonable.
---
---