This page may contain affiliate links and we may earn a small amount of money from any products bought. Our reviews, however, remain independent and impartial.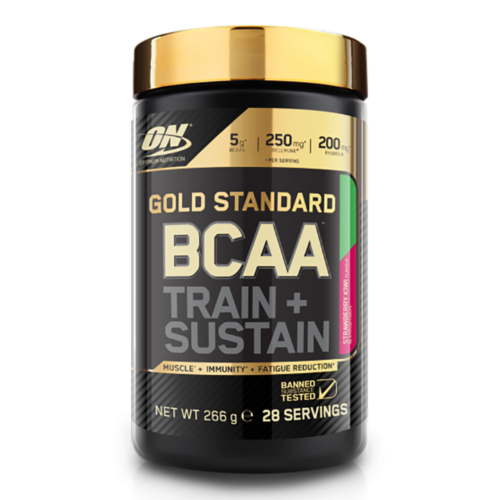 We've all heard of Optimum Nutrition, probably thanks to their incredibly popular Gold Standard Whey Protein powder. They're one of the biggest supplement companies in the world, renowned for high quality, well-engineered supplements, and today we'll be taking a look at their Gold Standard BCAA.
It's nabbed 4 stars on Amazon, and at a glance it looks like ON are trying to innovate. They've added some interesting ingredients designed to carry you over to your next workout.
Lets get into it…
---
---
Ingredients
BCAA Blend (L-Leucine, L-Isoleucine, L-Valine)
Highly researched and widely consumed, if Branched Chain Amino Acids aren't in your supplement regime, then give them a place. They're the three amino acids that have been proven to benefit muscle growth and can help stave off fatigue, particularly in those new to training.
Our three BCAAs are:
Leucine, our main BCAA, proven to activate the protein mTOR which instigates muscle protein synthesis. It's often cheaper and still as effective to just supplement leucine, but the other BCAAs haven't undergone as much research, and there are benefits to supplementing all three.
Isoleucine also promotes muscle protein synthesis, although not as potently as leucine. It does stimulate the uptake of glucose into muscle cells, providing intra-workout energy, and this is it's core role in the BCAA formula as leucine and valine have been seen to inhibit glucose uptake into cells.
Valine is the least tested and least useful of the three amino acids and it's rarely researched in isolation. It doesn't modify glucose uptake but it's possibly a weak activator of protein synthesis and has been linked to a stimulated immune system — which ties in well with ON's aims for Gold Standard BCAA.
At a solid ratio of 2:1:1, Optimum Nutrition Gold Standard BCAA is strong off the blocks. Research has shown this to be the favourable ratio when it comes to muscular endurance and kick-starting protein synthesis.
ON deliver 5g total (2.6g Leucine and 1.2g Valine and Isoleucine), which is middle of the road. On the whole, this is decent dose, especially considering the other ingredients. But we'll get into that.
Beta-Glucans (Wellmune®)
Beta-glucans are polysaccharides, or long-chain carbohydrates, and they represent the other angle that Optimum Nutrition have taken with their Gold Standard BCAA — immune boosting.
Beta-glucans are found in small amounts in foods like oatmeal, shiitake mushrooms and baker's yeast, and medicinally used to treat people who have weakened immune systems like those suffering from Chronic Fatigue Syndrome, stress, or even immune-compromised from radio/ chemo-therapy. However, in these medical settings the beta-glucans are delivered by injection.
In terms of an intra-workout supplement, Wellmune® is what we get. It's a highly refined form of beta-glucan that's been provided to try and stimulate the immune system and help keep you healthy for your next workout.
Orally it's used to treat high cholesterol, and there's little evidence to show this boosts the immune system. But they give us a decent dose at 250mg and I think it's a nice addition. More of an 'extra' that shows quality and thought from Optimum Nutrition rather than a must-have component.
Rhodiola Rosea Root Extract
A traditional herb and adaptogen, it's interesting to see it here in a BCAA supplement. Rhodiola rosea has been pretty extensively researched and been seen to reliably reduce fatigue in both extensive bouts and short bursts of physical exhaustion.
Those with reduced fatigue from supplementing rhodiola rosea also see a boost to cognition. It's also been linked with heightened overall wellbeing and reduced depression.
Studies suggest doses as low as 50mg per day for general fatigue and 288-680mg for acute stress (like intense workouts). They also see the most effective extract contains 3% rosavins with 1% salidroside, this isn't listed. In ON's Gold Standard BCAA we get a really solid punch of 200mg; considering this is to be taken almost daily, this is great.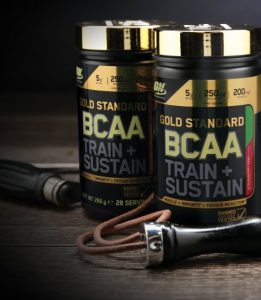 Vitamin C
An essential vitamin we've all heard of that's usually taken to support the immune system and this ties into the immune-boosting side of the supplement. Where vitamin C has been seen to reduce the length of a cold by 8-14% this is a large dose of 200-2000mg. Vitamin C has no impact on the occurrence of a cold unless deficient.
However Vitamin C plays a big part in reducing lipid peroxidation — the damage done to fat cells by free radicals that result in the kind of cell-damage you don't want from a workout. However, ON only provide us with 19mg, which is a shame.
Electrolytes
Sodium chloride and potassium chloride are salts you'll find in electrolyte/ sports drinks. Put simply, they replace the salts lost through a workout. Strangely we aren't actually given the amount of potassium. But 4% RDA of sodium is pretty high for a BCAA drink, so this is all you'll need.
Magnesium Oxide
Dietary mineral and really common deficiency in developed countries, magnesium is included here for its fatigue fighting properties. This is an area that needs more specific research, but the one dedicated study showed increase performance in athletes training for a triathlon over a 4 week period while supplementing magnesium orotate (magnesium plus
orotic acid).
Standard dose for reducing deficiency is 200-400mg. Optimum Nutrition delivers 66mg, which doesn't seem like much on the surface, but, assuming you're not deficient, chimes with the early research into performance.
However, Optimum Nutrition really drop the ball with the type of magnesium. Magnesium oxide is a super-cheap, inorganic and poorly absorbing form of magnesium. You'd be lucky to absorb 3mg of magnesium from the given dose.
---
---
Pros
Positive reviews
Proven BCAA ratio
Good dose of BCAAs
Beta-glucans boost immune system
Rhodiola rosea root extract fights fatigue
Cons
Cheap and ineffective form of magnesium (oxide)
Low dose of vitamin C
Customer Reviews
Safety/ Side effects
You shouldn't see any side effects from taking this supplement as the directions advise.
How to Take it?
Add two rounded scoops (9.5g) to 350ml of water and mix.  Take 1 serving per day.
Who Takes It?
Anyone who's looking to supplement their workouts and recovery with a drink that staves off fatigue and promotes muscle repair.
Conclusion
On the whole this is a quality supplement, and at the amazon price of £18.95 for 28 servings, it's mid to high end.
What Optimum Nutrition have tried to do here by combating post-workout fatigue and boosting the immune system definitely adds value to the product. I'd go as far as saying this is more down to the rhodiola rosea root extract and its generous dose than the beta-glucans. Wellmune is a nice touch, but probably adds more value to the price-tag than to the supplement's immune boosting qualities (I'm nit-picking), and the Vitamin C falls flat at the low dosage.
The only real negative for me is the magnesium oxide. It's cheap and poorly absorbing. In a product of this price, I'd expect to see a highly bioavailable, organic form of magnesium like magnesium citrate.
There are some other ingredients, like the acids (Citric Acid, Malic Acid, Tartaric Acid), that are loosely linked to fatigue fighting as they're components of the krebs cycle (the release of stored energy), but here they're used for their tart flavour.
Optimum Nutrition deliver a quality BCAA powder with an odd skew: helping you sustain health for your next workout, and I think they have accomplished this. Quality BCAA, hydration from the electrolytes, followed by rhodiola rosea to fight fatigue and the beta-glucans may invigorate the immune system though oral ingestion.
I'm also really happy not to see any caffeine in here; the rhodiola rosea is a nice touch.
If you're looking for a pre-, post- and intra-workout supplement to sip, Optimum Nutrition Gold Standard BCAA is worth a try.
---
---