This page may contain affiliate links and we may earn a small amount of money from any products bought. Our reviews, however, remain independent and impartial.

What Is Slim Fast?
Slim Fast is one of the leaders in the meal replacement and weight loss industry in the UK. It has been operating for decades and has proven the efficiency of its diet plans on thousands of women and men already.
The Slim Fast method is quite easy to follow and is summed up by the 3-2-1 formula. Everyday, eat 3 Slim Fast snacks, fruits or vegetables, choose 2 meal replacements and eat 1 regular meal around 600 kcal for women, 800 kcal for men. Regular 30 minute exercise is also recommended.
On average, the recommended plan provides approximately 1,300 calories for women per day and 1,500 for men.
---
» Slimfast versus Herbalife: Battle of the Meal Replacement Giants «
---
The Slim Fast Product Range
High Protein Meal Replacement Shake Mixes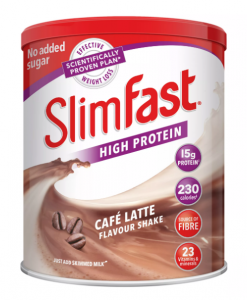 High Protein Meal Replacement Shake Mixes are Slim Fast's flagship product. They are quick and easy to prepare, and just require skimmed milk and shake. Users recommend to whisk it by hand for a lump-free, fluffy texture. The shake mix is available in several different flavours: vanilla, banana, chocolate, strawberry, caramel and café latte. One serving contains 15g of protein and just 230 kcal and should be taken as a meal replacement. But how does it fare on ingredients?
Here is the list of the High Protein Meal Replacement Shake Mixes ingredients:
Skimmed milk powder: the skimmed milk has been evaporated to give it a longer shelf life. In this form, it still contains amino-acids and highly soluble vitamin and minerals.

Maltodextrin: produced from starch and used to improve the texture of the product. However, it raises the carbohydrate and sugar levels of the product.

Inulin: inulin is naturally found in fruits and vegetables. It is a source of fibre used to slow digestion and increase the feeling of satiety. It can also help decrease cholesterol levels.

Milk proteins: powder milk proteins in the form of whey and casein are used here. They increase the protein content of the product while increasing the feeling of satiety.

Natural flavourings: the shakes mixes do not contain real strawberry or chocolate. Natural flavourings have been used instead.

Vitamins and minerals: twenty three vitamins and minerals have been added to the Slim Fast High Protein Meal Replacement Shake Mix in order to make it nutritionally richer. These include, among others, magnesium, potassium, vitamin C, iron, zinc, vitamin E, vitamin A, niacin, vitamin D and chromium.

Sweeteners: sucralose is used in the Slim Fast shake mixes to give it a sweet taste without any of the calories. However, according to the NHS, sucralose could trigger migraines in certain people.
The biggest drawback of the Shake Mixes is their sugar content: 20.9g per serving! As a consequence, Slim Fast may not be a good dieting option for you if you suffer from diabetes.
---
» See the #1 Protein Shake This Year «
---
High Protein Meal Replacement Shakes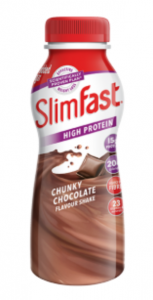 The High Protein Meal Replacement Shakes have been created for those who wish to eat their Slim Fast meal on the go and cannot or do not want to mix the drink themselves. Simply chill them and give them a quick shake before drinking directly from the bottle. It doesn't get any easier! They fare a bit better than the shake mixes in terms of calories, standing at 206 kcal per serving. They also contain 14g of protein and 7g of fiber. Finally, the sugar content of the shakes is better than the shakes mixes, standing at 12.8g per serving.
The available Meal Replacement Shakes flavours available are vanilla, chocolate, strawberry, banana, café latte, cookies & cream, and mint chocolate.
While the ingredients are very similar to the High Protein Meal Replacement Shake Mixes, a few have been twisted and added mostly to get a different texture. The skimmed milk powder has been replaced by regular skimmed milk. In addition, emulsifiers and stabilisers have been added, giving us an end product that is even more processed than the powdered shake mixes.
Users have reported feeling full for several hours after replacing a regular meal with a High Protein Meal Replacement shake, with the café latte flavour being a clear favourite.
---
» See the #1 Protein Shake This Year «
---
High Protein Meal Replacement Bars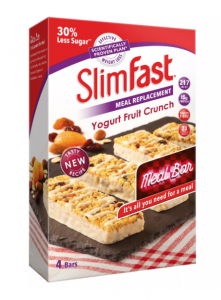 If drinking a shake is not your thing and you prefer the feeling of chewing some actual food to feel satisfied, Slim Fast also offers Meal Replacement Bars as an option. They are also really convenient to eat on the go. Thanks to them, you can get to eat real chocolate for only 217 kcal a meal!
Let's take a closer look at the ingredients:
Soy protein: soy is a popular ingredient in weight loss products. It provides a healthy amount of protein to keep building muscle mass and boost metabolism while ingesting few calories.

Milk chocolate (except for the Yogurt Fruit Crunch flavour): now, that is a treat. While it tastes great and can satisfy cravings, it brings the fat and sugar levels of the bar higher.

Whey powder: whey powder is derived from milk and is also used to bring the protein content higher. It is usually low in fats and carbohydrates.

Glucose syrup: this is a simple sugar used to enhance the taste of the bar. It has very little nutritional value and can cause weight gain when consumed in high quantities.

Oats: oats are a great source of carbohydrates and fibres. In addition to making you feel full, they can lower blood sugar levels. Oats are also rich in vitamins and minerals such as manganese, phosphorus, copper, magnesium, vitamin B1 and zinc.

Vitamin and minerals: just like the shakes, the Meal Replacement Bars have been fortified with vitamin and minerals such as magnesium, iron, vitamin C, B vitamins, potassium and copper. Together, thy increase energy levels, boost the immune system and contribute to overall good health.
Each bar contains 8.8g of sugars, which is better than the Meal Replacement Shakes. They are available in three different flavours: chocolate, nutty salted caramel and yogurt fruit crunch.
Vitality Meal Replacement Shakes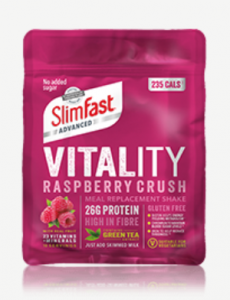 The vitality range is available in shake mixes and ready-to-drink shakes. It has been created to give an extra kick for those who are looking to increase their metabolism and reduce tiredness and fatigue – which are often side effects of going on a diet. Those shakes contain much more protein than the regular shakes, with almost 26g per serving, while keeping the calories low at 235 kcal per serving.
Just like the regular range, ingredients include soy protein, whey protein, skimmed milk and maltodextrin. However, they also contain green tea extract which boosts metabolism and is packed with antioxidants. Actual fruits are also present in the fruity flavours.
The Vitality Meal Replacement Shakes are available in chocolate, raspberry and caramel flavours. Two vegan flavours are also available: strawberry & blueberry, and mint chocolate.
The Extras
In addition to the meal replacement shakes and bars, Slim Fast offers an array of low calorie snacks to keep the hunger away. Snacking can also help keep the cravings away and feel more satisfying.
Snacks include snack bars, porridges, and snack bags of pretzels and cheddar-flavoured bites. All snacks are under 100 calories per serving.
---
» See the #1 Protein Shake This Year «
---
The Pros
Slim Fast Meal Replacements make you feel actually full for several hours

The shakes and bars taste great

Slim Fast is effective in helping to lose weight (see later for evidence)

Some flavours are suitable for vegans

The Replacement Meal Bars offer a great alternative that really feels like eating a meal and reduces the boredom of drinking shakes

No need to count calories
You only need to prepare one meal a day
Meal replacement shakes can also help with weight maintenance, as well as weight loss. (Have one shake a day instead of two, for instance).
The Cons
The Meal Replacement Shakes are high in sugars – thus not suitable for diabetics

Some people do not find drinking a shake satisfying enough; it's easy to get bored after a while.

While Slim Fast is a great way to lose weight fast, switching back to a normal food diet without changing poor eating habits may cause rapid weight regain

The products mainly use processed ingredients

Doesn't necessarily teach you how to eat healthily, though it does provide recipes and diet plans. Likewise, if snacking is your problem, Slim Fast doesn't particularly help you to tackle that.
It can get expensive buying all the Slim Fast products you need.
Our Slim Fast Ratings
Customer Reviews
These reviews are from customers who bought the Slim Fast Meal Replacement Shake on Amazon.co.uk.




Who Is It For?
The type of people likely to benefit the most from meal replacement options such as Slim Fast are those who are happy to replace meals with shakes or meal bars, and who don't like to count calories. Slim Fast works as long as you have the motivation to stick to the plan, and will work more effectively if you exercise as well. Note that there are no in-person meetings with Slim Fast (though you can ask their dietitian questions and communicate with other dieters online) , so if you need that additional push to keep you honest, Slim Fast may not be the right choice for you.
How To Take It?
Slim Fast recommends eating two meal replacements and three snacks (100 calories or less) per day, along with one regular meal under 600 kcal. Everyone can take Slim Fast products, from busy workers to stay-at-home mums.
---
» See the #1 Protein Shake This Year «
---
Safety/Side Effects
The high sugar content of the Meal Replacement shakes and bars makes the Slim Fast products unsuitable for diabetics. Sucralose can also  trigger migraines in some people.
Does It Work?
Slim Fast has proven more than once that it provides an efficient way to lose weight quickly. When following the 3-2-1 protocol, the company says you can lose around 1-2lbs a week, a healthy weight loss. It is likely more effective in the short term, with one review citing an average weight loss of 8% in the short term when following a low-calorie diet.
Brunilda Nazario, MD, told Web MD: "Yes, Slimfast can work for weight loss. Structured programs, like this one, work for people who don't want to count calories. Studies show that people lose more weight when they eat portion-controlled meals or meal replacements. Low-calorie diets, such as the Slimfast diet or the use of one or two meal replacements, promote weight loss and can help you keep it off longer."
Slim Fast itself has been tested in the BBC 'Diet Trials'. A six-month study of 293 people assessed the success of four popular diet plans, including Slim Fast (alongside Weight Watchers, Rosemary Conley and Dr Atkins). Those people in the Slim Fast study lost an average of 4.8kg or 10.6lbs. The control group in contrast gained 1.3lbs. Note too that 21% of people in the Slim Fast group lost at least 10% of their body weight during the six months, though this figure was higher in the other groups — perhaps an indication that a meal replacement diet is difficult to sustain in the longer term.
Indeed, the researchers examining the trials did find that "weight rebound after the initial six months was higher in the unsupported programmes" — Slim Fast and Atkins — than with Weight Watchers and Rosemary Conley.
So perhaps a better short-term than longer term option, maybe more suitable to those who want to lose a little weight quickly as opposed to those people who need to lose a considerable amount of weight over the longer term.
---
» See the #1 Protein Shake This Year «
---
Conclusion
Slim Fast is for sure a great way to lose weight quickly. It's convenient and provides dieters with an easy structure to follow. Counting calories is not necessary. Each product is fortified with vitamins and minerals, providing a helpful nutrient boost to your weight loss option, though these are not as beneficial as eating real fruits and vegetables.
According to customer reviews, the meal replacements do make you feel full for several hours, and the addition of the three snacks a day drastically reduce the risk of cravings (though they don't teach you how to stop snacking if that is indeed your problem). Users seem to agree the majority of the shakes and bars are tasty, and some flavours are suitable for vegans.
However, as it unfortunately often goes, great taste comes along with high sugar content, with some servings containing as much as 20g. In addition, the sustainability of a shake-based diet can be questioned in the long term.
We would suggest that Slim Fast meal replacement shakes are probably best used to kickstart your diet rather than provide any long-term diet plan.
Where to Buy
You can buy the Slim Fast range from numerous High Street stores including Boots, Superdrug and Asda as well as online at Amazon UK. If you're new to Slim Fast and want to give its meal replacement shakes a try, the Slim Fast 7 Day Starter Kit is a good choice. It contains 6 ready-to-drink shakes, 8 meal replacement bars, 7 snack bags and 7 snack bars… everything you need for your first week on Slim Fast (just add one piece of fruit for your third snack). You can buy the Slim Fast Starter Pack at Boots or Amazon UK.
---
» See the #1 Protein Shake This Year «
---