This page may contain affiliate links and we may earn a small amount of money from any products bought. Our reviews, however, remain independent and impartial.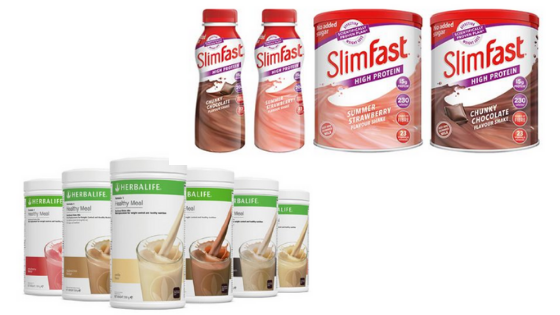 SlimFast and Herbalife are two of the most famous and popular meal replacement solutions for weight loss. While it seems like a new product is released every day, SlimFast and Herbalife have been around for decades, so it must mean something right?
However, regardless of how familiar you may be with those brand names, you may not actually be aware of how they really perform. So what's in those replacement shakes? Do they work? Are they worth it? And which one is the best? Let's go head-to-head between SlimFast and Herbalife, but not before we first talk about…
The Perfect Protein Shake to Boost Performance
If you're looking for a protein shake that can help boost your athletic or exercise ability, that's not what SlimFast and Herbalife were designed to do. Instead, we'd recommend…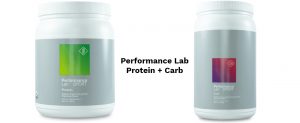 Performance Lab SPORT Protein. A top notch protein shake with just 100 calories, 20g of protein and 2g carbs, plus some vitamins and minerals. Made from organic brown rice protein, 100% vegan. The only protein shake patented for enhancing athletic performance, in particular building muscle, boosting strength, increasing power and endurance, curbing hunger and supporting recovery after exercise.
PAIRS PERFECTLY WITH: 
Performance Lab SPORT Carb.  Flavour matched for ease — both are chocolate flavour — Performance Lab Carb offers 40g of carbs from KarboLyn, a superior carbohydrate source. KarboLyn gives two hours of stimulant-free energy to power your exercise regime. Together Protein and Carb are  just 280 calories and provide the protein you need to build and repair muscles, with the carbs you need to power up your training. 
BUY Performance Lab Protein and Carb
Right, now back to the head-to-head between SlimFast and Herbalife…
What is SlimFast?
SlimFast is a weight loss programme designed to help men and women burn fat rapidly thanks to the use of meal replacement foods. It is centred around the 3-2-1 formula: everyday, eat 3 SlimFast snacks, fruit or vegetables, 2 meal replacements and 1 regular meal around 600 kcal. Exercise is recommended in addition to the nutrition plan for better results.
SlimFast Products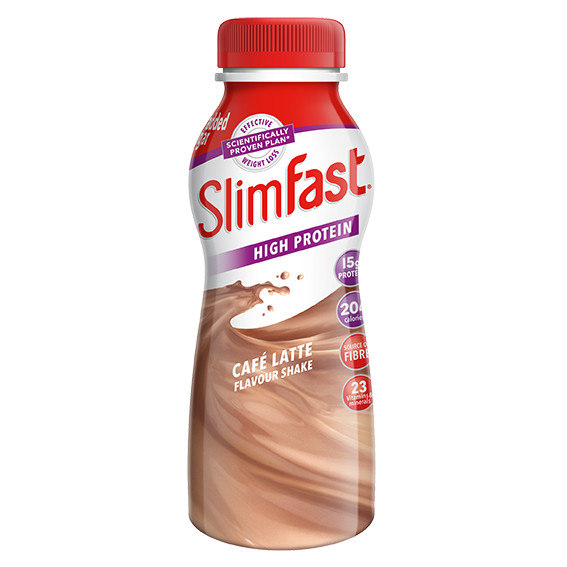 SlimFast's flagship products are the meal replacement shakes, but they have developed a whole range to keep you from being hungry throughout the day.
High Protein Meal Replacement Shake Mixes: powdered mixes that should be mixed with skimmed milk. They are easy to prepare and high in protein, vitamins and minerals. However, their sugar content is sky high with 20.9 per serving.
High Protein Meal Replacement Shakes: an on-the-go version of the shake mix, the shake has already been mixed for you and is ready to drink. The shakes contain the same amount of protein for almost half the sugar content. However, more emulsifiers and stabilisers have been added for texture.
High Protein Meal Replacement Bars: SlimFast has created meal replacement bars to shake things up and allow dieters to eat some real chewy food. Indeed, a liquid diet can become boring quite quickly. They contain a mix of soy and whey proteins, as well as oats and vitamins.
Vitality Meal Replacement Shakes: the Vitality range provides formulas with an extra kick to those looking to increase their metabolism and reduce fatigue. They are made of a mix of whey and soy protein, skimmed milk and maltodextrin and provide a whopping 26g of protein per serving (more than 10g more than the regular range). Green tea extract, fruit bits and antioxidants have been added.
Low calorie snacks: snacks can help keep cravings at bay during the day and are a healthy alternative to what people are usually tempted by. Snacks are all under 100 calories per serving and include bars, porridge and pretzels.
SlimFast Benefits
SlimFast provides a good solution for quick weight loss with meal replacements that will make you feel full for several hours. It is an easy programme to follow as it doesn't require counting calories nor preparing complicated recipes.  However, the SlimFast solution is hardly sustainable on the long term and as such better suited to kickstart a diet.
---
» See the #1 Protein Shake This Year «
---
What is Herbalife?
Herbalife Nutrition is a multi-level marketing company specialised in weight loss and general health and well-being products. Herbalife offers scientifically designed products aimed at enhancing the quality of life of its users. In this battle, we will focus on their weight loss range only.
Herbalife Products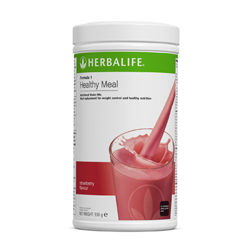 Formula 1 Meal Replacement: this meal replacement is Herbalife's flagship product. It is a powdered shake that simply needs to be mixed with semi-skimmed milk. It contains soy protein isolate and milk protein concentrate, as well as oat fibre and various sugars. Each serving provides 18g of protein and potentially up to a staggering 21g of sugar, though this varies according to the flavour you buy and how you make the shake.
Formula 3 Personalised Protein Powder: this powder is made of whey and soy protein and allows you to boost the protein content of any meal replacement shake or regular meal you make.  It is a lean source of protein and a great way to adapt your protein intake to your needs.(If you're wondering by the way what happened to Formula 2 it's a vitamin and mineral complex, aimed at men or women)
High Protein Snacks: the snacks are a great way to address cravings in a healthy way while trying to lose weight. Herbalife offers high protein snack bars with 10g of protein and only 140 kcal, as well as roasted soy beans, providing 9g of protein and 113 kcal per pack.
Enhancers: to help with your weight loss journey, Herbalife has designed enhancers such as a fat burner, a caffeine beverage increasing levels of energy and aloe vera drinks to cut back on sodas.
Herbalife Benefits
Herbalife has created a wide range of products that will help you be successful in your fat loss journey. The meal replacement shakes are a good solution to feel full for several hours while getting in a fair amount of protein and nutrients. It is easy to use as there is no need to count calories or prepare complicated meals. 
In addition, as Herbalife is sold by independent agents, there is usually a support network that comes with the product.
---
» See the #1 Protein Shake This Year «
---
SlimFast vs Herbalife: Which Meal Replacement Solution is Better?
SlimFast and Herbalife offer similar products with the same purpose: fast weight loss. How do they fare against each other?
TASTE AND TEXTURE:
In terms of taste and texture, SlimFast clearly has the upper hand. The powder shakes are much easier to whisk by hand, and come out with no chunks. Herbalife shakes, on the other hand, require a blender or a shaker bottle to come out alright. In addition to that, Herbalife shakes smell and taste synthetic and powdery. On the other hand, SlimFast shakes have a nice fluffy texture and are sweeter to the taste.
SHORT-TERM WEIGHT LOSS:
Both meal replacement shakes are useful and work when it comes to losing weight relatively quickly. According to customer reviews on the Internet, several pounds can be lost every week when sticking to the plan. Indeed, the shakes are satisfying (as much as a liquid meal can be!) and keep you full for several hours, crunching cravings during the day. The snacks in both range are also great options to consider should those cravings happen.
CONVENIENCE:
The shakes are ultra convenient and do not require you to count any calories or amounts of food, and do not require a lengthy preparation. This is a true asset in a time when people are crunched for time and are looking for simple diet solutions. SlimFast has the added bonus of a ready-made shake that can be consumed as such on the go. It also offers a 7-day starter pack with ready-made shakes, snacks and meal bars.
Herbalife is a bit more adaptable, as its range contains a pure protein powder that can be added to any shake or prepared food in order to be as close as your needs as possible. This is great if you workout a lot, for example.
DRAWBACKS: NUTRITION
Both SlimFast and Herbalife have a major drawback: their high sugar content. With 20.9g and up to 21g per serving respectively for the powder, they are not suitable for people suffering from diabetes. In addition, high amount of sugars can trigger weight gain, which is the opposite of what these products are trying to achieve. According to several studies, processed added sugar can also enhance the risk of cancer and heart disease. 
Note, however, that SlimFast ready-made shakes in a bottle contain much less sugar, at 12.8g. Certain flavours of Herbalife powder also contain less sugar, though it is not clear which contain what (and which are made for the UK-market) as the Herbalife UK website does not include product labels. (Amazon UK sells numerous different Herbalife shakes but it is not clear if all are made for the UK-territory, hence the confusion and differing product labels.) We are not fans of this Herbalife approach, and prefer the upfront honesty of SlimFast.
Either way, SlimFast and Herbalife are both heavily processed food products. Added sugars, emulsifiers, anti caking agents and processed sources of protein give the two brands a pretty low natural score. When dieting with SlimFast and Herbalife, make sure you are still consuming lots of fruit and vegetables to keep a balanced diet. 
LONG-TERM WEIGHT LOSS:
Last but not least, diet plans based on meal replacements are rarely sustainable in the long term. Indeed, eating liquid shakes can become boring very quickly and create a bigger craving for real foods. Furthermore, when coming back to a normal diet, the majority of users have noticed a weight gain. As such, both SlimFast and Herbalife products are best used a diet kick-starter rather than a long term option.
---
» See the #1 Protein Shake This Year «
---
Conclusion: And the Winner Is…
Overall, SlimFast and Herbalife provide convenient and efficient solutions to lose weight quickly and easily. 
Even though Herbalife's solution is more adaptable thanks to the Formula 3 Personalised Protein Powder, SlimFast wins this battle of the meal replacement giants. Indeed, the SlimFast Meal Replacement shakes taste much better and have a nicer texture than Herbalife's Formula 1 Meal Replacement. It's much easier to stick to something as drastic as a meal replacement diet if you actually like what you're eating/ drinking.
In addition, SlimFast's product range also includes the Vitality shakes, fortified with more vitamins, antioxidants and real fruit pieces. Finally, some of SlimFast's flavours are vegan friendly, whereas the whole Herbalife range is not. 
Where to Buy
You can buy SlimFast via online and offline stores such as Boots, Superdrug, Asda and more. You can find a Herbalife seller via the official Herbalife website.
---
» See the #1 Protein Shake This Year «
---