This page may contain affiliate links and we may earn a small amount of money from any products bought. Our reviews, however, remain independent and impartial.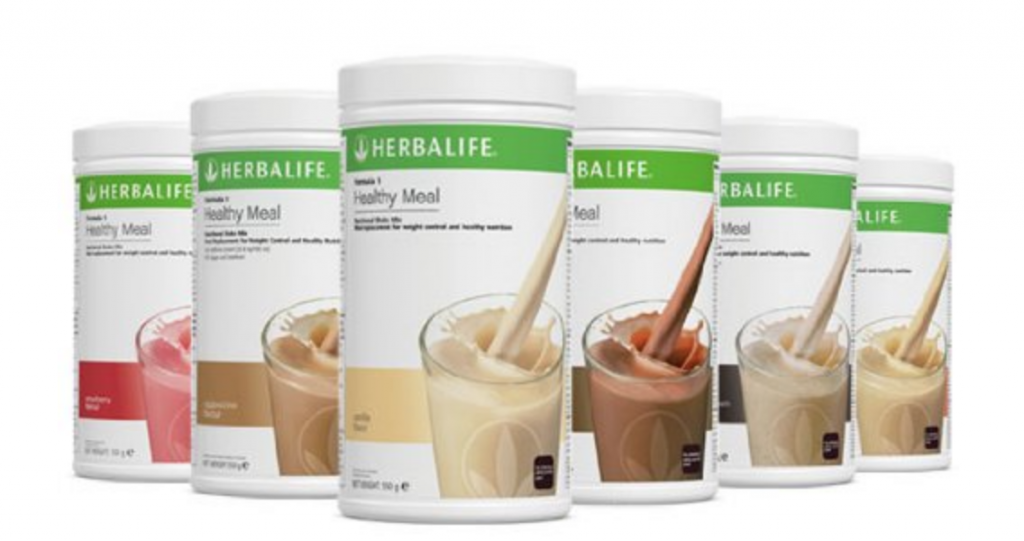 What is Herbalife?
Herbalife Nutrition is a multi-level marketing company that offers nutrition solutions for weight loss and management, fitness, and sports. Herbalife Nutrition states that its aim is to enhance personal care and improve nutrition through the use of scientifically innovative products.
Here, we will focus on the weight loss range. It is possible to use the Herbalife products on your own or as part of a wellness programme guiding you through each meal you should eat in a day.
---
» SlimFast versus Herbalife: The Battle of the Meal Replacement Giants «
---
The Herbalife Weight Loss Product Range
Formula 1 Meal Replacement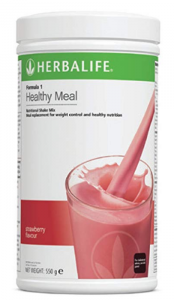 The Formula 1 meal replacement is Herbalife's flagship product when it comes to weight loss and management. It is sold in powder form and just needs to be mixed with semi-skimmed milk before consumption. It is available in chocolate, vanilla, cappuccino, cookies & cream and strawberry flavours. One serving is made with two tablespoons of powder mix and contains 220 kcal and 18g of protein. Let's take a closer look at how the ingredients fare.
Here is the list of Herbalife's Formula 1 ingredients:
Soya protein isolate: this is a plant-based source of protein derived from soy beans. It is commonly found in high-protein foods as it is cheap and easily digestible. Soya protein is a lean source of protein and is low in calories, which makes it the perfect ingredient for a weight loss product.
Fructose: fructose is used as an added sugar. However, eating too much fructose can overload the liver, which will in turn transform it directly into fat. It can also trigger diabetes and heart diseases in the long term.
Oat fibre: oats are a healthy source of fibre. The fibre is highly soluble and can help reduce cholesterol while being high in vitamins and minerals.
Milk protein concentrate: this is a source of protein derived from milk. It is relatively lean and can increase the feeling of satiety.
Dextrose: dextrose is a form of sugar derived from corn and chemically similar to glucose. It is often used in sports drinks and fitness products high in carbohydrates. It is a simple sugar and is used here as a source of energy and a taste enhancer.
Vitamins and minerals: vitamins and minerals have been added to the mix to make the Formula 1 more nutritionally interesting. They include magnesium, calcium, potassium and biotin.
---
» See the #1 Protein Shake This Year «
---
However, each serving of 250ml made up product can also add *a lot* of sugar. Here's where it gets a little complicated — not only do different flavours have different sugar counts (some up to a whopping 21g of sugar, as stated here), but there are different variations of the same flavours being sold on Amazon UK (presumably made for different territories). It's complicated further still by a new generation of shakes being released. All we can safely say is that sugar levels are high — seeming to vary anywhere from 14.8g to 21g; how you make the shake will also influence sugar levels. Unforunately Herbalife UK doesn't include product labels on their website, so you can never be 100% sure of what you're getting until you order (or question the 'Independent Member' who sells it.)
Formula 3 Personalised Protein Powder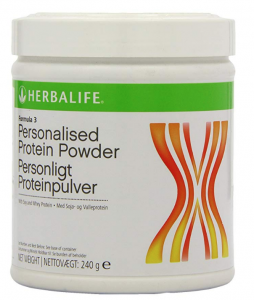 The Herbalife Formula 3 is a convenient protein powder designed to be added to the Formula 1 Meal Replacement and any dish you may cook yourself. One tablespoon of powder provides 5g of protein. The product is unflavoured. 
It is made up of whey and soy protein. Soy protein is a lean and cheap protein source and is thus loved by high protein products manufacturers. It is easy to digest. Whey protein is derived from milk and offers a relatively lean and quality protein source. 
The Formula 3 is a great and easy way to adapt your daily protein consumption to your exact needs. However, anti-caking agents are used to increase the shelf life, decreasing the natural score of the product.
*If you're wondering, Formula 2 is a vitamin and mineral complex for men or women.
---
» See the #1 Protein Shake This Year «
---
High Protein Snacks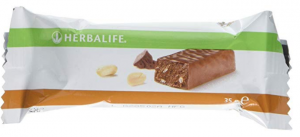 Herbalife has created a range of snacks high in protein content to provide a healthy alternative to the hunger we may feel in the middle of the morning or afternoon. Here is a closer look at the snacks range:
High protein bar: with only 140 kcal and 10g of protein per bar, this snack is great to use when you are trying to lose weight or maintain your current weight while curbing your hunger. The only problem with it is the highly processed ingredients used to manufacture it: milk protein concentrate, glucose and fructose syrups, and flavouring. The rest of the ingredients varies depending on the flavour and can include peanut paste, chocolate and almonds among other things.
Roasted soy beans: soy beans are high in protein and provide a healthy snack alternative that will make you feel actually full until your next meal. The beans are dry roasted and sprinkled with salt. Each pack contains only 113kcal, along with 9g of protein.
The Extras
To complement the range of weight loss nutrition, Herbalife has created a range of enhancers to help you accelerate the fat loss process. These include: 
A herbal beverage containing caffeine to increase levels of energy
Thermo Complete, a blend of caffeines from green tea extract and yerba mate, combined with vitamin C to reduce tiredness and enhance concentration
Cell activator, a multivitamin supplement providing a blend of B vitamins, copper, zinc and manganese to support energy release and production 
Aloe vera drinks designed to provide a satisfying alternative to sodas and high-sugar juices.
---
» SlimFast versus Herbalife: The Battle of the Meal Replacement Giants «
---
The Pros
Herbalife offers a wide range of products designed to help you in your fat loss journey at all times of the day.
The meal replacement shakes make you feel full for several hours.
Customers who have used Herbalife products for fat loss have noticed a weight drop of up to 7.5 lbs in 21 days.
No need to count calories.
You don't need to cook meals with long preparation times.
The Cons
The Formula 1 meal replacement does not taste great and has a powdery texture.
The meal replacement shake does not blend well if you whisk it by hand. It is best to use a blender or the shaker bottles sold separately by Herbalife.
The Formula 1 remains quite high in sugar and should not be used by diabetics.
Most products are not suitable for vegans as they contain milk protein.
The products are highly processed and nothing is organic.
While Herbalife is great way to lose weight quickly, switching back to a normal diet can trigger weight gain.
Our Herbalife Ratings
Customer Reviews
These comments concern the Formula 1 Meal Replacement shake and come from Amazon.co.uk.




---
» See the #1 Protein Shake This Year «
---
Who Is It For?
People who do not want to have to count calories, weigh all their ingredients and prepare complex recipes are the most likely to enjoy Herbalife products. It works best if you exercise as well during the length of your programme — otherwise all that sugar can turn to fat! Through the network of independent sellers, it is possible to find good support groups who will motivate you to stick to your diet and reach your goals.
How To Take It?
As per Herbalife's recommendations, it is best to use Formula 1 to replace two meals if your goal is to lose weight, and replace one meal with a Formula 1 shake for weight maintenance. Snacks can be eaten at any time of the day.
Safety / Side Effects
The high sugar content of the Formula 1 meal replacement shakes makes it unsuitable for people suffering from diabetes. When used excessively, processed fructose can cause diabetes, heart diseases and weight gain.
Does It Work?
As long as you stick to the plan and replace two of your daily meals with the Formula 1 used in combination with the snacks and extras, it is possible to lose 7 lbs on average in 21 days. One of our team members tried the diet and managed to lose 6 lbs in one week, although the loss was difficult to sustain afterwards.
Similarly, users on the Healthline website have reported Herbalife is efficient to lose weight quickly, but many of them gained back some of this weight when switching back to a normal diet. 
If you decide to do research on the Internet before buying the product, be careful where the review is coming from. Indeed, as Herbalife is sold by independent distributors, some of them can tend to make their story more dramatic and appealing for new customers to buy, and for them to get paid. We'd recommend you ask for a copy of the full product label of the product to judge its sugar levels etc… for yourself before buying.
Conclusion
Herbalife is a good alternative to a more classical diet if you don't mind replacing your meals with shakes and do not want to count your calories every day. Its food products are high in protein, which helps users not only lose fat but also build lean muscle mass, assuming you do moderate exercise too. 
According to customer reviews, the shakes do make you feel full for hours and help reduce hunger. On the side, the snacks provide a healthy alternative to traditional snacks like chocolate bars or flavoured crisps and nuts.
However, Herbalife uses only high processed ingredients, is not vegan friendly and does not provide organic options. In addition, the Formula 1 replacement shakes comes high in sugar and does not taste very good. 
In our opinion, Herbalife is best used as a diet kickstarter or a convenient solution for the times when you don't have time to cook a healthy meal.
---
» See the #1 Protein Shake This Year «
---
Where to Buy
Herbalife is sold via independent distributors. You can find your nearest distributor via the UK Herbalife website.