This page may contain affiliate links and we may earn a small amount of money from any products bought. Our reviews, however, remain independent and impartial.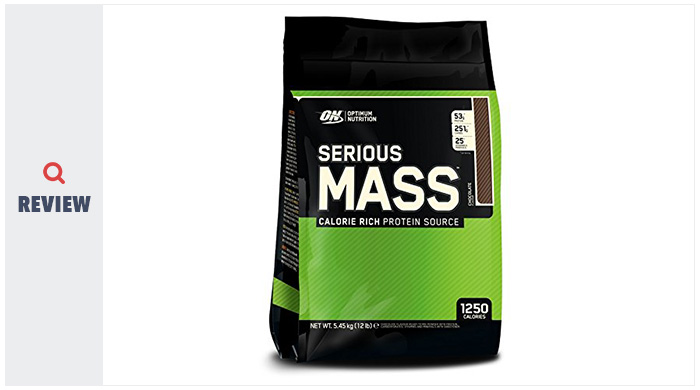 Optimum Nutrition is an established company in the supplement field and has been operating for years. Serious Mass is its highest calorie weight gainer, and the statistics are quite eye watering.
It contains 1,250 calories when mixed with water (a whopping 1,640 calories when mixed with low fat milk) alongside 250g of carbohydrates and 50g of protein per serving. It also includes 25 vitamins and minerals, plus creatine and glutamine.
The carbohydrates should provide extra energy to fuel intense workouts, while the protein helps to support the building of muscles. Just what you need from a weight gainer, typically used by people who struggle to put on weight or bulk up.
---
» See the #1 Mass Gainer This Year «
---
The Ingredients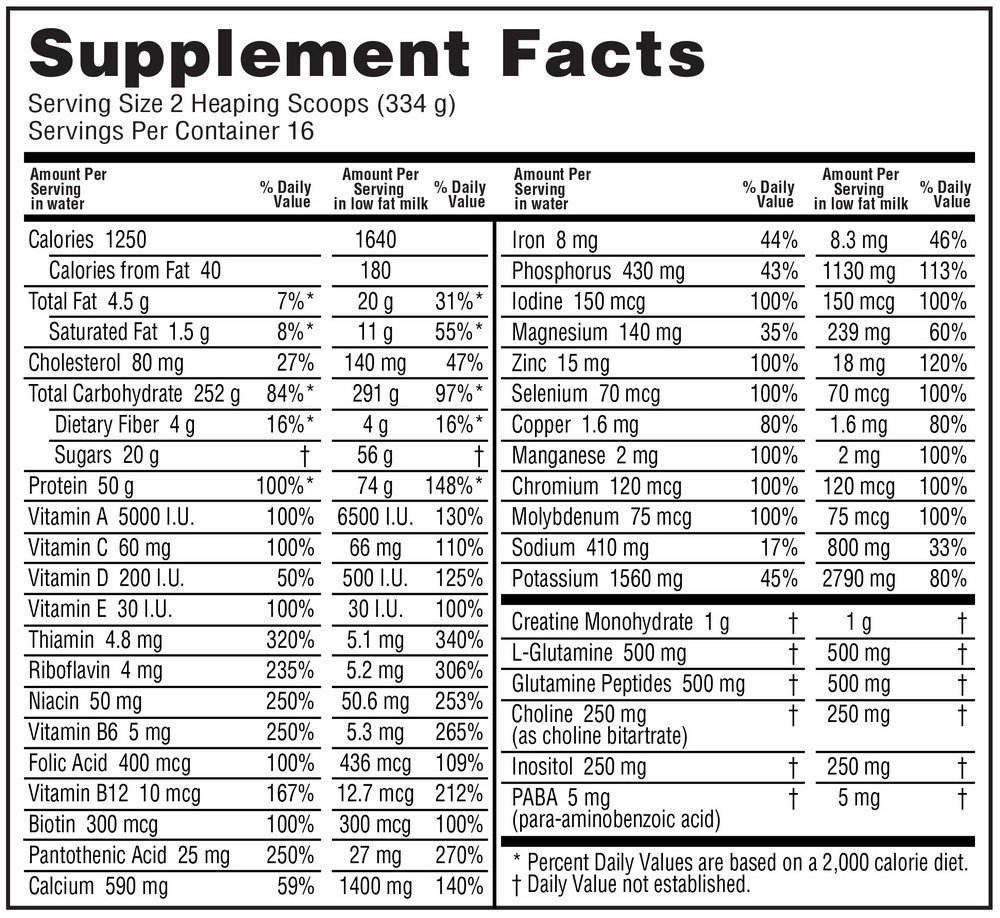 First, let's talk protein. Optimum Nutrition Serious Mass has 50g of protein per serving, which is a decent dosage. The protein is made up of whey protein concentrate, calcium caseinate, egg albumen and sweet dairy whey.
Whey Protein Concentrate
Whey protein concentrate is a cheaper source of whey protein than isolate or hydrolysate, but is still effective. It typically contains between 30-80% protein and has more lactose and fat than isolate. Whey protein as a whole is a quickly-absorbed protein source, encouraging protein synthesis – muscle growth – in as little as 40 minutes after eating, hence its popularity. As well as helping the body to build muscle, whey protein is also useful in aiding the body to recover quicker after exercise, in supporting fat burning, boosting the immune system and reducing appetite.
Optimum Nutrition Serious Mass also includes alternative forms of protein, such as calcium caseinate, egg albumen and sweet dairy whey.
Calcium Caseinate
Calcium caseinate is derived from the casein in milk, and is one of the best quality protein sources around. It typically contains around 90% protein and is recognised as a very rich source of amino acids and minerals, which are digested very slowly by the body. Its sustained release of amino acids not only contributes to a feeling of satiety, but can help to prevent the breakdown of muscle proteins (bodybuilders love it for its anti-catabolic effects). Its dairy calcium is also good for bone health, though anyone who has an allergy to lactose may not be able to use this product.
Egg Albumen
Egg albumen is another way of saying egg whites. The bulk of an egg's protein can be found in the egg white, and egg white protein powder tends to have very similar protein content to whey and casein.
Egg-white protein is lactose-free and would be a good replacement for dairy for anyone lactose-intolerant if it wasn't for the other protein in Optimum Nutrition Serious Mass. However, it may be useful for one other reason – egg white protein is digested by the body at moderate speed. Compare this to whey protein (fast-acting) and casein (slow), and you have the opportunity to keep muscle protein synthesis going for longer.
Egg white protein powder is also a complete protein, meaning that it supplies all 10 essential amino acids that you need to obtain from food. By opting for egg white only, you are also cutting out the fat contained in the yolk.
Having more than one source of protein can offer combined advantages, mentioned above.
Sweet Dairy Whey
Contrary to the name, sweet dairy whey is not sweet and is not a replacement for whey protein powder. It is a by-product of cheese making and is typically used when baking. As it has not been concentrated or filtered like whey protein concentrate (just dried into powder form instead), it will still contain large amounts of lactose and small amounts of protein compared to a whey protein powder.
Its inclusion in Optimum Nutrition Serious Mass weight gainer is a little confusing because while some people praise it for aiding lean muscle mass, it is recognised more for losing weight than for gaining it.
Carbohydrates
Unlike the numerous protein sources of Optimum Nutrition Serious Mass, there is only one main source of carbohydrates and that is maltodextrin. It is a common carb used in many supplements, including weight gainers, because it is cheap to include, is tasteless and doesn't appear on the nutrition label as sugar.
Maltodextrin, made from corn, rice or potato starch, is a complex carbohydrate that actually acts like a simple one by generating a rapid insulin spike in the body. After intense exercise, the body is in a catabolic state and is sensitive to both protein and carb intake, hence their presence in weight gainers.
Taking maltodextrin helps to replenish energy stores lost during training and boost protein synthesis, thanks to the extra amino acids in the muscles transported by the insulin. It also lowers recovery times and prepares the body for the next exercise session.
While its rapid insulin spike is similar to a simple carb, maltodextrin prevents a dramatic drop in blood sugar levels, offering a more sustained recovery, similar to complex carbs.
As such, it is a good carb to include in a weight gainer.
Creatine
Optimum Nutrition Serious Mass includes creatine monohydrate, a very useful addition to weight gainers if included in decent dosages.
A combination of the amino acids arginine, methionine and glycine, creatine monohydrate has been proven to provide extra ATP or fuel for the muscles, boosting endurance and strength during an intense workout. It can also reduce muscle damage after a workout.
That's the good news. The bad news is that Optimum Nutrition has only seen fit to include 1g of creatine – not really enough to make any real difference when you consider that 5g is recommended just for maintenance. It's an opportunity missed, and if we were cynical we might suggest that it is added purely to allow ON to shout about it.  Other competitors, such as USN Hyperbolic Mass, include significantly more creatine (4.5g, for instance).
Glutamine and Glutamine Peptides
USN Hyperbolic Mass also contains 6.5g of glutamine; in contrast Optimum Nutrition Serious Mass contains just 500mg of glutamine and 500mg of glutamine peptides. Come on, Optimum Nutrition, you're hardly trying here.
The only saving grace to Serious Mass's woefully low dosage of glutamine is that it may not do much to help healthy people bulk up or gain muscle anyway, at any dose. Fans may claim it helps post-exercise recovery and lean muscle gain, but studies so far have only seen success on people with trauma or muscle wasting disease.
BCAAs
Regardless of the protein and carb count in a weight gainer, the experts will tell you to look out for a generous dosage of Branched Chain Amino Acids (BCAA), of which leucine is arguably the most important. These three amino acids – leucine, isoleucine and valine – stop the body from using muscle as an energy source, and promote protein synthesis (potentially more so than protein on its own) which in turn builds more muscles. Not only do they increase the rate of protein synthesis, but they increase cells' capacity for protein synthesis.
Their significance is actually three-pronged. As well as boosting protein synthesis, BCAAs can also reduce the amount of protein breakdown, and may even help to improve the intensity of your exercise/ training. They do the latter by reducing the amount of serotonin produced during exercise. Serotonin may give you the 'exercise-high' but it is also what makes you feel fatigued as well. Reducing serotonin production may help you be able to exercise harder and for longer.
It is widely accepted that BCAA count is particularly important when it comes to maintaining and building muscle mass. Experts recommend at least 3g of leucine, and the BCAAs are usually included in a 2:1:1 ratio (leucine: isoleucine: valine).
Unfortunately, Optimum Nutrition Serious Mass doesn't tell us how much, if any, BCAAs it has in its product, which is a real shame. It is likely to have some – complete protein sources also include BCAAs and are likely to have a significant dosage of leucine – but we'd like the information please. How can we compare products otherwise?
Vitamins and Minerals
Optimum Nutrition Serious Mass also includes 25 vitamins and minerals in pretty generous dosages. Most make up your recommended daily value, so we're happy with those.
* Note that Optimum Nutrition Serious Mass contains milk, egg, wheat and soy
---
---
 The Pros
Optimum Nutrition is a good respected company with an established record.
Optimum Nutrition Serious Mass contains a huge amount of calories, easily enough for anyone who wants to jack up their count significantly.
You can expect a definite increase in energy from a variety of sources in Optimum Nutrition Serious Mass.
Servings can be flexible. The 1,250 calories comes from two large scoops of the powder, so it is possible to split servings in two. With such sizes, you may want to do so anyway.
Fans of Optimum Nutrition Serious Mass say it helps to build muscle, put weight on quickly, give a boost in energy, and has a decent taste.
Protein is provided by several different sources, the majority of which are tried and proven effective.
At the time of writing, Optimum Nutrition Serious Mass has a 4.2 out of 5 rating from more than 1,200 reviews on Amazon UK
The Cons
The creatine count in Optimum Nutrition Serious Mass is low.
We have no idea what its BCAA or leucine count is.
Critics of Optimum Nutrition Serious Mass say its solubility isn't great – partly a result of having to mix so much powder – though its texture isn't too bad once it is done.
It lacks a diverse blend of carbs.
Some people say the serving size is not realistic; you are drinking nearly 1lb a serving.
For best results, you will need a blender.
A significant proportion of people complained that it was hard to digest and a small number said it had a bad after-taste.
People also said the scoop was too big, and that the packet did not last long.
Beware cholesterol – when mixed with low fat milk, Optimum Nutrition Serious Mass contains 140mg of cholesterol, 47% of your daily value.
Customer Reviews
The following reviews come from Bodybuilding.com


The following reviews come from Amazon UK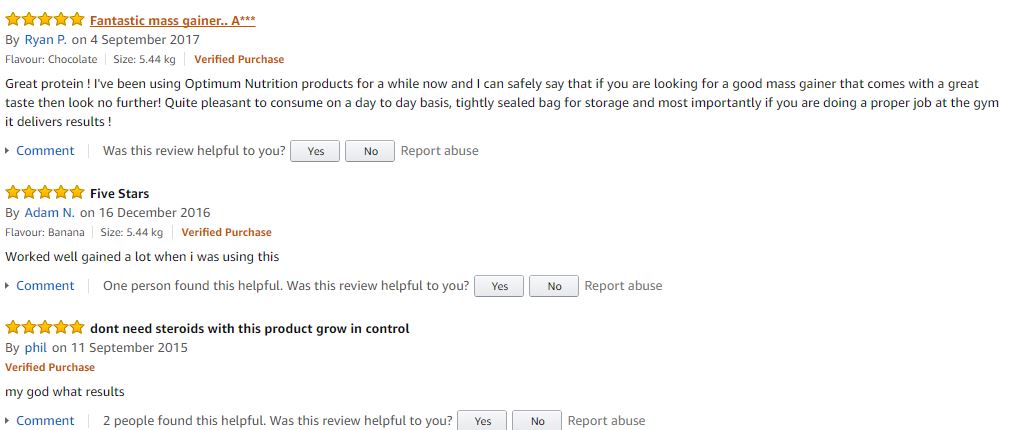 Who Takes It?
Weight gainers are typically for people who struggle to put on weight or who want to bulk up and add muscle, but who find it hard due to a fast metabolism. Eating so many calories via food can be difficult.
How to Take It?
One serving is two heaped scoops of Serious Mass (334g) to 650-750ml of cold water or milk. Note that this is a very big serving which some people cannot digest easily and you may find it better to split the serving in two and drink it at different times of the day.
Safety/ Side Effects
Some side effects reported include bad gas, dehydration in the middle of the night, and an upset stomach. Anyone who has problems with lactose may struggle with gas or bloating (and should probably look for a non-lactose weight gaining product instead).
Conclusion
Optimum Nutrition Serious Mass is serious about weight gaining and calorie loading, and is one of the highest calorie weight gainers on the market. Its carbohydrate and protein levels are decent, but we would like to know more (or indeed, anything) about its BCAAs and leucine count. It is hard to compare products without this information, though we recognise that ON does at least include some complete protein sources in its product which should provide these.
Quite why a respected supposedly knowledgeable company like Optimum Nutrition would fail to highlight such relevant information, however, is confusing. So too is its low creatine count. It is missing an opportunity both ways.
The size of its serving also seems to be an issue for several people; expecting them to drink 1lb a time does seem unrealistic. Users of Optimum Nutrition Serious Mass might be well advised to split the serving into two and drink it at different times of the day if they want to avoid digestion issues.
All of that said there are a lot of happy customers on Amazon UK (more than 800 who leave five stars, for instance) and they swear that it works. Optimum Nutrition is known for its successful formulas, honed from its years in business.For those reasons — and for that massive calorie count — we are happy to award Optimum Nutrition Serious Mass a 4.2 rating.
---
» See the #1 Mass Gainer This Year «
---