This page may contain affiliate links and we may earn a small amount of money from any products bought. Our reviews, however, remain independent and impartial.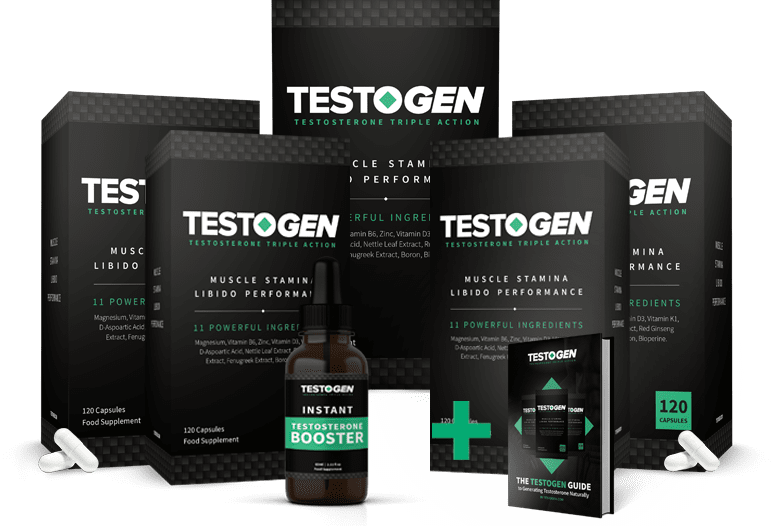 It is a fact of nature that the amount of testosterone your body produces declines with age. Men in their 20s are brimming with testosterone but it's all downhill from there unfortunately. Testosterone is responsible for maintaining your libido and sexual energy, building muscle, and regulating fat distribution. As your testosterone levels decrease over time, so too does your sex drive and ability to maintain an athletic physique.
Testosterone boosters are a staple of the supplement market and are mostly geared towards giving your body everything it needs to produce the maximum amount of testosterone possible. They are not steroids, but complex formulas that tend to stick to a few well-established rules while occasionally trying something new.
Then there is Testogen. Currently making waves on the blogosphere, it does follow the rules for the most part, but also makes up a few new ones.
Clearly targeted at body builders and those seeking to work out and bulk up, the idea behind Testogen is that it helps to boost your t-levels and thus improve your energy in the gym, speed-up recovery times between workouts, shred body fat quicker and prompt muscle growth.
It markets itself on being able to fight all the effects of age-related testosterone decline and it does this by mixing up the ingredients a little and playing around with some of the established doses as well. We took a closer look to find out if Testogen could be on to something.
---
» See the #1 Testosterone Booster This Year «
---
Ingredients
Note: Testogen have recently changed their formula and information on dosages is limited, so some of the serving sizes may not be 100% accurate.
Magnesium 750mg
The interaction between magnesium and testosterone has been studied extensively and the evidence points to there being a definite link between higher magnesium levels and increased testosterone, improved exercise performance, and enhanced skeletal muscle mass and function.
Some studies have suggested that this may be due to age-related systemic inflammation having a negative impact on both magnesium and testosterone. By supplementing your magnesium intake, you can ensure your testosterone levels stay well ahead of the age curve.
The recommended daily intake (RDI) of magnesium for healthy males is around 400mg. The average diet may supply between 200 and 250mg which leaves you with around 200mg to make up. Testogen supplies you with 750mg per day, which is plenty.
Vitamin B6
The B-vitamin complex is critical to maintaining healthy testosterone production, especially as you get older. B6 cannot be stored in your body and recent studies indicate that, in the West in particular, we are not getting enough in our diets. Vitamin B deficiencies can be catastrophic for testosterone, so it features on the ingredients list for many of the leading T-boosters out there. It helps regulate the production of testosterone and other sex hormones.
Zinc
A major study published earlier this year referred to Zinc as being "an essential element for male fertility" and was cited as being able to prevent infertility as well as treat it. A lack of zinc in your diet will eventually lead to testosterone deficiency and, since your body cannot store zinc, it is indeed essential that you take in healthy quantities of it if you want to boost your natural testosterone. You can read the full study here.
There is plenty of zinc available in the average diet, but the fact that Testogen serves up almost exactly the recommend daily intake (RDI) for adult males means that you are fully insured against zinc deficiency and your body is supported in producing more free testosterone.
Vitamin D3
A common and always welcome inclusion in any testosterone booster, Vitamin D is one of the most reliable ways to increase the amount of free and bioavailable testosterone in your body.
It is essential that you hit or exceed the RDI for vitamin D if you are trying to boost testosterone and many of the studies that have been done in to the effectiveness of vitamin D show that a deficiency of it is one of the most influential factors of having low testosterone.
Vitamin K1
Rather than directly affecting your testosterone-producing system, vitamin K1 has been added to the Testogen formula to support the assimilation of the large quantities of vitamin D the supplement provides. Research shows that vitamin D prompts your body to produce proteins that require vitamin K for carboxylation, and so to prevent build ups of carboxylic acid it is sensible to supplement with vitamin K alongside vitamin D.
D-Aspartic Acid
Scientific evidence conflicts somewhat as to the effectiveness of D-Aspartic Acid (DAA) at boosting testosterone levels. There are some studies that have noted significant increases in bioavailable testosterone, as much as 42% increase, but there are others that record no difference between DAA and a placebo.
DAA works by increasing the production of both Luteinizing Hormone (LH) and Growth Hormone (GH) which are both in some part responsible for producing testosterone. The amount of LH and GH your body produces declines with age and so supplementing with DAA is a tried and tested way of reversing this process.
The dosage in Testogen is a little lower than we would like to see, but considered alongside the rest of the ingredients, it's certainly not an insignificant amount.
Nettle Leaf Extract
Extract from stinging nettles contains a substance that is thought to interact with the sex hormone binding globulin (SHBG) that prevents some of the testosterone in your body from being usable. This substance is 3,4-divanillyltetrahydrofuran (don't ask us to pronounce it) and multiple studies have pointed to it being able to suppress and even stop the binding process altogether, meaning that it could dramatically increase how much of the testosterone in your body is bioavailable.
We should mention that at least a few of the studies done in to the effectiveness of nettle leaf extract were commissioned by manufacturers so may not be impartial.
Red Ginseng Extract 250mg
Ginseng has been linked to many benefits, not only for testosterone levels but also fertility and erectile function. It is a root that has been used in traditional Eastern medicine for hundreds of years to treat symptoms like erectile dysfunction and low libido. Studies in to its effectiveness as a treatment for these issues has been fairly conclusive – it works. In fact, it might be one of the most under-utilised substances in testosterone boosting and it's great to see that Testogen are recognising the potential benefits of this wonder root and including 250mg per daily dose. This is almost the equivalent of rocket fuel for your free testosterone and libido levels.
Fenugreek Extract 200mg
The makers of Testogen are careful to point out that their Fenugreek Extract is derived from the seed. This is important. Whilst the herb Fenugreek has been shown to reduce levels of DHT and help to promote the production of free testosterone, the oil from Fenugreek seeds has also been proven to help with sperm count and libido in men.
200mg is a modest dose compared to other supplements, but because Testogen are extracting from the seed rather than the herb, it should have the desired effect of boosting libido and bolstering your testosterone level.
Boron
Another substance that is thought to interact with SHBG is boron. Unlike nettle leaf extract though, which works to prevent SHBG from working, boron has been shown to reduce the amount of SHBG in your body in at least one major study. This means that more of the testosterone in your body is free to support muscle growth and boost your libido.
Other benefits of boron include increased levels of sex hormones, better absorption of vitamin D and magnesium, reduced risk of inflammation, reduction in oxidative stress and improved cognitive performance, according to the aptly-named "Nothing Boring About Boron" study from 2015.
BioPerine®
BioPerine® is a patented form of Piperine, the active ingredient in black pepper that helps to increase the bioavailability of the other ingredients of Testogen. It has been certified as GRAS (Generally Recognised As Safe) by industry experts. The manufacturers claim that BioPerine® is quicker to be absorbed in your gut and so it gets to work quicker on enhancing the absorption of other ingredients with which it is consumed.
---
---
Pros
Contains all the usual suspects in the ingredients list, plus some carefully chosen guest stars that go together to create a powerful and effective formula
Boosts testosterone naturally
Contains ingredients that have been shown to boost libido, improve sexual performance, and help treat infertility
One of the most common benefits listed by users of Testogen is that it helps them maintain and create noticeably more muscle.
Competitively priced
Cons
We would like to have seen more B vitamins in the formula for Testogen, specifically B12.
There is limited information regarding dosages of some of the ingredients
Only available direct from the manufacturers
You will need to remember to take four capsules a day
Who Takes It?
Men in need of a boost in the gym or between the sheets should consider Testogen.
How To Take It?
Take 4 capsules once per day 20 minutes before having breakfast.
After 2 months continuous use, take a break for 10 days, then repeat.
Safety & Side-Effects
As with any T-booster, it is important to follow the dosing and cycling advice from the manufacturer as many of the ingredients can have adverse effects if you overdose.
Symptoms can include nausea, dizziness, cramping, vomiting and diarrhoea.
Conclusion
The evidence suggests that Testogen can help to maximise free testosterone naturally as well as support libido and sexual performance. The formula has great synergy and contains a lot of scientifically-backed ingredients.
It is nice to see Testogen embracing some traditional ingredients from Eastern medicine as well such as ginseng.
Testogen is creating a strong buzz, and we're happy to recommend it as a decent T-boosting option for libido and muscle-building in particular.
---
» See the #1 Testosterone Booster This Year «
---