This page may contain affiliate links and we may earn a small amount of money from any products bought. Our reviews, however, remain independent and impartial.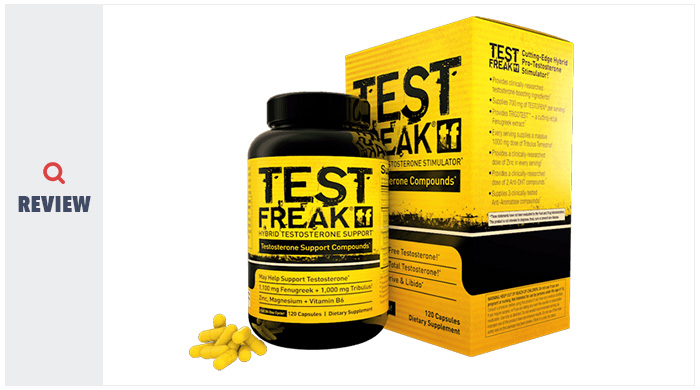 Test Freak is our third highest ranked testosterone booster on the market in 2016. It may not make the top spot, but it still mixes the right ingredients to create a decent T-booster, and comes with an added benefit – it acts as a sex enhancer as well.
Its marketing suggests that Test Freak is an all-natural product that can help to boost free testosterone (the kind available for use by the body) and promote libido and sex drive.
From award-winning manufacturer PharmaFreak, its testosterone-boosting effects may be modest when compared to products such as Prime Male and TestoFuel, but its sex enhancing properties will no doubt be a winner.
---
» See the #1 Testosterone Booster This Year «
---
 The Ingredients

Cheaper Form of ZMA
Test Freak combines vitamin B6 (Pyridoxine HCl) with magnesium citrate and zinc acetate, effectively making its own ZMA complex. It's a cheapened form, and some of the ingredients could be included in higher dosages (magnesium) or premium versions (P-5-P is a better form of B6), but it should still do the trick.
ZMA, a well-known sports nutrient, helps to boost strength and promote sleep, aiding quicker muscle recovery. It makes for an effective muscle booster.
Proprietary Testosterone Support Complex, 2.1 g
Unfortunately, we're back to proprietary blends, a way of hiding exact dosages behind a veneer of exclusivity. Sigh. Can you tell we're not fans? The testosterone support blend totals 2.1g but we can't know exactly how much of each ingredient is included.
The ingredients rely heavily on fenugreek, one of our 'maybes' in our Testosterone Boosting Ingredients That May Work. Specifically, it includes:
TESTOFEN® Fenugreek Extract: This is branded quality standardised fenugreek, which claims to boost libido and maintain testosterone. It is paired with PharmaFreak's own trademarked fenugreek extract TRIGOTEST™, standardised for different saponins. The final ingredient is Tribulus Extract, again standardised to premium quality, more helpful for physical performance and as a sex enhancer than a T-booster.
Good premium ingredients but fenugreek is a moderate testosterone-booster at best.
Proprietary DHT Support Complex, 280 mg
Now this is a good idea. A strong complaint about fenugreek is that even if it does improve testosterone efficiently, it prevents the body from creating DHT, a male hormone that is even stronger than testosterone. This complex seeks to address that by offering exclusive support for DHT.
It includes just two ingredients – Stinging Nettle and Saw Palmetto Extract. Both help to maintain levels of testosterone without infringing on DHT.
Proprietary Oestrogen Support Complex, 150 mg
This blend is another good idea. Resveratrol, plus hesperidin and apigenin, all natural compounds, help to prevent the conversion of testosterone into 'girly hormone' oestrogen, maintaining a healthy testosterone-oestrogen ratio.
---
---
 The Pros
• Test Freak is intended to increase free testosterone, ensuring plenty of bioavailable testosterone for the body.
• Fenugreek and tribulus help the product to act as a sex enhancer as well.
• Test Feak also optimises oestrogen, and boosts the testosterone to oestrogen ratio.
• It uses good quality patented and standardised herbs.
• All-natural product.
• It offers no less than three support complexes, plus the in-house form of ZMA, all in one supplement.
• Its DHT support complex is particularly clever.
The Cons
• Proprietary formulas hide exact dosages.
• The home-grown ZMA complex should work but is in a weakened form and doesn't compare to a product like Prime Male. More magnesium, plus a better version of vitamin B6, would have ramped up its potency. As such, it can only really promise moderate muscle boosting.
• Test Freak will probably only really deliver a moderate testosterone boost too. If you're looking for big gains, this isn't the supplement for you.
• It misses out on many of the best testosterone boosting ingredients out there.
Who Takes It?
Test Freak is heavily geared towards the bodybuilders and gym 'freaks', those searching for extreme results. They should appreciate Test Freak's testosterone AND physical performance-enhancing combination.
Safety/ Side Effects
PharmaFreak says Test Freak is not known to cause any negative side effects among healthy users. That's probably true, but there is some anecdotal evidence of a minority of customers suffering from irritability, anxiety, acne, and sleeplessness. Another common 'complaint' is a maple syrup-type odour in their sweat, a side effect of fenugreek.
Health Warnings
The usual health warnings apply – first speak to your doctor if you are on any medication or have a medical complaint, and women should not use if pregnant or breastfeeding. Not intended for anyone under 18.
How to Take It
You should take four capsules every day on an empty stomach (at least 30 minutes after your last meal) and with 8oz of water. Use every day for eight weeks for maximum effect, and then stop taking for two weeks before using again should you want to.
Does It Work?
It depends what you're looking for. If you are hoping for big testosterone gains, you might be disappointed with the more moderate boost that Test Freak can supply. If you are happy to sacrifice some testosterone boosting for physical and sexual enhancement, however, then Test Freak could be the perfect choice for you.
Conclusion
Despite its modest testosterone gains, Test Freak is a quality product worthy of being ranked third in our Best Testosterone Boosters of 2016 ranking. It has a clever formula that makes the most of the ingredients it has, while providing some solid all-round benefits. It is a good choice for anyone with moderate to low testosterone, low libido and who is looking for a moderate muscle gain boost. The younger anabolic crowd may appreciate this.
---
» See the #1 Testosterone Booster This Year «
---