This page may contain affiliate links and we may earn a small amount of money from any products bought. Our reviews, however, remain independent and impartial.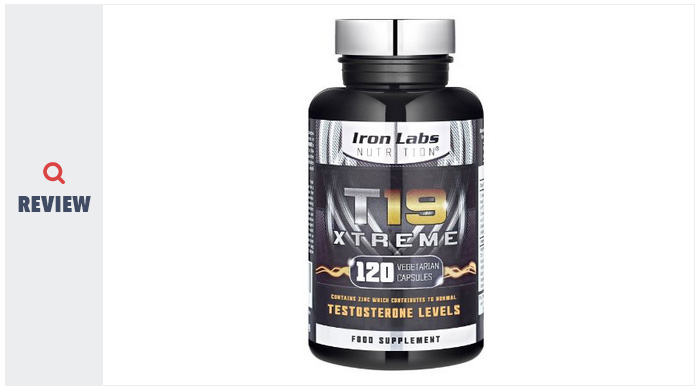 T19 Xtreme is a testosterone boosting supplement from British company Iron Labs Nutrition which promises to boost muscle strength, performance and endurance, and to work in and out of the gym.
Aimed at men aged 40 and over, T19 Xtreme pledges to support muscle recovery and function, thus boosting training intensity, as well as supporting life outside of workouts, such as improving energy and mood.
The product is made at a GMP certified facility in the UK.
---
» See the #1 Testosterone Booster This Year «
---
 The Ingredients
D-Aspartic Acid (2,000mg)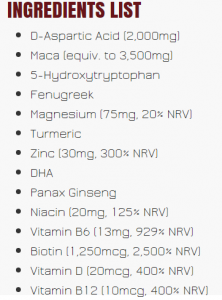 D-Aspartic Acid (DAA) is an amino acid that acts as a messenger between the brain and the leydig cells found in the testes, and has been proven to significantly improve testosterone levels in the body – and quick. One Italian study demonstrated that DAA boosted testosterone levels by as much as 42% in just 12 days (taking 3g a day).
It should be pointed out, however, that another more recent study published in Nutrition Research found no testosterone increase in resistance-trained men after using 3g of DAA for 28 days. The disparity is likely to be down to the different status and base testosterone levels of the participants. As such, DAA is widely recognised as being particularly effective for older men with naturally-declining testosterone levels. Hence its inclusion in T19 Xtreme, which the manufacturers suggest is aimed at men 40-years and above.
The 2000mg contained here is on the lower side of the standard dose (which is between 2,000 – 3,000mg) but should hopefully be effective enough.
Magnesium Oxide (75mg)
Magnesium helps to relax the muscles, thus aiding muscle recovery. Research shows that it also boosts free testosterone and total testosterone in athletes and sedentary males.
It is believed to work by blocking the sex hormone binding globulin (SHGB) from binding and neutralising testosterone.
It's just a shame that T19 Xtreme uses magnesium oxide and not a premium form such as magnesium citrate, which would be easier to absorb. Gastrointestinal upsets are also more common from this type of magnesium than others. The amount of magnesium in T19 Xtreme is also low; a typical dose of magnesium is between 200-400mg.
Zinc Citrate (30mg)
Zinc performs so many crucial functions in the body, including the promotion of dopamine (tackles stress during intense workouts), the boosting of muscle growth, and the production of testosterone. Supplementing zinc for as little as six weeks has been shown to increase testosterone levels, while reducing zinc in the body significantly decreases it. Zinc triggers testosterone production and synthesis; it also neutralises prolactin, the 'female' hormone.
T19 Xtreme uses zinc citrate, which we think is the best choice as it is both affordable and absorbable (as opposed to zinc picolinate which may be a little better but is a lot more expensive). Zinc citrate is 34% by weight so a 30g dose will equal 10.2g of zinc. This is considered a low to moderate dose, not high enough for a severe zinc deficiency. If you believe you are deficient in zinc, you may want to opt for a ZMA supplement instead.
Vitamin D3 (20mcg)
The best form of vitamin D but one that most people don't get in their food or get enough of from the sun. Vitamin D3 in particular releases leutenizing hormones which encourage the release of testosterone, giving an 'across-the-board' testosterone boost.
Vitamin B12 (10mcg)
Vitamin B12 is a vitamin that cannot be made within the body but is crucial for the production of hormones, red blood cells and DNA, among other things. While it is a crucial vitamin that the body needs, not much research has been done on its potential testosterone-boosting abilities.
One study in 1984, however, examined the effect of vitamin B12 on 26 infertile men, giving them 1,500 µg of vitamin B12 a day for between four and 24 weeks. While total testosterone levels were unchanged, sperm counts increased in 14 cases. Testosterone is, of course, important in sperm production, so there is some suggestion that vitamin B12 could affect sex hormone-binding globulin (SHBG) levels and boost the synthesis of testosterone.
Vitamin B6 (13mg)
Like vitamin B12, little research has been done on the influence of B6 on the production of testosterone. Vitamin B6 is needed to form haemoglobin which takes oxygen around the body in red blood cells. It is also important for infection, production of insulin and more.
Only one real study that we can find examines its role on testosterone, going back to 1984 and carried out on rats. Six week old rats were deprived of vitamin B6 for four weeks and their testosterone levels examined Their levels in blood plasma were significantly lower after four weeks though it didn't seem to have any effect on luteinizing hormone. The researchers theorised that animals deficient in B6 may have a reduced rate of testosterone synthesis.
Biotin (1,250mcg)
Technically known as vitamin B7, Biotin is an essential vitamin and is currently marketed for improving skin, hair and nails (though there is no scientific evidence that it works for this purpose). There is some suggestion that its role as an enzymatic cofactor may cause it to interact with glucose, but again research is needed.
With regard to testosterone, a study has shown that a biotin deficiency can cause lower testosterone and luteinizing hormone levels, and that administering biotin can reverse the trend. This is a promising study but it should be pointed out that was only done on rats and not humans. Much more research is needed to determine the importance of biotin on human testosterone levels.
Turmeric Extract (95% Curcumin)
Scientists theorise that oxidative stress in the leydig cells within the testes can reduce testosterone production. They also theorise that antioxidants, such as those found within curcumin, can reduce that oxidative stress enough to boost testosterone.
A Nigerian study* found that a group of men taking curcumin had a 260% higher concentration of testosterone than a control group taking gallic acid alone. Another group taking both gallic acid and curcumin experienced 180% more testosterone than the control group.  Another study by Zhang et al also seems to suggest that curcumin can reduce oestrogen production as well.
* Abarikwu SO, Akiri OF, et al. Combined administration of curcumin and gallic acid inhibits gallic acid-induced suppression of steroidogenesis, sperm output, antioxidant defenses and inflammatory responsive genes. J Steroid Biochem Mol Biol 2014;143C, 49-60.
5-HTP
5-HTP is a pre-cursor to serotonin, one of the principal neurotransmitters responsible for happiness and fighting depression. Serotonin isn't linked directly to testosterone, but is connected to sexual desire and function. As such, it is likely to be included in T19 Xtreme for its aphrodisiac effects.
DHA (25g)
Docosahexaenoic acid (DHA) is a nootropic and an omega-3 fatty acid; you'll probably know it better as fish oil. Some people say it helps to reduce muscle soreness after workouts. Your body also needs enough fat – 3 to 5g of essential fats a day is recommended – to be able to produce testosterone and other hormones.
Panax Ginseng
Ginseng is considered to be pretty impressive at boosting sex drive and performance, which could be related to testosterone. One study found that Panax ginseng seemed to boost free testosterone and DHT in men. In short, it might offer a small testosterone boost, but it should do far more for libido and sexual performance. We won't sneer at that.
Niacin (20mg)
Niacin or vitamin B3 supports the function of many enzymes, and is particularly linked to improved cholesterol and triglyceride levels. It helps to produce the healthy HDL cholesterol in particular. Given that testosterone is made from cholesterol, it follows that niacin has an influence on testosterone production.   Research has also shown that niacin can positively influence muscle growth and mass.
Fenugreek
Fenugreek definitely has its place and its uses… namely to aid in muscle recovery and as an impressive sex enhancer. But as a testosterone booster, well, the only studies that prove it works were carried out by fenugreek manufacturers. Call us cynical, but we would like more independent verification of its testosterone-boosting prowess.
Fenugreek also blocks the production of DHT (Dihydrotestosterone), which is an even stronger male sex hormone than testosterone. We don't know what dosage is included in T19 Xtreme, but if nothing else it may help boost your sex life.
Maca (3,500mg)
Iron Labs Nutrition seems to have fallen for the hype around Maca. The root vegetable from South America is a popular male aphrodisiac, but it doesn't do much for testosterone. That said it has been shown to boost sex drive and physical performance, so it's understandably a popular addition to testosterone stacks. Just don't be fooled that it's doing much for your testosterone.
---
---
 The Pros
T19 Xtreme uses several proven ingredients for testosterone boosters, including zinc, magnesium, B vitamins, and D-Aspartic Acid.
It is good to see a testosterone booster deliberately aimed at the older market, specifically for men aged 40 and over. This is the group who probably needs a testosterone supplement the most.
Iron Labs Nutrition is a British company and has a good reputation with strong customer service.
T19 Xtreme is sold on Amazon and has a four out of five rating from 34 reviews on Amazon UK.
The majority of users praise T19 Xtreme for its ability to help with muscle recovery and muscle building.
Happy customers also say T19 Xtreme encourages better sleep and an overall improvement in mood.
Users have noticed a boost in energy after taking T19 Xtreme.
The capsules used are suitable for vegetarians and vegans.
The Cons
While many of T19 Xtreme's ingredients are proven effective at raising testosterone levels, Iron Labs Nutrition lets itself down by not always including premium versions. The D-AA-CC form is easier to absorb than plain DAA, for instance. Likewise, as older men may have problems absorbing magnesium, a premium form such as magnesium citrate would be more effective than magnesium oxide which is relatively poor for absorption.
Some ingredients seem to be included for their influence on libido and sexual performance, as opposed to testosterone. Allowing 3,500mg of Maca with no evidence of testosterone influence does seem to be a waste, but then T19 Xtreme does promise to help both inside and outside of the gym so boosting your sex life is obviously also high on the agenda.
While the majority of reviews are positive, some people did complain that T19 Xtreme just didn't do anything for them; one unhappy customer also complained of heartburn when taking the supplement.
The ingredients list on Amazon UK, where Iron Lab Nutrition has a shop, is a little different to that on the official website. The latter also includes DHA and ginseng (hence the inclusion above). Likewise, the official website also doesn't promote Amazon UK as a qualified seller, even though they have a shop on there. This is confusing.
You have to remember to take five capsules a day.
Customer Reviews
The following reviews are from Amazon UK.




Safety/ Side Effects
There have been few reports of any side effects with T19 Xtreme, suggesting that it is mostly well tolerated. It is a fairly new product, however, compared to other testosterone boosters on the market, so you would be wise to follow the instructions carefully.
Health Warnings
Iron Lab Nutrition's website does not carry any health warnings, but it is probably safe to assume the usual warnings apply.  Not recommended for under 18s or women, and anyone suffering from a disease or on medication (plus pregnant/ lactating women) should first seek medical advice before taking.
How to Take It
Take five capsules each day, three in the morning and two in the afternoon. The absorption of zinc, one of the ingredients, is hampered by calcium, so be sure not to take anything with calcium at the same time.
Does It Work?
According to the majority of reviews we can find, T19 Xtreme does what it says on the tin. It promises – and delivers – gym-related benefits, such as muscle recovery and the ability to train harder, as well as elevating mood and energy. The majority of reviewers are happy with it.
Conclusion
T19 Xtreme tries to be a solid formula, combining together recognised testosterone boosting ingredients such as D-Aspartic Acid as well as magnesium and zinc. In theory, the combination should offer a good all-round testosterone boost.
It is a shame, however, that the manufacturers opt for cheaper but less absorbable magnesium oxide, and only include a low to moderate doze of zinc (not enough for any zinc deficiency). As there is evidence that zinc only potentially works if you are already deficient in it, we're not sure how much value the zinc has here.  The same is true of D-Aspartic Acid of course, so this supplement is probably only an option for people with low levels of testosterone to begin with (low levels of zinc aside). It makes sense now why Iron Labs Nutrition aims this product at men aged 40 and over.
We also suspect some of the ingredients – Maca, for instance – are offered more for the buzz than for any influence on testosterone. While we wouldn't complain if it delivered a libido and sexual function boost, it takes up the majority of space (3,500mg). We would have preferred to see a lot more space given over to the real testosterone boosting ingredients in the mix instead, namely D-Aspartic Acid, zinc and magnesium.
To call it Xtreme may be overstating it as reviews suggest the effects are subtle (probably as a result of the weaker dosages I mentioned) and may take a little while to kick in, but it does seem to do what it promises for the most part.
---
» See the #1 Testosterone Booster This Year «
---