This page may contain affiliate links and we may earn a small amount of money from any products bought. Our reviews, however, remain independent and impartial.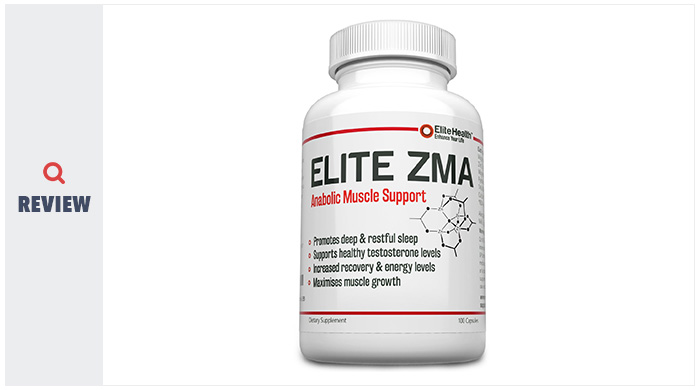 After the age of 30 (some say 25), most men begin to experience a gradual decline in the amount of testosterone in their body. It's a natural process but it doesn't follow that it's a pleasant one. Testosterone is the main hormone associated with muscle mass, bone strength and sex drive, so it can be quite a potent loss for some.
Testosterone supplements such as all-natural Elite ZMA (zinc magnesium aspartate) can help to replace the lost testosterone, and is particularly popular among bodybuilders, athletes and anyone wanting to gain and maintain strength and muscle mass. It is a sleep-inducing supplement that helps the body repair quicker after intense exercise by encouraging deep and restful sleep.
---
» See the #1 Testosterone Booster This Year «
---
 Ingredients
Elite ZMA uses one of the most popular set of ingredients for testosterone boosters, a combination of zinc, magnesium and vitamin B-6.
Zinc
The micro mineral Zinc is involved in more than 200 enzymatic reactions and the production of various different hormones, including growth hormone, insulin, oestrogen and testosterone.
Heavy exercise (and sweating) can cause a zinc deficiency, which in turn can impact on testosterone levels. Supplementing with zinc can boost those levels once again. One study fund that healthy men with moderate zinc deficiency doubled their testosterone levels in six months, simply by taking 30mg of zinc supplementation a day.
Magnesium
Magnesium is potentially even more important in the body than zinc, involved in more than 300 enzymatic reactions. These include glycolysis, nucleic acid synthesis, amino acid activation and protein synthesis, among many others. A magnesium deficiency, therefore, can impair muscle growth and testosterone in many different ways.
It is the magnesium in ZMA, an anabolic formula, which encourages muscle relaxation and sleepiness. The muscles recover quicker by being forced to relax during sleep.
Vitamin B6, as pyridoxine
Vitamin B-6 has significant implications on protein synthesis, and is particularly important in allowing the body to unlock carbohydrate energy. It can also reduce the impact of certain catabolic steroids, such as cortisol. A stronger testosterone to cortisol level helps in muscle building.
Manufacturers Elite say that ZMA may help to promote healthy sleep, boost muscle repair and support hormone levels. They say Elite ZMA helps improve recovery times between workouts and gives your body the zinc it needs to increase natural levels of testosterone, which in turn helps to enhance overall muscle tissue levels.
Studies
ZMA is one of the few natural testosterone boosters that has been proven to work. In a Western Washington University study by Dr. Lorrie Brilla (and, it must be pointed out, a ZMA supplement manufacturer), 12 NCAA division II footballers took ZMA nightly for eight weeks, with a separate group assigned a placebo.
The ZMA athletes enjoyed 2.5 times the muscle strength gains that the placebo group did, and had a 30% increase in testosterone levels (only 10% in the placebo group).
Conflicting Evidence
The study mentioned above showed impressive results with ZMA, and has been used as the 'bible' for ZMA supplementation. However a later 2004 study saw no such results.
The study tested 42 resistance trained men and found no noticeable effect on zinc or magnesium levels, or any boost in training. However, they did note that the participants involved already had normal zinc levels.
The researchers concluded that further research was needed to determine if ZMA could benefit people with zinc deficiencies, different populations (females, untrained men, elders) or if greater amounts were needed to see any effects on already resistance trained men.
---
---
 The Pros
Elite ZMA is a popular choice on Amazon.co.uk, rated 4.7 out of 5 stars.
At the time of writing, it is one of the most popular ZMA supplements on Amazon.
According to numerous positive reviews on Amazon, Elite ZMA does what it promises and encourages deep and restful sleep.
Most customers report waking up feeling more refreshed than usual when taking Elite ZMA.
Happy customers also praise its ability to aid in muscle recovery, reducing the soreness after an intense workout.
The tablets are odourless and tasteless and therefore easy to take.
While a fair amount of reviews on Amazon.co.uk are not verified purchase but from people who have been sent the product free for an 'independent review' (see the Cons below for more on this), there are only three negative reviews at all. That alone speaks quite well for Elite ZMA.
The Cons
Anyone who is not deficient in zinc or magnesium may not notice much of an effect when taking ZMA.
One customer reported feeling light headed after taking Elite ZMA.
ZMA seems to contribute to intense and vivid dreams, which may or may not be what you want. Users also warn that if you only intend to sleep for a little while, you may find it hard to wake up after taking this supplement.
A lot of the reviews on Amazon are not verified purchase, and it seems Elite have sent a lot of products to reviewers in exchange for an 'independent review'. This is a common practice, so it doesn't necessarily have to be a negative, but it is something to bear in mind when looking at the overwhelming positive reviews on Amazon.co.uk.
Elite ZMA carries a warning that it is processed in a factory that processes potential allergens such as nuts, milk, egg, fish and more.
Calcium can prevent the absorption of this supplement, so you should avoid it at the time of taking this supplement.
Customer Reviews
The following were taken from Amazon.co.uk, the only place where Elite ZMA seems to be sold.




Safety/ Side Effects
As a rule, ZMA seems to be mostly well-tolerated. However, it has been linked to some side effects, such as snoring and sleep apnoea. Serious side effects reported also include cardiovascular symptoms, caused by an overproduction of red blood cells due to the anabolic effects of ZMA.
Certain testosterone boosting supplements, including ZMA, have also been linked to enlarged prostate glands, acne, enlarged male breasts, fall in sperm production and male pattern baldness.
Health Warnings
Elite ZMA is not recommended for anyone under 18; anyone already on medication or suffering from a medical condition should consult their doctor before taking. As with any medication, pregnant or lactating women should first consult their GP, though testosterone boosters are not recommended for women. Women who take ZMA may suffer from increased aggressiveness and body hair.
How to Take It
Elite ZMA should only be taken once a day (one capsule a day), preferably on an empty stomach 30-60 minutes before bed. Do not take with diary or any other foods or supplements containing calcium.
Does It Work?
Even leaving aside the issue of free products for reviews seen on Amazon, by far the majority of Elite ZMA users seem very happy with it. The majority of research does suggest that it should work, albeit it might not if you already get all of the zinc and magnesium that you need from your diet. If you are deficient, however, there's no reason not to assume that you should see noticeable results from it.
Conclusion
ZMA is one of the most popular natural ingredients in testosterone boosters, and Elite ZMA seems to offer an effective branded supplement of it. If you think you might be deficient in zinc and/ or magnesium and want to improve your sleep and muscle recovery, it is probably worth trying. If you believe you have enough of the minerals in your diet, ZMA will probably be next to worthless for you.
---
» See the #1 Testosterone Booster This Year «
---