This page may contain affiliate links and we may earn a small amount of money from any products bought. Our reviews, however, remain independent and impartial.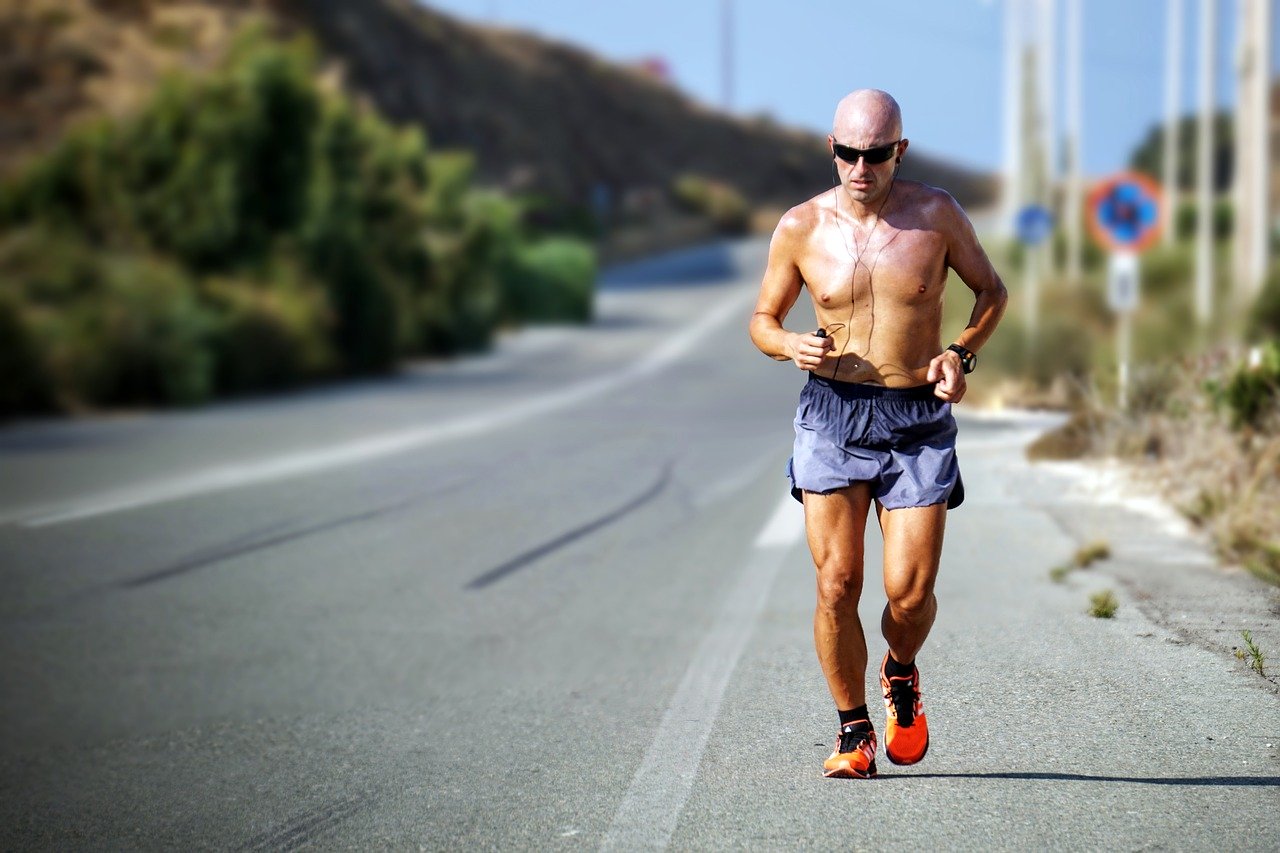 The point of a testosterone booster is clear from the name: it's a type of supplement that aims to support and improve hormonal wellbeing in men.
It's no surprise that testosterone levels are important for muscle growth, mood, and performance. The bad news is that testosterone levels  begin to fall by 1% each year from the age of 30. Meaning, most of us aren't living at optimal levels and it can be useful to provide these supplements if your diet or other areas of your nutrition aren't providing them.
Be aware that some T-boosting ingredients are intended to fight deficiency, while some not only combat deficiency but also promote optimal levels and improved kinetics in the body.
It's important to know which ingredients are which; finding the latter can bring benefits at a significant level, so it's worth knowing what to look for. Carry on reading to find out more.
Why You Might Need T-Boosters
There are three key reasons that we think testosterone boosting products could be useful – and they're broad in their application. They include…
Testosterone Boosters and Performance
… and that word 'performance' can have a lot of implications.
Male performance across exercise, wellbeing, mental performance, and sexual wellbeing are all tied into testosterone. It is the essentially male hormone and it does a lot in the way you feel and live.
Exercise performance – from strength to muscle to fat loss – depends on the proper hormonal environment. You can combine a good testosterone booster with great lifestyle habits and bring out your best gains.
Equally, performance across the rest of life tends to improve with better hormonal health. Mood, energy, libido, and other systems all interact with testosterone. If you're deficient, you'll benefit even more from these kinds of changes, since restoring healthy hormone levels is a key to better quality of life.
Protective Effects Against Stress/Fatigue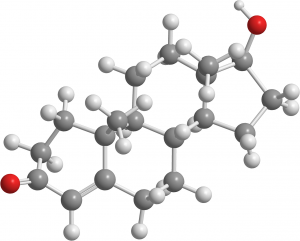 Even if you're not sure what your hormonal health is right now, support for anti-stress and fatigue is key.
There are often protective effects to testosterone boosters. Compounds like DAA are great for supporting you through tougher times and ensuring you don't tank your testosterone production while you're pulling late nights at the office or doing tough training.
The protection is great, and it offers a welcome benefit on top of the short—and long-term – testosterone support.
General Benefits of Good Testosterone Booster Supplements
Strong T-boosting ingredients often have multiple benefits, not just related to T production. These are often antioxidants or libido boosters or mental performance support, on top of being good for your hormones.
The dual-action of compounds like L-Dopa for instance, for both the mind and the body, are fantastic. These are quality health and wellbeing supplements and they add a lot to a good test booster.
How Do T-Boosters Work?
The general idea is that hormonal health relies on proper nutritional levels. Your body takes raw materials from the diet to produce hormones, but also to regulate their production and kinetics.
For example, deficiency in vitamin D can drastically reduce the production, circulation, and action of crucial hormones. These range from testosterone to HGH, both of which are important for health (both physical and mental) and long-term physical performance/change.
Testosterone boosters and similar supplements attempt to support these aspects with nutrition. There are direct examples (like the vitamin D we just mentioned) while secondary or indirect methods could include the improvement of sleep quality and how it affects hormones.
Let's look now at some of the best ingredients for testosterone support….
Key Ingredients for the Best Testosterone Support
Vitamin D: Deficiency and Optimal Levels for Testosterone
This is a classic vitamin supplement: vitamin D is the most common nutritional deficiency in the developed world. It represents a significant nutritional problem and even the RDA for vitamin D may well be below optimal levels.
The result is that hormonal health predicated on this vitamin significantly benefit from proper supplementation. It's possible to get this elsewhere – it's not always the role of a T-Booster. For example, D3 supplementation is common, while cod liver oil offers an alternative supplement source alongside some other beneficial nutrients.
However, if you're using a T Booster with added vitamin D3, it helps address the problem, while providing other means of T-boosting at the same time. It's not an essential addition, but it is great.
Zinc: A Classic Testosterone Mineral?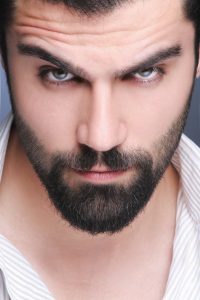 Zinc deficiency is a real problem, and proper zinc intake is a serious player in developmental hormones. It's less of a problem as an adult but still plays into proper energy/hormonal health and wellbeing.
Proper zinc supplementation is rarely taken in adults and some testosterone boosters take this path to better wellbeing. It offers another anti-deficiency supplement, which is beneficial if you're on the way to getting your diet together and can bridge the gap effectively.
The results are likely to be best when combined with other, similar nutrients, and it makes most sense as a secondary ingredient. We like to see vitamin/mineral supplementation, but it doesn't produce significant testosterone boosting results by itself.
Magnesium: The Universal Co-Enzyme
Much like Zinc, this is a compound that offers anti-deficiency benefits more than direct benefits to testosterone levels or hormonal health. This is a great combination with Zinc, for example, since they fill a similar niche.
Proper supplementation here is a great choice but shouldn't be considered primary. As with zinc, deficiency is common and problematic, but more magnesium doesn't necessarily mean improved hormonal wellbeing/performance.
The indirect benefits of magnesium are huge however; magnesium helps the body to absorb and to use other nutrients, such as potassium, vitamin D, calcium and phosphorus. It also helps to improve energy metabolism and seems to have some effects on the regenerative effects of sleep.
Better sleep and combatting magnesium deficiency make it a great secondary ingredient. It doesn't do enough by itself, but it does contribute to an improved overall profile of recovery benefits and a better nutritional environment.
D-Aspartic Acid and Testosterone
This is one of the best compounds for short-term change to your hormonal profile, with a direct and remedial effect on testosterone levels.
This is primarily useful for changes to your endocrine health and supporting yourself during times of significant stress. This could be during a particularly intense training programme or during a period when work or life stress contributes significantly to your recovery needs.
This isn't a long-term benefit but – when combined with other nutritional approaches to testosterone support – it provides a comprehensive strategy. The support of short-term health is always useful but shouldn't be the only ingredient, as it forms a foundation only.
A combination of the vitamin/mineral support mentioned above and DAA is a great place to start.
Luteinizing Hormone and Testicular Testosterone
Boosting your luteinizing hormone level  is one of the most effective ways of contributing to improved testosterone levels in men. The testes are key for testosterone, and luteinizing hormone is one of the key factors in the testicular production of testosterone.
Improving this intermediary – or supporting testicular health with improved antioxidant action – is likely to support testosterone levels and regulation. This is one of the most important and effective ways of improving hormonal levels, binding, and kinetics – above and beyond the anti-deficiency compounds.
This is also great for general sexual health and wellbeing among men, where the health of the testes is a root for many health markers. We like the support that compounds like Luteolin offer for the testes and your LH levels.
Support here is a great thing for your mood, sexual wellbeing, and regulating hormonal production/circulation.
L-Dopa: Mind and Testosterone Gains?
One of the interesting factors in testosterone release is the multi-faceted compound L-dopa, found in velvet beans known as Mucuna Pruriens.
This is a compound that is primarily associated with mental health and mood, but also plays into the luteinizing hormone step we mentioned above.
The L-Dopa is a pre-compound for dopamine which is a key player in things like mood and the experience of fatigue. Equally, however, it is a preliminary in the signalling pathway for the action of LH (via GnRH) and thus testosterone.
By regulating and signalling for the earlier steps in the testosterone-release process, it offers a significant benefit to the production you can achieve. It should be both anti-deficiency and offer some modest benefits to testosterone production on its own.
Keeping all the above in mind should help you to choose a great T-Booster. To make it even easier for you, we've researched the industry to bring you our favourite T-boosters on the market today…
Top T-Boosters to Buy in UK in 2020
Performance Lab SPORT Testosterone Booster (Best Overall Test Booster)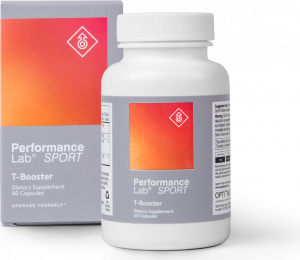 The Performance Lab SPORT Testosterone Booster is our top T-boosting product, thanks to its comprehensive and well-balanced formula that supports and encourages testosterone via several different pathways.
Its ingredients include:
Ashwagandha (KSM-66®) 300mg
D-Aspartic Acid Calcium Chelate 300mg
Mucuna Pruriens 150mg
Luteolin 30mg [from orange extract (fruit)]
Zinc (NutriGenesis™) 15mg
Magnesium (NutriGenesis™) 25mg
Boron (NutriGenesis™) 3mg
Vitamin D (NutriGenesis™) 1000IU
Vitamin K1 (NutriGenesis™) 20mcg
Vitamin K2 (NutriGenesis™) 5mcg
Performance Lab T-Booster tackles testosterone via ALL the methods we discussed above, including:
L-Dopa (via Mucuna Pruriens)
Luteinizing hormone (via Luteolin)
D-AA (via D-Aspartic Acid Calcium Chelate, a premier form of D-AA)
Magnesium, zinc and vitamin D supplementation.
The benefits include the vitamin/mineral supplementation, as well as proper LH support – which is a great pro-testosterone benefit.
The DAA is a great short-term patch and protective for your testosterone levels, which is great. We're glad to see the combination too with chronic ingredients like Luteolin and L-Dopa, offering a more extensive and reliable long-term T boost.
These combinations are great for their synergistic benefits, but they also come with a clean label approach in Performance Lab T-Booster. This means they are free from common allergens, contain no soy, GMOs or other unnecessary chemicals, and benefit from a closely regulated FDA-certified manufacturing process. Performance Lab T-Booster is also 100% vegan friendly.
The result is a product that does what it says – and combines ingredients beautifully – without any unnecessary complications or risks. Great ingredients and a great design philosophy bag this product our #1 testosterone booster spot. It's also easy to take – just two tablets once a day.
It's also part of a range that is designed to work well together, for example, combining the T-Booster with the Performance Lab Fat Burner to boost testosterone while aiding fasted training. Or combining it with Performance Lab Sleep, a sleep supplement that can improve hormonal action during rest. Synergies come in layers and the more you can get, the better the result.
All Performance Lab products are designed to be used alone or safely in combination with one another, according to your preference. Giving you a huge amount of flexibility over your supplementation regime. Yet another reason that we highly rate the Performance Lab range of products.
Read our Full review of Performance Lab SPORT T-Booster
BUY: Performance Lab T-Booster from the official Performance Lab website
Hunter Test (Best Testosterone Booster for Older Men)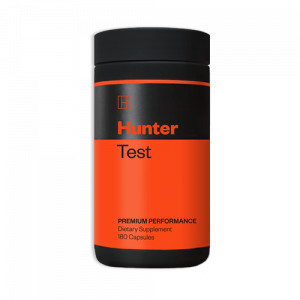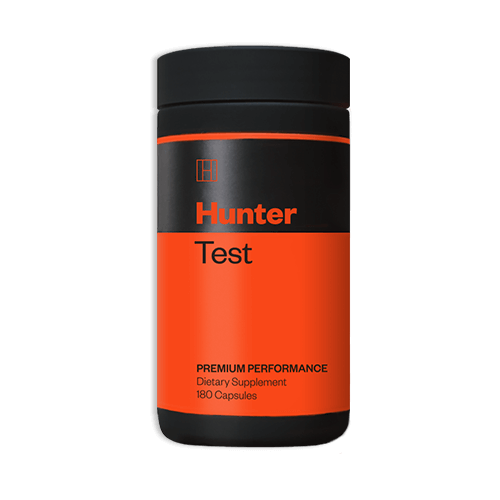 Hunter Test is part of a male-focused group of products from Roar Ambition which also boasts Hunter Focus (nootropic) and Hunter Burn (fat burner).
Again, all are designed to be used together if preferred, providing a wide range of support for male hormones and health.
The main work from this product comes from the vitamins/minerals and the DAA. The combination provides a short-term benefit to testosterone levels and can combat test-limiting deficiencies, but it doesn't have the Luteinizing hormone boost we saw with Performance Lab T-Booster – so what does it do instead?
It gives us the combination of ginseng and ashwagandha, an interesting one for general wellbeing that may also contribute to fighting stress. The main role is in providing support to infertile or testosterone-deficient men (which can be any man in their 40s and over, thanks to the 1% decline in testosterone each year) , while also offering a protective effect on your hormones.
Full ingredients include: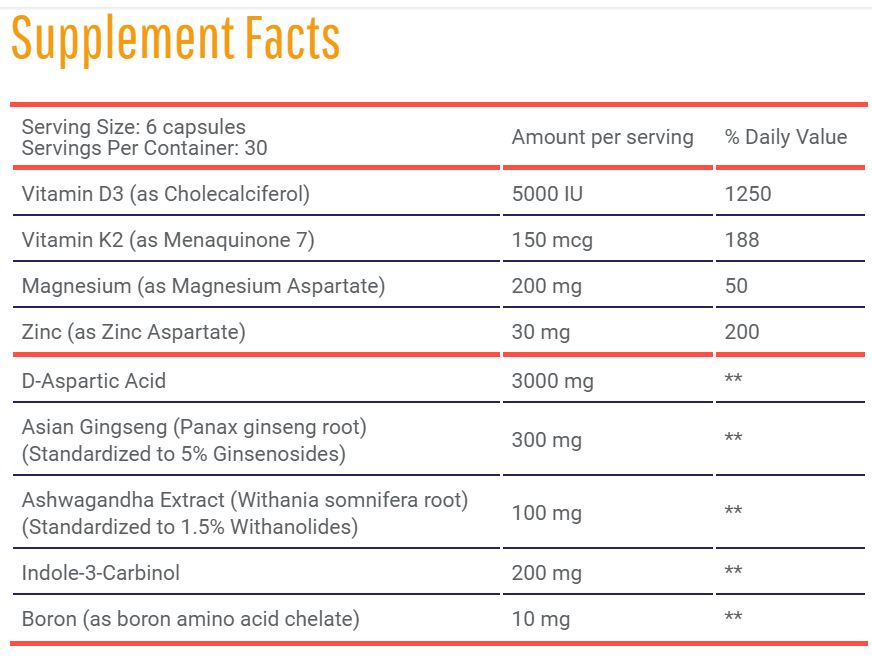 Overall, a strong product primarily designed to support older men. It's all about health-boosting compounds alongside DAA and Ashwagandha, helping you re-gain control over your hormones and manhood. Note that it contains gelatine so is not suitable for vegans or vegetarians.
Read our Full Review of Hunter Test
BUY: Hunter Test from the manufacturer
Prime Male (Best T-Boosting 'Vitality Complex' / Most Versatile T-Booster)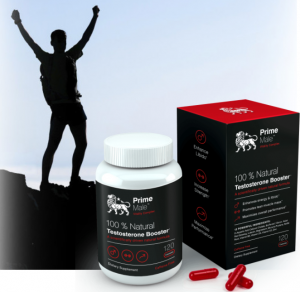 Prime Male, by Propura, leans on a combination of ingredients we've already seen with other products – vitamins, minerals, DAA, L-Dopa and luteolin being the main players.
We like this combination for its anti-deficiency ingredients, plus its support for short-term testosterone production, as well as some long-term benefits. We'd say this product isn't aimed at the younger bodybuilding crowd, but more the over 30s man.
Some of the marketing materials are a bit whacky, but the product itself is solid.
Full ingredients include: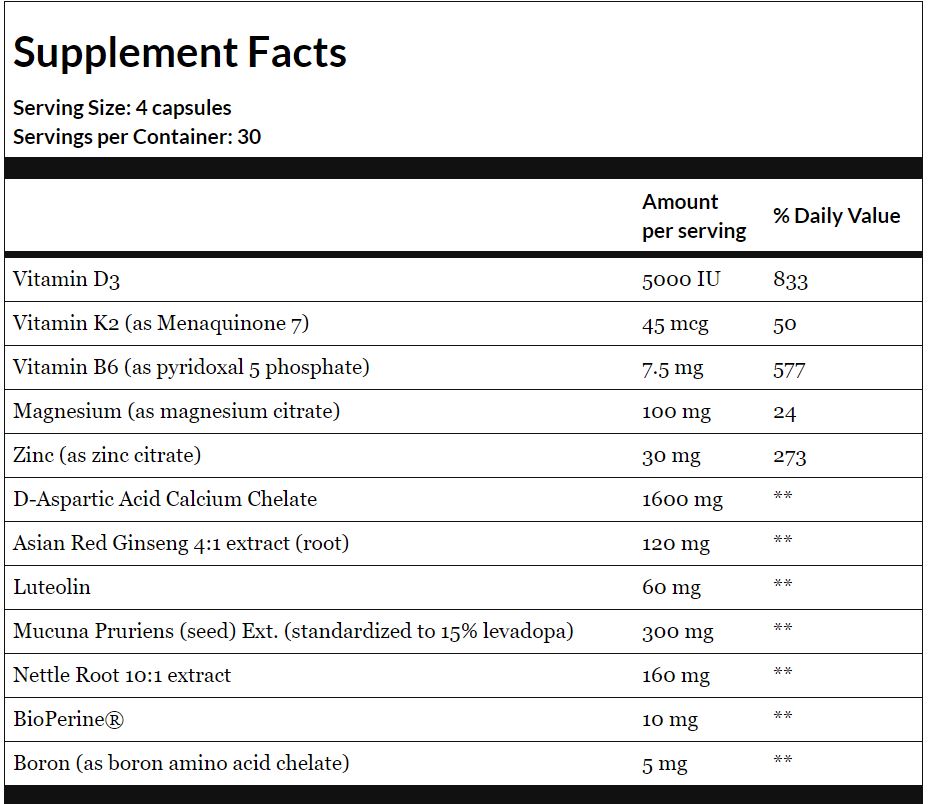 The 12 ingredients offer versatility and variety, rather than focusing in on a single compound. As well as testosterone, it also includes ingredients that focus on libido, general health and prostate health, for instance. Presumably why it describes itself as a 'vitality complex' as opposed to a straight-forward T-booster. This makes it a good all-rounder.
While it's not quite as clean as Performance Lab T-Booster, it's still non-GMO and GMP certified with no synthetic additives. Unfortunately, however, it contains gelatine, making it unsuitable for vegans and vegetarians.
You also need to take Prime Male four times a day with a meal or snack – for instance, taking one tablet at 8am, 11am, 2pm and 5pm – which is a considerable commitment. For these reasons, Prime Male – while an excellent vitality pill – sits at third place on our list.
Read our Full Review of Prime Male
BUY: Prime Male direct
TestoFuel (Best T-Booster and Libido Enhancer for Young Bodybuilders)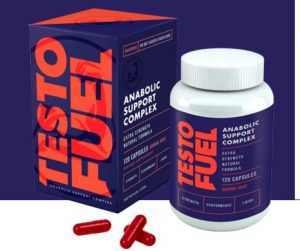 Now we come to an ideal T-booster for young bodybuilders or anyone seeking to boost their testosterone in order to build muscle, as opposed to combatting deficiency.
Its difference to our other recommended T-boosters is precisely why it's on our list – offering variety – but it's a top-quality product in its own right.
TestoFuel combines DAA and Vitamin D, which is great because these are both known to have some positive effects. The latter helps to combat deficiency-related hormonal issues while the massive 2300mg dose of DAA is ideal for short-term T boosting in young bodybuilders. Consider if you are over 21, have low to normal levels of testosterone and prefer a natural way to raise endogenous anabolic hormones.
Full ingredients are: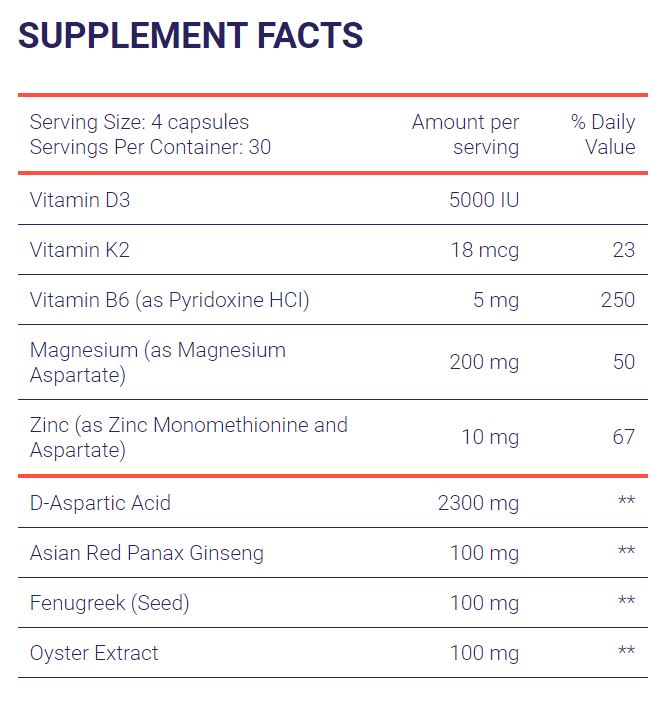 TestoFuel is also an ideal choice if you have low libido or feel as if you're struggling to recover, thanks to its secondary emphasis on libido and improved sexual health. It does this via oyster extract, Asian red Panax Ginseng and fenugreek which are more performance enhancers –  of virility  and training – than they are proven T-boosters.
Of course, remember that while testosterone improves libido, increased libido doesn't always mean improved testosterone, but we suspect most men won't complain about it.
TestoFuel is an effective, simple test booster, and fills a different niche to the products we've mentioned above. It strikes a simpler ingredient profile and includes oyster and fenugreek, which are libido-enhancing and seem to improve blood sugar control.
A great product if you fit the target profile.
Read our Full Review of TestoFuel
BUY: TestoFuel direct
Final Thoughts
Performance Lab SPORT T-Booster tops our Best T-Boosters in UK in 2020 list because it balances up the deficiency-related, short-term, and long-term benefits we look for in a testosterone booster. These are the key areas we look for and it scores high on our key ingredients.
We love the combination of these crucial compounds and their combined effect on your testosterone levels – as well as other hormones. The fact that Performance Lab T-Booster is also one of the cleanest products on the market – and 100% suitable for vegans and vegetarians – is a bonus that takes it over the top.
Overall, our Best T-Boosters to Buy in the UK in 2020 list has some interesting products on, and we strongly recommend giving them a look for yourself.
Keep your eyes open for these kinds of quality ingredients and combinations and be sceptical of crazy claims. Testosterone boosters can be a great nutritional supplement, but they're not steroids and you should aim for consistent, reliable gains.