This page may contain affiliate links and we may earn a small amount of money from any products bought. Our reviews, however, remain independent and impartial.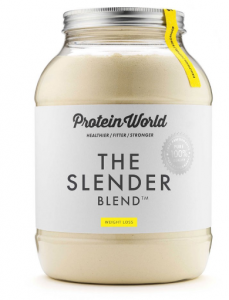 Slender Blend is a high protein, low calorie meal replacement shake (comes as powder) intended to help with weight loss.
Available in vanilla, strawberry, chocolate, banana or 'naked' (plain) flavours, it contains less than 150 calories per 40g serving if mixed with water. It can also be mixed with unsweetened nut-based milks such as coconut, almond or hazelnut, but be aware that the calorie and fat count will increase.
<<< SPECIAL: See our Best Protein Powders to Buy in the UK in 2020 >>>
Slender Blend and its manufacturer, Protein World, have made a name for themselves via reality TV celebrity endorsements and controversial advertising. The company's Are You Beach Ready? campaign, for instance, sparked numerous protests from women's groups annoyed by the skinny model on the cover and the implication that you had to be thin to wear a bikini. The furore boosted sales by £2 million.
Its latest headlines, however, might not be as beneficial. Slender Blend is being investigated by Surrey Trading Standards for potential fraud after its shakes were found to have 17 times more carbs – and up to a third less protein – than claimed.
The Sun newspaper reported that two different set of tests demonstrated that the labels on Slender Blend were inaccurate. Protein World, however, insists the labels match its own tests.
Either way, there is no denying that the Slender Blend shakes, Protein World's best-selling product, seem to be very popular, so let's take a look at them in more depth.
The Ingredients


Whey Protein Concentrate
This is the major ingredient in Slender Blend at 93% and is presumably included for its ability to increase satiety, help you to feel full and avoid cravings. A by-product of milk production, whey protein contains BCCA amino acids and is high in fat and cholesterol. It is thought to decrease hormones such as ghrelin which traditionally signals hunger.
Whey protein is also a favourite with athletes as it can help recovery after sport and endurance training. For this reason, some Slender Blend fans point out that the shake can be used after training if not used as a meal replacement as intended.
The version used here is the cheapest most common form of whey protein and not the better quality Whey Protein Hydrolysate or Whey Protein Isolate.
Protein World Thermogenic Blend
The main ingredients in here are guarana extract, which contains 22% caffeine, and green tea extract with 40% polyphenols. Both are included in 100mg concentrations in a 40g serving.
Guarana extract is a South American bean, similar to a coffee bean. It too contains caffeine, as well as caffeine-like chemicals theobromine and theophylline. Together they stimulate the central nervous system, as well as the muscles and heart. Guarana extract is commonly used for weight loss and to boost exercise endurance, though Wed MD stresses that more definitive research is needed on this subject.
WebMD concludes that guarana extract is likely safe when taken in amounts commonly found in food, and possibly safe when taken for a short time in medicinal amounts. In the case of Slender Blend, the 22mg (per 100mg) of caffeine is a relatively small amount, the equivalent to a quarter cup of instant coffee, for instance, and unlikely to cause any significant side effects.
Green tea extract is very popular in diet supplements for its ability to boost the metabolism, raise the body's temperature and burn body fat (thermogenesis).  It is proven to reduce total fat mass and boost fat loss though exercise.
It contains a small amount of caffeine which, when added to coffee or other caffeine sources such as guarana extract, increases the levels of catecholamines in the body, chemicals which spur the body to burn fat. The caffeine increases the amount of them, while green tea prevents their degradation, ensuring they remain in the blood for longer. Green tea also has other significant health benefits.
Protein World Vitamin & Mineral Blend®
This vitamin and mineral blend contains more than 20 different vitamins and minerals, from magnesium oxide to zinc gluconate and folic acid. Servings are within recommended daily guidelines (see above for full details), and will contribute more nutritional support than the average light meal.
The Pros
Slender Blend is non-GMO, gluten-free, vegetarian-suitable, soy free, suitable for diabetics, kosher and halal.
They are suitable for men and women
There are five flavours to choose from
Many users describe the shakes as tasty, though others disagree
Shouldn't cause any dangerous side effects
Contain vitamins and minerals, such as zinc for healthy hair, nails and skin
Special offers available for three-month subscriptions
The Cons
The biggest question with Slender Blend is whether the company has deliberately been misleading in its labelling. We must wait for the results of tests by Surrey Trading Standards to see if we can believe its protein and carbohydrate promises.
As it is, when the blend is added to milk, it will be higher in fats and calories than is advertised. For instance, a 40g vanilla, strawberry or banana shake will be 141 calories when added to water, but will increase to 238 calories if added to unsweetened almond milk instead, as recommended. Its fat content will increase from 1.5g to 5.9g per 40g of shake.
Some people find meal replacement shakes to be unsatisfactory
Protein World only offers a short 14 day guarantee, and then only on unopened items that you may pay to return yourself, unless you can prove the fault is with Protein World
It is questionable whether the amounts of guarana extract and green tea extract are in sufficient quantities to do much.
This product is unsuitable for anyone who is allergic to milk or dairy, or is lactose intolerant, though Protein World does not warn of this.
Customer Reviews




Safety/ Side Effects
There seem to be very few side effects associated with Slender Blend, with no significant adverse reactions noted. While it does contain caffeine, the amounts included are less than one cup of coffee so are unlikely to cause problems.
In certain circumstances, however, whey protein can cause bloating, stomach cramps, nausea, thirst, more bowel movements and fatigue.
Health Warnings
Not suitable for anyone who is lactose intolerant or allergic to milk or dairy products. Should be avoided if pregnant or breast-feeding; seek medical advice first if taking prescription medication or suffering from a medical condition.
How to Take It
Add four yellow scoops (40g) of powder to water or to unsweetened coconut, almond or hazelnut milks.
Does It Work?
The first thing to be aware of with Slender Blend is that the shakes do contain sugar, as well as carbohydrates, fat and calories, and the latter will increase if added to milk. They are NOT slimming drinks, but meal replacement drinks. Use them in addition to food and you may actually put on weight.
Of course, given the current controversy over Protein World's labelling of Slender Blend, it may be that the nutritional details included in its marketing are inaccurate. If the accusations are true, they certainly aren't as low in carbohydrates as claimed, which will make it harder for you to lose weight.
So far, customer reviews seem mixed, both on taste and on weight loss. The official Protein World website only seems to publish positive reviews of its product (98% positive rating, reviews mostly 5 stars, and accusations elsewhere of comments being censored). Reviewers on the more independent Amazon UK, however, give it 3.6 stars out of 5 from 62 customer reviews, with more believable feedback across all one to five star ratings. We tend to believe the latter, and wonder why Slender Blend is afraid to publish contrasting opinions.
The range of reviews on Amazon UK suggests that this form of losing weight does not work for everyone.
Conclusion
Meal replacement shakes are hard to stick to. They are often unsatisfactory and it can be hard not to snack between 'meals' once the novelty (and the willpower) wears off.
In addition, Slender Blend is not as low in calories, fat and carbs as it seems, even regardless of the labelling controversy. At a minimum, a shake is 150 calories but this can rise to nearly 240 calories if you add milk, assuming you stick to the 40g serving recommended. In contrast, one large boiled egg has less than 80 calories, so if you already eat healthily, you may find yourself taking in more carbs, sugar and calories with Slender Blend than you would otherwise.
They are not slimming shakes and it can be easy to put on weight when using such shakes. It's also not a long-term weight loss solution either, and doesn't help you to make lifestyle dietary changes to stick to.
Despite that, it does have some good points. It shouldn't cause side effects, contains plenty of vitamins and minerals and has a decent choice of flavours. We would say that the Slender Blend range is a reasonable meal replacement option, if it wasn't for that pesky trading standards investigation.
The labelling controversy suggests Protein World have been deliberately under-reporting the amount of carbohydrates in their shakes, and over-emphasising the amount of protein. If this is true, this would be a company to steer clear of, so we eagerly await the results of the trading standards investigation.
Where to Buy
You won't find Slender Blend on the High Street but you can buy online from the Protein World website, or via Amazon UK.  Standard bottles are 1.2kg (enough for 30 servings).