This page may contain affiliate links and we may earn a small amount of money from any products bought. Our reviews, however, remain independent and impartial.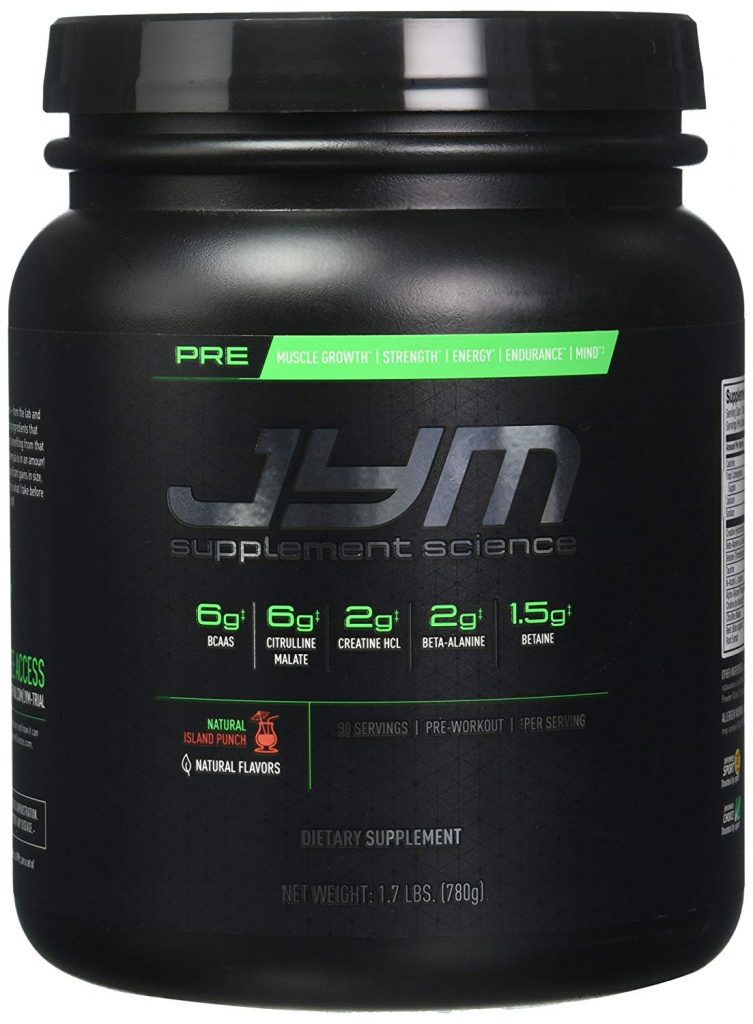 If you've spent any time on any of the big fitness social media pages you will probably have heard of Jim Stoppani. Creator of the SS8 program, Superman Challenge, and 3 Prong Strong program.
Jim has also founded his own, award-winning supplement company called JYM Supplement Science. One of their most popular products is their Pre JYM pre-workout supplement, which is easy to get in the UK. In this article I will be taking an in-depth look at Pre JYM and help you to decide whether it is worth spending your money on or not.
But first, what makes a good pre-workout supplement? A good pre-workout should leave you feeling energised, should help you to focus more, should help stimulate protein synthesis, and should banish fatigue.
JYM Supplement Science
The company set up by Jim Stoppani (JYM Supplement Science) has very strong beliefs about what a supplement company should be. They believe that there should be no proprietary blends, there should be proper dosages, and each supplement should contain all the ingredients necessary to be effective (rather than only containing a couple of ingredients).
These beliefs are fantastic; proprietary blends are the bane of the supplement industry. If you are currently scratching your head trying to figure out what a proprietary blend is, don't worry. Proprietary blends are basically a way for supplement companies to disguise the dosages of ingredients in their product.
Instead of listing each individual ingredient and its dosage, certain supplement companies lump all the ingredients together and call it a proprietary blend. Now it is impossible for the customer to know how much caffeine (for example) is contained within the supplement.
Rule of thumb: if you see a proprietary blend on the ingredients list then avoid the supplement. Luckily, JYM Supplement Science are vocal in their condemnation of proprietary blends, this is a big plus in my opinion.
Full doses of a supplement ingredient are another excellent benefit. Of course, all supplement companies should be properly dosing their products. Sadly, this is rarely the case. Many companies (but by no means all) rely on the fact that customers don't check the dosage when they see an ingredient.
This means that a company could have caffeine (I'm sticking to this as my example) as an ingredient in their supplement. They could talk about all the benefits of using caffeine, write "caffeine" in bullet points on their sales copy, and use studies that show the effectiveness of caffeine, but only use 1mg of caffeine! Which is obviously useless.
This is an extreme example, I doubt even the most disgraceful supplement company would be that crazy. But with all supplement ingredients, there is an effective dosage, dosages that are less effective, and dosages that are ineffective/dangerous. Many companies use less effective/ineffective dosages (and often disguise this with proprietary blends). JYM does not.
Now that I have talked about the company, let's take a look at the product itself.
What Does Pre-JYM Claim to Do?
There are three main claims made by JYM about their pre-workout supplement. They claim that it:
Enhances your workout
Provides hyper focus
And provides supreme energy
You can put these benefits beside the company's promises that each ingredient is properly dosed and hand-picked. These benefits are nothing special; they are exactly what a pre-workout should be doing. JYM are keeping things simple. Underselling and (hopefully) over-delivering.
Of course, claims are worth nothing unless the ingredients are good. Let's dive in to the ingredients list and take a look.
The Ingredients
According to JYM, their pre-workout contains "13 hand-picked ingredients at full dose". I assume this means they were hand-picked by Jim Stoppani himself, because if not, this is not much of a claim. This claim infers that Pre-JYM contains zero non-essential ingredients. So let's have a look at what it does contain:
Citrulline Malate 6g – When consumed, Citrulline Malate is turned into L-Arginine. This ingredient has many verified benefits. A 2002 study in the British Journal of Sports Medicine found that Citrulline Malate can reduce fatigue and boost aerobic performance. A 2010 study in the Journal of Strength & Conditioning found that it could also reduce muscle soreness.
It can also boost nitric oxide levels and therefore blood flow. Basically, Citrulline Malate manages to provide almost every benefit that a good pre-workout needs all on its own. The dosage is spot on too.
BCAAs (Leucine, Isoleucine, Valine 2/1/1) 6g – While BCAAs have got a lot of negative press from fitness experts (due to them being unnecessary for muscle building), they are still an excellent pre-workout ingredient. They have been shown to improve aerobic performance, reduce fatigue, and reduce the rate of perceived exertion (how hard an exercise feels).
JYM have used the standard ratio of 2 parts Leucine, 1 part Isoleucine, and 1 part Valine; this is the most effective ratio according to science.
Creatine HCI 2g – Creatine is one of the most studied supplements on earth, mostly because it is incredibly safe and incredibly effective. It can massively reduce fatigue and increase power. It may even boost testosterone and is excellent for muscle building.
It's difficult to assess whether the dosage is correct, because it differs from person to person (it's down to body weight). But the dosage is fairly standard in the industry. Of course, creatine is best when loaded but anything over 1g should still be helpful in a pre-workout supplement.
Beta-Alanine 2g – Beta-Alanine has been found to boost muscular endurance, power, and it can also reduce fatigue. A great all-round pre-workout ingredient. The dosage is on the low end of acceptable, but still correct.
Tyrosine 1.5g – As a pre-workout ingredient, Tyrosine may seem a little odd. There is no evidence that it provides any performance-related benefits. However, there is quite a lot of evidence that it can improve focus and reduce environmental stress. If you've had a hard day at work and need to re-focus then Tyrosine is a great ingredient.
Taurine 1g – Taurine can increase blood flow which means more nutrients can be delivered to the muscles during a workout. Helpful for increasing work capacity (how much you lift) and for stimulating protein synthesis.
Beet Root Extract 500mg – Another supplement ingredient that can boost nitric oxide and therefore increase blood flow.
Choline Bitartrate 350mg – Choline may be able to increase focus, reduce fatigue, and reduce the rate of perceived exertion. However, there is not as much evidence for any of this as with the other ingredients. The dosage is ideal.
Caffeine 300mg – Caffeine is without a doubt the best performance enhancing ingredient in a pre-workout supplement. It can mask fatigue (helping you train harder), reduce pain (helping you train longer), and it can improve cognition (focus).
The dosage is perhaps a little high depending on your body weight, but heavier people (80kg or more) will find this ideal. If you are quite light (60kg or less) consider using a half-dose.
Alpha-Glyceryl Phosphoryl Choline 150mg – Increases cognition, increases power, and may even contribute to fat loss. Alpha-GPC is a supplement that is likely to become more and more popular over the next few years.
N-Acetyl L-Cysteine – An excellent antioxidant source, which can help protect the cells of an athlete during high intensity exercise.
Bioperine (Black Pepper Extract) 5mg – This ingredient is included in most supplements as it helps to boost absorption. This means that you can use slightly lower levels of each ingredient and still get good results.
See the full ingredients list here: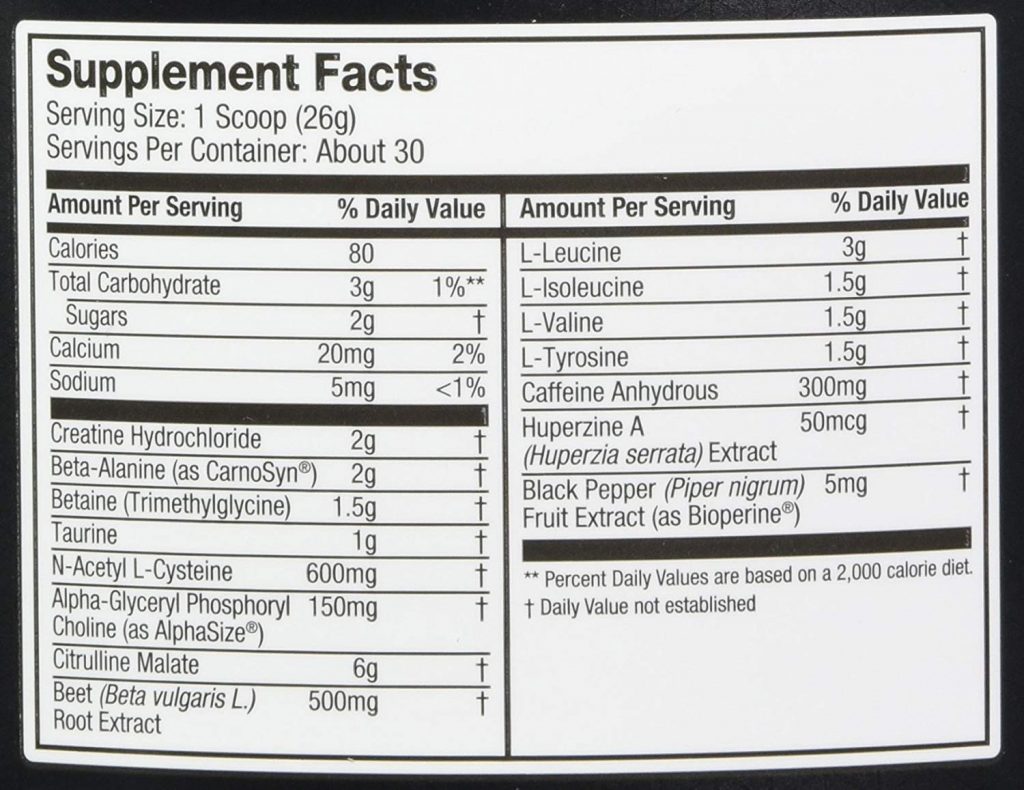 The Pros
No proprietary blends
Pre-JYM includes decent and effective ingredients at clinically effective dosages
Should give you bigger muscle pumps, better focus, enhanced strength, more energy and endurance with faster recovery. In short, more intense workouts
Made by a reputable company
Includes BioPerine to boost absorption of all other ingredients, making them more effective
The Cons
High in caffeine with nothing to temper its potentially negative stimulatory effects (such as L-Theanine)
Some users claim the taste can be too sweet
Quite a high price per serving
While Pre-JYM has some excellent ingredients, it misses a beneficial one in our opinion — Rhodiola Rosea, a nootropic ideal for extra motivation.
Some users complain of bloating as a result of the large serving size (26g).
It is a little ironic that for a company that boasts it doesn't use proprietary blends, they don't seem to list the ingredients on their own website. An odd choice. Granted, you can read the ingredients when you buy the product at Amazon UK (and here, above!).
Customer Reviews
The following reviews come from Amazon UK where Pre-JYM has 3.8 out of 5 stars at time of writing.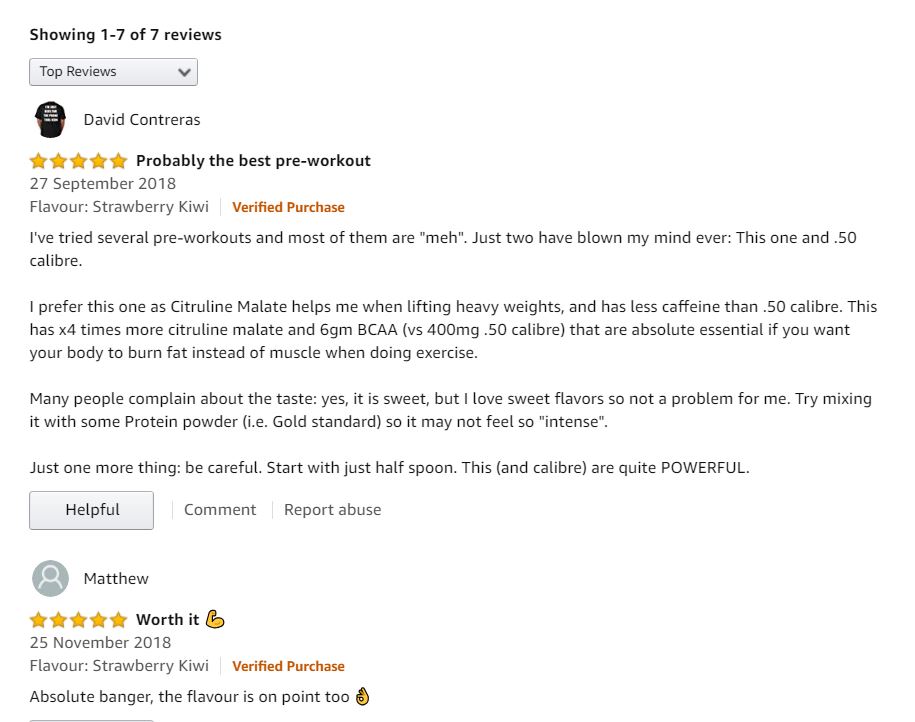 Safety/ Side Effects
If taken at the correct dosage, the side effects should be very minimal. However, this is (as always) dependent on your own physiology. The caffeine content of Pre JYM is quite high, it's about the equivalent of two large black coffees. This will cause an increase in alertness, a reduction in fatigue, and will allow you to train harder.
But it may also lead to nausea, an upset stomach, headaches, and even (in extreme situations) hallucinations and heart arrhythmia. This is more likely if you are a lighter weight, as the caffeine per kg bodyweight would be very high.
The inclusion of creatine may also cause some problems. One of the biggest issues with creatine is that it can dehydrate you – particularly when first using it. Make sure that you consume more water than usual during the day.
Beta-Alanine can cause your fingers to tingle, but this side-effect is completely benign. Some people like it, while others find it annoying. Whatever you do, don't panic!
The side effects are unlikely to occur for most people, and the more you take it, the less likely they are to occur (you will build a tolerance to the caffeine within a couple weeks). You may want to consider cycling this pre workout with a non-stimulatory pre-workout such as Performance Lab SPORT Pre-Workout to help lower your tolerance again.
How to Take Pre-Jym
Add one scoop to 14 ounces of water, mix and drink 30-45 minutes before your workout. It's not totally clear but it seems it is recommended to use this one time a day.
Is Pre-JYM a Good Pre-Workout?
As you can probably guess, I am a big fan of the ingredients list. Each one has a lot of science behind it, and it is clear why they are there.
Some ingredients will boost focus and alertness, some will banish fatigue, and reduce muscle soreness. Some will increase your muscular endurance, while others will boost blood flow. All the doses are within the optimal range, and all have their place.
It does have a high caffeine content and there's no L-Theanine to offset the potential jitters and anxiety that can come with it, so be sure to watch your overall intake — some people may find it too stimulating if they're not used to it.  Likewise, we would have liked to have seen more motivation-related ingredients in Pre-JYM, but at 26g per serving, they probably didn't want to add anything else. It has lost a point for those. If you feel you need less caffeine and more motivation from your pre-workout, you might want to check out 4Gauge, an effective caffeine,L-Theanine, rhodiola blend.
All in all, however,  this pre-workout is a popular and effective supplement from JYM.
Where to Buy
You can buy Pre-JYM pre-workout supplement from Amazon UK