This page may contain affiliate links and we may earn a small amount of money from any products bought. Our reviews, however, remain independent and impartial.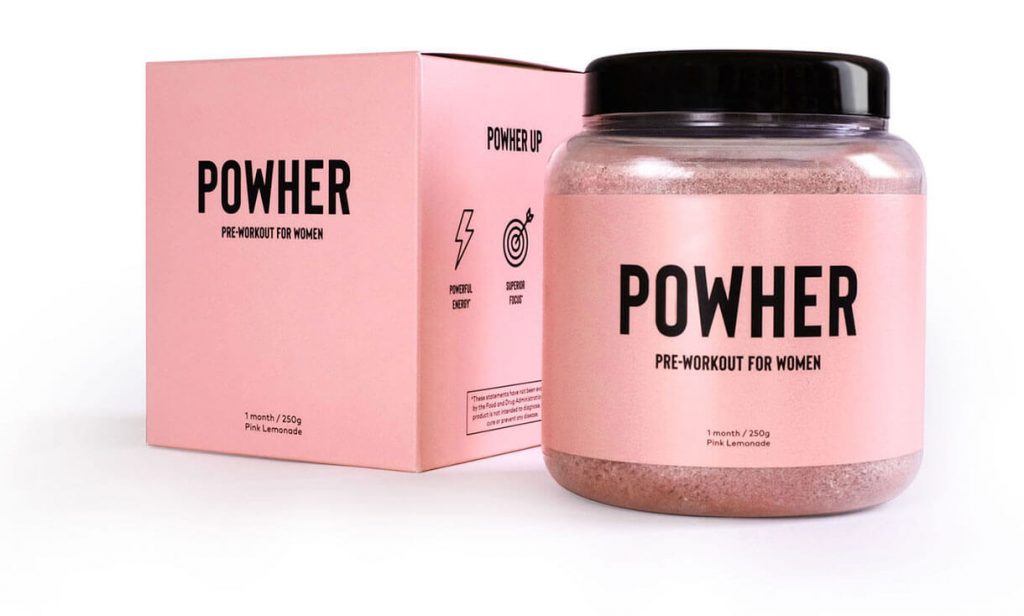 The fitness supplement industry is by and large a male-focused industry. Pre-workouts, post workout supplements, creatine monohydrate etc are often sold with men in mind. Many supplements are specifically made for men, with testosterone boosting ingredients. So, it is interesting to find a supplement in the fitness niche that is aimed exclusively at women.
PowHer may be a cringy name, but how good a supplement is it? In this article we will take a look at the ingredients list and decide whether PowHer pre-workout — made by Leeds-based Ultimate Life Ltd — is worth your money. We will also try to discover whether the ingredients are specifically for women, or whether this is just marketing.
Ingredients
The amount of ingredients contained within PowHer Pre-Workout is too large to fully cover in one review article, but I'll give it my best go. There are a lot of ingredients that I have never heard of before, which isn't always a good sign. Luckily, there are also quite a few well-known and well-researched ingredients too.
ENXTRA
This is a compound of three extracts (C. flexuosus, A. Galanga, and G. Glabra). There isn't much research behind any of these extracts, though PowHer have provided a link to a study that found Galanga and Glabra were able to increase attention.
Another study by the same author (Srivastava) in 2017 found that Galanga increased mental alertness, and when combined with caffeine it prevented a "caffeine crash" and improved sustained attention.
Glabra appears to have a few downsides though. It increases cortisol and raises blood pressure, though it may also reduce testosterone in women. A possible benefit, though just before a workout is not the best time to lower testosterone, even for women.
Overall, ENXTRA has quite a big question mark over it at the moment. The ingredients do not have a large body of evidence surrounding them, but what evidence there is seems to be positive.
OXYJUN
Another ingredient that I had never heard of, Oxyjun is a proprietary extract of Terminalia arjuna bark. PowHer have added it to improve cardiovascular endurance. A 2010 study found that taking it increased power output and cardio-respiratory endurance.
This could be quite a clever ingredient to add in a pre-workout, though ideally there would be a bit more evidence backing up these claims.
Rednite
A type of beetroot that contains five times as much nitrate as normal beetroot – according to PowHer. This is a good ingredient for a pre-workout because it can increase nitric oxide, meaning more blood being sent to the muscles and brain, and therefore better performance.
Coconut Water
A recent study found coconut water to be no different to regular water when it came to improving cardio performance. There is no evidence to support using coconut water instead of regular water. That being said, coconut water will still provide the same benefits as regular water, so is not a bad ingredient.
L-Tyrosine
An amino acid that has been added to increase cognition. There is decent evidence to say that this claim is correct.
L-Citrulline Malate
An amino acid that has been shown to reduce fatigue and muscle soreness, it can also increase nitric oxide which can help increase blood flow. An excellent pre-workout ingredient. To improve sporting performance, you are looking at 6-8g but PowHer only contains 2g.
Natural Caffeine
At just 100mg from green coffee beans, this is a surprisingly low dosage. Many pre-workouts contain between 200-300mg per serving. It's not necessarily a bad thing – low doses of caffeine can still improve performance in the gym – but the fat burning properties will probably not occur.
Beta-Alanine
Shown to increase muscular endurance, increase anaerobic capacity, and reduce fatigue. Another great supplement ingredient. There is 1g present in PowHer, but the standard dosage is between 2g and 5g, so this is slightly under dosed.
Taurine
Excellent for increasing blood flow and exercise capacity. PowHer contains a really decent dosage of taurine, which should be pretty effective at improving performance.
Vitamins B5, B6, and B12 are also present in PowHer.
Pros
Lots of interesting ingredients
No pointless ingredients, each has an evidence-backed purpose
Price per serving is very reasonable, even if slightly more expensive than other pre-workouts on the market
Marketing is excellent
Perhaps its biggest plus point is its emphasis on natural ingredients to improve motivation and focus, plus its slow-energy release.
Low stimulant count helps to avoid crashes.
Cons
A lot of ingredients are slightly under dosed
Considering the fact it is aimed at women, no ingredient stands out from regular pre-workouts
Only available from the manufacturer's website.
Safety/Side Effects
Beta-alanine can cause a tingling feeling in your fingers – this is completely harmless but can be a bit odd at first. The caffeine is too low to really cause any issues, and the addition of Galanga may help prevent the jitters.
Who Takes It?
PowHer is clearly marketed at women, and probably young women. The packaging is bright pink, there is "her" in the title, and they explicitly say that it is aimed at women. And not just women lifters either, but athletes, runners, cyclists, any woman doing sports in and out of the gym. However, there is nothing in this product that would harm a man taking it. In fact, men could do a lot worse than taking PowHer as it's a decent pre-workout.
Conclusion
I cannot fault any of the ingredients contained within PowHer, even if I'd like to see more evidence for some of the unusual ones. It's just a shame that some of the proven pre-workout ingredients are slightly under dosed, but that does not mean that they still can't be effective. PowHer will help to increase cognition, attention, alertness, power output, and endurance performance.
Is there any ingredient in PowHer that makes it more suitable for women than any other pre-workout? Not really. There are some clever ingredients that could potentially be quite interesting (ENXTRA and OXYJUN as well as Rednite), but these can be found in other pre-workouts.
But perhaps it is what is NOT included in PowHer that is more telling… it contains no creatine. Many pre-workouts on the market include creatine, a great power ingredient for building muscle. Many women, however, want to get fit without bulking up and PowHer seems to cater for them. Otherwise, however, caffeine, taurine, beta-alanine etc are all fairly gender-neutral ingredients.
PowHer should help women avoid the energy slumps associated with high stimulant pre-workouts while still providing an energy boost, courtesy of the many vasodilators included. Its stress-busting ingredients are also a bonus.
It is nice to see a product that is aimed at women instead of men. For too long sporting supplements have carried a lot of baggage around, being seen as exclusively for large bodybuilders, and not suitable for women. This is absolute rubbish, and if PowHer can change some opinions, then that sounds great to me.
Where to Buy
PowHer is only available from the official website at https://en.powherofficial.com/