This page may contain affiliate links and we may earn a small amount of money from any products bought. Our reviews, however, remain independent and impartial.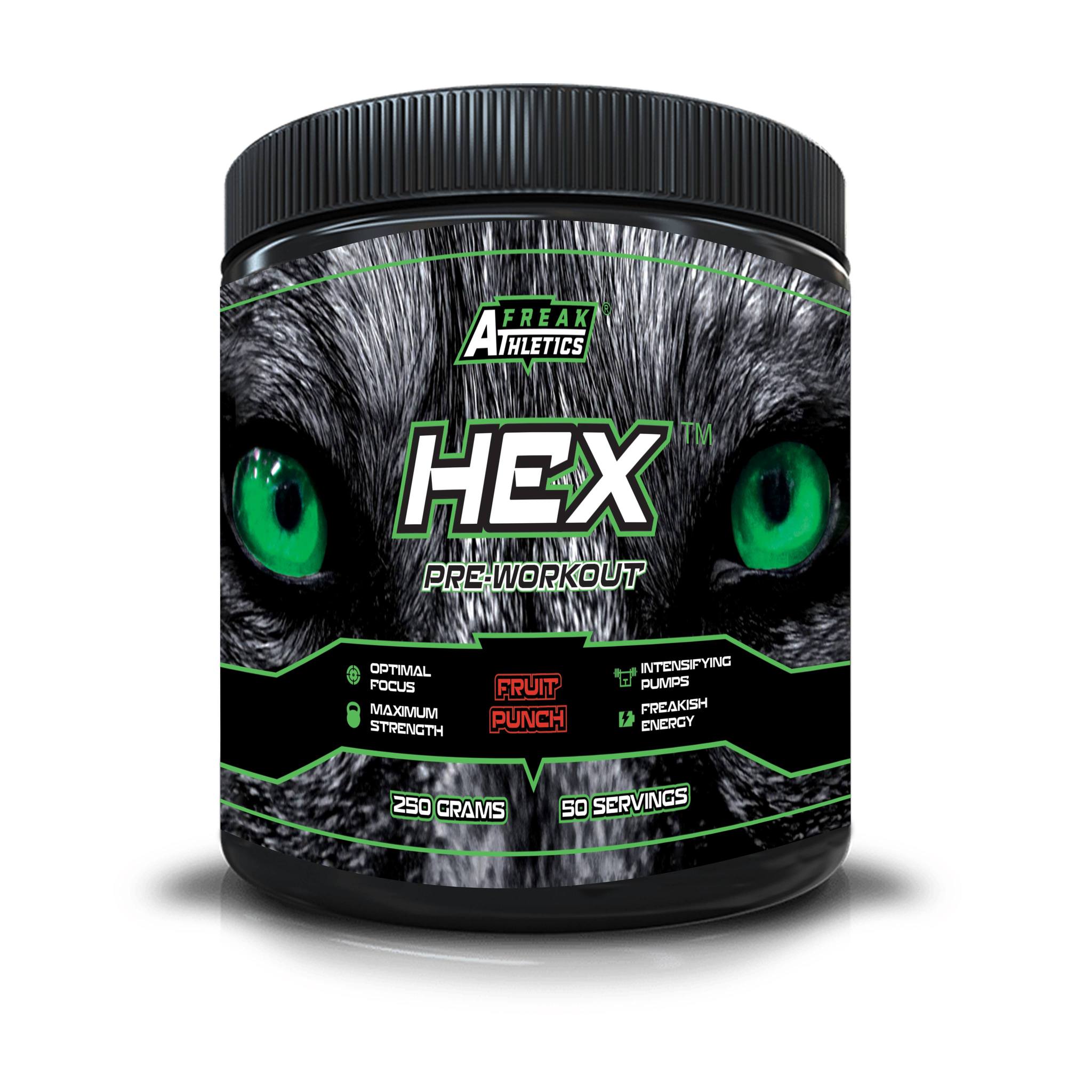 Freak Athletics is a young UK company (2016) which markets itself as providers of high quality sports supplements. Their Hex Pre Workout formula boasts an impressive and diverse ingredient portfolio; from familiar names like beta alanine to relatively fringe (though promising) upstarts such as betaine and l-Tyrosine.
Branded by a distinctively fresh and pleasant aesthetic, their products are marked by impressive customer reviews on Amazon.com, with their Hex formula rising to the #1 Best Seller position in the (somewhat obscure) l-Citrulline nutritional supplements category. Freak Athletics encourages visitors of their site to join the Freak Movement–a promising and inspirational call to action, but do they have the products to back it up?
Let's take a closer look at their popular Hex formula and see if it's a worthy leader for the Movement.
The Ingredients
Beta Alanine – 1250mg (one scoop, 5g)-2500mg (two scoops, 10g):
One of the most touted ingredients in the pre-workout world, beta alanine is involved in the production of the compound molecule carnosine. Roughly speaking, carnosine regulates muscle acidity, allowing you to get more out of your muscles before fatigue can fully take hold. Meta-analysis has found that this makes beta alanine especially beneficial for exercise within the 1-4-minute bracket. For Crossfit-style exercise and supersetting, this is certainly useful.
A standard dose is between 2-5g, though I'd argue that all of the research worth mentioning relies upon a daily dosage of 4 grams or higher. And while beta alanine does seem to benefit from a loading phase (the difference between 2 and 4 grams reducing over time with daily use), it's difficult to say that the published benefits will truly apply to Freak Athletics' sub-2,000mg one scoop dose.
Citrulline Malate – 750-1500mg:
A good sign for any pre-workout, citrulline assists with clearing ammonia from the body (the urea cycle) and increasing and regulating nitric oxide levels. If you enjoy feeling the pump in your workout, then keep this one in mind. Citrulline promotes blood flow, which can help during both the recovery and stress phases of your workout–it'll help you feel better the next day, while also allowing you to lift heavy loads for longer.
Unfortunately, the recommended dose for optimal performance is 6 grams–one scoop of Freak Athletics Hex Pre Workout will give you roughly 10% of that value.
Creatine Monohydrate – 600-1200mg:
One of the safest and most effective supplements available, it can't help to add a little creatine monohydrate to the mix, can it?
I'll take a moment here to offer my personal word of caution on pre-workouts that boast the inclusion of creatine monohydrate. Yes: creatine, when regularly supplemented, is one of the best things you can do to increase muscular performance and strength output. But there is something misleading about its adoption in the pre-workout scene. Creatine demands regular supplementation, and the occasional hit, I'm afraid, just won't live up to the (well-deserved and researched) hype.
That being said, 600-1200mg can be enough to serve as a maintenance load.
Arginine AKG – 600-1200mg:
L-arginine plays a vital role in a number of important bodily functions, most popularly acting as a vasodilator for its production of nitric oxide. And while the combination of alpha-ketoglutarate and arginine somewhat stabilises the arginine within the compound, supplementing with straight l-arginine still seems to be the most effective and popular means.
Studies in which less than 3 grams of arginine is supplemented daily do not show any significant benefits. Again, it seems that Hex has included not quite enough of a good thing.
 Betaine – 260-520mg:
 A decade ago, betaine would have been known primarily to heart doctors and specialists, but its introduction to the supplement scene has been promising; increases to cardiovascular health, increases in power performance and improvements to body composition have all been seen.
Hex were onto something good here, but have fallen considerably short on quantity (no benefits definitively being linked below the 1 gram daily dosage). Without the research to show that 260mg of betaine can give similar benefits, the plus point given must be swiftly negated.
Taurine – 250-500mg:
While taurine has become inextricably intertwined with modern energy drinks, many people may be surprised to learn that it is in fact something of a sedative. In fact, one of the main positive associations of taurine is its relation to healthy sleep. It has also been shown to reduce muscle soreness at doses of 1500mg daily, along with being linked to cardiovascular and brain health.
Caffeine – 175-350mg:
 One of the most common ingredients you'll find in modern pre-workouts, caffeine is a known and well-studied stimulant. In terms of dosage, the Hex formula offers a reasonable buzz– however, when considered in relation to other ingredients, Freak Athletics' Hex Pre Workout is intensely caffeine concentrated.
 L-Tyrosine – 100-200mg:
The most interesting research on l-Tyrosine comes in relation to its effects on acute physical stressors. More specifically, what happens to people when they are exposed to intense cold conditions. With a dosage of 100mg/kg body weight, the results are quite impressive–the boosted reserve of catecholamines seems to have an important effect on prolonging the body's ability to survive high-stress physical environments.
However, since Hex Pre Workout only includes enough l-Tyrosine for a 2kg adult, I'm reminded of how my grandmother would speak of a well-cooked duck; 'It's a smoked aroma, dear, not a meal'.
Grape Seed Extract – 50-100mg:
Let's focus on one thing that Grape Seed Extract really does do: improve blood flow. For exercise, this has obvious advantages–like getting your muscles the fuel and oxygen needed to perform under stress.
Grape Seed Extract doses can be remarkably low and still work to good effect, however, this 'low' point is approximately 150mg twice per day. It seems that Freak Athletics have, once again, chosen to include an ingredient for its reputation, rather than its actual effect.
The Pros:
The inclusion of a wide and diverse portfolio of ingredients is a good sign (albeit in less than ideal quantities)
The upper limit (two scoops) will give you a decent buzz from the caffeine and beta alanine, leading to that rather typical tingly pre-workout sensation.
This Freak Athletics Hex Pre Workout is a #1 Best Seller on Amazon; for a young up-and-coming UK brand, this is an achievement in itself.
Overwhelmingly positive reviews from users, with many compliments on flavour, buzz and performance.
Creatine monohydrate dosage can be used as a maintenance dose.
The Cons:
On closer inspection, almost all ingredients fall below their effective dosage.
The 'buzz' experienced by customers is likely just the result of a concentrated caffeine kick and the paresthesia (tingles) associated with beta alanine.
Many ingredients seem to have been added for reputation, without much regard for performance.
 Customer Reviews:
All reviews come from Amazon UK. Click to enlarge.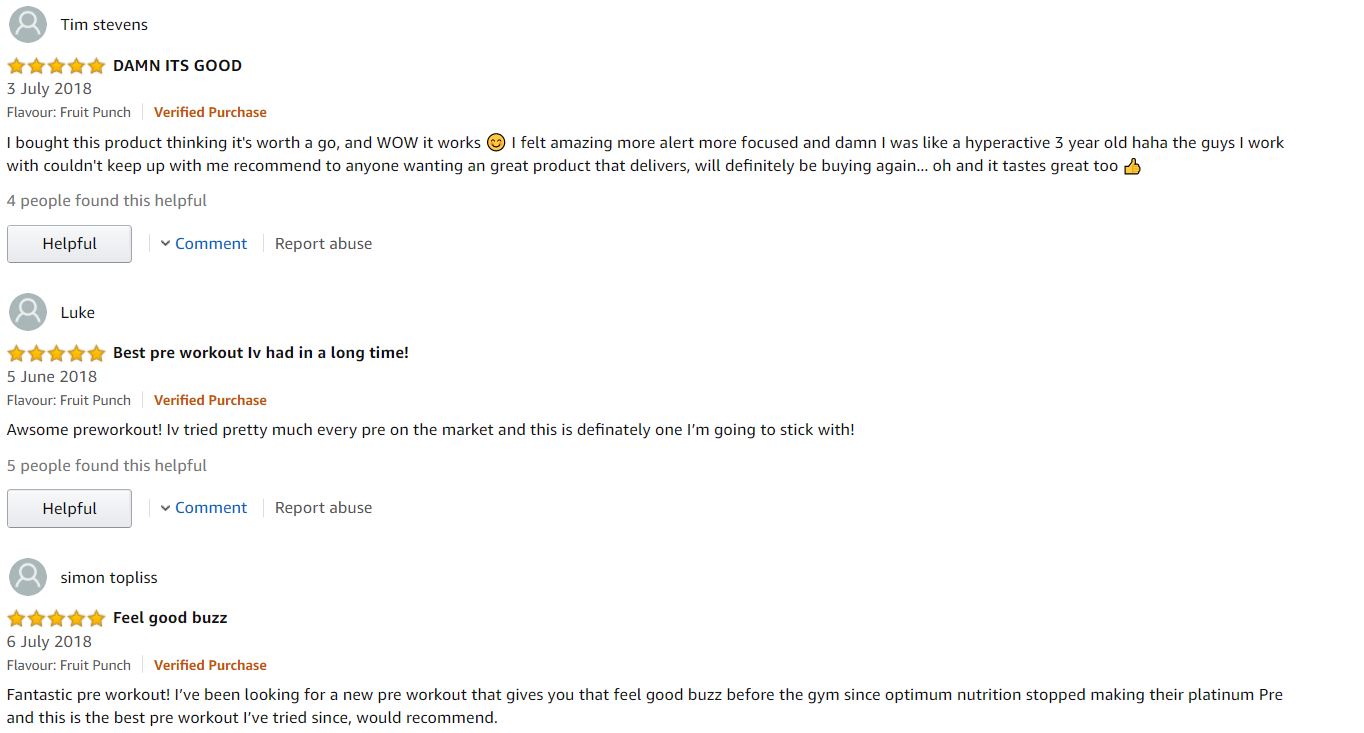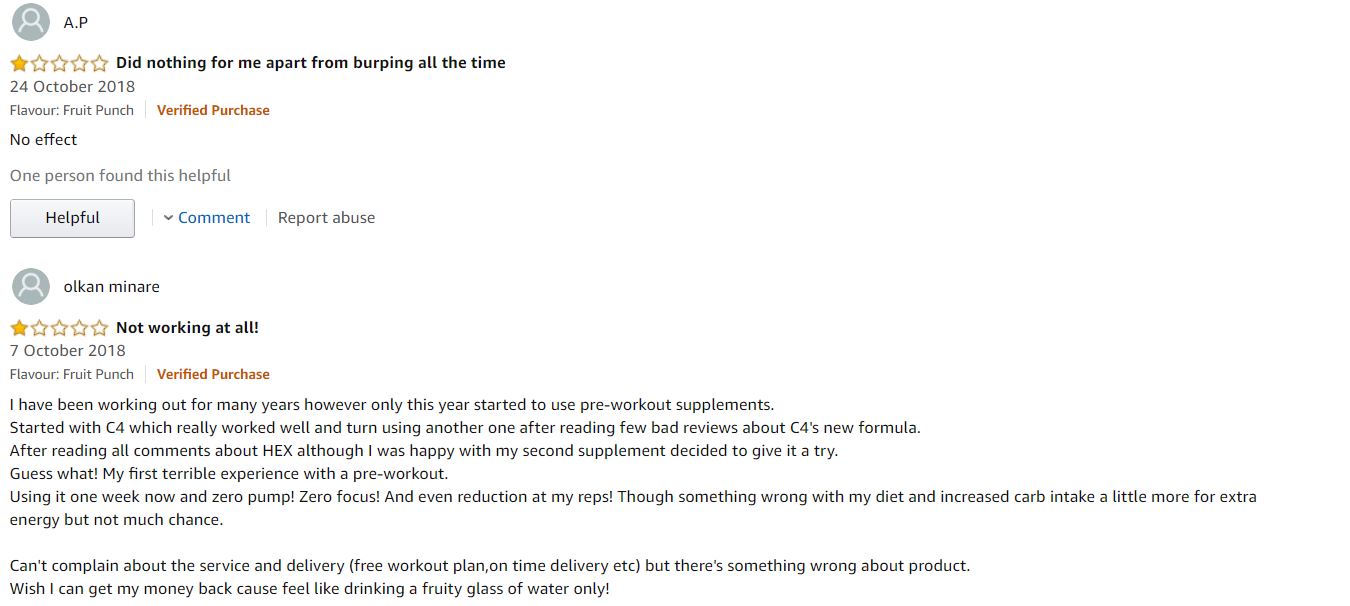 Safety/ Side Effects:
Beta alanine is the (largely) accepted culprit of 'the tingles'. So be aware that high doses can result in a tingling sensation in the toes, chest, face, hands and elsewhere; a phenomenon known as paresthesia. In and of itself, the experience can be uncomfortable, but has not been found to be dangerous. Also, given its high caffeine concentration, be wary of your total daily caffeine intake in combination with the Hex Pre Workout formula.
How to Take It
1-2 scoops mixed with 200-250ml, 20-30 minutes prior to workout.
Who Takes It?
Leaning towards being marketed as a more 'serious' pre-workout, it is actually much closer to a quick beta alanine and caffeine boost. Ideal for younger audiences looking to get some loud, energetic lifting in.
Does it Work?/ Conclusion
The tale of the Hex Pre Workout seems to go something like 'not enough of a good thing'. Freak Athletics have put together a diverse portfolio of ingredients which, of their own merits, would be impressive with effective dosage. However, this seems a rare case of the whole being less than the sum of its parts. Beyond a popular flavour and a decent caffeine-beta alanine buzz, we would warn against taking the extensive ingredients list too seriously.
Priced as a mid-range pre-workout, the Hex formula comes in at £21.97 for a tub of 25-50 servings on Amazon. The economic logic places it as a premium product for the casual gym-goer (with its diverse ingredient portfolio), but a cheap alternative for serious lifters. Unfortunately, we would conclude that given the low doses in its 'portfolio', it is really just an expensive caffeine buzz.
Where to Buy
If you do want to give Freak Athletics' Hex Pre-Workout a go, you can buy it from Amazon UK or direct from Freak Athletics