This page may contain affiliate links and we may earn a small amount of money from any products bought. Our reviews, however, remain independent and impartial.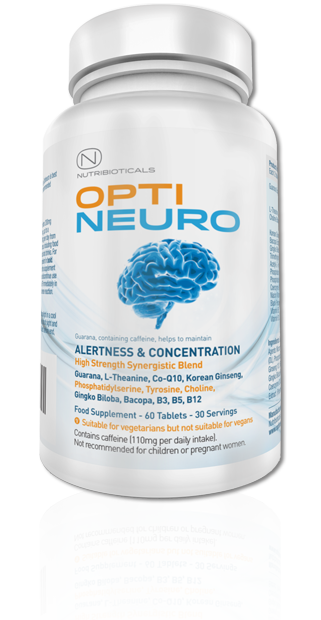 If you're anything like me you have awoken to 2019 with a desire to work harder and get more out of life. This is a common goal (after weight loss, being more productive is almost certainly the next most popular resolution) even if it is quite vague.
There are many ways to improve your concentration and boost your alertness (both needed for increased production), one of these is supplementing with nootropics. A nootropic is a drug designed to improve your mind's ability to concentrate, think, or complete tasks.
There are hundreds of nootropics out there, and they can vary in quality. OptiNeuro is one of the biggest selling nootropics in the UK, but how effective is it? In this article I am going to take an in-depth look at the ingredients list and examine the science.
The Ingredients
There are 15 ingredients in OptiNeuro. NOTE that the doses mentioned on Amazon UK differ slightly to that mentioned on the official OptiNeuro website, so we are referring to the latter.
Guarana Seed Extract – Guarana is a plant that is grown in South America, it contains guaranine (which is another name for caffeine) in the seeds. Guarana is similar to coffee and tea in that it contains caffeine, but is different to them in every other way. Guarana Seed Extract is a much more concentrated version, which is almost pure caffeine.
OptiNeuro contains 500mg of guarana extract prep, which boils down to 300mg of active guarana with 110mg of caffeine (slightly more than a cup of coffee). Nutribioticals Ltd (the company that sells OptiNeuro) claim that their product can enhance mood, concentration, alertness, and energy. Caffeine can do all of that, particularly for people who do not habitually take it and therefore do not have a tolerance. Try to remember how you felt the first time you drank coffee or took a pre-workout: euphoria, lots of energy, and probably the best workout/study session of your life.
L-Theanine – Theanine is an amino acid with a very specific benefit, it works very well with caffeine. Its purpose is to relax you and tackle physical or mental stress. This is great because one of the downsides of caffeine is that it can increase stress and can also lead to jitteriness. Adding L-Theanine is a very clever move, helping to reduce potential caffeine-led side effects, and one that tends to suggest the manufacturers know their stuff.
Theanine also has its own nootropic benefits. A 2011 study in the Journal of Functional Foods found that 200mg of theanine led to a significant increase in attention. OptiNeuro only contains 150mg of theanine rather than 200mg but this dosage should suffice.
Choline Bitartrate – While choline is a well-known cognitive enhancer, the form of choline that is used matters. For nootropic benefits, Examine.com recommends using CDP-Choline or Alpha-GPC as Choline Bitartrate is:
"The simplest and cheapest form of choline supplementation, and while it does produce benefits for the body it may not increase neural (brain) concentrations of choline reliably" . A missed opportunity in OptiNeuro.
Korean Ginseng – Linked with increased cognition and improved well-being, Korean ginseng may also help boost testosterone, and improve erections (so I guess you should take a cold shower after taking it then).
Bacopa – An excellent herb that may help improve memory and reduce anxiety. Too bad that the dosage is only 33% of the recommended intake of 300mg. Read more about bacopa
Acetyl-L-Tyrosine – An amino acid that is often used to reduce stress, studies have also indicated that it can help to prevent stress-related memory loss. A decent dosage of L-Tyrosine for nootropic use is between 500mg and 1000mg, though the more bioavailable form of NALT would only need 300mg per day. Unfortunately, OptiNeuro contains just 50mg according to the official website.
Gingko Biloba — antioxidant properties, protects brain cells, boosts blood flow and oxygen to the brain, regulates neurotransmitters
Trimethylglycine (TMG) —  found in beetroot, TMG has a host of health benefits. More often seen in workout supplements, can help cells adapt to stress, also seen to improve memory, brain function and reaction time.
Phosphatidlycholine — helps to repair brain cells, boost acetylcholine levels and boost cognition, focus, mood and alertness.

Phosphatidlyserine – helps create brain neurons, improve communication, may help tackle age-related cognitive decline. Read more
Coenzyme Q10 is used by every cell in the body, supplying them with energy. Supplementation can boost the brain's ATP, improving cognition, recall, memory and energy.
Full List of Ingredients: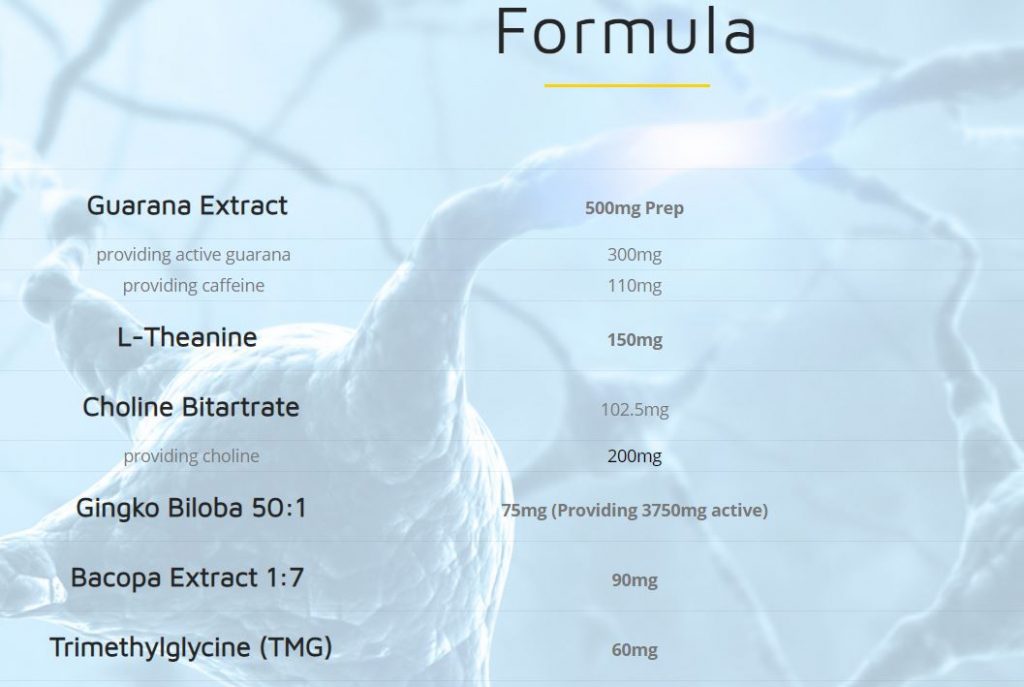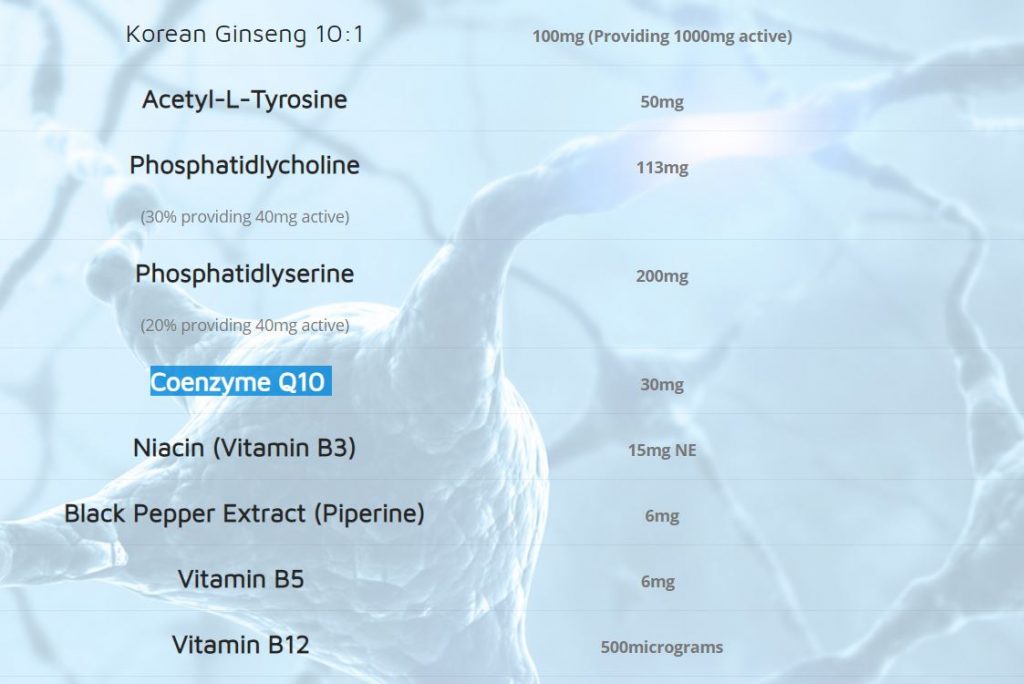 Pros
Well known, and trusted company
Good value for money, with 30 servings per pack
An effective dosage of caffeine, with theanine added too
Korean Ginseng is one of the most effective forms of ginseng
OptiNeuro offers a full refund if you are not satisfied
Produced to Good Manufacturing Practice standards
Cons
Cheapest and least effective form of Choline used
Under-dosed L-Tyrosine and Bacopa.
Odd choice to under-dose the above but include massive amounts of ingredients such as Gingko (Gingko Biloba 50:1 (75mg providing 3750mg active).
Some confusion about exact dosages if you compare the product on Amazon UK to the official website
Not likely to be as strong as some competitive nootropics on the market
Not suitable for vegans
Customer Reviews
The following reviews come from Amazon UK: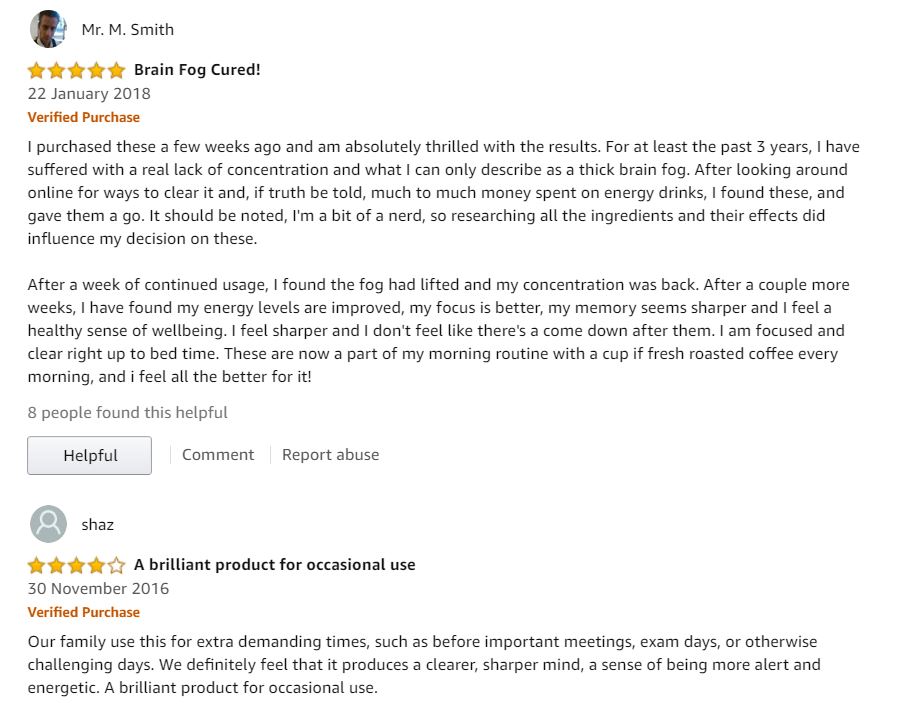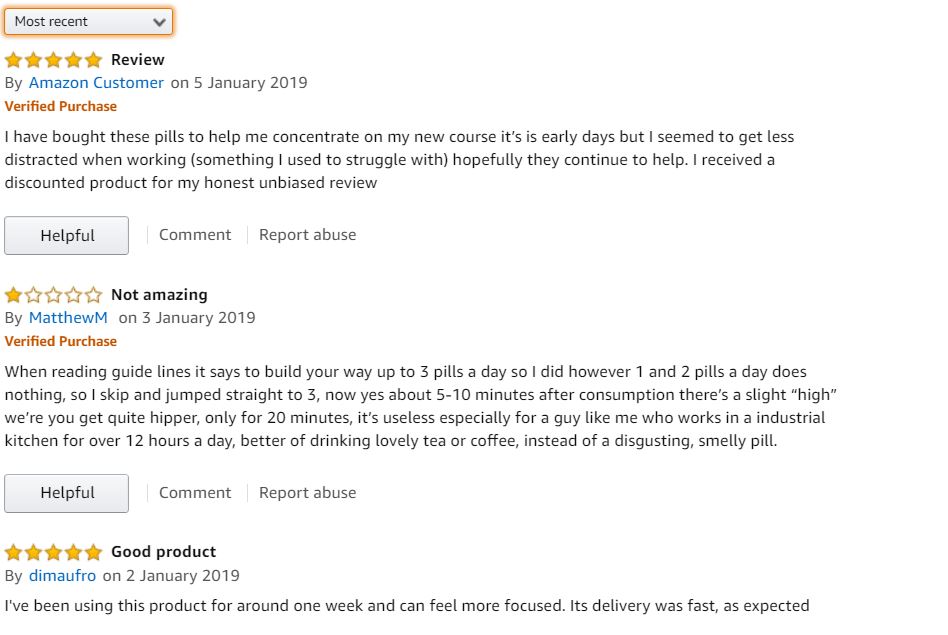 Safety/Side Effects
There aren't really any side effects, none of the potentially "dangerous" ingredients are at a high enough dosage to cause harm. The caffeine isn't that high but may affect people with zero tolerance causing nausea, high blood pressure, arrhythmia etc … but the inclusion of L-Theanine should counteract any side effects. That said, some users do recommend not taking any additional caffeine with the capsules.
How to Take?
You are supposed to take three capsules (one serving) with or after food each day. The reason that you need to take the capsules with food is that some of the ingredients are fat-soluble, meaning that they won't be as effective if you take them with water.
Who Takes It?
This product is marketed at students and amateur sports people, with a lot of marketing materials dedicated to the fact that Premiership footballers take OptiNeuro (though I'd like to have seen a testimonial from at least one player).
OptiNeuro also have testimonials from parents of children with ADHD saying that it helps to increase focus and improve behaviour. There are also testimonials from gym-goers.
It appears that OptiNeuro are targeting younger people. However, as some of the ingredients are more effective for the older generation, it does include some older people on its marketing literature as well.
Does it Work?
OptiNeuro should help to improve focus, attention, memory, and alertness. It should also banish fatigue. It would be a great supplement to take before working out or studying. Some students say they can notice an impact an hour or two after taking OptiNeuro, others suggest it takes a week or so. What does seem clear is that you shouldn't have to wait months to notice an impact from OptiNeuro, unlike some other nootropics. That said, you may need to use it for two months or so to obtain maximum benefits.
There are some under-dosed ingredients in Opti-Neuro, which is frustrating. They are also using a cheaper form of Choline that does not appear to affect the brain.
As a nootropic I'd say that OptiNeuro will get the job done, but don't expect a massive hit. It has been described as an 'impatient person's nootropic' because of its ability to work fast; the flipside of that, however, might mean it never quite reaches the strengths that other nootropics can boast.
Conclusion
OptiNeuro is a great nootropic supplement for somebody who has never taken one before. It is completely safe, and will definitely improve your cognition. If you are looking to focus more on studies, work or in the gym and want a quick benefit, then this is a good supplement for you. It is a good price, and the company has an excellent reputation.
But to be clear, there is work to be done. Increasing the dosage of some ingredients would make a big difference. Replacing the ineffective choline with a more effective one may affect profit and lead to an increased price, but it would be well worth it in my opinion.
Where to Buy
You can buy OptiNeuro via the official Nutribioticals website or from Amazon UK