This page may contain affiliate links and we may earn a small amount of money from any products bought. Our reviews, however, remain independent and impartial.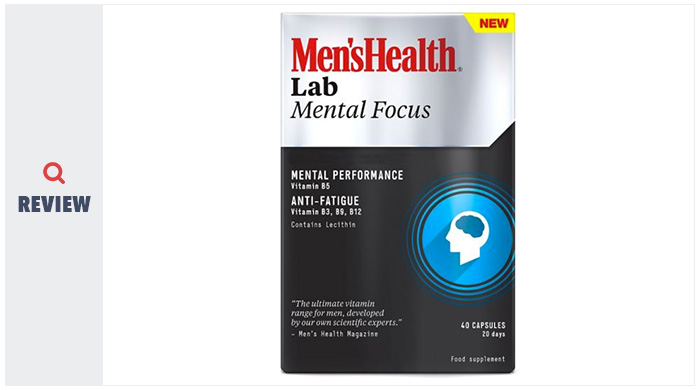 Men's Health Lab Mental Focus promises to provide you with all the essential nutrients you need to maintain optimal performance and to stay 'switched on in all situations'.
It's a worthy goal but does this food supplement from the respected magazine publisher really do the job? To find out, we have to examine the ingredients…
The Ingredients
| | | |
| --- | --- | --- |
| Ingredient | Amount per dose | Reference Intake (RI) |
| Vitamin E | 24 mg α-TE | 200% |
| Vitamin B1 | 2.2mg | 200% |
| Riboflavin (Vitamin B2) | 6.9mg | 493% |
| Niacin (Vitamin B3) | 32 mg NE | 200% |
| Vitamin B6 | 2.8mg | 200% |
| Folic acid (Vitamin B9) | 400µg | 200% |
| Vitamin B12 | 5µg | 200% |
| Pantothenic acid (Vitamin B5) | 12mg | 200% |
| Lecithin | 2000mg | – |
Ingredients: soy lecithin, gelatine, emulsifiers glycerol, mono- and diglycerides of fatty acids; sunflower oil, water, sweetener sorbitol, vitamin E (as DL-alpha tocopherol acetate), niacin (nicotinamide), pantothenic acid (calcium D-pantothenate), colours titanium dioxide, iron oxide; vitamin B6 (pyridoxine HCl), vitamin B2 (riboflavin), vitamin B1 (as mononitrate), folic acid, acidity regulators sodium citrate, citric acid; cyanocobalamin (vitamin B12).
Lecithin
Lecithin is the biggest ingredient by far in Men's Health Lab Mental Focus with a whopping 2,000mg. Lecithin is classed as a nootropic – a substance that can help the brain to work more efficiently – though it isn't the most powerful one out there. It may, however, offer benefits to anyone who isn't getting enough choline in their diet, which Lecithin contains. Experts theorise that may be up to 90% of the Western population.
Choline is important for good brain health, helping the brain to synthesize the neurotransmitter acetylcholine. Acetylcholine is involved in many neurological functions, from memory formation to reasoning and the establishment of new connections between the right and left hemispheres. It may help to prevent memory loss, one reason why it is often taken by people in old age.
Lecithin also contains fats/ lipids which are also used by the body to help restore damaged cell membranes all over the body and in the brain, and acts as an anti-oxidant by controlling the flow of nutrients in the cells. As a result, it can flush out toxins before they build up. It can also breakdown fat in the brain, heart and arteries.
Standard dosage varies from 200mg up to 4,800mg depending on your individual needs. The 2,000mg dose in Men's Health Lab Mental Focus should be enough to be effective.
B-Vitamins
Men's Health Lab Mental Focus also contains numerous B-vitamins, in particular Thiamine (B1), Riboflavin (B2), Niacin (B3), Pantothenic acid (B5), vitamin B6, Folic Acid (B9) and vitamin B12.
It promotes B5 for 'normal mental performance' and Thiamine, Niacin, Folic Acid and B12 for 'normal psychological function, as well as Niacin, Folic Acid and B12 again for 'reduction of tiredness and fatigue'.
This is a solid B-vitamin complex and one that is particularly useful for mental health and focus, thanks to the role of B-vitamins in the production of various neurotransmitters.
Riboflavin, for instance, boosts dopamine and serotonin, though vitamins B6 and B12 are considered more effective. Thiamine has been shown to be influential in the production of Acetylcholine, as does Pantothenic Acid.
Meanwhile, Niacin is critically important for DNA repair and cell signalling; a deficiency in this puts the brain at risk. It also acts as a vasodilator, boosting blood flow to the brain which helps to supply it with more glucose and oxygen to be turned into ATP, the primary energy source for the brain. Finally, Niacin also helps to flush out toxins and waste products from the neurons.
Vitamins B6 and B12, however, are potentially the most important of the B-vitamins when it comes to boosting brain function.
A lack of B6, for instance, can deplete neurotransmitters, causing age-related cognitive decline. Supplementation helps to reduce brain shrinkage. A recommended dose is between 1 and 2mg though you can take more safely (no more than 100mg is recommended, however). As such, the dosage in Men's Health Lab Mental Focus is likely to be effective.
B12 is another big hitter, and has been praised with helping memory, concentration and mental energy when supplemented. Helping to fight age-related decay and memory loss, in particular, experts recommend 1mg a day for supplementation, going up to 25mg for greater relief. Unfortunately, the 5µg (micrograms) include in Men's Health Lab Mental Focus, while 200% RI, is much lower than this.
A university of Oxford study found that elderly subjects taking B6, B12 and Folic Acid for two years had seven times LESS loss of brain tissue than those participants who didn't take any B vitamins at all.
It is fair to say that all these B-vitamins play an important role in keeping the brain healthy and optimal. Not all of them are the strongest nootropics out there, but the combination should help to boost your focus.
Vitamin E (DL-alpha tocopherol acetate)
There is some evidence to show that vitamin E may help older people fight memory loss. The Journal of the American Medical Association reported a study demonstrating that high amounts of vitamin E helped mid-level Alzheimer's disease. Note, however, that it involved participants taking 2,000 International Units a day (1IU roughly translates to 0.67 mg d-alpha-tocopherol, making this a massive amount).
Note too that this didn't prevent Alzheimer's, nor did it prevent memory loss turning into Alzheimer's.
Many doctors warn this amount of vitamin E is unsafe, and you should be able to get adequate amounts of vitamin E from your food anyway. So whether the 24 mg α-TE of vitamin E included in Men's Health Lab Mental Focus will actually do anything is up for question.
The Pros
Contains some genuine nutrients proven to help boost mental focus and concentration.
Men's Health Lab Mental Focus includes no flavourings or preservatives
Does not contain lactose or gluten
The inclusion of lecithin can help anyone who isn't getting enough choline in their diet, which is a common complaint in the western world.
While the Men's Health Lab range is tailored towards men with an active lifestyle, it's good to see that they haven't ignored the mental side of things in favour of the physical.
The Cons

It's a shame that the dosage of vitamin B12 – a genuine powerhouse nootropic – is so low. Compare the 5 micrograms in Men's Health Lab Mental Focus to the 7.5 grams in popular nootropic stack Mind Lab Pro, for instance.
A lot of these vitamins – vitamin E and several of the B vitamins – seem more focused for older people and age-related cognitive decline.
Lecithin is made from soy, which can cause allergies
Contains gelatine
May not have sugar, but does contain sweeteners
One box only contains enough for 20 days (taking two capsules a day) and not a month like a lot of its competitors
We couldn't find any customer reviews online as yet.
How to Take
Take two capsules a day, best taken with food in the morning.
Safety/ Side Effects
Men's Health Lab state that all its products are safe with no known side effects and have been scientifically tested.
Does It Work?
While Men's Heath Lab Mental Focus doesn't use the most powerful of ingredients or include high enough dosages of other ingredients, it should have enough oomph to give a mild boost to concentration and focus.
Conclusion
While several of these vitamins may be influential for mental health, Men's Health Lab Mental Focus has missed an opportunity to include stronger nootropics in place of relatively ineffective ingredients such as vitamin E. In fact, why would we buy this product as opposed to a genuine nootropic stack such as Mind Lab Pro? Men's Heath Lab hasn't given us a reason to opt for their brain-focused food supplement/ multivitamin over a traditional nootropic product that would be much more effective.
That said it may be a good introductory offering to anyone who isn't ready to try a full-on nootropic stack, or someone who is only after a mild boost.
Where to Buy
Men's Health Lab Mental Focus is available from numerous stores and websites such as Boots, Amazon, Holland & Barrett and more.