This page may contain affiliate links and we may earn a small amount of money from any products bought. Our reviews, however, remain independent and impartial.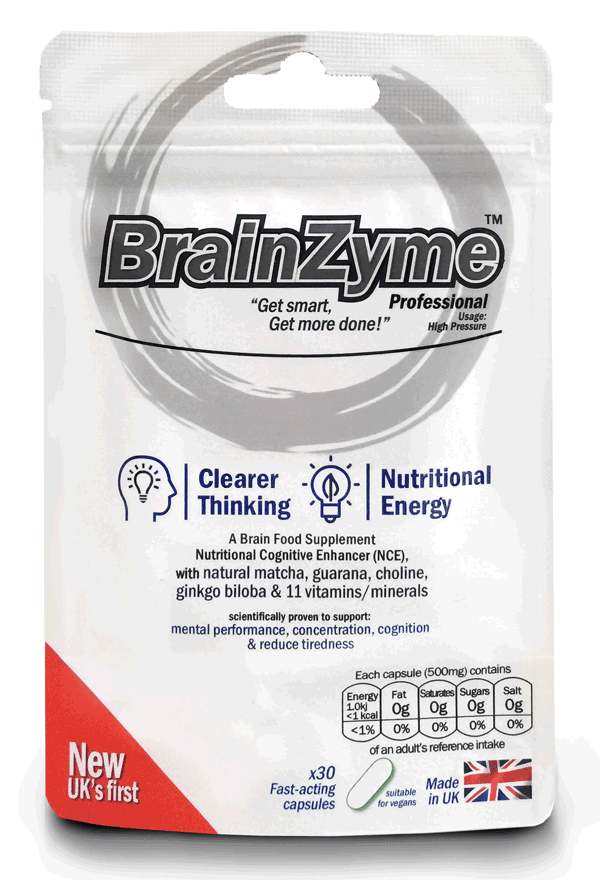 Better Nutritional Science is an Edinburgh-based supplements company that sells the BrainZyme product range. There are three products in this range: BrainZyme Original, BrainZyme Pro, and BrainZyme Elite. In this article I will be taking a closer look at BrainZyme Pro.
A Brief Word on the Other BrainZyme Formulas
The three BrainZyme fomulas seem created with different pockets in mind. Original promises mild motivation while Pro promises stronger motivation, with additional support for memory. The Elite promises all of the above, plus a positive mood lift and further help for memory and brain nutrition. Each one increases in price.
The real difference behind each one lies in its ingredients. The original, not surprisingly, is the most basic. It misses out on the additional L-Tyrosine, Gingko Leaf extract, magnesium, Maca Root Extract and a few more vitamins, such as vitamin C, B3 and D2, that BrainZyme Pro offers.
Likewise, BrainZyme Elite boasts additional Panax Ginseng, NALT, Cinnamon extract, Curcumin Powder, L Acidophilus, plus extra vitamins B2, B7, B9, vitamin A and Vitamin E.
BrainZyme suggests the following uses for the three formulas:
Original — milder, general purpose.
Pro — stronger, high pressure situations.
Elite — added brain nutrition, use for the longer term.
For the purpose of this review, we will be examining the middle option — BrainZyme Pro.
Ingredients
Matcha Green Tea Powder (350mg)
The biggest compound in this supplement is the Matcha Green Tea Powder, which appears to be the standard green tea leaves turned into powder. This means that it contains L-Theanine as well as green tea catechin EGCG.
Green tea catechins may have a small affect on cognition, studies have shown that it can increase blood flow, which can help supply more oxygen to the brain. Though one study actually found that EGCG led to a reduction in blood flow to the brain, cognition was unaffected.
When EGCG is combined with L-Theanine (which it is in this supplement) there seems to be evidence that cognition is improved. A 2011 study found that giving subjects a combination of green tea extract and l-theanine led to significant increases in cognitive alertness. This study was performed on people with cognitive impairment though, so it is not clear whether regular people would see an improvement or not.
Theanine itself seems to have a lot of benefits, with increased relaxation, reduced anxiety, improved attention, and improved sleep quality all associated with it. The standard dosage for theanine is 200mg though, so there is a possibility that the dosage in BrainZyme is too low for a significant difference to be noticed.
Ginkgo Biloba (240mg)
Ginkgo Biloba appears to have a very good effect on reducing cognitive decline as you age. Whether it is effective in younger people is up for debate. But there is a lot of evidence that ginkgo biloba can improve memory and it may even boost cognition. The dosage is absolutely spot on too.
L-Tyrosine (230mg)
This amino acid appears to be effective at reducing stress, increasing cognition, and improving subjective well-being. If you are stressed then it is common to not think clearly, feel anxious, and find it difficult to concentrate. L-Tyrosine appears to improve this by reducing stress.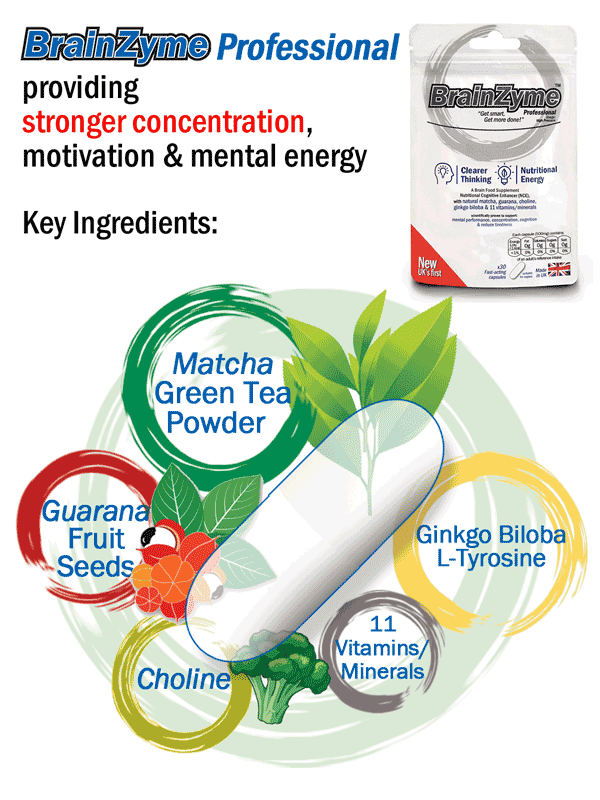 Choline (200mg)
Before we look at Choline, one thing that I want to point out is that there are three forms of choline used as supplements. Choline Bitartrate, CDP-Choline, and Alpha-GPC. The latter two are well established nootropic ingredients that are known to be effective. Choline Bitartrate, unfortunately the version used here, has been shown to be ineffective as a cognitive enhancer (though it may help with physical benefits).
However, there is one benefit of choline bitartrate that may explain why it is here. In people with low levels of choline (people who exercise a lot) there can be a reduction in fatigue when supplementing with choline. Still, it is a shame that Better Nutritional Science didn't go for the more expensive, but much more effective forms of choline.
Guarana Fruit Seeds (170mg)
When it comes to guarana, what matters is how much caffeine is present. The more caffeine, the more effective it is. While BrainZyme don't specifically tell us how potent this Guarana Fruit Seed is, they do point out that the total amount of caffeine in two capsules of BrainZyme Pro is less than 95mg — less than one cup of normal filter coffee.
Guarana has a lot of potential as a nootropic ingredient. There appears to be positive effects on anxiety, learning, and cognition. Sadly, there is a distinct lack of studies on humans, with almost all studies performed on rats. This does not mean that guarana is ineffective, just that more research is needed before we can say for sure whether it works for humans.
Magnesium (60mg)
Magnesium is vital for the body and brain, helping to supply the cells' mitochondria with ATP energy. It is also heavily involved in regulating brain plasticity, critical for memory and learning. It also protects the brain's functioning — low levels of magnesium, for instance, are linked with higher levels of neurodegenerative disease. Unfortunately the form of magnesium included in BrainZyme Pro is magnesium oxide, which is not very bioavailable.
(If you worry you are low in magnesium, you may want to add a multivitamin to your regimen. We recommend Performance Lab Whole-Food Multi, which has its own bioavailable form of magnesium, thanks to its nature-identical and proprietary BioGenesis® formulation).
Maca Root Extract (20mg)
Maca root is known to have numerous health benefits, including boosting your sex drive, lowering blood pressure, increasing energy, aiding bone density, reducing menopausal symptoms, inflammation and more. For our purposes here, it has also been shown to reduce anxiety and depression, and may aid learning and protect against memory impairment, though research has only been done on mice so far. Likewise, the majority of the research on Maca comes from one lab in Peru. Standard dosage according to Examine.com is 1,500-3,000mg per day, so it's doubtful if the 20mg in BrainZyme will do much anyway.
BrainZyme Pro also includes B vitamins — B3, B5, B6, B1, B12 — well known for their myriad of nootropic boosting elements.
Full Ingredient List: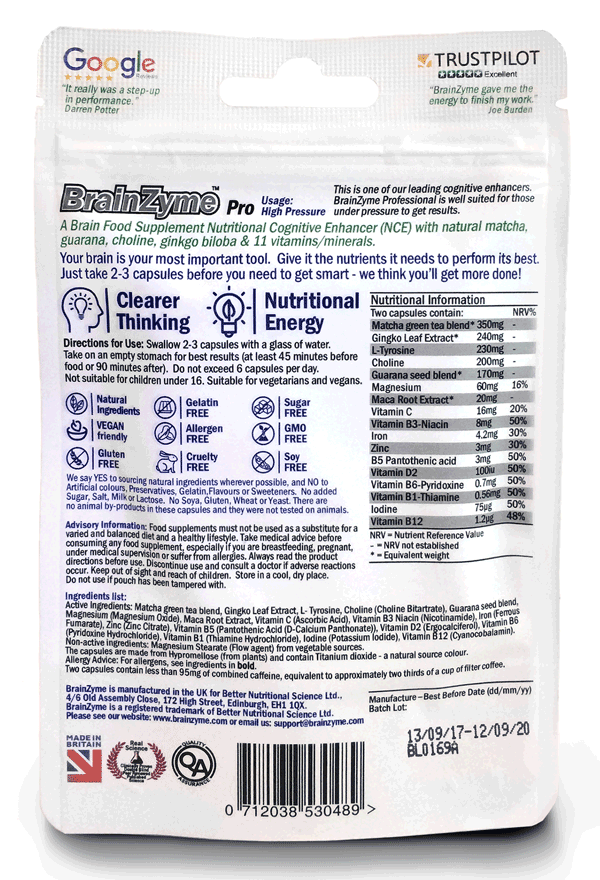 Pros
Lots of effective ingredients
Proper doses for Ginkgo, L-Tyrosine, and Green tea extract
Excellent value for money
Vegan friendly
Well trusted and respected UK company
BrainZyme boasts that it starts to work within an hour
Cons
Uses choline bitartrate rather than CDP-Choline or Alpha-GPC
Could have added L-Theanine separately using the correct dosage, rather than using Matcha Green Tea
Customer Reviews
The following reviews come from Amazon UK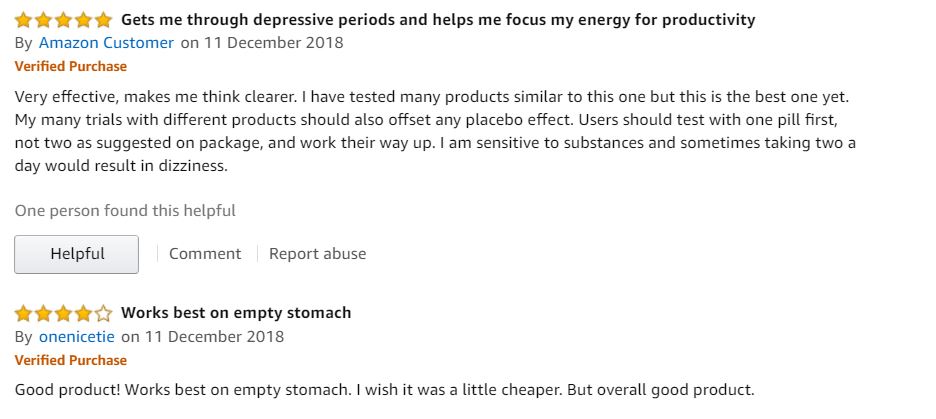 Safety/Side Effects
The only side effects that are in any way likely would be from the caffeine content of the guarana fruit seeds. Nausea, headaches, high blood pressure, and upset stomachs are potential side effects, but this would only occur in people who have zero tolerance to caffeine. The theanine should also lessen a lot of the potential side effects.
How to Take It?
Ideally, BrainZyme should be taken on an empty stomach. This is because some of the ingredients (green tea for example) are best suited to keeping separate from food. Take 2-3 capsules with water. If you are new to this, then take 2 capsules and you can then work your way up to 3 capsules.
Who Takes It?
BrainZyme's marketing campaign is aimed at young men and women, though their BrainZyme Pro is aimed more at professionals. However, it is the elderly who would get the most benefits out of it. Ingredients such as Ginkgo Biloba are much more effective in people who are at risk of cognitive decline than people who are young and healthy.
Does it Work?
After taking a look at all the ingredients and their dosages, I can say that the evidence points to yes. I can't say how noticeable the changes would be, but there is definitely enough evidence that these ingredients work.
Conclusion
BrainZyme is a very good product, with a lot of effective ingredients. There is room for improvement, making small changes such as changing the source of choline could certainly upgrade the effectiveness. Adding Panax Ginseng could also help improve the effectiveness of guarana, though you'd need to buy BrainZyme Elite for that!
On the whole this is definitely one of the stronger nootropics available to buy at the moment.
Where to Buy
You can buy BrainZyme Pro from the official BrainZyme website or via Amazon UK