This page may contain affiliate links and we may earn a small amount of money from any products bought. Our reviews, however, remain independent and impartial.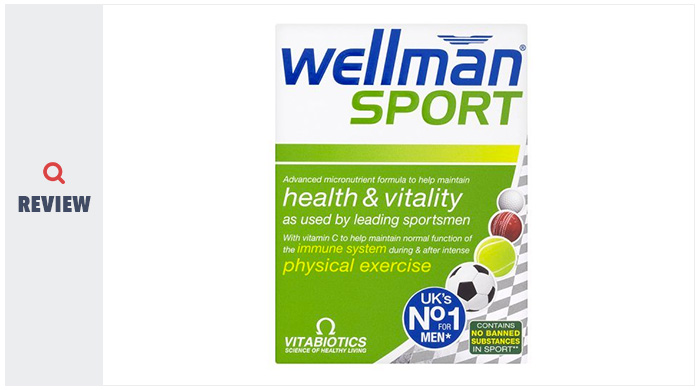 <<< UPDATED: Best Multivitamins for Men to Buy in UK in 2020 >>>
Wellman Sport is a specialist multivitamin designed to support men in training and fitness. It includes nutrients shown to aid performance during sport, such as vitamin C to strengthen the immune system after intense exercise.
An all-round multivitamin with a sport bent rather than a supplement to help you build muscle or put on weight, Wellman Sport can be taken every day and is recommended by leading athletes such as Mark Foster.
But does its sport's angle really make it stand out from other multivitamins, or is it more of a gimmick? Let's find out…
The Ingredients
We'll begin by examining the specific nutrients listed in Wellman Sport for training support. They include iron, Vitamin C, Siberian Ginseng Extract, L-Carnitine, Co-enzyme Q10 and Octacosanol.
Iron: Too much iron can be bad for you, which is why many multivitamins aimed at men don't contain it. However, it is particularly useful if you are regularly taking part in intense exercise. That's because an hour's exercise could deplete your iron levels by as much as 5.7% (granted, figures come from research done on women). Iron is so vital because it aids red blood cells in carrying oxygen to your muscles. Anaemia caused by low iron in turn causes fatigue and reduces endurance during long training sessions or distance running, for example.
Vitamin C: You may have heard that vitamin C can help to fight off the common cold. According to research from Finland's University of Helsinki, it can also reduce wheezing, coughing and shortage of breath during and after exercise, especially if working out in chilly weather.
Siberian Ginseng Extract: Not to be confused with any other type of ginseng (they are not all made equally), Siberian Ginseng is believed to boost the immune system, improve appetite and prevent colds. Some people also use it to improve athletic performance. It is an 'adaptogen', a substance that can in theory strengthen the body's resistance to daily stress.
Note that research on Siberian Ginseng and exercise is conflicting. Research shows that taking a powdered form of Siberian ginseng containing the chemicals eleutheroside B and eleutheroside E may improve endurance and breathing while cycling. Other research, however, shows no benefit when taking Siberian ginseng liquid containing the same chemicals for trained distance runners. Likewise, a specific Siberian ginseng product Endurox did nothing to improve either breathing or heart rate after cycling, treadmill or stair-stepping exercises. The jury is out.
L-Carnitine: Certain research suggests L-Carnitine can boost endurance and athletic performance, thanks to its ability to aid the body in producing energy. Intense exercise sessions have also been shown to deplete L-Carnitine. WebMD, however, warns that other research shows no benefits to exercise or training by taking L-Carnitine.
Co-enzyme Q10: As well as potentially fighting cancer and heart failure, CoQ10 is also said to give an energy boost and reduce recovery time after exercise.
Octacosanol: According to research carried out at Yonsei University in Seoul, and published in the Journal of Medicinal Food, Octacosanol has been shown to increase endurance time when running (tests carried out on rats run to exhaustion). The authors examined biochemical parameters after exhaustion and concluded that Octacosanol helps to preserve muscle glycogen stores.
Other Ingredients:
B-Vitamins: Wellman Sport includes all eight B-vitamins: folate, Thiamine (B1), Riboflavin (B2), Niacin (B3), B6, B12, Pantothenic Acid and Biotin. These are important vitamins for everyone, but are particularly useful when exercising as they help the body to convert sugar and protein into energy. If you don't have enough energy to push yourself through that final workout, you could be low in your B vitamins.
Vitamin D: Vitamin D helps muscle fibres to regenerate, with a 2013 study from Newcastle University demonstrating that it improves muscle efficiency.
Vitamin E: This is an antioxidant that can reduce your chances of becoming sick, useful if you're a gym devotee.
Magnesium: A powerhouse mineral, magnesium is crucial for energy metabolism and helps to protect bone density. The latter is particularly important to avoid stress fractures when doing high-impact activities. You also lose magnesium through sweat.
Zinc: You can easily become deficient in zinc when training or taking part in regular intense exercise; ditto when loading up on carbohydrates and cutting out fat and protein. The U.S. Department of Agriculture also found out that reducing zinc intake caused cyclists to fatigue more quickly, thanks to a poorer oxygen uptake.
L-Arginine: Another nutrient with inconsistent evidence. There is some evidence that it may boost exercise time, but other evidence to say that it doesn't improve performance (tests done on male cyclists).
Alpha Lipoic Acid: Dubbed the 'universal antioxidant', ALA works with vitamins C and E to combat free radicals. Extremely important considering weight training or extreme cardio exercise releases lots of free radicals in the body. Supplementing helps to improve strength and muscularity.
The Full Ingredients List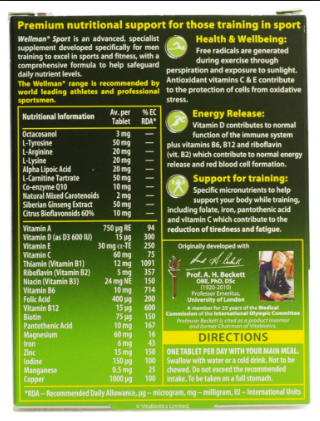 The Pros
Wellman Sport is suitable for vegetarians and not tested on animals.
It is free from gluten, yeast, and artificial colours and preservatives,
It is suitable for men of all ages.
Acts as a multivitamin but is intended to support men taking regular intense exercise.
While some of its ingredients have conflicting research, the majority have been proven very useful for anyone taking part in intense and regular exercise and training sessions.
It has earnt a 4.5 out of 5 rating on Amazon UK (from 49 reviews).
Fans of Wellman Sport say that it gives them noticeably more energy.
Others say it helps to prevent them from getting colds.
Wellman Sport is also praised by some for boosting mental alertness and libido
The company behind Wellman Sport, Vitabiotics, is well-known and respected, and praised for its strong customer service.
The Cons
Wellman Sport is not a standard male multivitamin. It prioritises sport and training over traditional male concerns, such as prostate health, for instance. For this reason, it doesn't include popular prostate and testosterone-friendly nutrients such as Saw Palmetto and Lycopene.  If this is what you want, you should consider a different supplement. That said, Vitabiotics does claim that there is no need to use another multivitamin alongside this one.
Wellman Sport doesn't always offer the RDA of all nutrients. Its 60mg of magnesium, for instance, is approximately only 16% of the recommended daily allowance.
Different athletes have different nutrient needs and requirements, so this supplement may not work for all.
Users complain that the tablets themselves are a little big.
Some people also complain that Wellman Sport can dehydrate the body, so drink plenty of water to avoid this.
Synthetic vitamins and minerals. Whole food nutrients are preferable. But that would make the product more expensive.
Customer Reviews
Reviews are from Amazon UK and Boots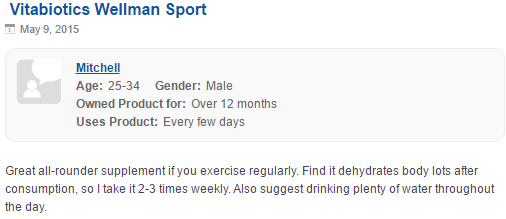 Safety/ Side Effects
No significant side effects seem to have been reported, as long as the supplement is used as directed. There are no drugs or hormones in its formula, and it shouldn't be addictive.
Health Warnings
Not to be taken if allergic to soya; you are recommended to seek professional advice before taking if you have food allergies. Vitabiotics warns that the iron in Wellman Sport can be harmful to very young children if taken in excess. Do not take more than the recommended dose.
How to Take It
Wellman Sport should be taken once a day, with a main meal, alongside water or a cold drink. Do not take on an empty stomach.
Does It Work?
According to the majority of reviewers, Wellman Sport is a pretty effective sport-related multivitamin, primarily helping to boost energy levels.
Conclusion
Athletes, bodybuilders or men with active lifestyles require more nutrients than someone with a sedentary lifestyle. An ordinary multivitamin, therefore, may not be good enough to meet their needs.
For that reason, Wellman Sport is a useful targeted multivitamin that can play a key role in any sportsman's training programme.
Wellman Sport is by no means the best multivitamin on the market (for sport or otherwise) but it is not bad. Especially if you are on a budget. You could do worse for the same money.
Where to Buy
You can buy Wellman Sport in numerous online and high street stores, including Amazon UK, Boots and Holland & Barrett.