This page may contain affiliate links and we may earn a small amount of money from any products bought. Our reviews, however, remain independent and impartial.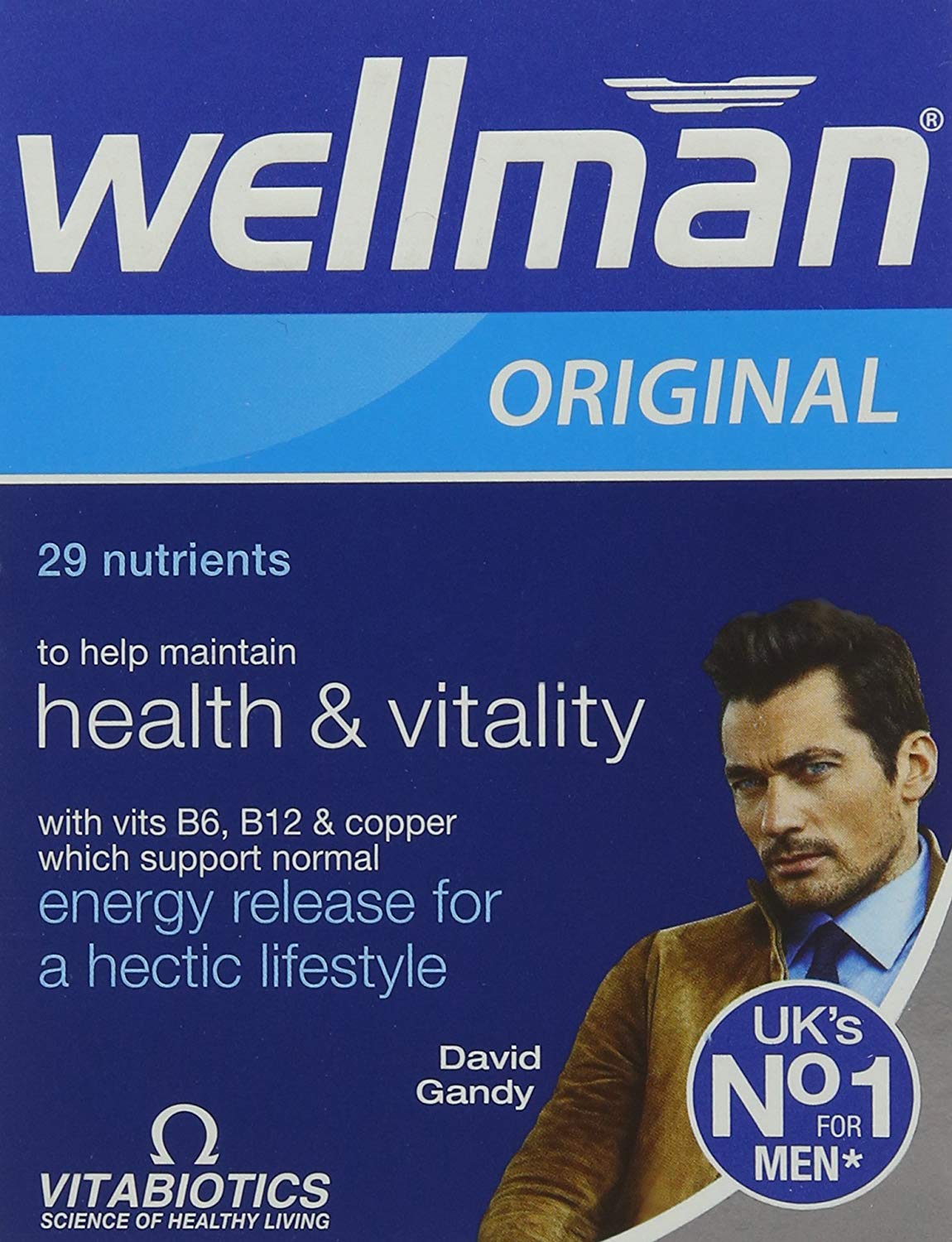 Multiple multivitamin supplements are available on the market for men. Some of them are relatively generic, while others focus on one particular aspect of health. Among those features, a healthy immune system is something men strive to maintain year after year. Various vitamins and minerals promote a healthy immune system and are present in various quantities in men's multivitamins.
So how does Vitabiotics Wellman Original fare? Is it a useful supplement for the immune system or elsewhere? Let's take a closer look.
---
» See the #1 Male Multivitamin Supplement This Year «
---
The Ingredients
Vitamin C, 60mg
Vitamin C is probably the most famous immune booster around. We have all taken an extra boost of it when feeling a bit under the weather, in the hope that it will help us recover more quickly. This vitamin is extremely safe to use and is very efficient in improving overall health. Indeed, in addition to supporting a healthy immune system, vitamin C participates in the prevention of cardiovascular diseases, eye diseases, and ageing of the skin. Vitamin C is also a potent antioxidant.
Vitamin C is not naturally produced by the body and must thus be supplemented or absorbed from foods. It is present in fruits and vegetables such as oranges, strawberries, kiwis, broccoli, kale or spinach, among others.
In the UK, the NHS recommends 40mg of vitamin C per day for adults. Wellman Original supplies a little more than that, making sure we actually absorb the correct amount needed.
Vitamin E, 20mg
Vitamin E is an effective antioxidant, naturally present in many food sources such as oils, nuts and green vegetables. It contributes to a strong and healthy immune system, prevents inflammation and the development of chronic diseases. It is particularly useful in fighting off infections during the winter months.
The NHS recommends 4mg of Vitamin E per day for men. Wellman Original provides five times this amount, but it remains a very safe dosage that is unlikely to cause any side effects.
Co-enzyme Q10, 2mg
Co-enzyme Q10, also shortened CoQ10, is an antioxidant naturally produced by the body. It also plays a key part in the production of energy and can prevent heart diseases in the long term.
However, its production levels decrease naturally as we age. For that reason, it is good to take a CoQ10 supplement, or to make sure it is included in the daily multivitamin we take. Here, a very small amount is contained in a daily serving.
L-Carnitine, 30mg
L-carnitine is an amino acid naturally produced by the body. L-Carnitine supports the production of energy. Supplementing with L-Carnitine can thus help increase energy levels throughout the day. It can also support healthy heart function and improve exercise performances. L-Carnitine is mainly found in meat, dairy and fish.
Vitamin B6, 9mg
Vitamin B6 helps in the formation of red blood cells and plays an important role in biochemical reactions in the immune system. Vitamin B6, also called pyridoxine, is commonly found in pork, poultry, eggs, fish and vegetables. The NHS usually recommends a daily intake of 1.4mg per day for men. The dosage present in Wellman Original is more than six times the recommended daily intake. While the extra dose may not have any additional beneficial effects, it is not harmful for the body either. B6, along with B12, helps to maintain normal energy levels. 
Citrus Bioflavonoids, 10mg
Citrus bioflavonoids are extracted from citrus fruit and are used in supplements to enhance the potency of vitamin C on the immune system. By themselves, they also have an antioxidant and anti inflammatory effect. 10mg is a very low dosage.
Siberian Ginseng Extract, 20mg
Siberian ginseng extract is known to improve energy levels, reduce fatigue, manage blood pressure, and boost the immune system. While the dosage in Wellman Original is relatively low, it works well in synergy with the other compounds. In addition, even at a low dose, Siberian ginseng extract can interact with anticoagulants such as Warfarin, so ask your doctor before taking if on any other medications.
Vitamin B1, 12mg
Vitamin B1 participates in the healthy release of energy from food as well as in keeping a healthy nervous system. The body is not able to store this vitamin, and it thus must be consumed every day. The NHS recommends a daily dosage of 1mg for men. While ingesting 12 times this amount has not proved its usefulness, it does not cause any harm either.
Vitamin D, 10mcg
Vitamin D is naturally produced by the skin in the presence of sunlight. It is therefore particularly important to supplement it during the winter months, when the sun rays are not as strong and the days are much shorter. Vitamin D can reduce fatigue, protect the body from cardiovascular diseases, support healthy bones and reduce depression and anxiety.
The NHS recommends 10mcg of Vitamin D per day, which is the exact amount contained in one serving of Vitabiotics Wellman Original.
Vitamin B12, 9mcg
Vitamin B12 contributes to a healthy nervous system, supports the creation of new red blood cells and increases energy levels. As it is mainly found in meat and dairy, vegetarians and vegans are particularly at risk of suffering from a vitamin B12 deficiency. While the NHS recommends a daily intake of 1.5mcg, the dosage contained in Wellman Original remains safe and should not cause any side effects.
---
---
See the full list of ingredients below: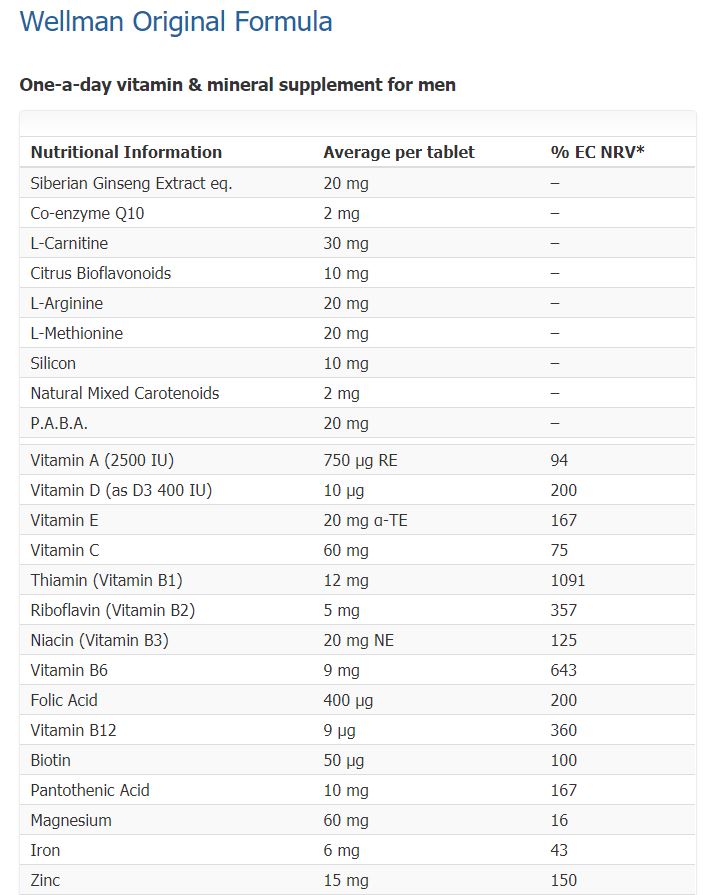 The Pros
Wellman Original contains lots of immune system-supporting vitamins and minerals

Convenient dosage that needs to be taken once a day only

Enhances energy levels

Specially formulated for men

 Manufactured by Vitabiotics, one of the most trusted proven names in UK vitamin supplements.

Suitable for vegans

Contains no artificial colours or preservatives
The Cons
Some vitamins are present in very large amounts that are not necessary

Some ingredients can interact with anticoagulants

According to users, the taste is a bit strong

Some users have experienced stomach pains when taking Wellman Original without food
Customer Reviews
The following reviews are from Amazon UK.




Safety/Side Effects
Overall, Wellman Original is a very safe product to use and should not cause any noticeable side effects. However, some users have reported light stomach pains when taking the supplement, so make sure you are taking it with food.
Health Warnings
Some ingredients contained in the Wellman Original formula can interact with medications such as blood thinners and antidepressants. This is notable the case of Vitamin E and Siberian ginseng extract. If you have any doubt regarding a possible interaction with a current medical treatment, refer to your GP for more information.
---
» See the #1 Male Multivitamin Supplement This Year «
---
How To Take It
Take one pill per day, just after or during a meal. It is not necessary to take any other multivitamin supplement while taking Wellman Original.
Does It Work?
Overall, users seem happy with the results provided by the Wellman Original formula. It effectively gives a boost to the immune system and increases energy levels in the long term. In order to see significant results though, it is recommended to take Wellman Original every day for at least two to three months.
Conclusion
Wellman Original is an effective multivitamin supplement which delivers well when it comes to enhancing the health of the immune system and maintaining optimum energy levels. Ingredients have been carefully chosen and specially combined to best suit mens' needs.
It includes several traditional minerals and vitamins that should help to boost energy, and goes one step further by adding L-Carnitine and Co-Q10, demonstrating Vitabiotics' commitment to quality and innovation. These sit alongside 'male favourites' such as zinc and selenium, which may also preserve male fertility.
However, some ingredients are present in very high dosages without any proven increase in their potency. As long as it does not cause harm to the body, which is the case here, it is not such a big deal.
Last but not least, as some of the compounds can interact with certain medications, we strongly recommend you talk to your GP before taking Wellman Original if you are currently under medical treatment.
---
---