This page may contain affiliate links and we may earn a small amount of money from any products bought. Our reviews, however, remain independent and impartial.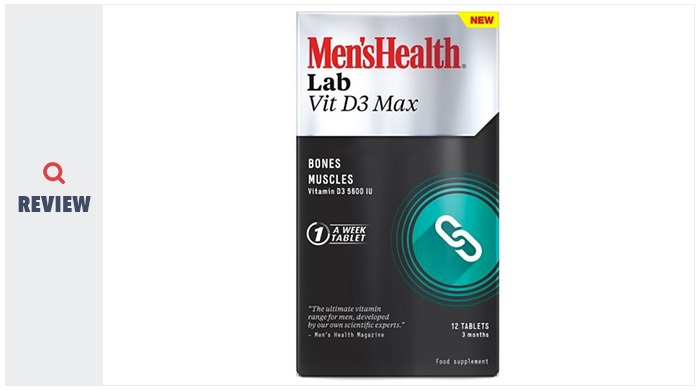 Men's Health Lab produces a special once-a-week vitamin D tablet to 'fortify your bones and muscles'. But do we need additional supplementation of a vitamin that the body can make itself? And if so, does Men's Health Lab offer it in an adequate dosage? Let's take a look…
The Ingredients
Aside from bulking, glazing and colour agents, the one and only ingredient in Men's Health Lab Vit D3 Max is vitamin D3.


Full Ingredients: maltodextrin, bulking agent microcrystalline cellulose, cellulose gel, anti-caking agents silicon dioxide, stearic acid, magnesium stearate, talc; glazing agents polyvinyl alcohol, polyethylene glycol; colours titanium dioxide, iron oxide; water, vitamin D3 prep (carrier sucrose, acacia, corn starch, medium chain triglycerides, calcium phosphate; cholecalciferol, anti-oxidant alpha-tocopherol).
Why is Vitamin D so Important?
Experts theorise that many people have low vitamin D levels. It's hard to find foods with high vitamin D content, plus changes in lifestyle – staying indoors more and wearing sunscreen – reduces the body's exposure to sunlight, which is the body's primary way of naturally producing vitamin D.
Vitamin D is involved in several key roles in the body. Perhaps its most important job is to help your body absorb phosphorous and calcium from your food and drink, aiding bone health and promoting bone growth. A vitamin D deficiency can cause rickets in children (soft bones) and fragile bones in adults. People with osteoporosis, for instance, often need to take vitamin D supplements.
Vitamin D, however, is linked to much more than that. Studies show, for instance, that people with higher levels of vitamin D may have a lower risk of developing certain diseases such as prostate cancer, heart disease, and depression, among others.
Note, however, that they don't go as far as proving that vitamin D deficiency causes such diseases, or that supplementation can lower the risk of them. That's because there have been no definitive clinical trials into the benefits of vitamin D supplementation, according to Web MD. Indeed the Institute of Medicine's expert committee declared there was no conclusive evidence that vitamin D alone offered benefits beyond bone health, stating that more research was needed.
Is Men's Health Lab Vit D3 Max in the Best Dosage?
Following an extensive review of the available literature and studies on vitamin D, the Institute of Medicine (IOM) set a recommended dietary allowance for vitamin D. Its recommendation for adult men stands at 600 IU (International Units) per day.
Men's Health Lab Vit D3 Max includes a weekly dosage of 5600 IU, which translates to 800 IU per day, 200 over the recommended allowance. Should this be a concern?
According to the same recommendations from the IOM, the maximum safe intake of vitamin D per day is 4,000 IU per day, so Men's Health Lab Vit D3 Max is well under that.
In addition, Boston University expert Michael Holick, MD, PhD recommends as much as 2,000-3,000 IU a day for an adult unless they are getting a lot of safe sun exposure, while the Vitamin D Council recommends 2,000 IU a day.
* Note that the IOM recommendation assumes you get none or virtually no vitamin D from sunshine (but enough calcium), and therefore need to get the recommended levels from diet or supplements. *
*Note also that the amounts mentioned above are suggested for supplementation and are not prescription-level dosages, which may be much higher, and depend on the individual circumstances of the patient.*
Is Men's Health Lab Vit D3 Max in the Best Format?
The good news is that Men's Health Lab Vit D3 Max uses the best form of vitamin D for the body. Vitamin D3 or cholecalciferol is the same form of vitamin D that your body makes naturally after sun exposure, and this is the form used by Men's Health Lab (the name of the product gives it away!).
There is some evidence to say that vitamin D2 may work just as well as D3, but most experts recommend the latter as vitamin D3 mimics the body's own production.
Weekly versus Daily Vitamin D Supplementation
According to the Vitamin D Council, weekly supplementation of vitamin D is likely to be ok for most people, though monthly or less frequent will render it more inefficient. The Vitamin D Council recommends daily supplementation as the ideal, however it admits this is not based on science or empirical evidence, but instead the fact that we are usually exposed to sunlight daily.
The Pros
• Supplementation of vitamin D is recommended. The only other realistic way to naturally generate enough vitamin D is to expose your body to the sun, without sunscreen, for 10-15 minutes at least three times a week. Of course, you'll be exposing yourself to cancer-causing UV rays as well, so this is not recommended. This is one instance where doctors prefer supplementation over natural.
• This Men's Health Lab product uses the best form of vitamin D in a decent dose.
• Many people struggle to get enough vitamin D so supplementation is important.
• Taking the tablet once a week should be easier on those who struggle to remember to take medications daily.
• Men's Health Lab Vit D3 Max contains no lactose, gluten or flavourings.
• It is suitable for vegetarians.
The Cons
• Be aware of taking your once-a-week pill more frequently. Too much vitamin D carries significant side effects.
• Vitamin D can interact with other medications. It can cause problems with some, and others can reduce the efficiency of vitamin D metabolism. See Health Warnings below.
• We can find no customer reviews of this product as yet.
• Vitamin D can cause skin reactions in those allergic and can potentially affect blood sugar levels. See Health Warnings.
• It is potentially better to take vitamin D daily as opposed to weekly to mimic daily exposure to sunlight. There is no scientific evidence to prove this, however.
How to Take It
Take one tablet a week, with food in the morning.
Safety/ Side Effects
At recommended dosages, vitamin D is unlikely to cause any side effects among most people, but it can cause an allergic skin reaction for some. Anyone with allergies should first consult their doctor before taking this supplement. It may also influence blood sugar levels.
It is recommended that you also seek your doctor's advice before taking if you suffer from an immune disorder, high or low blood pressure, kidney issues, liver or heart disease (or other heart-related problems) and lung disorders. Other issues such as stomach and skin disorders may also be influenced by vitamin D. To be safe, we would advise anyone with a known illness or condition to consult with their doctor before taking this supplement.
Excessive amounts of vitamin D can cause toxicity, but this is usually amounts of 40,000 IU or more. If you think you have had too much vitamin D, talk to your doctor.
Health Warnings
Certain medications are known to interact with vitamin D, such as certain steroid drugs. Likewise weight loss drugs such as Xenical and Alli may reduce the body's ability to absorb vitamin D, as do some cholesterol-lowering drugs. Other drugs such as seizure medication may interfere with vitamin D metabolism.
To be on the safe side, anyone taking any medication is advised to speak to a health professional before taking supplemental vitamin D.
Does it Work?
The amount of vitamin D in Men's Health Lab Vit D3 Max is both big enough to be effective and low enough to be safe, so it should in theory work as described. We would recommend you check with your doctor before taking.
Conclusion
Vitamin D supplementation is important for strong bones, and potentially for numerous other reasons, lack of clinical trials aside. There is even some evidence to suggest that vitamin D supplements may slow or reverse the development of low-grade prostate tumours. 
Where to Buy
Men's Health Lab VitD3 Max is available from Amazon, eBay, Boots, Holland & Barrett and more.