This page may contain affiliate links and we may earn a small amount of money from any products bought. Our reviews, however, remain independent and impartial.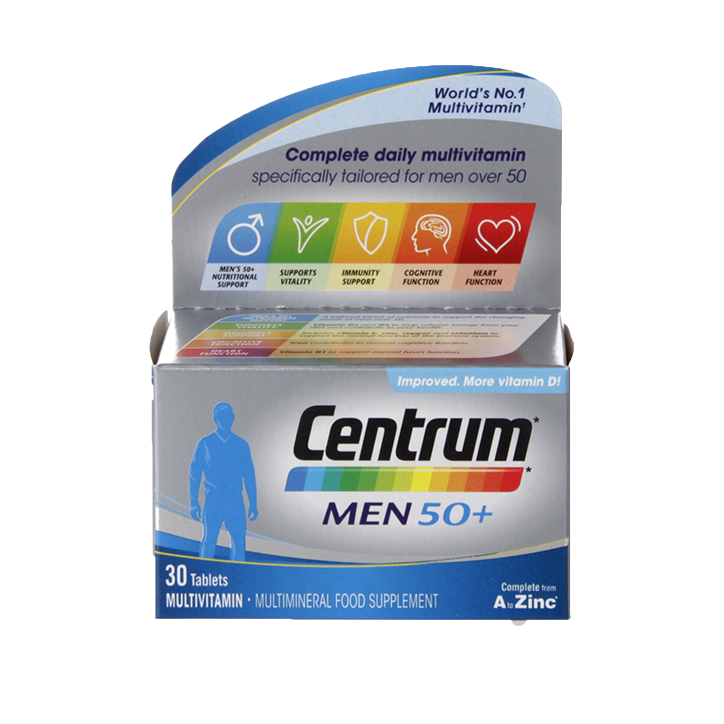 Men may not go through as radical a physical change as women, but their bodies and hormones do change as they age too, and particularly after the age of 50. For that reason, supplement manufacturers have developed products specially formulated to answer the needs of men over 50.
Centrum, the world leader in vitamins, has followed the trend and created Centrum Men 50+, a multivitamin for daily use. But does it really deliver? And what vitamins and minerals can really help men over 50 stay healthy and active? Let's find out.
Tracey Williams Strudwick of Plum Nutrition, our guest nutritional therapist, offers men over 50 the following advice on choosing the right multivitamin…
Just as women go through menopause, men have their own more subtle changes as they age called andropause. This causes slowly decreasing testosterone levels, lower metabolism, an enlarged prostate, and an increased risk for cardiovascular problems and other diseases. Men over 50 should include plenty of heart-healthy foods such as fruit and vegetables, nuts and seeds, and oily fish containing omega-3 fatty acids. Omega-3 fatty acids have been shown to significantly reduce risks of heart disease, as well as improving blood cholesterol levels and blood pressure (Jain et al 2015). As well as oily fish such as salmon and mackerel, omega-3 is found in nuts and seeds (especially walnuts and flaxseed), and plant oils. Look for an omega-3 supplement with at least 500mg of combined EPA and DHA.

To support prostate health, and reduce the risks of enlarged prostate and prostate cancer, men should include nutrients such as lycopene (Hwang and Bowen 2005), beta-sitosterol (Kassen et al 2000), vitamin E (Sonn et al 2005) and zinc (Kristal et al 1999). Some food sources include:

Lycopene – cooked tomatoes and tomato paste, watermelon, guava

Beta-sitosterol – fruits, vegetables, olive oil, peanuts

Vitamin E – sunflower seeds, almonds, spinach

Zinc – oysters, red meat, poultry, chickpeas, nuts
Look for a combined supplement of nutrients and botanicals.
*** Tracey Williams Strudwick is the clinic director of Plum Nutrition and a member of the British Association for Applied Nutrition and Nutritional Therapy. She is a licensed Nutritional Therapist as well as a personal trainer and a qualified Group Fitness Instructor.  She does not recommend any supplements without a personal consultation.
Important for Men Over 50
Centrum Men 50+
Now that you know what you should be looking for in an age-appropriate multivitamin, does Centrum Men 50+ live up to its promises? Let's investigate, starting with the ingredients…
The Ingredients
Vitamin E, 24mg
Vitamin E contributes to the maintenance of healthy skin and eyes, as well as the normal function of the immune system. Vitamin E also supports the healthy function of the prostate and prevents its enlargement, and potentially helps tackle the risk of prostate cancer.
Vitamin E is naturally found in sunflower seeds, spinach and almonds. The recommended dosage for men over 50 is 12mg in the UK. Centrum Men 50+ provides twice this amount.
Zinc, 5mg
Zinc supports a healthy prostate and prevents the development of prostate cancer. Zinc also participates in the creation of new cells and helps with the processing of carbohydrates and proteins to convert them into energy. Zinc is mostly found in meat, shellfish (oysters), dairy products and cereals.
The daily recommended dosage for men over 50 is 9.5mg. Centrum Men 50+ provides less than that, but it is easy to get the remainder with food.
B Vitamins
B vitamins are important to keep great levels of energy. Indeed, almost all B vitamins are involved in the release of energy from the food we eat, transforming it in something directly usable by the body. In addition, B vitamins help to maintain a healthy nervous system, healthy skin and eyes, and form haemoglobin and red blood cells.
All B vitamin exceed the daily recommended amount in Centrum Men 50+. However, their levels remain health-risk free.
Vitamin D, 15mcg
Vitamin D helps to keep the bones and muscles healthy. It can also have a significant impact on anxiety and depression symptoms. As we get most of our vitamin D intake from the sunlight, it is highly recommended to supplement it from roughly October to April in the UK. Vitamin D can also be found in fish red meat and egg yolk, in small amounts. The NHS recommends to take at least 10mcg daily during the winter time.
Chromium, 40mcg
Chromium is also involved in the creation of energy from the foods that we eat. Naturally, it can be found in meat, whole grains, broccoli and potatoes. The NHS recommends around 25mcg of chromium per day for healthy adults. The amount contained in Centrum Men 50+ is more than that, but is very unlikely to cause any harm.
Molybdenum, 50mcg
Molybdenum is an essential nutrient that can remove toxins brought by certain amino acids in the body. While taking too much of it can cause joint pain, the amount of molybdenum contained in one serving of Centrum Men 50+ remains relatively low and should not cause any side effects.
Selenium, 45mcg
Selenium contributes to a healthy immune system and prevents damages to cells and tissues. It is commonly found in fish, meat and eggs.
The full list of ingredients is below.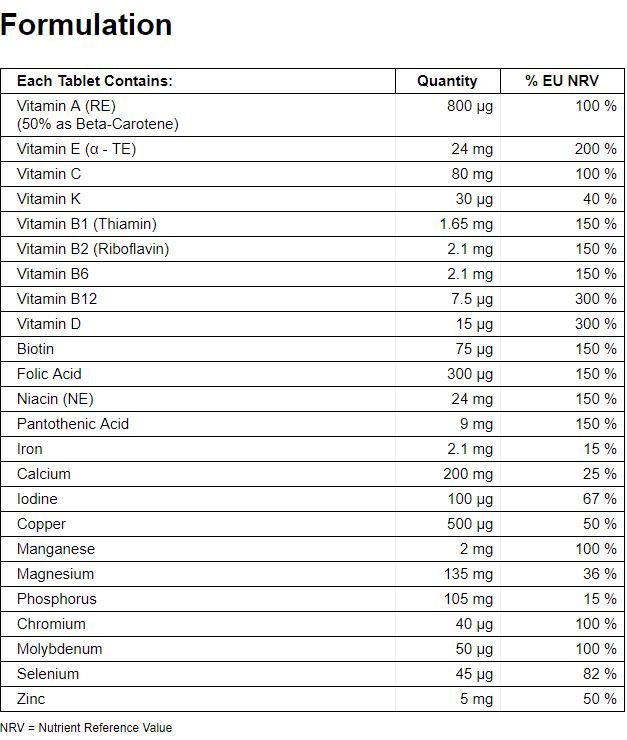 The Pros
Centrum Men 50+ effectively strengthens the immune system

Convenient as only one tablet a day is required

It is free from lactose, gluten, nuts and wheat

Specially formulated for men over 50

It has earned a 4.4 rating from 5 stars on Amazon UK
Centrum is a trusted and proven name in the supplement industry, with more than 35 years in the industry
The Cons
The size of the pill is a bit large and can be difficult to swallow

Centrum Men 50+ can cause mild stomach pains when regularly taken on an empty stomach

Lacks lycopene, which prevents the development of prostate cancer
Customer Reviews
The following reviews are from Amazon.co.uk.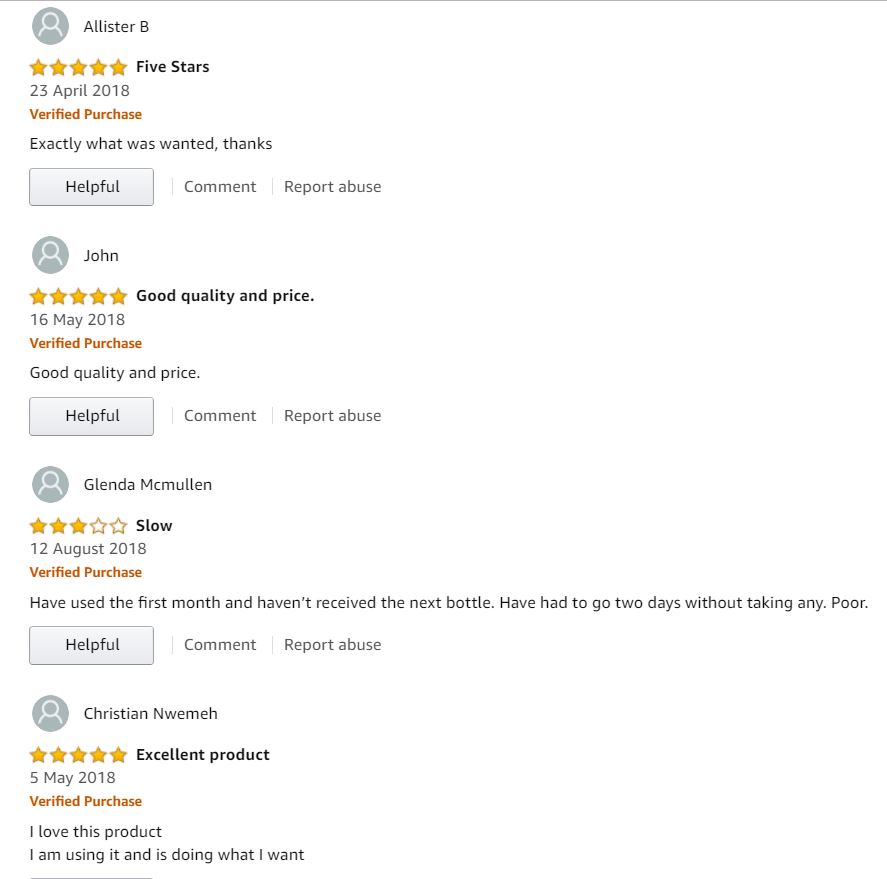 Safety / Side Effects
Overall, Centrum Men 50+ is a very safe product and should not cause any side effects. However, in order to avoid any risk of stomach pain, make sure to take it along with food.
Health Warnings
Do not exceed the daily recommended dosage. Taken at large dosages, vitamin E can interact with certain medication such as blood thinners (e.g. warfarin). However, the amount contained in Centrum Men 50+ should not cause any problem. In case of doubt, always refer to your GP before taking a new supplement.
How To Take It
Take one tablet a day, with food.You do not need to take any other multivitamin supplement or any additional vitamin D while taking Centrum Men 50+
Does It Work?
Customers are mostly happy about the results delivered by Centrum Men 50+. It has proven to be efficient in keeping a healthy immune system and fighting the common viruses during the winter. In order to be effective, Centrum Men 50+ needs to be taken daily for at least two to three months.
Conclusion
Centrum Men 50+ is one of the best multivitamin supplements for men over the age of 50 available on the UK market. We also love that is comes from a reputable brand such as Centrum, which has proven its efficiency and quality before.
The only thing we could regret here is the absence of lycopene or beta-sitosterol, two compounds which are known for their effective protection of the prostate. (The latter may also help to reduce cholesterol levels). Men over 50 are particularly at risk of developing an enlarged prostate and prostate cancer, so these would be a beneficial addition. It is easy to find these supplements on their own, however, and should not prevent you from choosing Centrum Men 50+ as a daily multivitamin.
Once again, well done Centrum!
Where to Buy
You can buy Centrum Men 50+ from Amazon UK or from the Centrum UK website