This page may contain affiliate links and we may earn a small amount of money from any products bought. Our reviews, however, remain independent and impartial.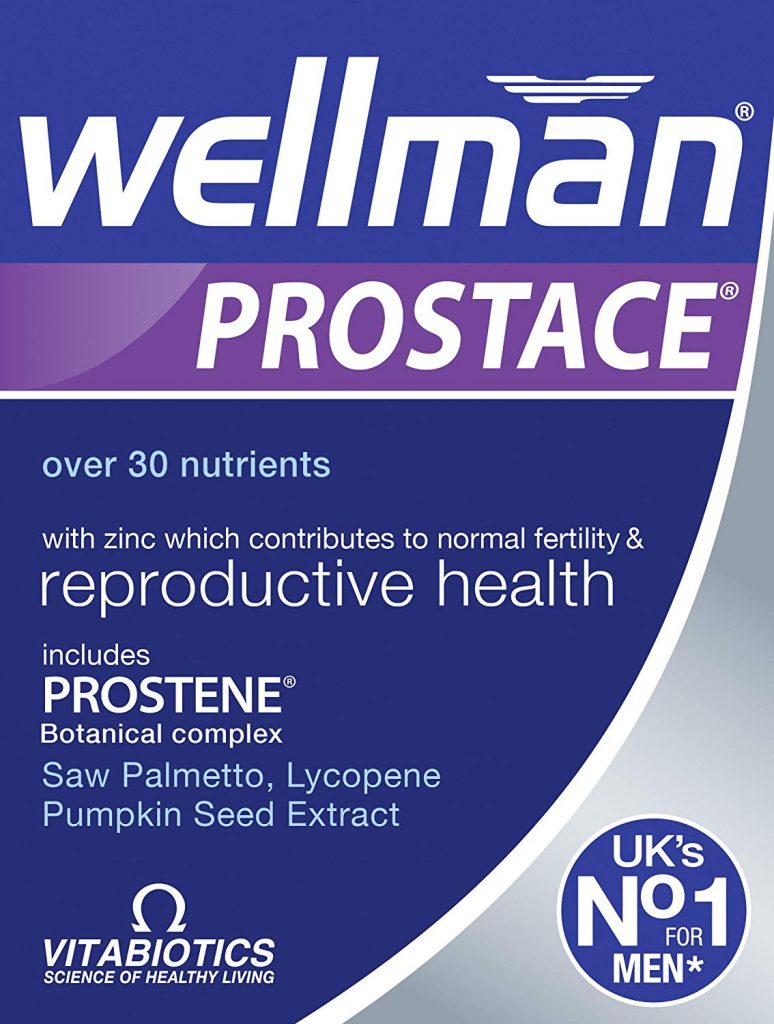 Men and women have different needs when it comes to nutrients, vitamins and minerals. Reproductive health is an area in which men have very specific needs, especially to protect the prostate from enlarging and to prevent cancers from developing in this area.
Vitabiotics, one of the UK's leading supplement brands, has developed a special product specially focused on men's reproductive health. Vitabiotics and the Wellman brand usually has a good reputation, but how does this specific multivitamin supplement deliver? What is in it and is it worth taking? We have broken it down for you.
The Ingredients
Pumpkin Seed Extract, 525mg
Pumpkin seed helps in preventing prostate enlargement. It  works best when used in  combination with saw palmetto, which is also present in Wellman Prostace's formula. It also helps with hair growth in men specifically. A daily dosage of around 400mg is recommended.
Saw Palmetto, 160mg
Saw palmetto is derived from the fruit of the tree bearing the same name. Used in combination with pumpkin seed, it helps fight against the enlargement of the prostate.
Co-enzyme Q10, 5mg
Co-enzyme Q10 is interesting for its antioxidant properties, and as such can prevent the development of cancer.  It is also a powerful tool to increase energy levels.  It is naturally found in liver, beef and chicken meat,  fatty fish and vegetables such as spinach and broccoli.
Although Co-Q10 is present in every cell and produced by the body, its  levels tend to decrease with age. As a consequence, it is recommended to gradually supplement with it. A small dosage is contained in a  daily  serving of Wellman Prostace.
Lycopene extract, 100mg
Lycopene is a red carotenoid pigment found in red fruit and vegetables such as tomatoes, carrots and watermelon. It is a powerful antioxidant which participates in heart health and can help prevent prostate cancer in men.
Beta-sistosterol, 20mg
Beta-sistosterol can help reduce swelling of the prostate and help with urinary symptoms of benign prostate enlargement. Its structure is similar to cholesterol, but it does not have any harmful effects on the body. It is  naturally found in fruits, vegetables,  olive oil and peanuts.
Zinc, 15mg
Zinc is a powerful mineral which participates in the creation of new cells and enzymes, and helps process macronutrients from foods. It also plays a part in the prevention of prostate enlargement and prostate cancer and contributes to normal fertility, thanks to its ability to maintain normal testosterone levels.
The prostate normally contains zinc levels 10 times higher than in other soft tissues, but these levels can fall, thanks to high caffeine levels, stress, smoking, and drinking. A high fibre intake and drinking lots of tea may also inhibit the body's ability to absorb zinc.
Zinc can be found in oysters, red meat, poultry, dairy, chickpeas and nuts. The NHS recommends a daily intake of 9.5mg for men. However, the higher dosage in one serving of Wellman Prostace will not cause any harm or side effect.
Vitamin E, 12mg
Vitamin E helps to maintain a healthy immune system and supports prostate health by preventing the enlargement of the prostate as well as prostate cancer. It is naturally found in sunflower seeds, almonds, wheatgerm and spinach. The NHS recommends a daily intake of 4mg for men. 12mg, such as the amount in Wellman Prostace, will not cause any harm or side effects, but it is unclear whether such an amount is really more beneficial to health.
Selenium, 55mcg
Selenium is an essential mineral, which means it is not produced by the body. It helps in maintaining a healthy metabolism and supports normal thyroid function. In addition, it contributes to the reproductive health in men and women.
The NHS recommends 75mcg of selenium per day for men. In order to get the full amount, you can eat meat, fish and nuts.
B Vitamins
B vitamins contribute to the increase of energy levels. It also plays a part in the support of a healthy nervous system, and the regeneration of red blood cells.
Levels of thiamin (vitamin B1), vitamin B6 and vitamin B12 are particularly high in the formulation of Wellman Prostace. The amount of thiamin in particular may cause mild nausea and sweating in certain individuals.

The Pros
Wellman Prostace is efficiently formulated to maintain reproductive health in men.

Users are happy with its effects on relieving prostatitis symptoms, encouraging a more regular flow, less pain while urinating and fewer nighttime bathroom trips.

Happy customers report seeing a difference in just a few days.

There is no need to take another multivitamin supplement while taking Wellman Prostace.

Currently has a 4.1 out of 5 rating from 156 reviews on Amazon UK, with the majority of reviewers very happy with the product and saying it works as advertised
The Cons
The pills can be a bit hard to swallow due to their size.

Wellman Prostace is likely

 

to cause stomach pains if taken on an empty stomach.

It is more expensive than a traditional multivitamin supplement.

According to customer reviews available online, it doesn't seem to work for a minority of users.
Customer Reviews
The following reviews come from Amazon.co.uk





Safety/Side Effects
Wellman Prostace can cause stomach pain if taken on an empty stomach. In addition, the high levels of thiamin contained in one serving can cause mild nausea and sweating. It is recommended to discontinue using the product if that were to happen.
How To Take It
One serving amounts to two pills, to either be taken at the same time, or in the morning and at night for better nutrient absorption. The pills must be swallowed whole on a full stomach.
Does It Work?
From what customers say about it, Wellman Prostace is very efficient in keeping men's reproductive system healthy and relieving prostatitis symptoms. However, taking the tablets on a full stomach is paramount to avoiding bad stomach pain in the following hours. The formula also helps to increase energy levels and maintain a good general health.
Conclusion
Wellman Prostace is a great product to support men's reproductive health. Vitabiotics has found a really good formula that seems to work wonders even after just a few days. We only regret the really high amounts of thiamin and vitamin B6, which can cause some mild side effects with no proven added benefit. Overall however, the product delivers and also supports general energy levels and the normal function of the body.
In our opinion, Wellman Prostace really is the best multivitamin for male reproductive health available out there.
Where to Buy
You can buy Wellman Prostace direct from the Vitabiotics Wellman website or from Amazon UK. (At the time of writing, Amazon UK offers a significant discount).