This page may contain affiliate links and we may earn a small amount of money from any products bought. Our reviews, however, remain independent and impartial.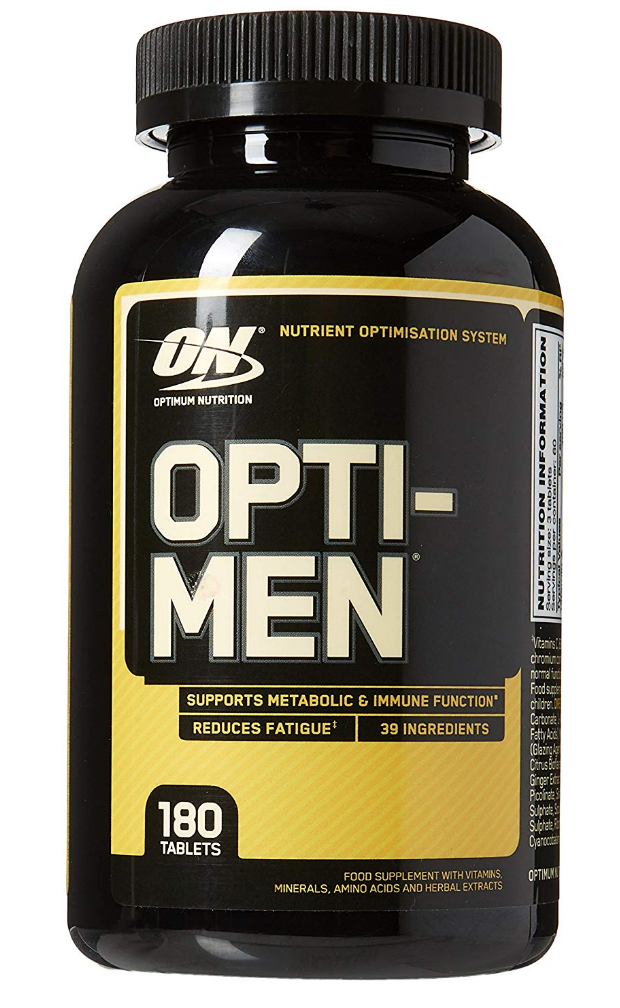 Not all multivitamin supplements have been created equal. Some have generic purposes, some are targeted at men, and some have very specific formulation. Optimum Nutrition, one of the leading sports nutrition brands, offers Opti-Men — a specially formulated multivitamin targeted at the immune system for active men. 
As Optimum Nutrition state, your body has additional nutritional needs when you're training hard. For that reason, Opti-Men contains 39 active ingredients designed to 'help you cope with the demands of a fast-paced lifestyle.' It promises to supports metabolic and immune function and reduce fatigue.
So, does it really deliver, especially coming from a brand specialising in fitness and active lifestyles, or is it more of a marketing gimmick? Let's take a closer look.
The Ingredients
Vitamin D, 7mcg
Vitamin D is naturally produced by the skin in the presence of sun rays. It contributes to the health of teeth, skin and bones. Vitamin D can also contribute to the reduction of anxiety and depression symptoms. Finally, it helps in maintaining a strong immune system.
It is recommended to supplement with vitamin D during the months of October to March when we cannot get enough sunlight in the UK. The NHS recommends a daily intake of 10mcg per day, so this goes some way towards that.
Vitamin E, 48mg
Vitamin E contributes to healthy skin and eyes, and is known to strengthen the immune system. For men, vitamin E also participates in the prevention of prostate enlargement and prostate cancer, thanks to its antioxidant properties.
Vitamin E is mostly found in spinach, almonds and sunflower seeds. The NHS recommends a daily intake of 12mg. However, the 48mg included in Optimum Nutrition Opti-Men is unlikely to be harmful, but please read the Health Warnings below.
Vitamin C, 240mg
Vitamin C contributes to the protection of the cells, maintains healthy skin and blood vessels, and can help with wound healing. It has properties that help strengthen the immune system and increase energy level. Vitamin C is commonly found in fruit and vegetables. The NHS recommends to take 40mg of Vitamin C every day. However, 240mg remains a safe amount to consume.
B Vitamins
B vitamins are all present in large amounts in Optimum Nutrition Opti-Men's formula. B vitamins, although they all have a different action, contribute to a healthy nervous system, a healthy metabolism, and the building of new red cells. Most B vitamins also increase energy levels. Niacin (vitamin B3) also dilates blood vessels and thus contributes to the development of a "pump", something very sought after among bodybuilders and weight lifters.
B vitamins can be found in an array of foods such as eggs, fruit, milk, meat and whole grains. 
Copper, 2mg
Copper is an essential nutrient that helps the body form new red blood cells. It also contributes to the maintenance of healthy bones and the strengthening of the immune system. Copper is usually found in shellfish, oysters, leafy greens and dark fruits. The NHS recommends 1.2mg of copper per day.  While the dosage in Optimum Nutrition Opti-Men is unlikely to cause side effects, it may trigger stomach pains for certain individuals.
Chromium, 120mcg
Chromium has an influence on the behaviour of insulin in the body and the amount of energy that can be released from the food we eat. These properties are particularly important for active men. Chromium can be found in meat, lentils, broccoli or potatoes. The NHS recommends an intake of 25mcg per day of chromium, but the dosage in Optimum Nutrition Opti-Men is unlikely to cause any harm.
Amino Acids
A blend of amino acids is present in the formula of Optimum Nutrition Opti-Men, including leucine, isoleucine, valine and glutamine. Of course, the first three are our BCAAs — Branched Chain Amino Acids — which make up about 35% of our muscle protein, and are particularly influential for muscle building. You don't always find these in a standard male multivitamin, so it's another example of Optimum Nutrition tailoring this product towards active men. 
Why are BCAAs so useful? The body cannot make these essential amino acids, so we must get them from food or supplement. Like all amino acids, BCAAs are the building blocks of protein, but these three in particular are known to preserve muscle glycogen stores, fuel your muscles and reduce protein breakdown while exercising… all of which is a fancy way of saying that they help you get more from your gym sessions. Studies have also shown that L-Glutamine can help to boost protein metabolism (which contributes to muscle growth) while minimising the breakdown of muscle.
Their inclusion in Opti-Men does suggest Optimum Nutrition are taking its special formula for active men seriously. Unfortunately, they don't state how much BCAAs are contained in the UK version of Opti-Men (the U.S. version has 1g), and we'd hazard a guess that it's no more than that. These are multivitamins after all, not sports supplements.
If you want to supplement BCAAs in particular, you should probably look for a good powder that contains 5-7g of BCAAs, though you may get enough if you eat a high protein diet anyway. Otherwise, consider their presence in Opti-Men a small energy boost to your gym-going arsenal.
Lycopene
Lycopene is a carotenoid that has antioxidant properties. It is particularly useful for men as it can help prevent prostate enlargement and prostate cancer. Unfortunately we don't know how much is in Opti-Men as the dose has not been specified. 
Additional Ingredients
Opti-Men also contains a significant amount of herbs, other vitamin and minerals, and botanicals. You can see the full list below: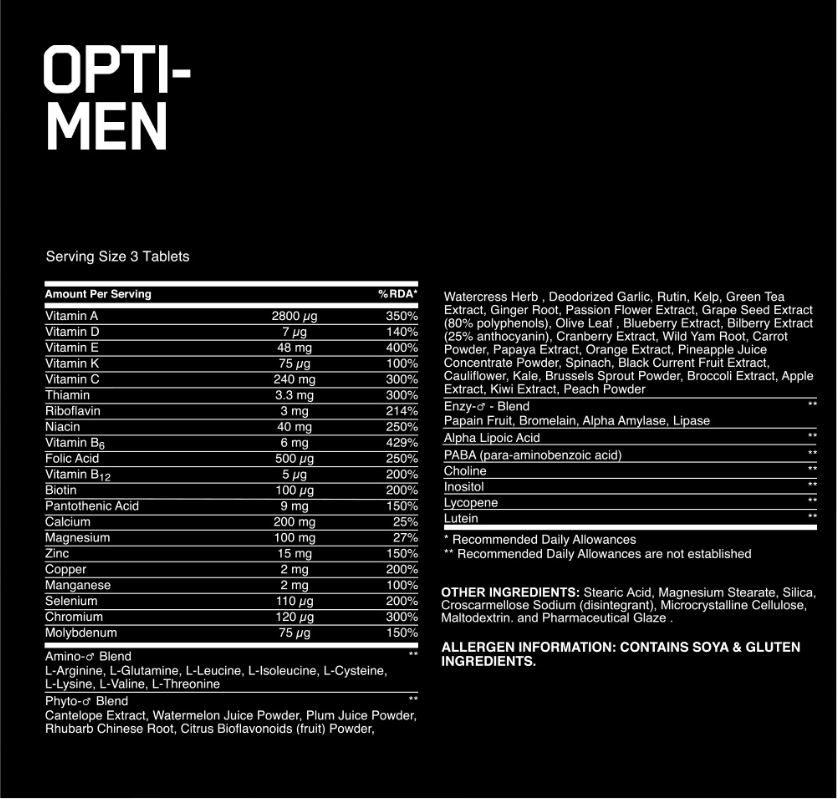 The Pros
Optimum Nutrition Opti-Men is packed with vitamins and minerals that should be useful for active men

Many ingredients tailored for immune protection and energy boosting, suggesting it may 

potentially enhance physical performance and energy levels

The tablets are easy to swallow

Optimum Nutrition list it as their most popular 'health and wellness' product
The Cons
Some vitamins are present in very large quantities and can cause mild side effects without any proven added benefit

Optimum Nutrition Opti-Men tablets tend to crumble very easily

You need to take three tablets per day

They are not soya or gluten-free
There is considerable confusion (editor's note — mine!) over the exact formula of Opti-Men as there seem to be numerous versions available for sale. See below for more information.
Which Opti-Men to Choose?
Here's where our review of Opti-Men gets a little confusing. In order to comply with EU and UK law, Optimum Nutrition have had to reformulate its original U.S.-version of Opti-Men multivitamins, changing a lot of the doses and some ingredients to make it legal to sell in the UK. So far, pretty straight-forward.
Except what we actually find when we look at the nutritional profiles of the Opti-Men for sale on Amazon UK and even at Holland & Barrett are THREE different versions with differing doses, such as vitamin A (400mcg v 3,000mcg v 2,800mcg) and vitamin D (10mcg v 37.5mg v 7mcg). Pretty different, I'm sure you'll agree.
On further investigation, it looks like there may have been two UK versions of Opti-Men once upon a time, and sellers on Amazon UK are also selling the U.S. version which presumably doesn't comply with UK law. Confusing much?!  This isn't a criticism of Optimum Nutrition as their UK website makes it clear which version is the latest and official one — and it is the one we have reviewed here.
It is something to be aware of, however, if you buy from any source other than those mentioned below. As a result of the changing formulas, there also seem to be no reviews available for the latest UK version of Opti-Men.
Health Warnings
We recommend you stick to the recommended dosage and do not take any other multivitamin supplement while taking Optimum Nutrition Opti-Men, as some vitamins and minerals are already present in relatively high dosages. Some, such as copper, included here as 200% RDA, can trigger mild stomach pains. 
In some cases, vitamin E can interact with blood thinners such as warfarin. In case of doubt, always refer to your GP for advice before taking a new supplement.
How To Take It?
Take three tablets per day with a meal.
Conclusion
With no testimonials as to the latest UK version of Opti-Men's formulation, it's difficult to say just how effective people have found this multivitamin to be. Certainly, the U.S.-version seems to be very popular, though it is so different to the UK-version that you can't really compare the two.
However, Optimum Nutrition is a respected company and player in the sports nutrition field, and we have faith that they put just as much effort into their multivitamin aimed at active men as they do their other phenomenally-popular products. If anyone knows what active men need, it's Optimum Nutrition. Adding BCAAs, though granted we don't know how much, is a nice touch, as are the numerous ingredients designed to boost immune function and to increase energy levels. 
While we regret the presence of certain components in very large quantities, which does not seem to add any tangible benefit but can lead to mild side effects, we do believe Opti-Men from Optimum Nutrition should help to boost your energy levels and potentially your physical performance, while supporting your overall health. 
To see significant results, we recommend you take the supplement for at least two or three months.
Where to Buy
To ensure you buy the latest Optimum Nutrition-sanctioned version of Opti-Men, you can buy direct from the UK site of Optimum Nutrition or from this specific page on Amazon UK