This page may contain affiliate links and we may earn a small amount of money from any products bought. Our reviews, however, remain independent and impartial.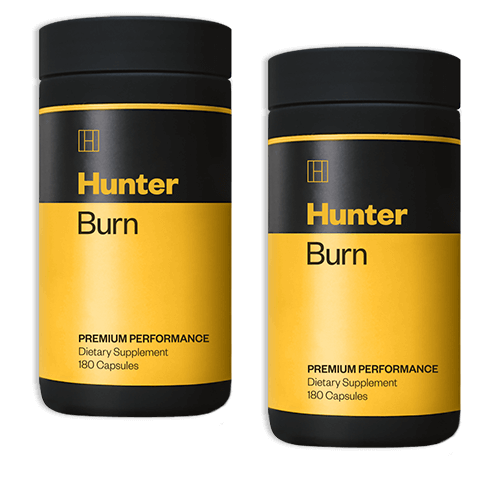 UPDATED OCTOBER 2021 to reflect new brand name: Hunter is now Hunter Evolve.
Hunter Burn is now known as Burn by Hunter Evolve.
Burn by Hunter Evolve is one of three products in the Hunter Evolve range offered by Roar Ambition, one of the most respected UK supplement companies around AND manufacturer of one of our all-time favourite fat burners, Instant Knockout Cut.
As the name suggests, Burn is a fat burner too, so how does it differ from Instant Knockout Cut, or to other fat burners on the market?
The manufacturer describes Burn by Hunter Evolve as a 'luxurious high-end fat burner' which is aimed at men aged 30 and beyond. Unlike Instant Knockout Cut's in-your-face marketing — the bottle is shaped like a fist, for instance — Burn's packaging is more understated, likely to attract the older market who might feel silly buying a fat burner in a fist.
It's also one of a useful trio of supplements aimed at men — the other two include Test by Hunter Evolve (a powerful testosterone booster) and Focus by Hunter Evolve (a quality nootropic). All can be taken together if desired. 
So, what about Burn by Hunter Evolve? What does it promise to do?
Burn by Hunter Evolve's Promise
Hunter Burn promises to help reduce fat (particularly belly and waist fat), beat hunger cravings, maintain muscle and help you remain calm but focused without energy crashes. It pledges to offer a 'clean, energy lift' with a low stimulant formula. There's some caffeine from the Matcha Green Tea, but less than you'd find in coffee. 
Burn's biggest ingredient is the dietary fibre glucomannan — an excellent, proven appetite suppressant. Let's take a look at the ingredients in detail…
Ingredients in Burn by Hunter Evolve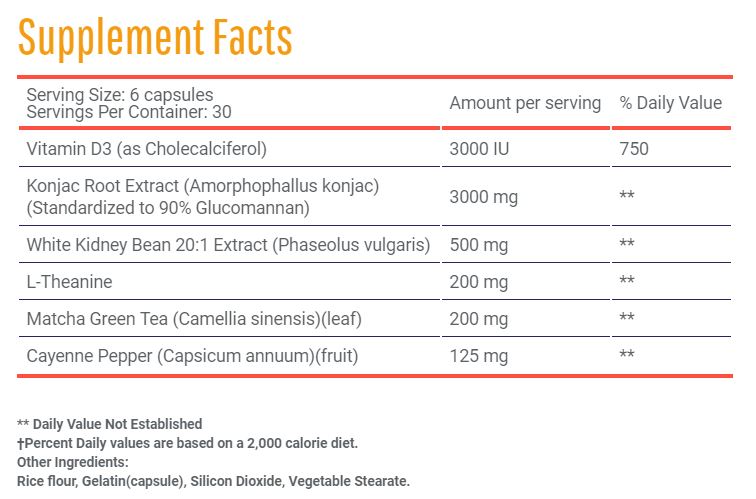 Glucomannan
This is a high-fibre herb made from the root of the konjac plant and sold as a weight-loss supplement. A 2005 study found that compared to a placebo, Glucomannan helped subjects on a 1,200-calorie-controlled diet to lose significantly more weight. Other studies have shown similar results. 
Glucomannan works by absorbing water in the gut, helping to boost satiety, delay stomach emptying, reduce the absorption of fat and proteins, and thus help banish cravings. It also feeds friendly bacteria in the gut, which has been shown to have some impact on weight loss.
We're big fans of glucomannan — anything that helps to reduce cravings is a winner with us! Of course, like any weight loss plan, it will work better alongside a diet and exercise plan, but that's just common sense. 
Glucomannan is one half of the 'hunger neutraliser' included in Burn by Hunter Evolve. The other is…
White Kidney Bean Extract
This ingredient is what is known as a carb blocker, meaning that it can help to lessen the number of calories that the body absorbs while eating carbohydrates during a meal (or if you succumb to an occasional piece of cake).
Studies have proven that white kidney bean extract works effectively as a carb blocker, with one Italian study seeing 'significant decrements (a gradual decrease) in body weight' in people taking the extract for 30 days. The glucomannan and white kidney bean extract are very useful ingredients in their own right, helping to reduce cravings and calorie intake alike.
Vitamin D3
Vitamin D3 is an interesting ingredient to include in a fat burner as it is not commonly used. But Roar Ambition might be onto something here. A 2012 study by Salehpour et al found that overweight and obese women who took vitamin D as a supplement saw a reduction in body fat.
An earlier study also discovered that analysing people's base levels of vitamin D could potentially predict how successful their weight loss efforts would be. People with adequate levels of vitamin D at the start of their diet, for instance, tended to lose more weight than those with low levels, even if the two were on the same calorie restrictions.
It is known that very overweight or obese people tend to have lower vitamin D levels than usual, though no one has yet clarified how vitamin D supplementation could lead to fat loss. It does potentially suggest, however, that vitamin D could play a crucial — if as yet undefined role — in our weight loss efforts. Some scientists believe that vitamin D works as a fat burner for people who are either 1) deficient in vitamin D, or 2) very overweight/obese. An interesting addition to Burn by HUnter Evolve.
Matcha Green Tea
There is a GLUT of evidence that shows green tea extract to be an effective weight loss aid, thanks to the antioxidant catechins it contains which encourage thermogenesis (raising body temperature to help you burn more calories).
A 2011 study by Hursel et al found that when compared to a placebo, fat oxidation increased after taking green tea. A 2009 meta-analysis looked at multiple studies on green tea and found that green tea had a positive effect on weight loss and weight management.
Normal green tea is brewed, the leaves infused and then thrown away and only the liquid drunk. This often means you're throwing away a lot of the nutrients. Matcha Green Tea, in contrast, takes young green tea leaves and grinds them into powder, which is then whisked with hot water and drunk. For this reason, matcha green tea tends to contain more nutrients, and more caffeine (though not as much as coffee).
While matcha green tea is considerably less studied than normal green tea, it does appear to have significant more EGCG, an antioxidant known to help you burn fat quicker during exercise. This potentially makes it more useful for weight loss and other health benefits. An exciting ingredient.
Theanine
This amino acid has been added as it can help lessen any side effects of the caffeine contained within green tea. Studies show that caffeine and theanine together can also improve concentration better than caffeine alone.
Theanine increases alpha brain waves which, in turn, helps to relax you and lower anxiety, which can be extremely valuable as you battle your way through weight loss. Most people assume theanine has no direct weight loss application, but at least one study has shown that when combined with green tea, caffeine and catechins, theanine helped to prevent fat accumulation and obesity.
Theanine can also potentially help in your weight loss battle indirectly. As a nootropic, for instance, it aids focus and drive which is very useful for your exercise regime. It also encourages restful sleep — long-known to be key to maintaining a healthy weight — and its ability to relax you may also help to tackle stress-related food cravings and stress-related weight gain.
Cayenne Pepper
This last ingredient is a thermogenic common in fat burners. Capsaicin (the part of a chilli that burns your mouth out) has been linked with raised metabolism and increased fat oxidation. Studies have also shown that it can prevent the accumulation of triglycerides into fat cells. A study on mice saw it help to prevent obesity during a 120-day high-fat diet. A tried, tested and proven ingredient, and its inclusion in capsule form in Burn by Hunter Evolve allows you to enjoy the fat-burning power without the burning mouth and subsequent sweats.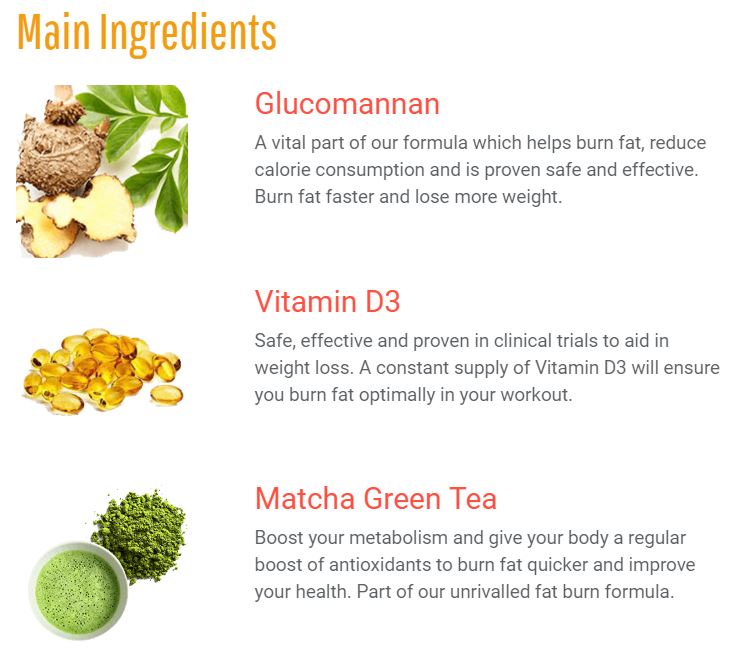 The Pros of Burn by Hunter Evolve
Burn by Hunter Evolve offers a mixture of proven and promising ingredients that make this a superior fat burning product
Vitamin D3 has been shown to burn fat in obese people/people who are deficient in vitamin D
White Kidney Bean Extract is a well-known carb blocker
Green Tea Extract has been shown to oxidise fat
Cayenne Pepper could help to increase your metabolism and burn more fat
Roar Ambition is a well-known and respected UK-based supplement company
Combines well with other Hunter products to create a superior supplement stack
Free delivery if you buy two bottles or more
The Cons
You need to take six capsules per day which is quite a lot, though it does mean the fat burning and carb blocking potential lasts all-day
Safety/Side Effects
When taking any supplement containing white kidney bean extract it is important to ensure you are drinking enough water. Same goes for Glucomannan as high-fibre foods can leave you dehydrated. Glucomannan can also reduce blood glucose levels and could interfere with other oral medications, so be sure not to take them at the same time. 
Green tea extract is a source of caffeine, so treat it with respect and follow instructions carefully. Luckily, Roar Ambition has added theanine which can help prevent the jitters, and will counteract most of the side effects.
How to Take It
A month's supply contains 180 capsules which works out at six capsules per day (two tablets three times a day).
Who Takes It?
The entire Hunter Evolve range by Roar Ambition is clearly aimed at the 30-plus market, tailored towards men. That said, there's nothing to say women wouldn't benefit from Burn by Hunter Evolve, though Roar Ambition does offer an excellent female-focused fat burner in HourGlass Fit.
Final Word on Burn by Hunter Evolve
Burn by Hunter Evolve is a quality fat burner. All the ingredients have a purpose, and in our opinion are deserving of their place. We're excited about matcha green tea, white kidney bean extract, and glucomannan. 
We're particularly pleased that Roar Ambition has added theanine to the mix. This complements the caffeine within the green tea, making it more useful than green tea alone. Indeed, combining green tea, cayenne pepper and glucomannan should make it a particularly effective fat burner, with the added benefit of a carb blocker in the white kidney bean extract.
This is a grown-up fat burner for grown-up people. It's a lower caffeine option (and a more natural one) than many other fat burners on the market, including Instant Knockout Cut, so will suit people who prefer to avoid too many stimulants.
As with any fat burner, Burn by Hunter Evolve is more effective when taken as part of a calorie deficit diet, and increasing the amount of activity in your life will also help. Well worth giving it a go.